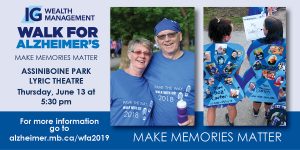 Join us for the 2019 IG Wealth Management Walk for Alzheimer's! Those who participate will "Make Memories Matter" for family and friends of people with dementia.
Walks take place across the province during May and June, with the Winnipeg Walk set for Thursday, June 13 at the Assiniboine Park Lyric Theatre. Click here to register now or to find a Walk in your area!
Click here to read about two families who share their reasons for signing up for the 2019 Walk. A team named "Stacy's Mom Has Got It Going On" will join a Walk in Steinbach to honour their mother. In Winnipeg, the Romans family will remember Grandpa Lyle's large heart.