Join us Thursdays at 3 pm for 30 minutes of entertaining Facebook Live sing alongs to help lift your spirits! Through our Facebook Live events you will be able to see Music Therapist Katy Jacobs and Regional Coordinator Chris Waugh singing and playing their guitars. We encourage participants to post their comments and sing along!
Chris Waugh, Westman Regional Coordinator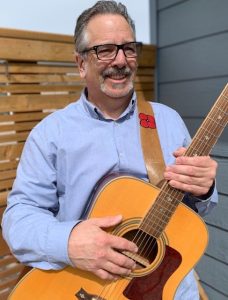 Chris Waugh, Regional Coordinator in the Westman office in Brandon, plays guitar and sings as part of an in-person support group for persons living with dementia. Since they can't meet face-to-face, Chris is bringing his guitar to Facebook Live to renew these musical connections.
Anyone who enjoys singing is invited to join Chris for a half hour of songs. When on the Facebook Live stream, please remember to expand the video to full screen while you're watching, listening and singing along. ?
Facebook Live – Sing Along with Chris Waugh:
To participate go to the Alzheimer's Society Facebook Page on Thursday, May 28 from 3 -3:30 pm.
To view Chris's past Facebook Live sing along sessions click the links: April 30 sing along