You can watch our Facebook Live sing alongs to help lift your spirits!
Chris Waugh, Westman Regional Coordinator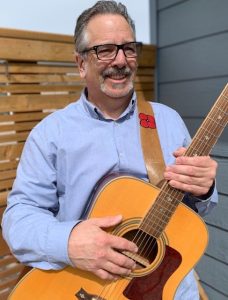 Chris Waugh, Regional Coordinator in the Westman office in Brandon, plays guitar and sings as part of an in-person support group for persons living with dementia. Since they can't meet face-to-face, Chris is brought his guitar to Facebook Live to renew these musical connections.
Facebook Live – Sing Along with Chris Waugh:
To view Chris's past Facebook Live sing along sessions click the links:
Katy Jacobs, Music Therapist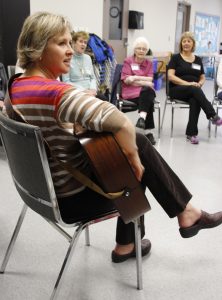 Music Therapist Katy Jacobs has been singing and playing instruments with our Minds in Motion® program participants for several years. Katy shared her songs and music with everyone on Facebook Live. She hopes you enjoyed the sing alongs to help bring a smile to your day.
Facebook Live – Sing Along with Katy Jacobs:
To view Katy's past Facebook Live sing along sessions click the links below: