Dementia-friendly communities include and support people living with dementia in the places they work, live and play. People living with the disease feel supported by their community members whether they are at post offices, retail outlets, using transportation or enjoying hobbies out in the community.

Building dementia-friendly communities online course
What is a dementia-friendly community?
Characteristics of a dementia-friendly community
What does a dementia-friendly social environment look like?
What about a dementia-friendly physical environment?
Resources
Caring Communities in Manitoba
Request a dementia-friendly communities presentation
We're here to help
Building Dementia-Friendly Communities online course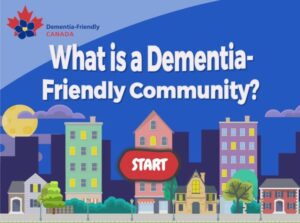 Dementia-Friendly Canada created a self-paced Building Dementia-Friendly Communities online course to help professionals working in the recreation, library, retail, restaurant and public transportation sectors who are interested in fostering dementia-friendly awareness within their organizations.
This self-paced 75 minute course will give organizations the knowledge and skills needed to increase support, inclusion and accessibility (both in the social and physical environments) for people living with dementia.
Visit our website's page to learn more about the course and to register.
What is a dementia-friendly community?
Watch this short video of Roger Marple as he describes what it means to be a dementia-friendly community:
A dementia-friendly community focuses on stigma reduction and the inclusion of people living with dementia. People are educated about the disease and know that a person living with dementia may sometimes experience the world differently. In a dementia-friendly community, people living with dementia feel supported by their community.
The term "community" can mean a location like a neighborhood or city, but can also include groups of people with shared interests or features, such as professional groups, religious organizations or businesses. This means that cities and towns can become dementia-friendly communities, as can your book club, your business, a local coffee shop, a faith group or grocery store.
Characteristics of a dementia-friendly community
Dementia-friendly communities are defined by both their social and physical characteristics. These attributes can help support people with dementia by reducing anxiety, stigma or frustration.
What does a dementia-friendly social environment look like?

Community members who are dementia-friendly recognize that:
A person living with dementia is more than their diagnosis.
Dementia can affect a person's cognition, behaviour, emotions and physical capabilities.
Everyone has a role to play in recognizing people living with dementia as a part of their community and supporting their independence, value and inclusion.
What can your community do?
Request dementia education to help community members understand dementia and learn how to offer appropriate assistance.
Include people living with dementia in community or organizational programming.
Encourage staff in your city, town or municipality – whether at libraries or community centers, or parking and by-law officers, police and firefighters – to be educated about dementia and be able to communicate effectively with a person living with dementia.
Work with others in the community, such as shopkeepers, bank tellers and bus drivers, to receive dementia education specific to their job.
What about a dementia-friendly physical environment?
A physical environment that is welcoming to people living with dementia includes:
Clear and legible signage placed at eye level.
Flat, wide and unobstructed sidewalks.
Clearly marked accessible washrooms in public spaces.
Landmarks, distinctive structures, open spaces and places of activity and rest.
Click here for the fact sheet on dementia-friendly communities.
Resources
Dementia and COVID-19
Communication
Housing
Check out these helpful resources about creating dementia-friendly housing environments:
Touch Quilts
Touch Quilts bring comfort, happiness, and can lessen feelings of sadness and fear for someone affected by dementia. Caring volunteers craft Touch Quilts in hopes of providing a Touch Quilt to every person residing in a personal care home in Manitoba, as well as creating a sense of community giving.  This community initiative helps create awareness, and education opportunities about the importance of brain health, dementia, and how the Alzheimer Society of Manitoba can help those affected by dementia. Learn more about them on our website.
Caring Communities in Manitoba
The people of Austin, Manitoba, and a young woman named Stéphanie Demers, who lives in Winnipeg, have something in common: they have played a role in turning their neighbourhoods into caring communities through their compassionate action toward someone living with dementia.
Click here to read their stories.
Request a dementia-friendly communities presentation
If your business or organization is interested in a presentation about dementia-friendly communities and how you can become more involved, email alzeducation@alzheimer.mb.ca, call 204-943-6622 (in Winnipeg) or 1-800-378-6699 (in Manitoba).
We're here to help
Click here to find out more about the programs and services the Alzheimer Society of Manitoba offers for people living with dementia and their families. You can also contact us by emailing alzmb@alzheimer.mb.ca, calling 204-943-6622 (in Winnipeg) or 1-800-378-6699 (in Manitoba).