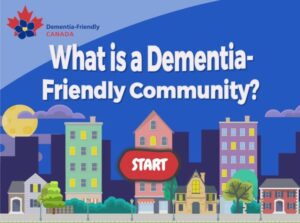 As one of the partner provinces involved in the Dementia-Friendly Canada project, the Alzheimer Society of Manitoba is pleased to share this exciting new online course. One of our goals is to train Canada's workforce to become dementia-friendly and one way we're doing this is by developing free tools and resources to give Canadians the knowledge and skills needed to increase support, inclusion and accessibility (both in the social and physical environments) for people living with dementia.
Who is this course for?
What does the course look like?
How do I register for this course?
Participant feedback
Who is this course for?
This course is designed for professionals working in the following three sector groups: recreation and library, restaurant and retail, and public transportation sectors. The course will provide a foundational knowledge of dementia, and outline the considerations that organizations can include in their social and physical environments in order to better support and include people living with dementia.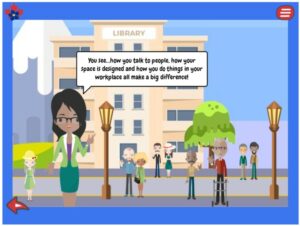 What does this course look like?
The 75 min interactive course is self-paced and directed, and has the ability to pause or stop until a later time, making it easy for participants to fit into their schedules and learn in the way that is best for them. The information is practical and can be applied to people from all levels of the organization – from customer-facing staff, to management, and to key decision makers.
The course consists of the following four modules, and are tailored to each of the three sectors:
What is a dementia-friendly community?: An introduction to the concept and dementia friendly efforts at the community level.
Dementia-friendly interactions: Social environment considerations, such as ways you can communicate effectively with someone living with dementia.
Dementia-friendly spaces: Physical environment considerations, such as ways you can optimize your space to be dementia-friendly.
Dementia-friendly policies, practices and services for organizations: Provides specific scenarios and recommendations.
This training makes it possible for local individuals, businesses, and organizations to make a real and important difference for the people affected by dementia that they interact with on a daily basis.
How do I register for this course?
To register for the course, create a free account on ALZeducate by clicking here and then select the "Building dementia-friendly communities" course.
Participant Feedback
"It's a well-designed, thoughtful course that outlines the different areas service providers can focus on. It empowers people in all levels of an organization to have conversations and destigmatize what living with dementia or caring for someone living with dementia means. We all have a role we can play and the barriers that we can chip away can help so many others and hopefully develop thriving and connected communities."
"As soon as I finished the course, I went into the lobby area of our library and removed additional furnishings and re-organized the space for a better flow.  I looked for "visual noise" in the space and removed some unnecessary signage."
"Awareness, respect, communication from staff members and understanding of physical space are all vital. Anyone can make a difference with knowledge."