If you have been diagnosed with Alzheimer's disease or another dementia, this is the place for you to start.
Receiving a diagnosis of Alzheimer's disease or another type of dementia can be a difficult and overwhelming experience for you and your loved ones, leading to a variety of feelings including fear, anger, sadness, embarrassment and disbelief. At the same time, a diagnosis may also provide you with a sense of relief, as it offers an explanation for the symptoms you have been experiencing.
There is no right or wrong way to feel – everyone is unique in how they will perceive their disease and the challenges it brings to their life. What is important to understand is that the changes you are seeing in yourself are due to the disease.  They are not your fault.
You may want to cope with the reality of your diagnosis at your own pace, and access more information and services when you feel it is right for you to do so. Going forward, you may require different types of help at different times.
Right now, you are likely to have a lot of questions about what to do next. The Alzheimer Society of Manitoba is here to provide information and support as you determine what is best for you and your family.
Plan early to have a voice in your future. This checklist will assist you and your family as you prepare for important health, personal, financial and legal decisions. Click HERE for the Future Planning Checklist.
Take action now by exploring the content of this website, and begin to build your knowledge about dementia. Read more about Alzheimer's disease and dementia…
Educating yourself will allow you to gain an understanding of what you and your loved ones are faced with, giving you the skills and confidence to maintain quality of life, both now and in the future.
Click here for further reading from our national website
I have Dementia/Memory Loss Cards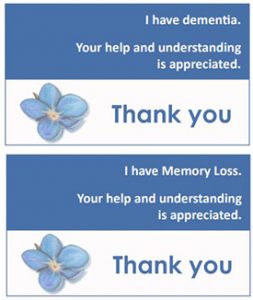 We know it can be difficult for people with memory loss or dementia to explain behaviors brought on by dementia to those who are unfamiliar with the disease.
To ease this challenge, you can print these cards to carry with you. Show this card to others letting them know that you have memory loss or dementia and that their understanding is appreciated.
Click here for a printable pdf of the card that states, "I have Dementia."
Click here for a printable pdf of the card that states, "I have Memory Loss."
Life goes on: Living with Alzheimer's
Below is a video titled Life goes on: Living with Alzheimer's featuring Winnipegger David Gary Quinton.
In the video, Quinton speaks candidly about his life with dementia. He recounts times when he has had mental lapses and discusses how he and his wife Judy have made changes in their lives that have raised Quinton's day-to-day quality of life.
Quinton speaks passionately about his decision to maximize his situation and live life to the fullest.