Researchers are constantly looking for ways of preventing the disease, treatments to improve quality of life for people living with the disease and ultimately finding a cure to eradicate the disease.
Click here for a list of questions to ask when you are considering participation in a clinical study.
Below are current research studies looking for participants:
The Dementia Sibling Study: Brothers and Sisters Sharing Caregiving Responsibilities
Occupational Therapy students from the University of Toronto Masters program are conducting a study about the experiences of adult children who are caring for their parent with dementia.
The study explores how caregiving responsibilities are shared between adult daughters and sons. Researchers hope to gain a better understanding of the needs of family caregivers.
Participants will be asked to participate in a telephone interview that will take approximately 60- 90 minutes. During the interview a research student will ask the participant about their experiences with providing care and assistance throughout the disease progression. Each interview will be audio recorded using a digital recorder. All information will be kept confidential.  Identifiable information will be concealed and salient details about participants will be removed. All participants will be referred to using a pseudonym or number.
Click here to learn more about the study.
Are you living with someone with dementia?
Is your family member's behaviour changing?

If you answered "yes" to these questions, you may want to consider participating in a study exploring how caregivers respond to and experience behavioural changes in the home.
Participation is voluntary and confidential. It involves two short interviews and six weekly diary entries. Your family member does not need to have an official diagnosis of dementia or cognitive impairment to be eligible for inclusion.
The study team consists of researchers from the University of Manitoba, Brandon University and Carlton University. To participate or for more information, contact Dr. Rachel Herron at herronr@brandonu.ca or 204-727-9771.
Click here for a full description of the study.
The largest clinical trial on Alzheimer's treatment with rTMS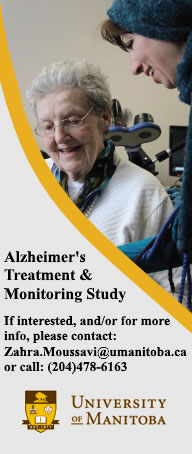 Do you have a beloved family member or know someone with probable Alzheimer's? If yes, you may wish to enroll him/her into this treatment clinical trial.
This study, approved by the University of Manitoba Biomedical Research Ethics Board, uses a novel technology, called repetitive Transcranial Magnetic Stimulation (rTMS) that is a non-invasive procedure with minimal side-effects.
Click here to learn more about the study and its protocol.
If interested, please contact: Zahra.Moussavi@umanitoba.ca or call: 204-478-6163
Do You Work and Help Care for a Relative with Dementia?
Please Consider Participating in this Study

This study is seeking participants from Portage La Prairie, Steinbach, Winkler and surrounding rural areas.
We would like to hear your story about your dual role as an employee and caregiver. Your time commitment to this interview is 45-60 minutes.
You may also choose to participate in an eight-week program which includes two-hour group sessions of education, problem solving techniques and information about dementia and community resources. You may also participate in a focus group to share your thoughts about the program. Your time commitment to this focus group is 75-90 minutes.
For further information about the study, click here.
To participate, please contact: Jocelyne Lemoine, Site Coordinator, at 204-474-9476 or Jocelyne.Lemoine@umanitoba.ca
This study is funded by the Canadian Institutes of Health Research (CIHR) and is part of the Canadian Consortium on Neurodegeneration in Aging. It has been reviewed and cleared by Mount Sinai Hospital Research Ethics Board, University of Manitoba Education/Nursing Research Ethics Board and Southern Health Research Ethics Board. If you have any concerns or complaints please contact the Human Ethics Coordinator at humanethics@umanitoba.ca
Online Research Survey for Family Caregivers –
University of Manitoba

Are you an unpaid caregiver for a person living with dementia in the community and currently help with managing their medications?
If so, you are invited to participate in a research study titled, Medication Management by Informal Caregivers for Community-Dwelling Persons with Dementia. Participation will take about 10 minutes and your answers will be anonymous. The results of this survey will help researchers gain insight into some issues caregivers for persons living with dementia face in the community when they assist and manage medications for their care recipient.
Please complete the survey at: http://fluidsurveys.com/s/medsurvey/
Principal Investigator:
Dr. I fan Kuo, Assistant Professor, College of Pharmacy, Faculty of Health Sciences, University of Manitoba,
Ph. 204-318-2576; email:
I.Kuo@umanitoba.ca
Co-Investigators:
Dr. Christine Leong, Assistant Professor, College of Pharmacy, Faculty of Health Sciences, University of Manitoba
Dr. Christopher Louizos, Pharmacy Practice Instructor, College of Pharmacy, Faculty of Health Sciences, University of Manitoba
Your participation is very much appreciated.
Have You Lost Your Spouse to Dementia?
This Study Strives to Find a Way to Help

Dealing with grief that comes from the loss of a spouse can be very difficult, especially for those who cared for a partner who died with dementia. Spousal caregivers clearly require support to facilitate their adjustment from being a dementia caregiver to living a positive life without their spouse. Unfortunately, few resources and interventions are available to help bereaved spousal caregivers of persons with dementia. In order to meet the unique needs of bereaved spousal caregivers, we are looking for volunteers in Manitoba to take part in a study. The study will test a self-administered writing tool for bereavement after caring for a spouse with dementia.
We are looking for individuals who:
are 60 years of age or older.
had a spouse die three months ago or longer.
had a spouse die with advanced dementia.
are able to read/write/understand English.
As a participant in this study, you would be asked to participate in three interviews, each of which will last approximately 60 minutes. You will also be asked to use and provide feedback about the bereavement tool.
In appreciation for your time, you will receive a gift card.
If you would like to participate in this research project or have questions, please do not hesitate to call Research Coordinator, Chloe Shindruk , at 204-474-9476 or email: umshindr@myumanitoba.ca
This research has been approved by the University of Manitoba Health Research Ethics Board.
Early Detection of Memory Impairment
as the First Step for Effective Treatment
Help Us, Help Others!
Volunteers needed for Alzheimer's Early Signs Study
We are conducting an investigation for detecting the early symptoms of Alzheimer's condition. Therefore, we need volunteers both with and without any symptoms of dementia or Alzheimer's.
We hypothesize that Alzheimer's condition shows itself in spatial performance long before any serious sign of forgetfulness appears. Therefore, we have designed a fun virtual reality game to assess the spatial cognition through navigation in a virtual building. All you have to do is to play the game! During the game you will sit in a wheelchair, and you will wear a goggle (Oculus Rift 2), in which displays the virtual reality environment in an immersive manner (you will only see the virtual environment and can navigate on it with the wheelchair). You will be asked to move the wheelchair to reach a room inside the building. The wheelchair basically replaces the joystick for playing the game; this is done so that people do not feel motion sickness or headache that is common when older adults use joystick to play a game. The game is entertaining and stimulating.
This study has been approved by the Health Research Ethics Board of the University of Manitoba.
The location of the experiments is at the Fort Gary Campus, University of Manitoba; you will be informed of the exact location of the experiment once you volunteer as we normally run it in one of the three very large rooms, whichever is available at the time. We can run the experiments also in the evening; therefore, there are plenty of room for parking! The study (including a simple questionnaire and the game) takes at most 45 minutes.
To read more about VRP experiments, you may read:
http://bme.eng.umanitoba.ca/labs/bme/research/neurological/virtual-reality/
If interested to be a volunteer and/or help recruiting, and/or need more info, please contact:
Mari Tere García at  (204) 479-3501
Email: eretiram82@hotmail.com
and/or
Dr. Zahra Moussavi at 474-7023
Email: Zahra.Moussavi@UManitoba.Ca
Understanding and Responding to Reactive Behaviour

Do you care for a person with dementia who sometimes shows reactive behaviour, such as hitting or swearing?
A researcher from Brandon University is looking for family and paid caregivers who witness this behaviour in the person they care for. The study, called Caring for Reactive Behaviours in Dementia, will examine how caregivers understand and respond to these behaviours with a goal to inform future support services and programming.
Participation involves a one- to two-hour interview to take place at a time and location convenient to you. The person with dementia who you care for must have moved to assisted housing or long-term care within the last two years.
For more information, contact Dr. Rachel Herron, Department of Geography, Brandon University at 204-727-9771 or at herronr@brandonu.ca.
Examining Ideas for Innovative Technology for Caregivers

Are you a family caregiver for an older adult OR are you an older adult who is a caregiver? Would you like to participate in research that will help to identify technological solutions to assist with some of the challenges of caregiving?
Researchers from the University of British Columbia are looking for volunteers to participate in a study examining caregiver burden and caregiver technologies. Your interaction with researchers will be by phone. The study involves answering questions about your caregiving background and your perceptions of caregiver activities and technologies. The Principal Investigator is Dr. Ben Mortenson of the Department of Occupational Science & Occupational Therapy at the University of British Columbia.
For more information, contact Leena Chau at 604-714-4108 or at leena.chau@ubc.ca