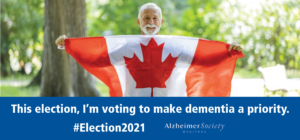 This election, we're voting to make dementia a priority.
More than half a million Canadians are living with dementia today, and in 10 years, that number will nearly double. For every person living with dementia, there is a care partner and family also affected as they support their loved one through their dementia journey.
The Alzheimer Society of Manitoba supports people living with dementia, their families and their caregivers through support programs, counselling and information. We help create connection and community during a time that can be isolating and overwhelming for people living with dementia and their caregivers. We also invest in dementia research that create better quality of life for people living with disease now, and searches for ways to prevent, delay, treat, and one day, cure dementia.
But we can't continue to meet the growing need for services and our focus on groundbreaking dementia research without dementia being a top priority for Canadians and our federal government. That's why we're asking you to vote with dementia as a priority on September 20.
Learn more at Alzheimer.mb.ca/election2021