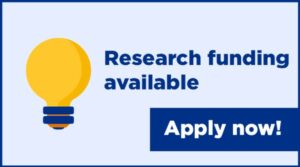 We're pleased to share that the 2022 Alzheimer Society Research Program funding competition is now open. One of Canada's most innovative hubs for dementia research, the Alzheimer Society helps the best and brightest minds across many disciplines move their ideas forward, to improve the lives of people living with dementia and caregivers across the country.
Could your research change the future for people living with dementia? Apply before November 5, 2021, at 11:59 ET.
Results will be announced in the late spring/early summer 2022, and funding will be dispersed starting July 2022.
See the full application details at alzheimer.ca/Apply.
Please share this funding opportunity with anyone who may be interested in applying.
For more information, please contact research@alzheimer.ca