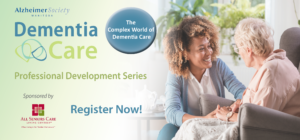 Join us for this year's Dementia Care Professional Development Series on "The Complex World of Dementia Care", sponsored by All Seniors Care!
Unpack the unique challenges and intricacies involved in caring for people living with dementia while exploring practical approaches relevant in day-to-day situations. With topics ranging from cultural sensitivities to the importance of inclusiveness, these sessions will empower health care professionals to offer respect, compassion and empathy to those living with dementia.
This year's series brings a variety of virtual and in-person sessions from May 2023 to March 2024. Local and national experts will share vital concepts and strategies critical in providing person-centred care for a person with dementia while supporting members of the care team.
Dr. Jillian Horton kicks off the series on Thursday, May 18 with Turning Towards, Not Away: Caring for Others While Caring for Yourself. Join us for this frank and compelling discussion about burnout, mindfulness and compassion.
For only $30, you get access to all virtual sessions PLUS the option to register for in-person workshops*!
($5 Additional charge for in-person sessions.)
Check out this year's sessions and speakers and make sure to register today at alzheimer.mb.ca/dc!
Sponsored by All Seniors Care