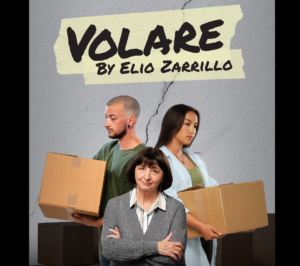 Prairie Theatre Exchange is providing the Alzheimer Society of Manitoba a relaxed performance to their newest play and you're invited.
On May 11th at 7:30 pm, you can go see "Volare" by Elio Zarrillo with lower sensory stimulation and a relaxed environment with a discount.
Just for the Alzheimer Society, when you buy one ticket at 25% off, you'll get the companion seat for FREE! That's two tickets for 75% off!
Call their box office line at 204-942-5483 to reserve your seats for this show!
Play Synopsis
A warm-hearted family story about fixing what is broken
Dominic's Nonno has passed away and Nonno's second wife, Madeleine, has invited Dominic and her granddaughter Grace to help deal with his affairs. After years of complicated Italian/Filipino/French family dynamics and dramas, the pseudo-siblings have been estranged for nearly a decade. Now, Madeleine is left with deciding which one gets Nonno's house: Dominic or Grace. But first, she needs to get them talking to each other again. Can this fractured family take its broken pieces and turn them into something new?