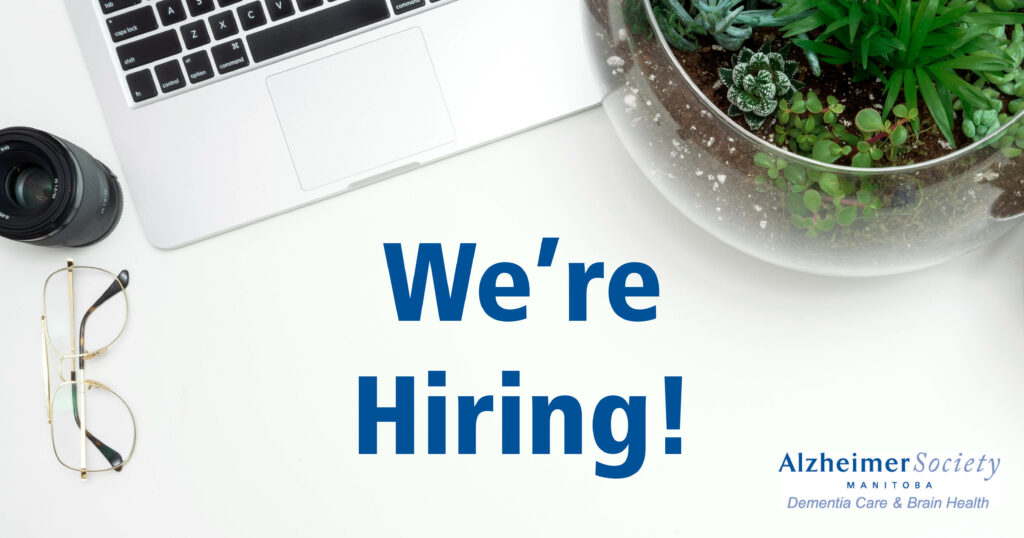 The Alzheimer Society of Manitoba is hiring for a full-time (1.0 EFT) permanent Regional Coordinator in the Westman Region, based in Brandon, MB.
The Regional Coordinator is responsible for the provision of support, information and education services to people with dementia and their family care partners within the Westman Region.
FORMAL EDUCATION
• Post secondary education in a social services field
WORK EXPERIENCE
• 2-4 years in a related profession
WORKING LEVEL QUALIFICATIONS
• Knowledge of dementia and the care and support of people with dementia and their care partners
• Knowledge of community resources in the region
• Demonstrated program coordination and management skills
• Knowledge of, and facility in virtual platforms such as Zoom and/or MS Teams.
• Demonstrated oral and written communication skills
• Demonstrated interpersonal skills
• Experience in word processing and computer systems required
• Commitment to confidentiality policies
• Knowledge of the Alzheimer Society of Manitoba mission
• Physically able to perform the duties and responsibilities of the Westman Regional Coordinator
View the full job posting here.
TO APPLY
Please submit cover letter and resume by email clearly stating how you meet the requirements by Friday, June 2nd at 4:30 pm to:
Jessica Harper
Senior Manager, First Link Client Support
jharper@alzheimer.mb.ca
We invite all qualified applicants from a diverse background to apply. There will be reasonable accommodations made for those living with disabilities.
We thank everyone for applying, but only those considered for an interview will be contacted.