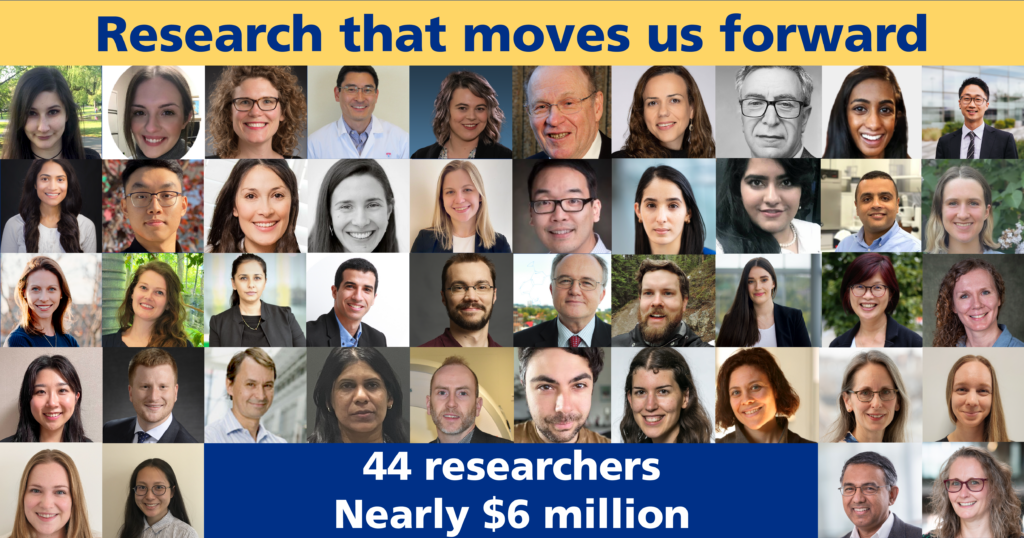 The Alzheimer Society Research Program (ASRP) is one of Canada's most innovative hubs for dementia research, helping the best and brightest minds in the field transform their work from ideas to impact.
Since the program's start over 30 years ago, nearly $73 million in grants and awards has been invested toward innovative research that brings us closer to a future without dementia.  
This year, the ASRP is investing $5,989,000 in 44 researchers and their projects across Canada, with a substantial contribution from the Alzheimer Society of Manitoba.
Our funding of almost $6 million is up from $3.5 million in 2022, thanks to generous donors and funding partners, including Brain Canada Foundation, Canadian Institutes of Health Research – Institute of Aging and Research Manitoba.  
The eight priority research areas the ASRP funds are: 
Care

 

Cause

 

Diagnosis

 

Epidemiology

 

Risk

 

Therapy 

 

Translational

 

Treatment

 
Two researchers from Manitoba have been awarded funding through the ASRP this year, both being generously co-funded by Research Manitoba.  
Eftekhar Eftekharpour is a researcher from the University of Manitoba. His study will test a potential antioxidant drug in a mouse model. This experimental drug is a small molecule that can enter the brain. If successful, this drug could be used for future clinical trials of dementia. This research will also show whether using this antioxidant drug in early stages of dementia may be protective for nerve cells.  
Tiina Kauppinen, also a researcher from the University of Manitoba, is leading a study that looks at chronic inflammation in the brain, focusing on an enzyme called NUDT5 which plays a prominent role in inflammatory signalling that exacerbates neurodegeneration in people living with dementia. Kauppinen's research team has developed a way of inhibiting the action of the NUDT5 enzyme and will explore how this enzyme inhibitor could reduce cellular changes and slow memory decline in a mouse model of dementia.  
Visit the Alzheimer Society Research Program page on our national website to learn more about the ASRP and to read about the other researchers and projects being funded by the program this year.