World Alzheimer's Month – Support Changes Everything
How Improved Dementia Supports Can Make a Difference: Marcel's Story
Accessible Ways to Cast Your Vote
We're Celebrating Our 40th Anniversary 
Register Today for Care4u 2023
What's New in Dementia Research? Ask the Expert!
Frontotemporal Dementia Awareness Week
Sharing Our Stories in Safe Spaces: Jackie & Simone
Fall Minds in Motion® Sessions Open for Registration
Register Now for Our Fall Community Partner Programs
Manitoba Researcher Receives Funding to Test Innovative Dementia Treatment
Dementia Care Professional Development Series
Register Today for Fall Education Sessions
Join a Support Group!
Follow Us On Social Media
Donate Today

SEPTEMBER IS WORLD ALZHEIMER'S MONTH
This September, during World Alzheimer's Month, the Alzheimer Society of Manitoba wants to remind families impacted by dementia that support changes everything.
The Alzheimer Society is your First Link® to a community of support, resources and a wealth of knowledge to help you in your dementia journey.
If you'd like to help us raise awareness for families impacted by dementia this World Alzheimer's Month, join us in advocating for our election priorities! To prepare for the upcoming provincial election this fall, we've identified five priority areas within Manitoba's dementia support systems that need improvement. We want to help our government understand the urgency in creating better care systems for Manitobans affected by dementia. Visit alzheimer.mb.ca/election2023 to learn how you can help!
Stay up-to-date with the latest happenings at the Alzheimer Society of Manitoba by following us on Facebook, Instagram, X (formerly Twitter) and LinkedIn. Share your personal stories this World Alzheimer's Month and let others know about the support you or your family have received from the Society or community. Make sure to post your photos to social media, tag us and use the hashtags #SupportChangesEverything and #WAM2023 so we can support you!
How Improved Dementia Supports Can Make a Difference: Marcel's Story
Manitobans vote in the next provincial election on Tuesday, October 3. Now is the time to speak with candidates about dementia support in our province!
Our clients shared with us the key issues and challenges they experience navigating dementia symptoms and diagnosis. From this, we've identified five priority areas to address this provincial election, hoping that our next government will take action to help families living with dementia. These priorities are:
Improved housing options for seniors, including those living with dementia.
Additional financial support for care partners.
Improved home care support.
Strategies for building more dementia-friendly communities.
Improved support to navigate the health care system.
This past August, Marcel Hebert opened his door to a local MLA candidate canvassing in his neighbourhood and took the opportunity to let her know the challenges his family experienced when his wife was diagnosed with dementia.
"We chatted for about 25 minutes and our conversation brought her to tears. She took notes and said she wanted to bring up issues surrounding dementia support with her party leader."
Marcel's wife Ida was diagnosed with young onset dementia in 2019, at just 55 years old. Young onset dementia affects people under age 65 and can bring unique stresses. Marcel connects strongly with our dementia support priorities and wants to know how the government plans to support the growing demographic of people living with dementia and their care partners.
Additional Financial Supports
Marcel notes that for his family, and for the families of those in the young onset support group he attends, one of the most significant challenges is loss of an income.
"Many families around our age are managing a mortgage or debt and still have children at home that are dependent," Marcel says. "Our daughter was still living at home and going to university when Ida was diagnosed."
Regardless of age, a dementia diagnosis can lead to increased out-of-pocket costs, making it more challenging to help someone living with dementia safely age in place.
"Caregivers have to wait to see if they're eligible for caregiver and disability credits and then there is the possibility in the very near future to be forced to pay and manage two separate homes," Marcel says. "There are a lack of provincial programs, especially for people under age 65, to help care partners bridge those gaps."
Marcel says it felt like he and Ida had to fend for themselves, that there was no relief from the financial stress. With additional financial support, Marcel would've liked to hire someone to help keep Ida mobile and active, especially when Ida moved into long-term care.
Improved Home Care Supports
Having more financial support could also help with things like home care, which Marcel says is an integral program that needs to be much more flexible and reliable.
"For myself, for most people, the number one priority is to keep loved ones at home for as long as possible," he says. "But there were a lot of barriers when it came to us getting help through home care."
Marcel and Ida struggled to obtain home care while Ida still lived at home, partly due to Ida's age.
"I think home care should be tiered in a way to support what individuals really need, it's a lot more than helping with meals and taking medication," Marcel says. "For example, I think the home care system is out of touch with the support needed for young onset families. More training, education and funding is needed."
Marcel didn't use home care services for long. He says the attendance was unreliable and the staff was not properly trained to care for Ida. "The managing of young onset dementia, helping someone like Ida who is young and mobile – was nonexistent," he says.
Lack of dementia training among home care staff is a barrier and challenge that many people living with dementia and their care partners experience. It's important for home care staff to focus on the unique care needs of people living with dementia. Receiving a general education about best practices in dementia care would give them the foundation to provide more appropriate care.
Improved Supports to Navigate the Health Care System
Navigating the health care system is not always easy, especially for those needing specialized care. Marcel knows how vital it is to get the right care when it is needed. Improved support to navigate the health care system is important to families like Marcel's who are living with dementia.
"Many people don't have access to a family doctor they trust, which can be a helpful starting point when navigating our health care system," Marcel says. "Ida and I were lucky we knew a psychiatrist, otherwise her diagnosis would have likely come much later."
Marcel says he is disappointed at the lack of brain-related care in our health care system and hopes significant improvements will be made.
"It's very challenging to get the care you need right now," he says. "Preventative brain-related care is lacking. It needs to be more proactive like we see with cancer treatment or heart health, where preventative processes are in place to detect early signs of illness."
To learn more about our election priorities and how your voice can make a difference this election season, visit alzheimer.mb.ca/election2023.
Accessible Ways to Cast Your Vote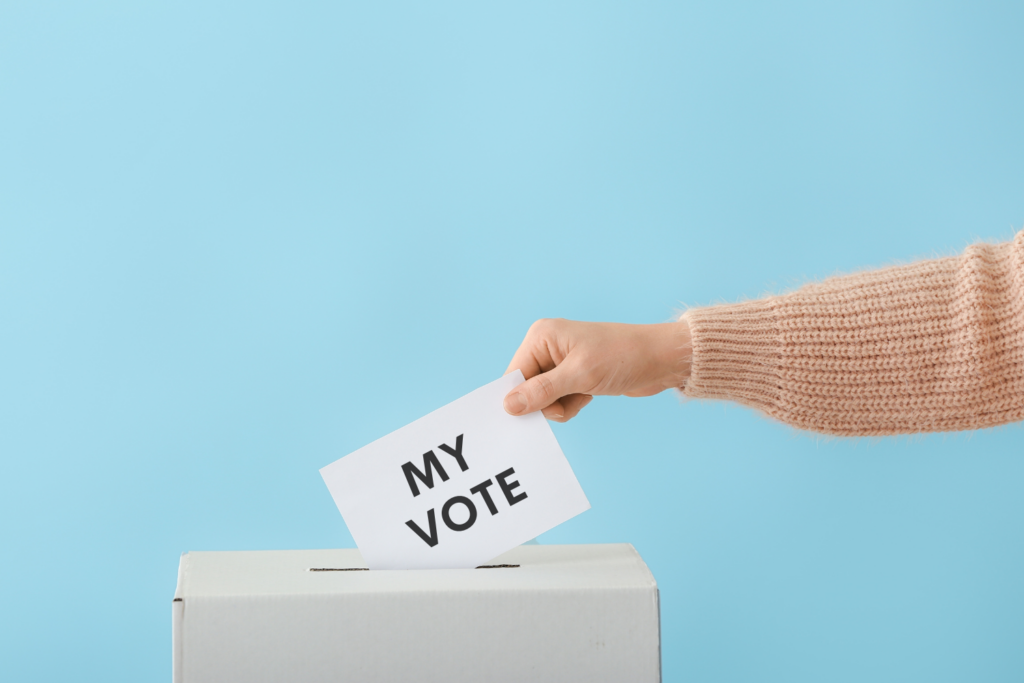 The provincial election is coming up and we're encouraging people living with dementia and their care partners to get out and vote. Elections Manitoba offer some accessibility accommodations, which we've listed below, that may make it easier to cast your vote.
Homebound voting
If you are unable to go in person to a voting location due to a disability, you and your caregiver can apply to vote at home.
Absentee voting
Voters with disabilities may choose to vote as an absentee voter.
Curbside voting
If you are unable to go inside the voting location due to a disability, a voting officer will bring the ballot box to your vehicle.
Magnifying rulers & large print
Magnifying rulers and a large print list of candidates are available from the voting officer.
Assistance
You can bring someone with you to help you vote. They must be 18 years of age or older. A voting officer may also assist you.
Language or sign language interpreter
If you require an interpreter to assist you, contact Elections Manitoba before you plan to vote. They will do their best to accommodate requests and locate interpreters in your community.
Advance Voting
You can take advantage of advance voting to help make the process more accessible. Advance polls open on Saturday, September 23, 2023 and run until Saturday, September 30, 2023 from 8 am to 8 pm daily, noon to 6 pm on Sunday.
For more information about voting accessibility, visit www.electionsmanitoba.ca/en/Voting/Accessibility.
We're Celebrating Our 40th Anniversary 
Forty years ago, a small group of care partners held a public meeting in Winnipeg to share information about dementia. They hoped 25 or 50 people would attend, but over 350 showed up! They took the names and phone numbers of those in attendance and decided to form an Alzheimer Society chapter in Manitoba – united by the idea that they could make a difference for Manitobans needing clarity and support while facing the challenges of dementia.
Since 1983, the Alzheimer Society of Manitoba has dedicated itself to being a reliable source of information, education and resources for people living with all types of dementia, their care partners and families. The organization has made significant strides alongside our community; however, dementia remains an incredibly difficult diagnosis. There is still more work to do to break the stigmas surrounding this disease and ensure inclusive support for all.
We are thankful to our incredible supporters who have helped us along the way in growing the Society to be recognized as the leading source of dementia care support in Manitoba.
The timeline below outlines some milestones we've reached over our 40-year history.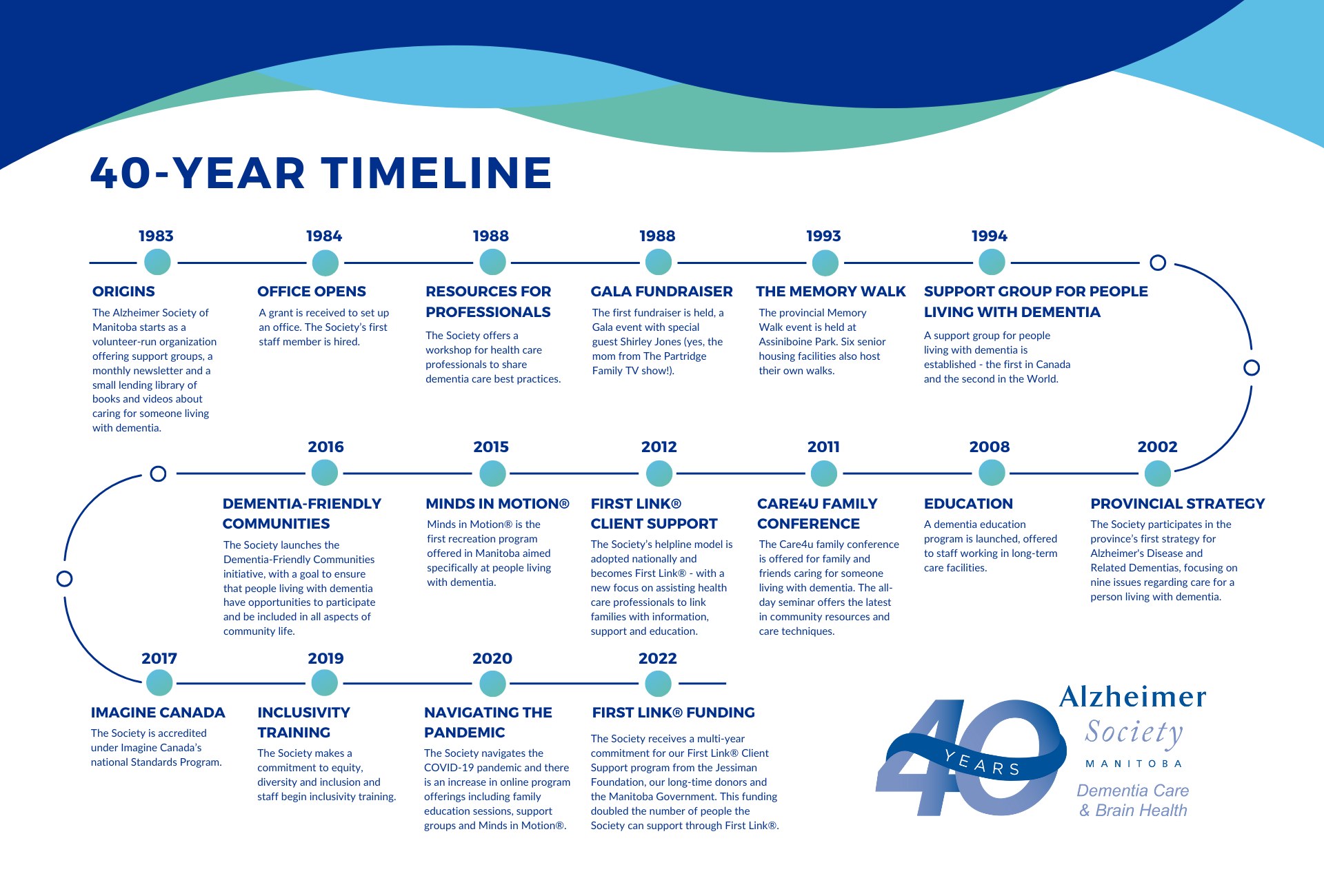 Register Today for Care4u 2023
Sponsored by Brightwater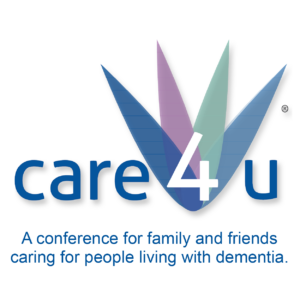 Register now and join us on Saturday, October 28, 2023, from 9 am to 3:30 pm at Canad Inns Destination Centre Polo Park for a day of education and support for family and friends caring for people living with dementia.
Care4u features local and national health care and community professionals who will share the latest about dementia, caregiving strategies and community resources while empowering care partners to prioritize their well-being. The theme of this year's conference is "Building a Community of Empowered Care Partners."
By attending Care4u, you'll be able to hear presentations from a variety of professionals such as:
Sylvia Davidson: Sylvia is an occupational therapist who has been working with older adults for most of her clinical career. Sylvia has experience practicing in acute care, rehabilitation, long-term care and community care, with a focus on topics related to aging with an emphasis on dementia care. She also concentrates on the subject of intimacy, both as an element of aging and as part of the journey for people living with dementia and their care partners. She believes in the benefit of sharing our stories so we can better listen and learn from one another.
Dr. Jillian Horton: Dr. Horton will share her reflections on the challenges of navigating the caregiving journey and how we can care for ourselves while simultaneously caring for others. She is an associate professor of Internal Medicine at the University of Manitoba. She is a sought-after speaker and teacher of mindfulness for clinicians, both nationally and internationally. In 2020, she received the Gold Humanism award from the Association of Faculties of Medicine in Canada for her national contributions to compassion in clinical care and her leadership in the field of humanities in medical education.
Care4u will also give you access to explore topics such as caregiving strategies when abilities change, different types of dementia, complex legal situations, transitioning to long-term care, ambiguous loss and grief, medications and more.
Visit our Care4u website to view the full list of speakers and presentations and to register.
This event is sponsored by:

What's New in Dementia Research? Ask the Expert!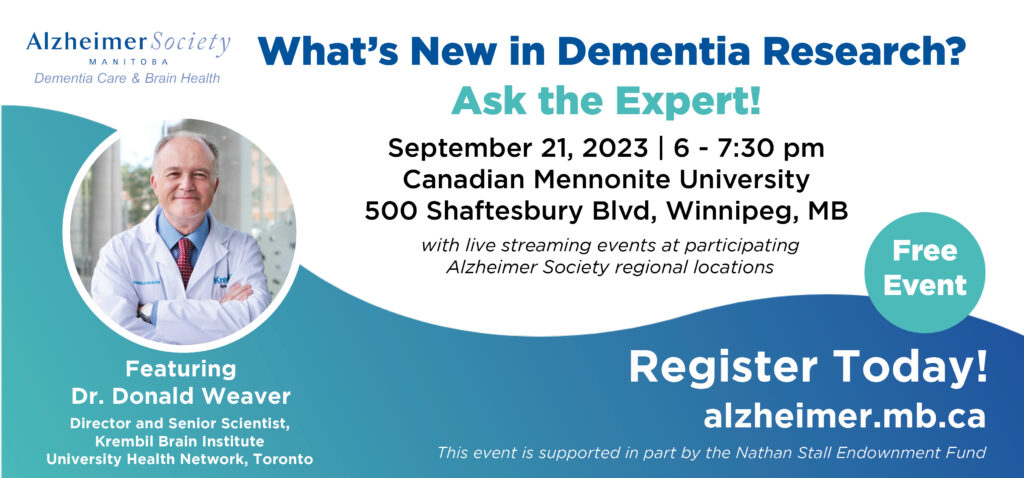 This World Alzheimer's Day, you have the opportunity to attend, "What's New in Dementia Research? Ask the Expert!" a research forum led by world-renowned researcher and neurologist Dr. Donald Weaver and get answers to your questions about the causes, risk factors and treatment of dementia.
This free education event takes place live and via live stream on Thursday, September 21, 2023, from 6 – 7:30 pm. 
In-Person Event
Winnipeg – Canadian Mennonite University, 500 Shaftesbury Blvd, Winnipeg, MB
Location Map
*Please note that the Winnipeg registration is now by waitlist only.
Live Streaming Events
Brandon – Seniors for Seniors, Unit 4B – 457 9th Street
Location Map
Winkler – Buhler Active Living Centre, #105 – 650 South Railway Ave.
Location Map
Selkirk – Gordon Howard Centre, 384 Eveline St
Location Map
*Registration is required. Join us now at alzheimer.mb.ca/researchforum
Frontotemporal Dementia Awareness Week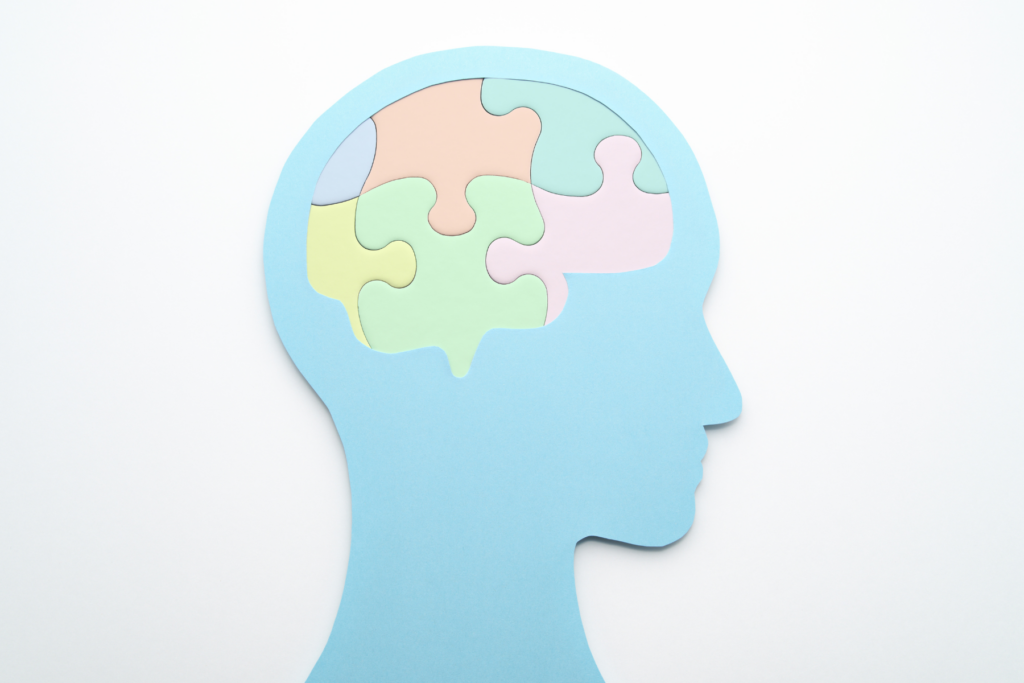 September 25 to October 1, 2023 is Frontotemporal Dementia (FTD) Awareness Week. We want to take this opportunity to remind you that the Alzheimer Society is here to support all different forms of dementia.
FTD is an umbrella term for a group of rare disorders that primarily affect the frontal and temporal regions of the brain – the areas generally associated with personality and behaviour. 
Researchers estimate that approximately 5-10% of all dementia cases are frontotemporal dementia. However, when symptoms of dementia start before the age of 65 (known as young onset dementia), approximately 20% of cases are frontotemporal dementia. 
FTD can cause behaviour changes, difficulties with speech and movement or memory loss. Since the frontal (near the forehead) and temporal (near the ears) areas of the brain can be affected, early symptoms can be related to behaviour or speech. Later signs of FTD can include the more general dementia symptoms, including confusion and forgetfulness.
At the Alzheimer Society, we provide resources for families living with all forms of dementia and think it's important to acknowledge and bring awareness to FTD. For more information on FTD, please visit the Alzheimer Society of Canada. If you are impacted by FTD and are in need of resources, information or support, contact us today at 204-943-6622 (Winnipeg) / 1-800-378-6699 (Manitoba) or at alzmb@alzheimer.mb.ca.
Sharing Our Stories in Safe Spaces: Jackie & Simone
It's important for people living with dementia and their care partners to have a community to lean on for support. The Alzheimer Society's support groups and community partner programs like Minds in Motion® give families the opportunity to connect with others going through similar experiences in a safe and accepting space.
For sisters Jackie and Simone, the Alzheimer Society is a place to go for good conversation, fun activities and the opportunity to express their feelings with full acceptance from others.
Jackie, Simone's care partner, says she looks forward to attending Minds in Motion® with her sister. "This program gives Simone encouragement and helps her feel that sense of ability – that she can still be independent," she says.
Minds in Motion® is a light fitness and activity program designed for people with early to moderate signs of dementia to attend with a care partner, family member or friend. This weekly program includes a gentle chair fitness class, engaging activities and coffee conversations.
"Minds in Motion® is something I got really comfortable with," says Simone. "We're all equal there and we work as a team. There's a sense of comradery among all of us."
Jackie enjoys Minds in Motion® as much as Simone, partly because of the open and welcoming environment and the accessibility of all the activities. "The discussions we have there are so genuine and there are no expectations when it comes to doing an activity a certain way," Jackie says. "The staff are just fabulous too and very respectful of everyone."
Minds in Motion® is just one of the Society's programs running this fall. There are a variety of fun opportunities that you can check out on our Community Partner Programs page.
The support group for people living with dementia is another place where Simone feels encouraged to talk with others about her experiences living with dementia. She says it's somewhere she and the other participants can go to share their thoughts and feelings without fear of judgment.
"It can be a bit of a struggle to feel comfortable with yourself in a new environment, but there's always something good there for you, even if it doesn't happen today or tomorrow," Simone says about the support group she attends. "It's such a wonderful thing to see people start to open up and become comfortable sharing."
The Alzheimer Society's support groups for people living with dementia provide participants with an opportunity to:
Learn about dementia and its progression
Share feelings and common experiences
Exchange practical coping strategies and mutual support
Participate in meaningful discussions
"The group is a safe space and gives everyone a chance to speak their minds, which lets them know they're not alone in what they're going through," Jackie says. "When Simone comes out of those meetings, she has more tools for her toolbox – new tips or ways to overcome challenges, which helps increase her confidence."
The Society offers a variety of support groups for both people living with dementia and their care partners. Check out our Support Group page to learn more.
Jackie and Simone want others living with dementia to know that the door is always open at the Society's support groups and programs.
Fall Minds in Motion® Sessions Open for Registration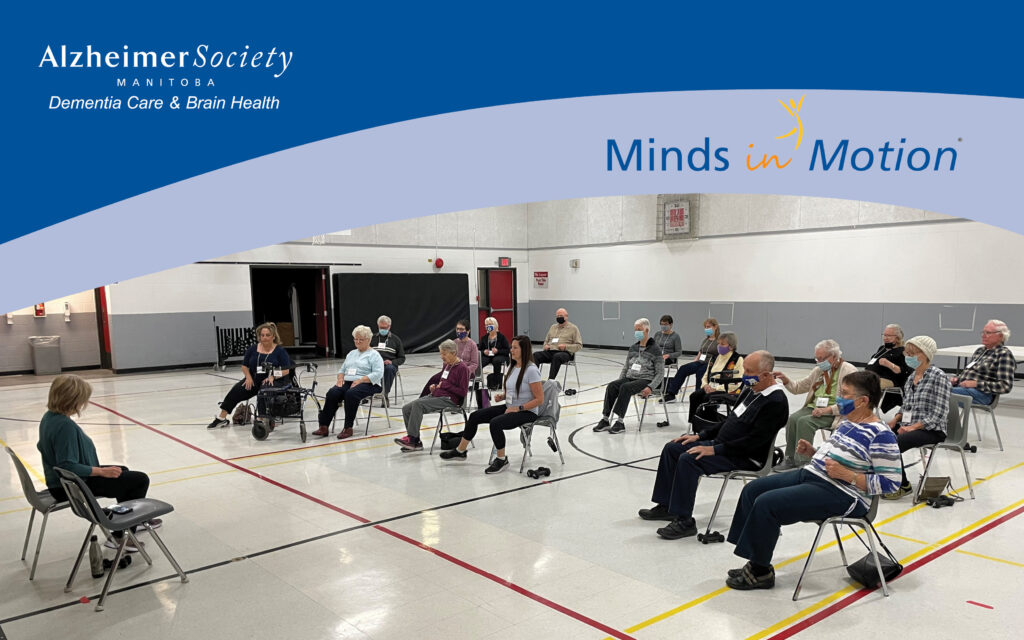 Come join us for gentle chair fitness, fun and recreation at Minds in Motion® this fall!
Visit our Minds in Motion® page for more information and to register now. 
Here are the upcoming dates and locations of our Fall Minds in Motion® sessions (cost is $65/pair unless noted).
Virtual (Province-wide)
ZOOM Webinar
Thursdays, 10 – 11:30 am
Oct 12 – Nov 16 (6 weeks – $45/pair)
Registration Open!
Winnipeg Locations

Chalmers Community Centre – 480 Chalmers Ave.
Thursdays, 10:30 am – 12:30 pm
Oct 12 – Nov 30
Call to register: 311

Dakota Community Centre – 1188 Dakota St.
Tuesdays, 1:30 – 3:30 pm
Oct 10 – Nov 28
Call to register: 204-254-1010
Rady JCC Fitness Centre –  123 Doncaster St.
Wednesdays, 10 am – 12 pm
Oct 11 – Nov 29
Call to register: 204-477-7510
Riverwood Square – 1778 Pembina Hwy.
Tuesdays, 10 am – 12 pm
Oct 10 – Nov 28
Call to register: 204-275-7632
St. James Assiniboia 55+ Centre – 3rd Floor – 203 Duffield St.
Tuesdays, 1:30 – 3:30 pm
Oct 10 – Nov 28
Full Program – $75/members, $95/non-members
Drop-In – $10/members, $13/non-members
Call to register: 204-987-8850
Register Online
St. James Civic Centre –  2055 Ness Ave.
Fridays, 1 – 3 pm
Oct 13 – Dec 1
Call to register: 311
The Wellness Institute – 1075 Leila Ave.
Wednesdays, 1:30 – 3:30 pm
Oct 11 – Nov 29
Call to register: 204-632-3900
Regional Locations
ALTONA
The Gardens on Tenth – 140 10 Ave. NE
Mondays, 1:30 – 3:30 pm
Oct 23 – Dec 11
Call to register: 1-204-324-8945
BRANDON
Seniors for Seniors – 311 Park Ave. East
Thursdays, 1:30 – 3:30 pm
Oct 12 – Nov 30
Call to register: 1-204-571-2050
PORTAGE LA PRAIRIE
Herman Prior Centre – 40 Royal Rd. North
Wednesdays, 1:30 – 3:30 pm
Oct 11 – Nov 29
Call to register: 1-204-857-6951

SELKIRK
Gordon Howard Centre – 384 Eveline St.
Wednesdays, 1 – 3 pm
Sept 20 – Nov 8
Call to register: 1-204-785-2092

Register Now for Our Fall Community Partner Programs
Discover. Explore. Get Involved. is an initiative that involves partnering with community organizations. Through these partnerships, people living with dementia have opportunities to get out and participate in engaging and stimulating activities with their family members and friends.
Check out our current lineup of community partner programming happening this fall!
Tales Along the Trail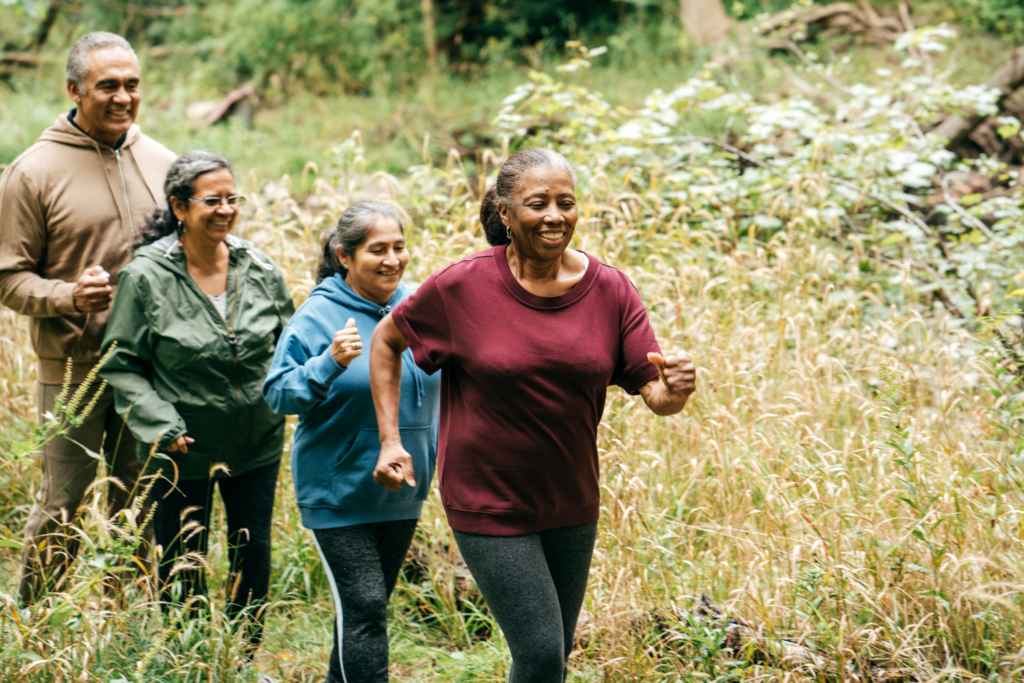 Enjoy the best of a Manitoba autumn with migrating birds, magnificent bison, and let crackling campfires set up calming, fun, natural adventure – all in city limits!
Tales Along the Trail is for people living with early to moderate symptoms of dementia and their care partners who are looking for a safe but exciting way to encounter the natural world. An experienced naturalist will guide the group along FortWhyte's gentle pathways, pointing out all fall has to offer and encouraging everyone to use all their senses to explore.
Each session will include a relaxing walk through the woods, with stops focusing on all of our senses. We then will have a chance to share thoughts, stories, and a snack around a crackling fire or cozy indoor space. In stormy weather, we bring nature indoors.
Fall Program (7 weeks)
Wednesdays, 2 – 3:30 pm
September 6, 13, 20, 27, October 4, 11, 18, 2023
FortWhyte Alive, 1961 McCreary Road
Cost: $126/couple
Register today by contacting bmiller@fortwhyte.org for a link to register for this program.
Developed in partnership with FortWhyte Alive and the Alzheimer Society of Manitoba. 
Journeys Through the Zoo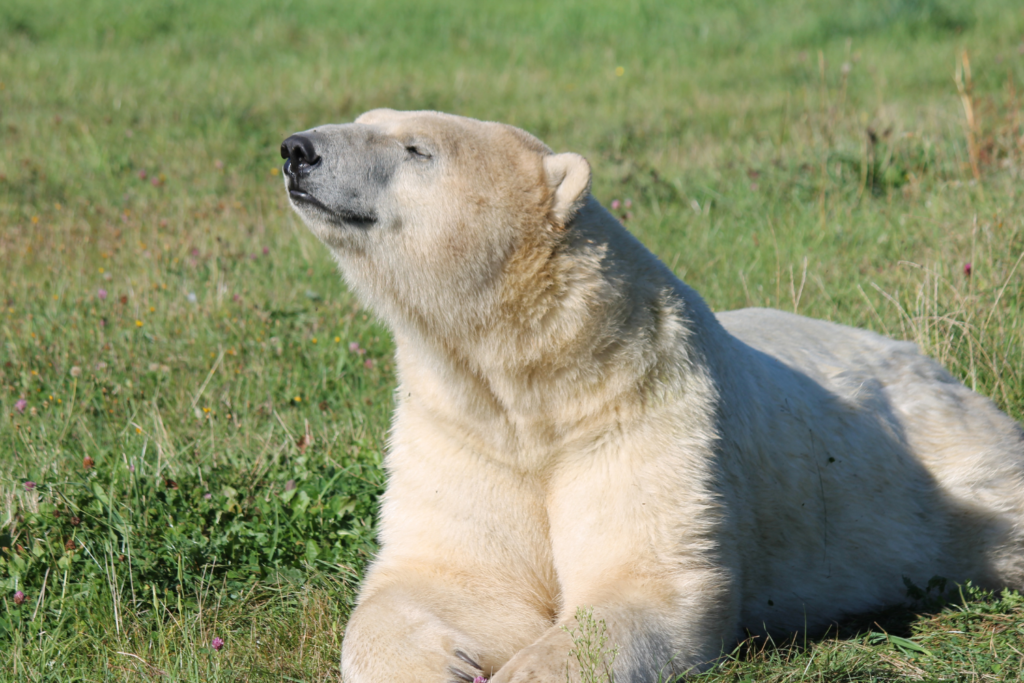 Journeys Through the Zoo is an engaging program designed for people living with early to moderate symptoms of dementia and their care partners to explore Assiniboine Park Zoo's most famed exhibit: Journey to Churchill.
Led by an Educator Coordinator, we explore the animals at the zoo and earth-friendly themes while building community through reminiscing, sensory and group activities. We spend time indoors and outdoors so please dress for the weather and walking.
Journeys Through the Zoo is a joint offering of Assiniboine Park Zoo and the Alzheimer Society of Manitoba. It allows people with dementia and their care partners to try new experiences in a supportive environment.
Fall Session (4 weeks)
Tuesdays, 10 am – 12 pm
September 19, 26, October 3, 10, 2023
Assiniboine Park Zoo, Special Events Gate, 54 Zoo Dr.
Cost: $105 + GST/pair
Registration is now open on the Assiniboine Park website.
Developed in partnership with the Assiniboine Park Zoo and the Alzheimer Society of Manitoba. 
Now and Then: A Journey in Time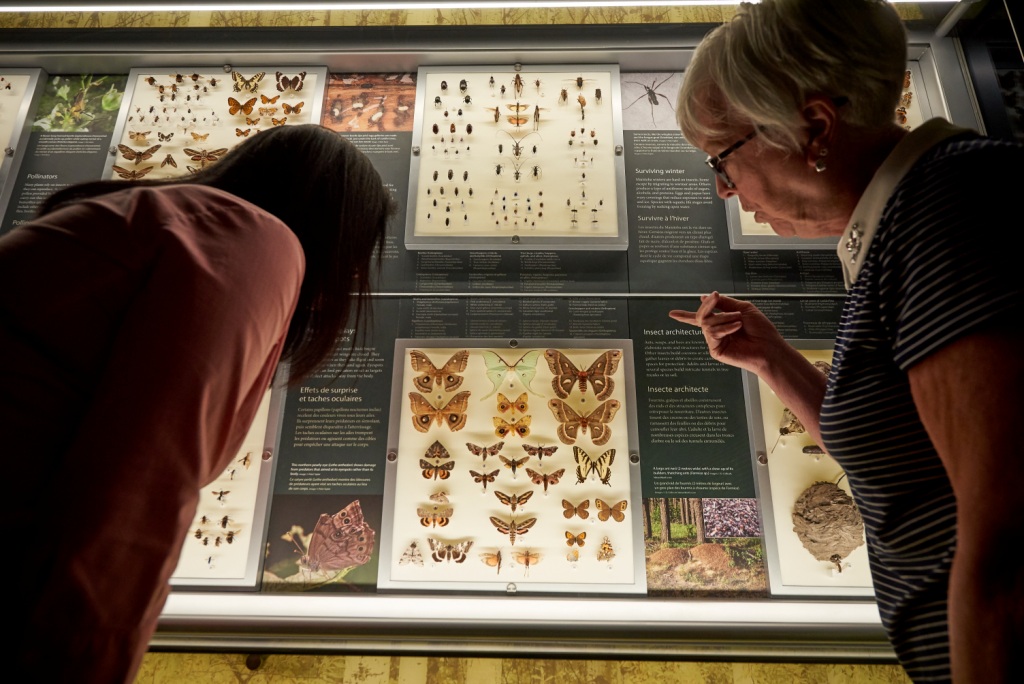 Now and Then: A Journey in Time is a program that encourages people living with early to moderate symptoms of dementia and their care partners to explore the Manitoba Museum's many collections.
During four lively sessions led by a Museum Learning Facilitator, participants will explore old memories and create new ones through objects, activities and stimulating discussions. Each session highlights one of the Museum's distinct galleries, from the animals of the Arctic to the far reaches of ancient Egypt and many more.
Participants are welcome to explore the Museum Galleries before or after the program.
Fall Program 1 (4 weeks)
Wednesdays, 2 – 3:30 pm
September 20, 27, October 4, 11, 2023
Fall Program 2 (4 weeks)
Wednesdays, 2 – 3:30 pm
November 8, 15, 22, 29, 2023
Manitoba Museum, 190 Rupert Ave.
Cost: $80 + GST/couple ($75 + GST/couple for museum members)
Register today on the Manitoba Museum website.
Developed in partnership with the Manitoba Museum and the Alzheimer Society of Manitoba. 
Manitoba Researcher Receives Funding to Test Innovative Dementia Treatment
Our brain contains billions of nerve cells known as neurons that send messages all over our body to perform different functions such as movement, breathing and thinking. When neurons die, connections between these cells are disrupted, leading to loss of function in our bodies and minds – causing dementia.
Over the past few decades, research efforts into dementia have mostly focused on removing abnormal levels of amyloid plaque that build up in the brain, causing neuron death and blocking messages from being sent. Eftekhar Eftekharpour specializes in the study of neurons and believes the root of these plaques may be within the nucleus, or centre of the neuron and removing the plaques alone may not be effective against dementia.
Eftekhar is a researcher from the University of Manitoba and one of 44 researchers nationwide who received funding from the Alzheimer Society's Research Program (ASRP) in 2023. The ASRP is funded by generous donors and funding partners, including a partnership with Research Manitoba. With this funding, Eftekhar is able to test an innovative potential treatment for dementia that targets the damaged nucleus in neurons.
Throughout his career, Eftekhar has primarily focused on the neuron, which plays a major part in the central nervous system. He's always been interested in what causes these nerve cells to die and has previously done research on spinal cord injury and brain injury. He saw the way nerve cells, or neurons, become damaged in the brains of people living with dementia and began focusing on how to prevent or reverse this damage.
Eftekhar and his team have identified a small molecule that when delivered into the brain, shows evidence of improving neuron health. Thanks to the ASRP funding, Eftekhar is now testing this molecule in mice models, to see if it will improve the memory and behaviour changes that occur due to dementia.
"There is no word to do justice to the importance of research funding," Eftekhar says. "The emotional impact of dementia will continue to affect our future generations so anything we can do now to learn more about this disease is worth it. Twenty years ago, we didn't know much about dementia, and we've come so far thanks to funding like the ASRP."
Eftekhar knows firsthand the impact dementia can have on a family. He says there have been family members who experience dementia.
"We began noticing uncharacteristic behaviours in my grandmother and later found out these were caused by dementia," Eftekhar says. "Every time I visited her afterwards, I saw her fading away. It's something that gives you a better perspective for your own work and your own future."
Eftekhar says the ASRP funding is an important step toward testing his new approach. He hopes this will help him generate stronger data he wouldn't have been able to gather otherwise. Many more aspects of dementia need to be understood and he hopes his research will uncover new knowledge about the disease.
Dementia Care Professional Development Series:




The Complex World of Dementia Care
Sponsored by All Seniors Care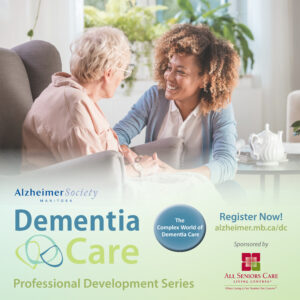 Join us for our Dementia Care 2023-2024 Professional Development Series! Sessions are geared towards health care staff and community service providers and take place online monthly (plus two in-person) until March 2024.
Our next session titled, It Isn't Just Memory Loss: Changes in Movement, Behaviour and Social Skills in Dementia, takes place on Wednesday, September 13, from 2 – 3 pm. In this session, participants will learn about the similarities and differences between the common forms of dementia, the effects of involuntary movements, loss of inhibitions, personality changes and psychological symptoms on a person's daily activities, treatment options for the various types of dementia and strategies to use when communicating, assisting with activities and providing personal care.
For only $30, you get access to all virtual sessions PLUS the option to register for in-person workshops! (Additional $5 charge for in-person sessions.)
We encourage anyone working with people living with dementia in the community, hospitals or personal care homes to register. These sessions add up to 30 completed hours of education that may be used towards professional development or continuing education hours.
Visit the Dementia Care website to learn more about all the sessions, speakers and to register now!
This event is sponsored by: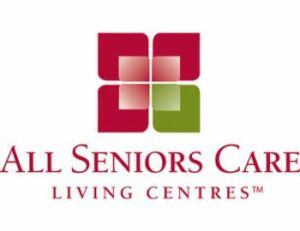 Register Today for Fall Education Sessions
Family Education: Next Steps Sponsored by Johnston Group and Payworks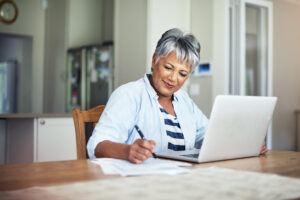 We've got a full calendar of education sessions this fall. Come join us to learn about a variety of topics including the progression of dementia, legal and financial matters, navigating long-term care, reducing dementia risk and more. These sessions are free to attend and offered both in-person and via Zoom.
Here's what's coming up:
Reducing the Risk of Dementia, Sponsored by Johnston Group and Payworks
This session will focus on the things we can do now to reduce our risk of developing dementia. Risk reduction strategies that include lifestyle changes, social interactions, managing hearing loss and more will be discussed.
Wednesday, September 6 | 10 – 11 am | Virtual via Zoom
Click here to register.
Living with Dementia: First Steps – Part 1
The first of a three-part information series for people supporting someone recently diagnosed with dementia. This session will focus on an overview of the disease, as well as the services provided at the Alzheimer Society.
Saturday, September 9 | 10 – 11:45 am | Virtual or Alzheimer Society of Manitoba Boardroom
Click here to register.
Navigating the Long-Term Care System, Sponsored by Johnston Group and Payworks
What is paneling and how do you initiate the process? These questions and more will be answered. Recognizing that everyone's dementia journey is different, this session will outline the "typical steps" that can be helpful when navigating the long-term care system.
Wednesday, September 20 | 2 – 3 pm | Virtual or Alzheimer Society of Manitoba Boardroom
Click here to register.
Visit the link below for more details on our fall education sessions and to register.
Family Education – Upcoming Seminars
Family Education: Next Steps Sponsored by:
Join a Support Group!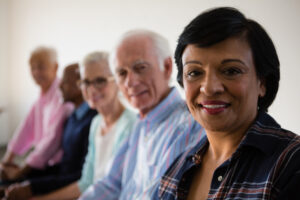 Support groups provide participants with an opportunity to learn more about dementia and its progression, share feelings and common experiences, exchange practical coping strategies and mutual support, as well as participate in meaningful discussions. 
We welcome everyone to this inclusive environment for people of different ethnicities, cultures or persons who identify as part of the 2SLGBTQ+ community.
Here are a few of our upcoming care partner support groups:
Responsive Behaviour Support Group
The Responsive Behaviour Support Group assists care partners who are caring for someone with a diagnosis of Frontotemporal Dementia, Lewy Body Dementia, or other forms of dementia where responsive or reactive behaviours are present. Learn coping strategies and care techniques to assist in managing these symptoms, as well as share mutual support and understanding about the stresses that may arise in navigating these changes.
Meets virtually on Zoom
Second Thursday of the month, from 7 to 8:30 pm
alzmb@alzheimer.mb.ca
2701 Scotia St
Fourth Tuesday of the month, from 7 to 8:30 pm
alzmb@alzheimer.mb.ca
*Note: Per internal restrictions at River Ridge II, all participants are encouraged to wear a face mask at all times while in the building.
Ambiguous Loss Support Group for Spouses
The Ambiguous Loss Support Group assists care partners to work through the feelings of ambiguous loss and grief that are experienced when someone close to you has dementia. The goal is to help you build up enhanced coping strategies that will support you in your role as a caregiver, and to help you plan for the future.
Tuesday, September 25th to November 21st, from 10 – 11:30 am
Meets virtually on Zoom
alzmb@alzheimer.mb.ca
Thursday, September 28th to November 16th from 6:30 – 8 pm
Meets virtually on Zoom
alzmb@alzheimer.mb.ca
Additional Information and Registration 
For more information about current and upcoming support group opportunities, or to register for a support group, please contact the First Link Client Support team at (204) 943-6622 or email us at alzmb@alzheimer.mb.ca. You can also view a full list of support groups on our Support Groups page.
If connecting via email, please include your first/last name and the name of the support group you are interested in attending.
Our new support groups were made possible by a multi-year commitment to our First Link program from the Jessiman Foundation. A heartfelt thanks to the Jessiman family for this leadership gift that has allowed us to expand our programs in such a significant way.  
Follow Us On Social Media
Join us on Facebook, Instagram, LinkedIn and X (formerly Twitter) for the most current news, information and resources. If you're already following us on social media, invite your friends to do the same!
We Rely on Your Donations to Continue Our Work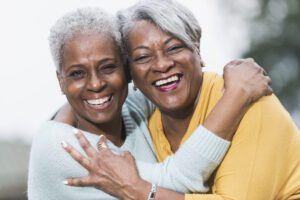 Your gifts are put to immediate use through our helpline, support groups and education programs.
Remember. You Are Not Alone.
We are here to help you and your family no matter where you are in your dementia journey. You can reach a comforting ear by phone or get a quick response by email. Call us at 204-943-6622 (Wpg), 1-800-378-6699 (MB) or email alzmb@alzheimer.mb.ca