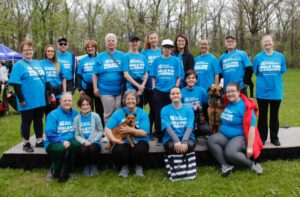 Candace Graham has been participating in the IG Wealth Management Walk for Alzheimer's over the last ten years. For the 2022 Walk, she invited her coworkers at PKF Lawyers, a Winnipeg law firm, to walk with her. Next thing she knew, she had a team of 18 people who were all excited to fundraise for the Alzheimer Society.
By inviting her coworkers to join her at the Walk, Candace found there were many people at her firm who have personal experiences caring for someone living with dementia. This shared experience not only showed how big of an impact dementia has within the community but allowed Candace and her coworkers to unite for a cause close to their hearts.
The PKF Lawyers team had a blast attending the 2022 Walk. "The atmosphere was positive and exciting – which was exactly what our team was looking forward to," says Candace. "We also raised enough funds as a group to get our firm name on the back of our Walk t-shirts, which was a special touch and made a great keepsake!"
"The Walk was a perfect team building and bonding opportunity for PKF's staff and it was a nice change to see everyone outside of work in a common cause," says Tom Frohlinger, Managing Director of PKF. "I think every office should try this. It was a truly rewarding experience."
Candace enjoyed her experiences at the Walk, even when she participated by herself. "It was an inviting and fun event – whether you're walking as an individual or with a team, anyone can participate and have a great time."
Check out the official website for more details and to register for this year's Walk.