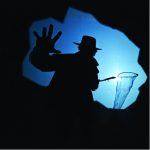 IT'S DARK OUTSIDE:
Attend this MTYP Show and Help Raise Money
for the Alzheimer Society!
It's Dark Outside features puppetry, mask, animation and projections to tell the beautiful and emotional story of the man's journey (without using a single word). The show is suitable for audiences age nine and over (including, of course, adults).
Here's some more information on the show, including a short video:  https://www.mtyp.ca/itsdarkoutside.cfm
Shows take place at MYTP at #2 Forks Market Road in Winnipeg on:

Friday, February 16, 7 pm
Sunday, February 18, 1 pm
Saturday, February 24, 4 pm
MTYP will make a donation to the Alzheimer Society of Manitoba for every ticket sold using the following promotion code: LastGreatHunt. Make sure to use the code when you buy your ticket.