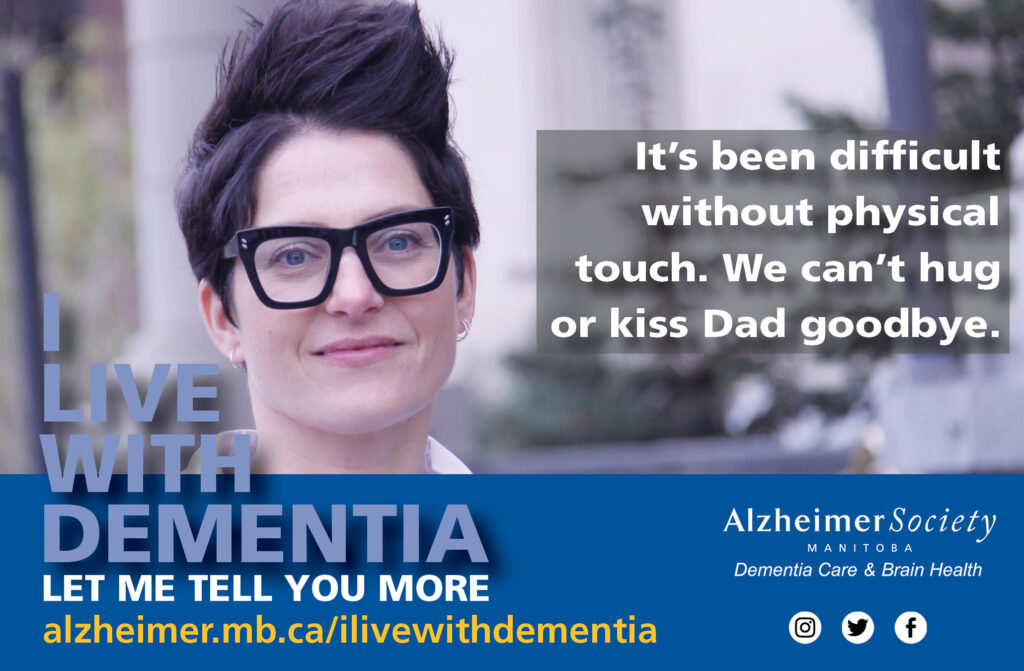 Dad is 68 now. It's been four years since he was diagnosed with early onset Alzheimer's, and the disease has definitely progressed. From our perspective, the worst has been his lessening ability to recognize and interact with us during visits. Verbal communication is limited, if any. And when we make eye contact, he looks at us with an empty stare.
Dad is in a care home in Selkirk, and he's been panelled to go into a care home in Beausejour, where our mom lives. Dad has been at the top of the list for months now, but due to Covid, they aren't allowing any moves.
With the current pandemic situation, visitors are not allowed. For a few months prior to the care home going to code red, the number of visitors was restricted, and only two weekly appointments of 45 minutes each were permitted. During these visits, we had to practice social distancing and wear masks.  My mom, especially, found this hard because she couldn't touch Dad or give him a kiss when she left.  Before, we may not have had a lot of social interaction, but at least we had physical touch with hugs and kisses, and Dad could see our smiles. The home offers Facetime visits; however, more time is spent talking with the social worker facilitating the call than with Dad, given his limited ability to interact.
Before Covid, my mom would go visit Dad for hours at a time and socialize with the whole floor because they were Dad's new circle of friends. My two sisters and I would schedule our visits to coincide in the evenings after work so we could have the company of each other. That's because we never knew how interactive Dad would be that day.
The grandkids haven't seen Dad since his birthday in February, but they ask about him often. We make sure to talk about him when we are together, such as when we play cards, which is something Dad always enjoyed.  We talk about what he would have done and said, and we all get a good laugh about it.
Advice:
Recognize the early signs of dementia and share what's really going on. Don't be in denial. The earlier a diagnosis and supports are put in place, the better.
At the beginning of your journey, reach out and talk about the diagnosis. We had so many family and friends come forward with their own stories. You're not alone.
Support the parent who is the caregiver. Our mom lost her life partner and her world has completely changed. We have to remember to give her our time and love, too.
Read Tara's story in the January 2021 eNewsletter.
Click here to return to the Alzheimer's Awareness Month page.