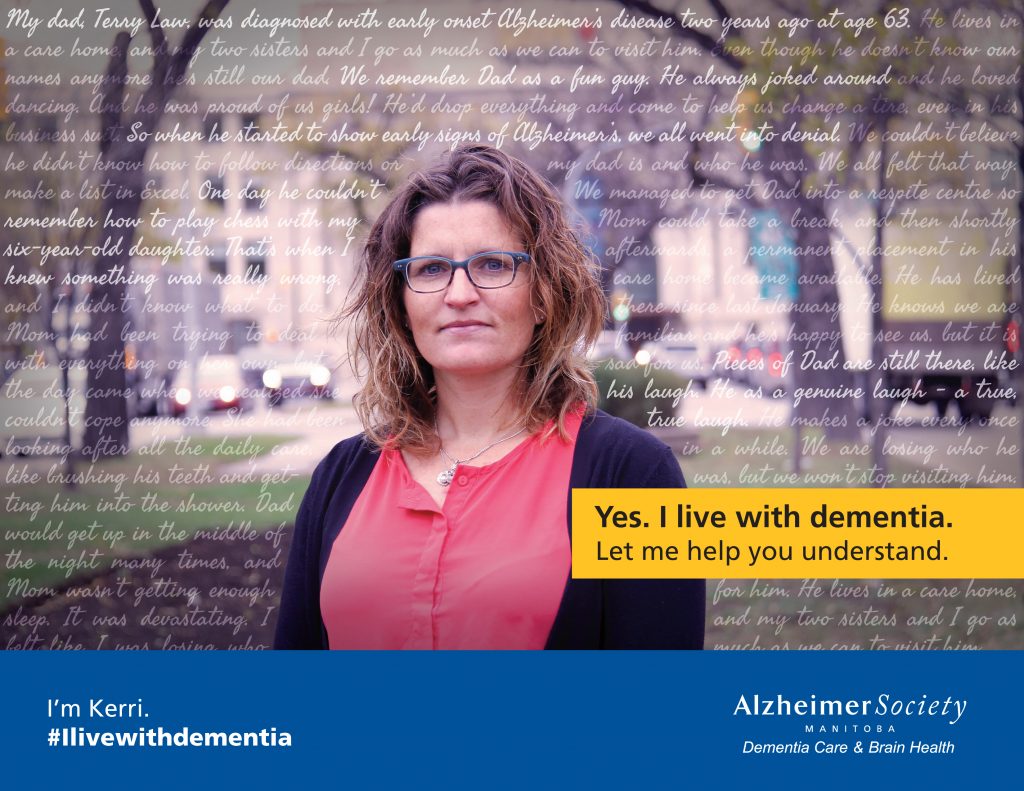 My dad, Terry Law, was diagnosed with early onset Alzheimer's disease three years ago at age 63. Today, he lives in a care home. My mom, two sisters and I visit him as much as we can. He may not know our names anymore, but we are a familiar face and he's still our dad.
Dad was a fun guy ̶  he always joked around and he loved dancing. He was proud of us girls and would drop everything to come help us with anything, even to change a tire in his business suit. When he started to show early signs of Alzheimer's, we all went into denial. He lost his sense of direction and he was unable to make a simple list in Excel.
Dad was gifted with an analytical and strategic mind and was always a great chess and checkers player. He was always five steps ahead of his opponent. One day he was playing checkers with my six-year-old daughter and couldn't remember how to play. That's when I knew something was really wrong.
We contacted the Alzheimer Society of Manitoba, who led us on the right path.
Mom had been trying to deal with everything on her own and was looking after all of dad's daily care, including brushing his teeth, shaving him and getting him into the shower, which he resisted. Every day was a struggle. Dad would get up in the middle of the night many times, and Mom wasn't getting enough sleep. The day came when we realized she couldn't cope anymore.
It was devastating; I felt like I was losing who my dad is and who he was. We all felt that way.
We managed to get Dad into a respite centre so Mom could take a break, and then shortly afterwards, a permanent placement in his care home became available. He has been in a care home since last January. While we are a familiar face to him and he exudes a wonderful sense of happiness and joy when we go to visit, it is sad for us as he doesn't remember who we are.
Pieces of Dad are still there inside of him, like his laugh. He has a genuine laugh – a true, true laugh. He also makes a joke every once in a while, which puts a smile on our faces. We are losing who he was, but we will never stop visiting him, as he needs us now.
Dad was always there for my mom, my two sisters and me. Now, we are there for him.
Here are my tips to help you understand:
If you see signs, even subtle ones, don't try to hide it – go and talk to someone. A counsellor at the Alzheimer Society got us to address the elephant in the room, and that helped us to start talking.
Even if your family member doesn't seem to know you, they probably know you are familiar. Dad has introduced me as his wife, so he knows I'm family.
Let the little things go. It doesn't matter if it takes 10 minutes longer for him to put on his shoes.
Try to see the silver lining. For us, Dad's illness brought my family together and made us closer than we'd ever been before.
When people find out you have a family member with dementia, they may come to you for help if they are worried about someone in their family. That's a positive thing – you can help them!

Click here to go back and read more local stories.
Visit ilivewithdementia.ca to read more stories from other Canadians who live with dementia.