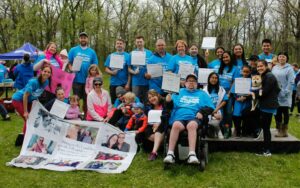 When it comes to raising awareness for a cause, social media can be a great tool for getting your message out to others. That's exactly how Jessica Denisiuk connected with her team members for the 2022 IG Wealth Management Walk for Alzheimer's.
Jessica's mom was diagnosed with dementia in 2013, and her dad had been her main care partner until his passing in 2021. After her dad passed, Jessica and her family realized how much her dad did behind closed doors – how many challenges and changes he had managed on his own and just how much of a support he had been to her mom.
The 2022 Walk was the first one Jessica participated in, and she knew she wanted to make it a special experience, not only to show support for her mom living with dementia but for her dad's strength as a care partner. Jessica took to her social media accounts, making posts about the Walk, adding a link in her Instagram profile so others could easily donate, and calling on others to join her Walk team. Her social posts were successful – she was able to pull together a team of 25 people!
"Everybody knows someone affected by dementia, and it's something that needs to be spoken about more openly," says Jessica. "I wanted to share the Walk on social media to help spread awareness about dementia. The more information and resources we have, the better prepared families can be when caring for someone living with dementia."
As team captain, Jessica plans to take to social media again this year to raise awareness about the Walk and the Alzheimer Society.
"We had an amazing experience at last year's Walk. I'm excited to go again this year. I already know we'll have more members joining our team."
Check out the official website for more details and to register for this year's Walk.