In This Issue
Kerri's Story: "But he's still there. He's still my dad."
Great Canadian Travel Helps Clients Make Memories
Dementia Centred Communication the Focus of Research Study
Working as a Team When a Family Member has Dementia
Education and Programs
Events and Volunteering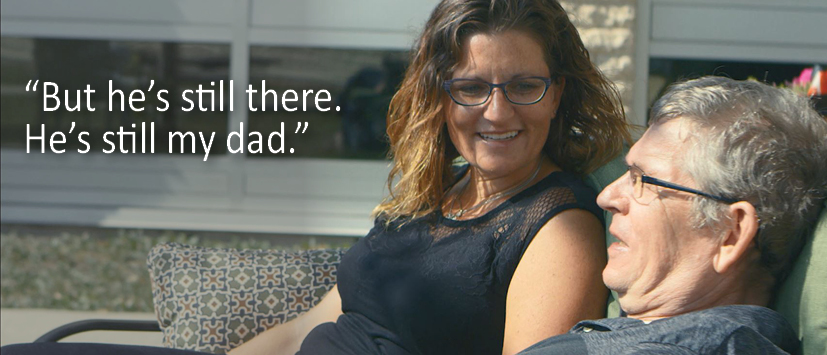 Kerri Pleskach has a story she wants to share. She hopes it will light the way for others who are walking a similar path.
As you watch and learn about Kerri's relationship with her dad, you may see parts of your own story in hers.
Thanks to Kerri, her father Terry, her mother Jan, and her sisters Cristy and Tara for having the courage to share so openly.
Click here to view Kerri's story on Facebook.
Click here to view Kerri's story on YouTube.

Dementia Friendly Communities:
Great Canadian Travel Helps Clients Make Memories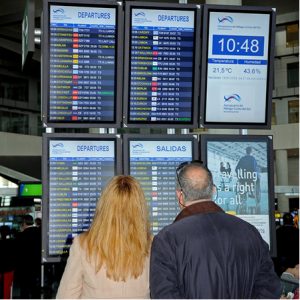 Local travel agency Great Canadian Travel (GCT) sometimes books clients who are taking a trip with a friend or family member who has dementia. The agency approached the Alzheimer Society to obtain information about the disease for the company's travel consultants.
Jennifer Licardo, Education Manager at the Society, was only too happy to suggest that a Dementia Friendly Communities presentation be given to staff members at GCT. "They were very receptive to the idea, so I arranged to do a session for them," says Jennifer.
Dementia Friendly Communities is an initiative of the Alzheimer Society that strives to include and support people with dementia in the places they live, work and play. Part of that initiative involves delivering dementia education sessions to businesses and organizations that teach staff members about dementia and provide tips on how to interact and communicate with people who have the disease.
Making Travel Easier
During the presentation at GCT, the company's consultants recalled situations they had encountered when planning trips for people travelling with someone with dementia. They wanted to know how to make travel easier for them.
"We discussed how a person with dementia might be feeling in an environment that's overwhelming for them," says Jennifer. "We talked about communication techniques  ̶  about things you can say and do to ease a potentially stressful situation."
Imagining travel scenarios and suggesting how the GCT's consultants could apply dementia friendly principles was part of the presentation. For example, crowded situations can be difficult, so booking direct flights during non-peak periods can eliminate the stressful situation of navigating different airports. It's also important to consider the location of the accommodation being booked. Is it close to the amenities in the hotel or cruise ship? Is it near the tourist attraction the travellers wish to visit?
Involving the Person with Dementia
Another consideration is finding ways for the person with dementia to be actively involved. Great Canadian Travel's Pearl McCallum proposed that, while it may be risky for the person to carry the passports, it may be possible for them to hand the airline ticket to the agent at the check-in desk.
"The presentation got us thinking about the logistics of travel for people with dementia. We learned ways to help the person and their travelling companion to navigate successfully," says GCT's Pear McCallum. "Jennifer gave us a better understanding of the disease and made us aware that people can be at different stages and have different needs."
She adds, "Our motto is 'We make memories.' We'd like to help people with dementia and their families make lots of good memories on the trips they book with us."
The Alzheimer Society can help any business or community group become more dementia friendly. You can arrange for a Dementia Friendly Communities presentation by calling us at 204-943-6622 or by emailing alzeducation@alzheimer.mb.ca
2018-19 Alzheimer Society Graduate Student Fellowship
Dementia Centred Communication the Focus of Deanne O'Rourke's Study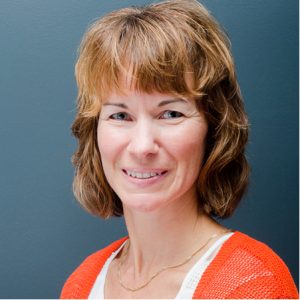 Health care aides (HCAs) play a major role in providing hands-on care to persons with dementia living in long-term care. That's why it's important that their communication with residents be as personal and caring as it can be.
Deanne O'Rourke hopes her study involving video feedback training will help to make that happen.
A clinical nurse specialist working part-time in Winnipeg, Deanne is also a doctoral candidate in the College of Nursing at the University of Manitoba. Her dissertation is "A Pilot Study of a Video Feedback Intervention to Enhance Long-Term Care Aides' Person-Centred Dementia Communication." She is the recipient of the 2018-19 Alzheimer Society Graduate Student Fellowship award.
Deanne's study will involve working with up to 20 HCAs and 20 residents with mild to moderate dementia living at a long-term care facility in Winnipeg. Over the course of the study, a 10-minute video of a routine care interaction between each HCA and his or her resident partner will be taken.
The HCAs will then attend a four-hour group session on person-centred dementia communication. Next, they will attend a one-on-one session to watch and discuss their video-recording.  Afterwards, each HCA and their resident partner will be video-recorded again during a care interaction to assess the impact of the intervention.
Person-Centred Communication
Communication skills are taught in typical HCA training, but they aren't necessarily focused on person-centred strategies, says Deanne. Often, conversations between HCAs and residents are related to the care task at hand and do not reflect a personal connection.
The approach used in Deanne's study will focus on teaching language-based dementia communication skills, along with person-centred, or relational aspects, of communication. Appropriate dementia communication involves phrasing statements or questions in a specific way for clarity. Person-centred communication is more relational, focusing on understanding and relating to the person as an individual, as well as seeing things from their perspective.
As video feedback teaching methods are rarely used in HCA training, Deanne hopes the video-recordings will be a powerful tool to help these staff members see how they conduct themselves when communicating with their residents.
Deanne's study aims to maximize person-centred care by looking at the day-to-day interactions staff are already having with residents and seeing how this time can be enhanced.
"We need to find teaching approaches that help people reflect back on themselves – that's why I've been really drawn to video feedback," she says. "I'm really interested to see how it works in this setting."
Working as a Team When a Family Member has Dementia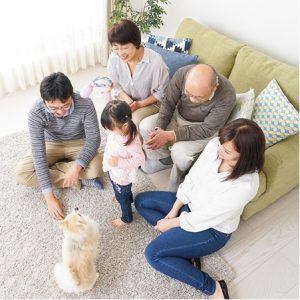 Families come in all shapes and sizes, with different personalities and beliefs that influence the roles and relationships of their members.  When someone is diagnosed with dementia, it impacts every family member in a unique way. How individuals respond and engage in supporting the person with dementia will be different, but the desired outcome is for the family to work as a team.
How can you do this?
Learn about the disease and the best approaches to use. Being well informed makes decision making easier.
Focus on what is important to the person receiving care. Include them in decision making at the level they are able.
Recognize strengths and unique skills of each family member. Remember  ̶  not everyone will be able to have the same degree of involvement, and this does not mean a person has less interest or concern for the person being supported.
Rather than making all decisions in an ad hoc fashion, have meetings to discuss options and plans.  If the group is divided about an action to take, a mediator or third party may be helpful in assisting with coming to a decision.
Empathize and listen when seeking a solution to a difficult situation. Be prepared to let go of things you cannot control or change.
Remember that reaching out and using the services of health regions or community agencies is a positive action for a family team to take. You do not need to do everything on your own.
Plan for the future needs of the person well in advance so reactionary decision making is less likely.
Accept that there are several "right" ways to provide care.
As your family team works together, remember that the Alzheimer Society of Manitoba is available to provide information and support.
Education and Programs
Events & Volunteering