In This Issue
Yes. I live with dementia. Let me help you understand
Society Helps Family Through the High Waters of Dementia
Thank You for Helping to Light the Way
Register Now for the 2019 Dementia Care Conference for Health Professionals
People with Dementia to Help Design Museum Program
The Power of Music
Transitioning to a New Care Environment
Education and Programs
Events and Volunteering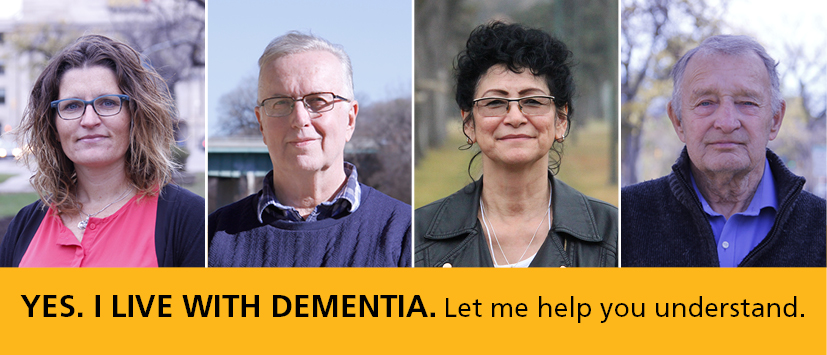 January is Alzheimer's Awareness month. We asked Manitobans affected with dementia – both those living with the disease and their care partners – to share their stories so others can understand.
Click here to read about people like Gavin. He and his wife, Beverly, have a  mantra, "Live. Laugh. Love." Even though Beverly has dementia now, they still live by those words.
Click here to visit our Alzheimer's Awareness Month page for more information about what's happening during the campaign. You'll find dementia friendly community programs where you can sing and make art, opportunities to participate in education sessions, tips on how to live well with dementia – and much more!
Follow us on Facebook for highlights and videos throughout the month – there will be lots of interesting material posted that will educate, inform and entertain.
Here's the thing we hope to instill: dementia doesn't signal the end of a life. It's true that individuals and families must adjust to changes that occur at the different stages, but the important thing is that people can still live their lives, pursue their dreams and show their love for family and friends.
YES. I LIVE WITH DEMENTIA.
Let me help you understand.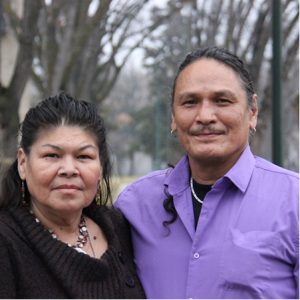 Society Helps Family Through the High Waters of Dementia
Arlene Sinclair's family, including her father, Vernon Spence, were evacuated to Winnipeg from their home at Peguis First Nation during the 2011 flood in Manitoba. Although Vernon had been showing signs of dementia before this upheaval, it was during the extended stay in Winnipeg – 190 kilometers south of Peguis – that his symptoms became more obvious.
"He would get out of bed at 5 am and go outside in the cold – he thought he was in Peguis," says Arlene. "One time, we were at Polo Park mall, and we lost him. A security guard found him – it was really scary."
When the family returned to Peguis, Vernon went back to his home, where he lived alone. At first, Arlene checked in on him regularly, but eventually her role changed to one of caregiver. "Sometimes it was really tough," says Arlene. "The hard side of his personality would come out, and he'd get mad and swear at me."
At the time, Arlene admits that she and her family didn't know much about dementia and its effects. Her dad's reactionary behaviour made her frustrated and upset.
Then she made contact with the Alzheimer Society of Manitoba, and all that changed.
A Calming Effect
After attending Telehealth education sessions offered in the community, Arlene learned new ways to communicate with her father, who now lives in a care home. She talks quietly to him, standing directly in front of him so he can clearly see her and feel her presence. She touches his hand, gently rubbing the skin between his thumb and forefinger.
"It calms him," says Arlene.
Arlene and her husband of two years, Christopher, have twice attended the Society's annual Care4u Family Conference. Christopher also wants to learn as much as he can about dementia so he can assist Arlene in caring for her father.
"When I met Vernon, it was the first time I'd ever known a person with dementia, and I just didn't understand," says Christopher. "The sessions helped me figure out how to support Arlene better."
Both say they appreciate being with other families at the conference who know what they are going through. "I want to spread the word about the Alzheimer Society to others in my community whose family members are getting older," says Arlene.
Today, Arlene's dad is at the stage where he sleeps a lot and doesn't talk. Still, Arlene is convinced that somewhere down deep, he knows who she is.
Thank You For Helping to Light the Way!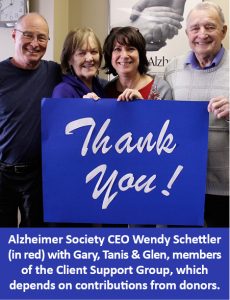 Thanks to the generosity of our donors, we received 679 gifts totalling $63,606 to help "light the way for people with dementia" during our Holiday Campaign.
That total includes the $15,000 given by Neil Carlson, Sean Lawton and Elden Wittmier to help support programs and services offered by the Alzheimer Society of Manitoba.
We are immeasurably grateful for everyone's support and commitment to the many Manitobans impacted by dementia and to the work we do to support them. We could not do this work without you.
Thank you!

Join us on March 4 and 5 at the Canad Inns Destination Centre Polo Park for our Dementia Care 2019 Conference for Health Professionals. The conference runs both days from 9 am to 4 pm. Expert speakers will share their knowledge about a topic of interest to caregiving professionals: how the culture of care is influenced by the expectations, experiences and environment of the person receiving care, their kinship network and those who provide care.
Space is limited for this popular conference, so don't delay! Click here to register and for more information.
Stay tuned for our February eNewsletter. You will find a story about keynote speaker Kristen Jacklin, who will talk about understanding dementia in Indigenous Populations.
Needed: People with Dementia to Help Design Museum Program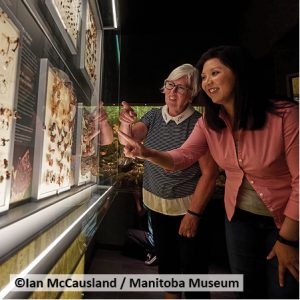 This winter, several individuals with dementia, along with their care partners, will have the opportunity to participate in a truly innovative undertaking: they will help design a dementia friendly communities program at the Manitoba Museum.
The idea came up when Rachel Erickson, the Museum's Manager of Learning and Engagement, approached the Alzheimer Society with the hopes of developing programming specifically for people with dementia.
"Museums are filled with wonderful and often mysterious treasures that can spark curiosity and provide fabulous opportunities for new learning," she says. "For people living with dementia, a museum program can help facilitate wellbeing by providing a social and stimulating environment to explore old memories, and to create new ones."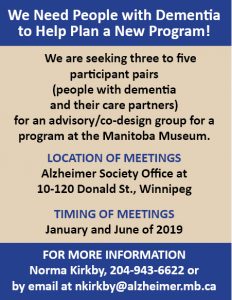 Potential Users to Pave the Way
There's no better way to decide on the specifics of a program than to ask potential users. To that end Rachel, along with Alzheimer Society Program Director Norma Kirkby, is looking for volunteer pairs (a person with dementia and their care partner) to participate in several advisory and co-design sessions between January and June 2019. They will be introduced to some of the Museum's handling collections and will contribute to the planning of session content.
Not only that, but participant pairs will identify logistical details that will make the program more attractive, such as best time of day and parking considerations.
The end result is expected to be dementia friendly programming that makes use of the Museum's vast collections of social and natural history objects in new and creative ways. "We'd like the program to be hands-on and engaging for people living with dementia and their care partners," says Rachel.
Norma sees this partnership, and the aim to have users contribute to the planning, as a big step forward in the promotion of dementia friendly communities.
"The Alzheimer Society is pleased to have another of our community's cultural institutions coming forward to offer programming designed with the needs of people with dementia in mind," she says. "Engaging the person and their care partner in the planning will help us assure that the program will truly be of interest."
The goal is to have a program up and running at the Manitoba Museum by September 2019.
The Power of Music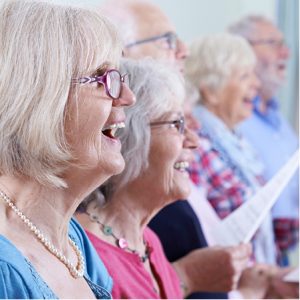 As a practicing musician and a music therapy intern, Heitha Forsyth is well aware that music is a great motivator.
As the leader of Vivace Voices, a 10-week music therapy choir for people with dementia and their care partners, she also knows that music can be a great stimulator of memories. She not only observes this during the classes – she also hears about it through feedback from the singers.
"The wife of one of our participants with dementia said that, since becoming involved with Vivace Voices, her husband is now singing in the shower," says Heitha. "She hasn't heard him do that for years!"
Vivace Voices takes place at the Canadian Mennonite University on a weekly basis. Under the supervision of a qualified music therapist, Heitha took over the group's leadership role last September. She has completed the academic portion of her Bachelor of Music Therapy degree and is excited to put knowledge into practice during her internship.
Music as a Tool
Heitha explains that there is deliberateness to music therapy. "Therapists use music as a tool to help support people's wellbeing and development from a health perspective," she says. "We address needs within a wide range of domains, including cognitive, physical and social, to name just three."
In her work with the choir, Heitha assesses the needs of each participant with dementia, creates a treatment plan and documents the plan's objectives to see if goals are being met.
For example, if participants need encouragement in social interaction, they might be asked to pass instruments to others in the group. If someone requires practice with memory recall, they may be invited to choose the next song and talk about it.
For the group as a whole, lots of general benefits occur, both for the care partners and for the participants with dementia. Care partners get a chance to move out of their usual role and simply be part of a group. People with dementia become more alert as they hold books, sing songs they know and engage with others.
"Vivace Voices is a positive place for participants – there's lots of laughter," she says. "Everyone is happy to be there."
Click here for more information about Vivace Voices or contact the Community School of Music and the Arts at csma@cmu.ca or 204-487-3300 ext. 691.
Making the Transition to a New Care Environment Easier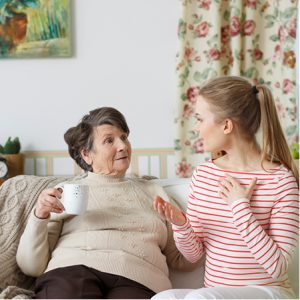 Is a move to a personal care home on the horizon for someone you know? Are you continuing to help someone settle into their new home? Is this transition weighing on both the person you care for and yourself?
Here are tips that may help you make the transition a little easier:
Be empathic. Being empathic can help both you and the person with dementia. Here's an example of what you might say: "I can imagine this must be very difficult for you." Or you could ask: "What could I do to make this easier for you?" Although this question might sound risky, the answer might be something simple that would ease the moment.
Try gentle dialogue. If the person is angry, you might try: "I get that you're angry. I'm sorry this is happening in your life. It's not your fault."
Be hopeful. The person with dementia will likely adjust to their new surroundings. They may have been through a few moves already, such as a prior hospitalization or time spent in a rehab facility. These moves may have been overwhelming, making adjustment harder. Encourage the person (and feel encouraged as the care partner) to give oneself time, which is often the most critical factor in adjusting to a new place.
Stay positive. The person with dementia may reflect or mirror your emotions. If you are sad or feeling guilty, they will sense that. Because you know that the care site chosen is the best option for the person right now, let your words and body language send positive messages.
Provide options. Give the person with dementia choices as you transition them to their new home. Ask them which pictures to hang, what cover they would like on their bed, which music channel they would like on the TV. These and other personal touches will make their new room feel like home sooner.
Breathe! You will think more clearly and find it easier to work through emotional moments.
Last but not least, talk to others to gain the support you need as you support your family member or friend. Remember that the Alzheimer Society is available to you for conversations during times of transition.
Education and Programs
Events & Volunteering