In This Issue
IG Wealth Management Walk for Alzheimer's
Use of Memory Loss Card Makes Life Easier for Family Caregiver
Team Captain: A Meaningful Role for Robert Dupuis
Researchers Discover New Form of Dementia
Protect Your Head!
Get Your Motors Running for a Great Cause!
Education and Programs
Events and Volunteering
See You At the Walk!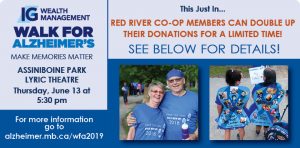 The Red River Co-op's generosity means that
online donations made by members will be matched!
Matching gifts from Red River Co-op will be
ADDED TO PARTICIPANTS' FUNDRAISING TOTALS,
making you and your team eligible for more prizes!
This is a TIME-LIMITED offer that applies ONLY to
Red River Co-op members making online donations from
TUESDAY, JUNE 4 TO MONDAY, JUNE 17, 2019.
Red River Co-op will match donations up to a total of $5,000.
Click here and simply enter your Co-op membership number
when completing your donation.
Reminder to All Walk Participants!
We are getting excited – the 2019 IG Wealth Management Walk for Alzheimer's is only a week away! If you haven't signed up yourself or your team yet, don't worry, there is still time!
When you sign up, you'll be joining people like Robert Dupuis. A staff member of IG Wealth Management, the Walk's National Event Sponsor, Robert is participating as a captain on the firm's team. Read his inspiring story below to find out why it is so important to him to be part of this team!
Click here to register now for the Winnipeg Walk on June 13 or other Walks taking place across the province in June!
See you at a Walk in your area this month!
YES. I LIVE WITH DEMENTIA.
Let me help you understand.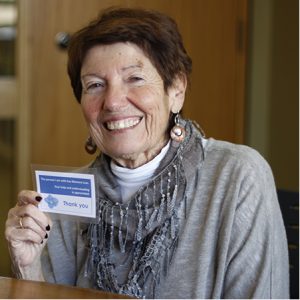 Use of Memory Loss Card Makes Life Easier for Family Caregiver
Betty Searle and her husband, Sam, love travelling. When Sam was diagnosed with dementia 10 years ago, the couple had no intention of giving up this favourite pastime.
As Sam's disease progressed, Betty was able to adapt to his needs. She continued to navigate the ups and downs of air travel, including checking in, getting through security and hailing ground transportation on either end.
One thing that has helped her immeasurably along the way is a card produced by the Alzheimer Society. It reads: "The person I am with has memory loss. Your help and understanding is appreciated."
"This card has been like gold," says Betty. "There are times when Sam may not understand what is going on, and he may react. When I show the card to airport personnel, for example, I am providing them with at least some explanation – even if it is limited – for his behaviour at that moment."
Betty is amazed at the excellent response she gets from people. "The card allows me to be upfront and honest," she says. "If people are made aware that Sam has memory loss, then they understand and try to assist."
The card often comes out of Betty's purse in restaurants as well. Once servers realize the situation, they go out of their way to be helpful.
Betty likes to credit a friend, Sylvia deVlaming, for an adaptation that was made to the card. Both Betty and Sylvia are members of an informal support group that meets near the Society's Winnipeg office. Originally, the card stated, "The person I am with has dementia." Sylvia proposed changing "dementia" to "memory loss," which Betty prefers.
Betty intends to use the card for as long as she and Sam are able to travel, as well as in other situations. She is keen to advocate its use – she keeps a number of them in her purse to give away to others.
Cards with both wordings are available at the Alzheimer Society's Winnipeg office, as well as at its six Regional locations.
Team Captain:
A Meaningful Role for Robert Dupuis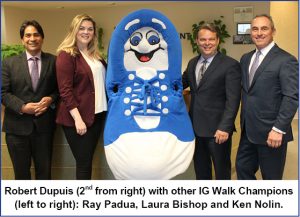 When Robert Dupuis' regional director asked him if he'd like to be a team captain for the 2019 IG Wealth Management Walk for Alzheimer's, Robert immediately said, "Yes!"
Robert is an executive financial consultant for IG Wealth Management. The firm is the Walk's National Sponsor, and for this reason, it's easy for employees to get on board to participate – there are 300 on this year's team! For Robert, though, being asked to captain a team has an even deeper meaning. His father, Aurele Dupuis, died of Lewy body dementia this past November.
"My regional manager is new – he didn't realize how affected I was by this disease," says Robert, who later shared that information. As an employee of 23 years, he's glad to take on the role for his company.
"I'm so happy they're supporting this one. There are so many different organizations out there that could be supported, but IG Wealth Management sees this as valuable … because it affects everyone." Robert appreciates how much public awareness the event brings to the disease and to the work of the Alzheimer Society.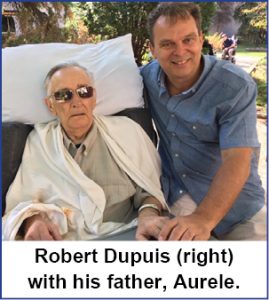 The Dupuis family turned to the Society shortly after Aurele was diagnosed with Lewy body dementia in 2013. They had all witnessed their patriarch's changing behaviour leading up to the diagnosis and were relieved – and saddened – to learn the cause.
Aurele moved to Taché Centre where, Robert says, he received excellent care until his death five years later. Aurele had been a successful independent businessman and realtor; he was 80 years old when he died.
"It was hard for our children to see their grandfather decline. That was tough. It was like tying your shoes – you think they should know how to do it, but they can't," says Robert. "But the people at the Alzheimer Society were comforting and empathetic. They were good at helping us understand the disease and teaching us how to talk to my father so he wouldn't feel ashamed and embarrassed about things."
Last May, the Dupuis family weren't thinking about the Walk for Alzheimer's. In fact, Robert's mother, Aline, and his three siblings had gathered at Aurele's bedside because they thought he was going to die. He rallied and lived another few months.
This year, they're pleased to participate, and Robert will be joined by his 81-year-old mother. He and his colleague, Ken Nolin, will be leading a team of more than 300 IG Wealth Management employees and their family and friends, representing the Winnipeg Southwest office.
"It's good to give back," says Robert.
Researchers Discover New Form of Dementia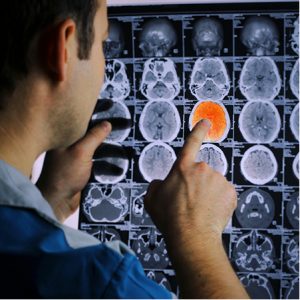 Researchers have announced the discovery of a newly identified form of dementia called Limbic-predominant age-related TDP-43 encephalopathy, or LATE-NC.
According to a study published in Brain, a Journal of Neurology, in April 2019, researchers have determined that when a protein called TDP-43 accumulates in an area in the mid-brain known as the limbic system, it affects learning, memory and emotion. The result is Alzheimer's-like symptoms, even though the symptoms are actually caused by a different protein than the ones that are typical biomarkers of Alzheimer's disease.
LATE-NC seems to develop more slowly than Alzheimer's disease and to appear later in life when people are in their eighties and nineties. Researchers note that the brains of people with the disease don't have the plaque and tangles normally found in people with Alzheimer's.
Currently, LATE-NC is not diagnosable with standard tests and, because of its overlapping symptoms, is not easily distinguished from Alzheimer's. Researchers are working to improve the diagnosis of different diseases that lead to dementia and are trying to understand how to identify and diagnose LATE-NC clinically.
Dr. Saskia Sivananthan, Chief Science and KTE Officer at the Alzheimer Society of Canada, says the study's findings highlight the complexity of dementia. "Though we may see similar symptoms between different types of dementias, the causes can be quite different and require new hypotheses, as is the case with LATE-NC."
She says identifying LATE-NC was the result of a network of researchers from different countries working together. "It demonstrates the impact we can have when we collaborate on a large scale. We look forward to seeing more research that helps us understand this new form of dementia and finding better ways of diagnosing all dementias."
June is Brain Injury Awareness Month:
Don't Forget to Protect Your Head!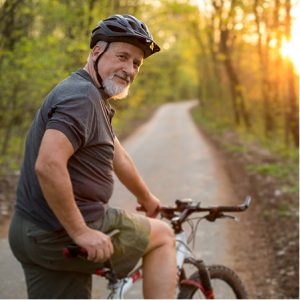 Various studies show a correlation between head injury incidents and an increased risk of dementia. Head injuries are most often caused by slips, trips and falls (especially in older adults) and by sports and vehicle accidents. These incidences can be avoided by taking adequate safety measures.
Slips, trips and falls can be prevented by:
Removing tripping hazards in your home (items on a staircase, small area rugs, shoes in a hallway).
Limiting the use of step ladders and chairs by placing frequently used items in easy to reach spots.
Reviewing prescriptions, over-the-counter medications and dietary supplements with your doctor or pharmacist to avoid medications or combinations that may affect balance.
Improving lighting indoors and outside to improve visibility, especially around stairways, hallways and entrances.
Wearing sunglasses outdoors on bright days.
Using safety features, such as handrails on all stairs (interior and exterior) and grab bars in bathrooms.
Outdoor accidents that could lead to head injury can be prevented by:
Wearing an approved helmet for such sports as cycling, football, hockey and rollerblading.
Using quality, proper-fitting equipment and footwear that has good support and can be tightly laced.
Dressing appropriately and avoiding scarves, bulky clothing or hair in the face, as movement and vision could be restricted.
Warming up and cooling down before activities to avoid muscle strain and stress on joints, which could lead to instability.
Risk of injury in a vehicle accident can be decreased by:
Driving safely with no distractions, such as talking on the phone or eating while driving.
Wearing a seat belt.
For additional information, please refer to our website: https://alzheimer.mb.ca/about-dementia/brain-health/protect-your-head/
Get Your Motors Running for a Great Cause!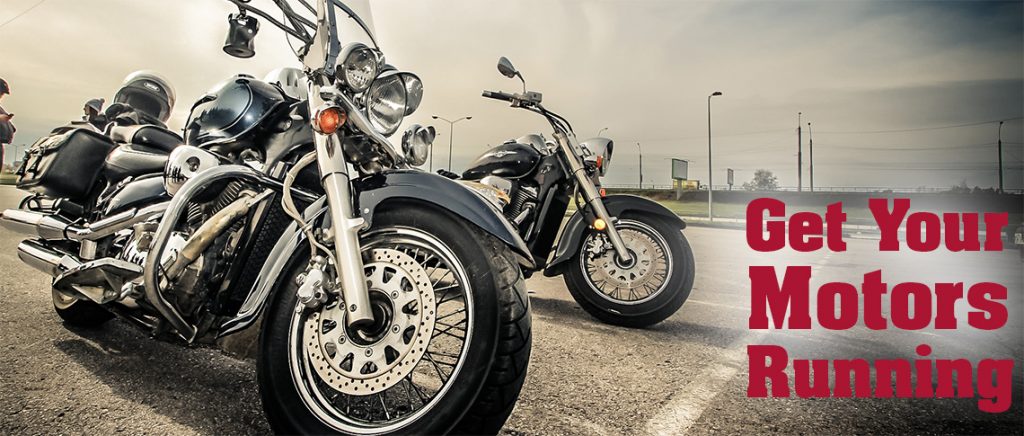 The 24th Annual Motorcycle Poker Derby is set along a 250 km route throughout the Westman region, where motorcyclists will collect poker hands at various stops along the way.
Participants are encouraged to collect pledges online or in person. An entrance fee of $25 is waived is $100 in pledges is raised.
*Entrance fee to be paid morning of event*
Click here to register now!
Saturday, August 17, 2019
9 am to 6 pm
Alzheimer Society Office – 457 9th Street, Brandon, MB
Education and Programs
Events & Volunteering