In This Issue
2018-19 Annual Report: Celebrating Our Accomplishments
Monthly Donor Gives in Memory of Father
Voting is a Dementia Friendly Activity!
Research: Can Flaxseed Milk Improve Memory?
Save the Date for Care4u Family Conference!
Making Dining Out Enjoyable
Get Your Motors Running for Poker Derby!
Education and Programs
Events and Volunteering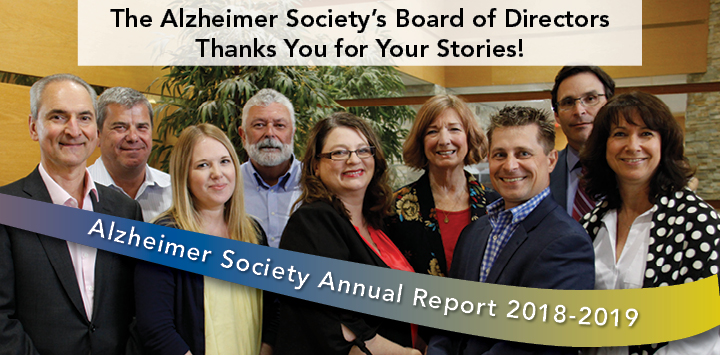 Celebrating Our Accomplishments
Every day at the Alzheimer Society, people with dementia and their caregivers tell us their stories. We know how important it is to listen with open ears.
The Alzheimer Society of Manitoba's 2018-19 Annual Report is all about people's stories, whether they be someone living with dementia, caring for a person with dementia, participating in our programs or donating to our organization. Click here to see this year's report and all the stories it contains, along with information about our successes in 2018-19.
Award Winners
We'd like to draw your attention to a couple of stories featured in the Annual Report about volunteers. The people profiled below received special recognition for their efforts.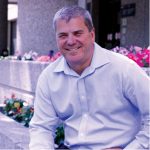 Outstanding Volunteer Fundraiser: Ray Bisson
Ray Bisson is an Alzheimer Society board member, a team captain at the annual Walk event, and he has shared his personal story as a monthly donor in the Society's publications. As well, he has personally recruited dozens of new volunteers and supporters, and the annual Gala has flourished under his leadership.
In addition to lending his reputation and considerable community influence to the Society's cause, Ray is unique because he actually enjoys making cold calls. He has devoted countless hours to increasing outreach as a valued and trusted member of the Society team, asking for assignments and delivering results. This refreshing attitude demonstrates a true champion, team player and leader.
For his efforts and dedication, Ray is the 2018-19 recipient of the Outstanding Volunteer Fundraising Award – an honour for which he is most deserving.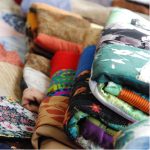 Distinguished Member Award: The St. Malo Quilters
When the members of the St. Malo Quilters gather, it's a win-win situation: the nine women find the quilting therapeutic, and the beautiful quilts they sew bring comfort and happiness to care home residents living with dementia.
In recognition, honour and celebration of this group, who crafted more than 3,000 quilts in the last three years for the Society's Touch Quilt Project, the St. Malo Quilters received the 2018-19 Distinguished Member Award. Through their initiative and dedication, the group has single-handedly filled all of the personal care homes in the Society's South Eastman region, plus many more care homes across Manitoba.
Their quilts are designed to provide a sensory experience and are created using a variety of materials and adornments, such as recycled buttons, zippers and even pictures. With all the intricacy involved, each quilt can take up to seven hours to complete.
For the quilters, it's a labour of love; they have family members of their own who are living with dementia, and they know how much their quilts are enjoyed by those who receive them.
YES. I LIVE WITH DEMENTIA.
Let me help you understand.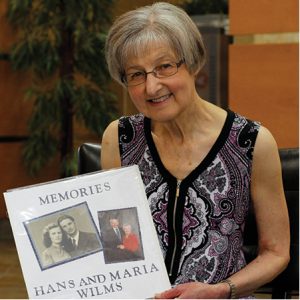 Herta Caswill Becomes Monthly Donor in Memory of her Father
When Herta Caswill was choosing which charities to support financially, it was an easy decision to include the Alzheimer Society of Manitoba. Her father died from the disease.
A retired teacher and mother of two, Herta has donated regularly to the Society for two decades. She feels blessed that she can afford to make charitable donations, but she laughs as she remembers how she used to write a cheque, put it in a stamped envelope, and then forget to mail it. "Now with automatic payments, you don't have to remember to mail it. They invented it for me!" she jokes.
She reviews the amount she gives each year, and when she can, will increase it. She points out that automatic donations also make it easier for her to do her annual budget.
Herta's father, John Wilms, was a loving husband, father of two and "opa" to his four grandchildren. A finishing carpenter by trade, he did the work on the East Kildonan home he shared with his wife, Maria.
John was 63 in 1987 when his boss came to Maria and told her he had some concerns about her husband – that something wasn't quite right. "I thought it was very kind of him to tell my mom he wasn't doing well, rather than saying it to my dad," says Herta. "Mom could tell my dad in whatever way she thought best."
John was diagnosed with Alzheimer's disease and Maria cared for him at home, eventually relying on some respite care organized through the Society. Leaving him in the care of someone else was difficult for Maria; when he went into a personal care home in August 1993, she stayed with him until he went to sleep every night. He died in October 1994 at age 70. Maria was 84 when she passed away in 2008.
Herta is happy to be a monthly donor to an organization that helps families who are going through the same experiences her family went through.
Voting is a Dementia Friendly Activity!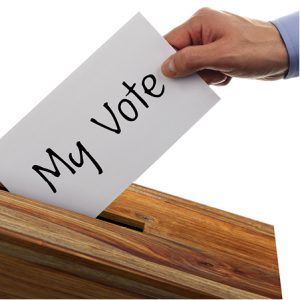 With provincial and federal elections coming up this fall, people with dementia and their caregivers are encouraged to vote. Elections Manitoba's accessibility services and voting options will make it easier to cast those ballots!
Here are some ways people can vote:
Homebound Voting
If you are unable to go in person to a voting place due to a disability, you and your caregiver can apply to vote in your home.
Curbside Voting
If you are unable to go inside the voting place because of a disability, a voting officer will bring the ballot box to your vehicle.
Magnifying Rulers & Large Print
Magnifying rulers and a large print list of candidates are available from the voting officer.
Assistance
You can bring someone with you to help you vote. They must be 18 years of age or older. A voting officer may also assist you.
For more information, visit www.electionsmanitoba.ca/en/Voting/Accessibility.
Can Flaxseed Milk Improve Memory?
Manitoba Researchers Will Try to Find Out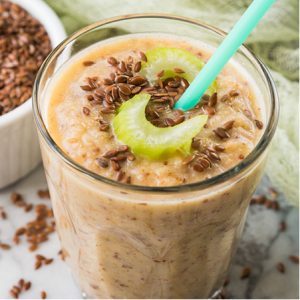 Researchers at St. Boniface Hospital Research Centre are embarking on an important study. They want to find out if drinking flaxseed milk will improve memory function in people with dementia.
The team of five investigators is headed by Dr. Benedict C. Albensi, a leading researcher working in the area of chronic brain disorders, including Alzheimer's disease. Dr. Albensi is in his fourth year as Manitoba Dementia Research Chair (MDRC), a five-year appointment partially funded by the Alzheimer Society of Manitoba.
The flaxseed milk study involves 60 individuals with possible dementia who are 60 to 84 years old. Thirty will be given flaxseed milk and 30 will be given regular milk once a day for 26 weeks. The researchers will correlate PET scan results and blood biomarker data with memory tests administered to the study participants.
If flaxseed milk consumption is shown to have a positive effect on memory function, consumers may be motivated to choose dietary flax products, which are convenient and affordable.
Dr. Albensi's study received Cad Ag Partnership (CAP) funding for this project, as did other researchers looking into the various possible health benefits of dietary flax products.
Save the Date for Care4u Family Conference!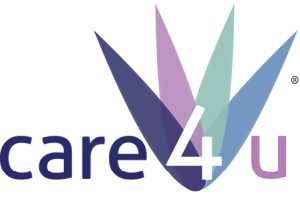 Care4u Family Conference 2019
Saturday, October 26th, 9 am – 3:30 pm
Canadian Mennonite University – 500 Shaftesbury Blvd. (map)
Cost: $40 (includes lunch)
Care4u is a day of education and support for family and friends caring for a person with dementia. The conference features local and national dementia care professionals who will share the latest in care techniques, community resources and research.
Registration coming soon!
Event sponsor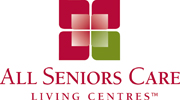 Making Dining Out Enjoyable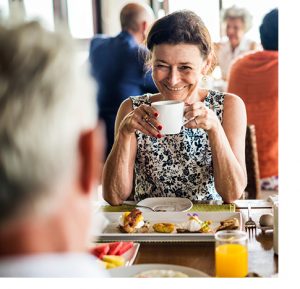 Dining in a restaurant is a favourite activity for many people, including those with dementia and their caregivers. To make dining out a positive experience, here are a few things for caregivers to consider when planning the outing.
Tips for Caregivers:
Pick the person's favourite restaurant so there will be an element of familiarity.
Minimize distractions. Diners can:

    avoid busy times, such as the lunch hour rush
    reserve a quiet table by a wall
    seat the person with dementia so they face the wall
    pull the shades if seated by a window
    ask the server to remove extra cutlery and table decorations

If possible, choose a restaurant with a limited menu to eliminate the confusion and frustration of having too many choices.
Plan ahead in as many ways as possible, such as making a reservation and pre-ordering the food. These strategies will reduce the wait time between being seated, selecting and ordering food, and waiting to be served.
Avoid alcoholic drinks on an empty stomach. Consider ordering a hot, sugary decaffeinated beverage to prevent blood glucose from dropping while waiting for food.
Other considerations include avoiding big establishments that attract a large number of customers. As well, restaurants with loud background music, mirrors and dimmed lighting could cause confusion. Although these factors add to the ambiance of the restaurant, they could be distressing to individuals with dementia.
By being thoughtful about dining out, a restaurant experience with a person with dementia can be enjoyable, providing positive and meaningful social interactions for you and your family member or friend.
Get Your Motors Running for a Great Cause!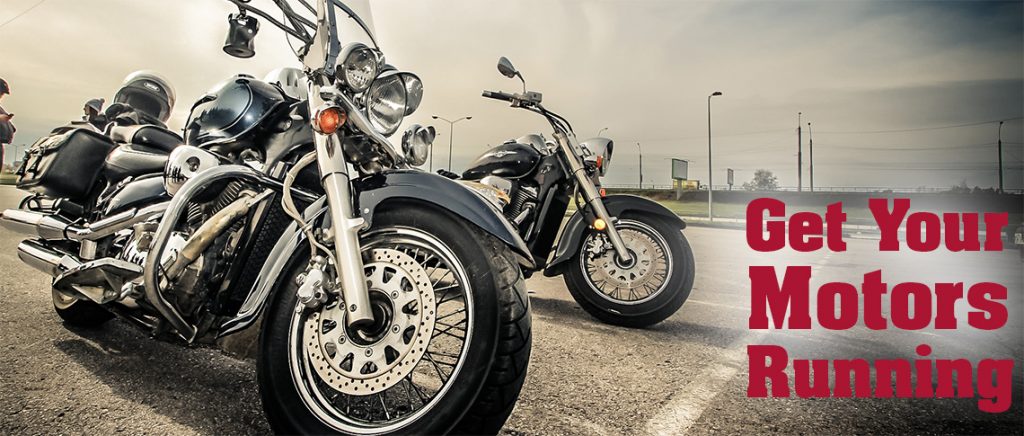 The 24th Annual Motorcycle Poker Derby is set along a 250 km route throughout the Westman region, where motorcyclists will collect poker hands at various stops along the way.
Participants are encouraged to collect pledges online or in person. An entrance fee of $25 is waived if $100 in pledges is raised.
*Entrance fee to be paid morning of event*
Click here to register now!
Saturday, August 17, 2019
9 am to 6 pm
Alzheimer Society Office – 457 9th Street, Brandon, MB
Education and Programs
Events & Volunteering