In This Issue
Matching Gift Donor Shares Reasons for Giving
Dedicated Society Staff Member Comes Full Circle
Minds in Motion® Program Benefits Participants
Manitoba Dementia Research Chair Reminisces
Making the Holiday Season Fun for Everyone
Discover. Explore. Get Involved.
Education and Programs
Events and Volunteering
Matching Gift Donor Shares Reasons for Giving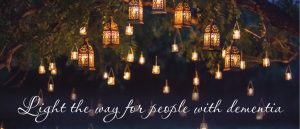 The Matching Gift Campaign is in full swing at the Alzheimer Society of Manitoba!
If you give by December 31, your gift to the Society will double, thanks to a $15,000 matching donation from Neil Carlson, Sean Lawton and Elden Wittmier.
Elden agreed to share his reasons for donating his part of this generous gift. His story is below.
Click here to make your donation. Thank you!

Elden Wittmier's Story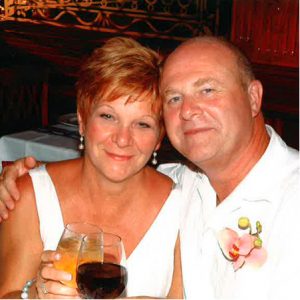 Elden Wittmier has had several acquaintances with Alzheimer's disease. But the strongest motivation for his generous donation to the Society's Matching Gift Campaign is his 66-year-old wife, Diane. She was diagnosed with young onset Alzheimer's almost five years ago. Diane's mother also had the disease, as did her sister and aunt.
That picture is heartbreaking, but not entirely surprising, Elden contends.
"Alzheimer's disease is right up there with cancer and heart disease," he says. "It's pretty hard not to find a friend who hasn't had a brush with different forms of dementia. It's unfortunate but that's the way it is."
In Diane's case, the Winnipeg couple saw the signs for two years before she was officially diagnosed. Eventually, the mom, who had stayed home to raise two children, could no longer cope alone. So the couple recently moved to a facility that better meets their needs. The arrangement makes it possible for Elden to be with Diane, but also continue going to work.
"It's not safe for her to stay alone," he says, admitting that, "work also helps keep my sanity."
Learning How to Recognize Pain Symptoms…and Much More
Elden has not been alone in his journey. He has relied on the Alzheimer Society for critical information about the disease. He appreciates the wealth of material on the Society's website, but also takes advantage of in-person support, particularly at the Care4u® Family Conference.
"One of the most helpful things at the conference was learning how to recognize pain symptoms and how to deal with them in a person who can't necessarily communicate them," says Elden. "I've found that to be valuable information because Diane has some arthritis and has had knee replacements, and she's fallen a couple of times."
He also appreciates gaining knowledge about recognizing and comforting people with dementia who have delusions and hallucinations, which Diane sometimes experiences.
Without the information the Society provides, Elden says there is the "very present danger that people will respond in exactly the wrong way."
And that's a big reason why financial support from the community is so important, he says.
Dedicated Society Staff Member Comes Full Circle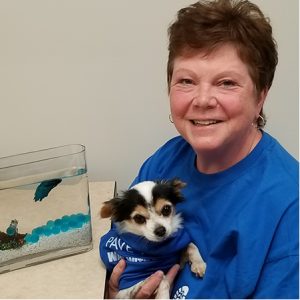 Donna Frost was in her early twenties when her paternal grandfather died of Alzheimer's disease in 1982. He was living in a care home in Ontario when he passed away.
Now, nearly four decades later, her mother, also living in Ontario, has been diagnosed with dementia.
A lot has happened in Donnatge's life in between.
She worked at Lions Prairie Manor in Portage la Prairie for 23 years – 10 as a health care aide and 13 as a nurse, often on the dementia unit. During those years, she witnessed the pain of the families and became thirsty for knowledge on how best to care for and communicate with those living with dementia. To that end, she found avenues to learn more, including attending the Alzheimer Society of Manitoba's Dementia Care Conference, where she had the privilege of hearing the Society's special guest, Teepa Snow.
Donna came full circle this past August: she began a new professional chapter when she accepted the positon of Regional Coordinator for the Society's North Central Office in Portage la Prairie.
Care Changed for the Better
Donna says care has come a long way since her grandfather's time. She remembers visiting him when he was in a wheelchair, bound in a straight-jacket. "That's not the way to do it," she says, looking back. Today, something more like a seat belt is used, only when justified and approved, but always with the goal of keeping the person safe but not restrained.
That's just one small example of how things have changed for the better, she says. In her career, she's seen many improvements in dementia care, and she's excited about the research that has been the basis for today's standards of care.
In her new job at the Society, she utilizes her professional experience when helping families on their journeys, and she loves being able to work one-on-one or in small groups. "It's an honour and a responsibility, and it's rewarding," she says.
Having a family member with dementia herself also means she can identify with what others may be going through, especially if they live thousands of miles apart. While her father and sister are caregivers for her mother, Donna says it's hard to be so far away. "It's frustrating because if we were in the same town, I could tuck her into bed at night and give my dad some breathing room," she says.
There is a bright note though. "I can provide information to my sister and father. Knowledge is power," she says.
Minds in Motion® Participants Can't Get Enough!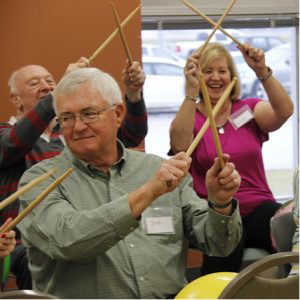 There's a lot going on in the Alzheimer Society's Minds in Motion® program. The program is an ideal opportunity for people with dementia and their care partners to get out into the community to stay active, connected and engaged.
This is an extremely popular program: some participant pairs can't get enough, so many stay involved by participating in one eight-week session after another throughout the seasons.
With that in mind, now is the time to sign up for a winter 2020 session to ensure you get a spot. The Society is offering sessions between January and March around Winnipeg and in Brandon. (Click here for a listing of locations.)
Here's what participants have to say about Minds in Motion:
"Mom comes alive at Minds in Motion – she's energized and fully engaged. The program has been really great for her."
"There's a real opportunity for caregivers to build strong relationships, especially between those who keep signing up for more sessions."
"The activities help Mom keep moving and stretching, and that will keep her nimble so she can continue to do everyday things, like dressing and reaching for something."
Program Activities
Minds in Motion takes place in community recreation or senior resource centres. Sessions are led by trained facilitators and certified fitness leaders, who make the experience stimulating and engaging.
Activities involve chair exercises, socializing with others over refreshments and conversation, and fun games that challenge the brain. Participants might play Jenga one week, while the next they may sing and play percussion instruments under the guidance of a musical therapist.
Minds in Motion is one of a handful of programs in Manitoba – offered by or in partnership with the Alzheimer Society – that is designed specifically for people with early to moderate symptoms of dementia to enjoy with a family member or community friend.
Click here to find out more about Minds in Motion.
Click here find out how to register for the location of your choice.
Manitoba Dementia Research Chair Reminisces about His Accomplishments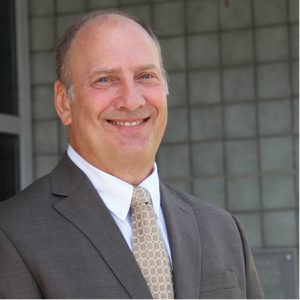 Dr. Benedict C. Albensi has had a good, long run, and he's got a lot to show for it.
The neuroscientist is coming to the end of his five-year appointment as Manitoba Dementia Research Chair. This $500,000 initiative aimed to champion research in the area of dementia and dementia care in Manitoba while expanding research expertise and encouraging unity within the Manitoba research community and beyond.
The initiative was established in 2015 through a partnership between Research Manitoba and the Alzheimer Society of Manitoba. The Society's contribution was generously donated by Wescan Electrical Mechanical Services.
"This opportunity got me thinking more broadly about dementia research – it made me re-examine how I should approach research and policy at a variety of levels to really get something done," says Dr. Albensi, Principal Investigator at St. Boniface Hospital Research and Professor of Pharmacology and Therapeutics at the University of Manitoba. For example, he has reviewed grants for dementia unit renovation, written articles on ethnic disparities in dementia, chaired pubic panels and published reviews on the economic burden of dementia in Manitoba, Canada and the world.
Getting it Done in the Lab
The funding has also helped Dr. Albensi to continue with and expand his own laboratory and clinical research work. A leading researcher in the area of brain disorders, including Alzheimer's disease, he leads clinical trials and studies in animals.
In particular, his team looks at compounds or products – such as creatine and flaxseed – to see if they can prevent the disease on a molecular level. After several years of testing in animals, he has been funded to start clinical trials in humans. His team has also revealed sex-specific differences in brain metabolism in Alzheimer's that has important consequences for the development of new treatments.
He has been so prolific with his research over the past five years (over 30 papers) that Expertscape.com rated him in the top 1.6 percent of published authors worldwide on Alzheimer's disease. The topics of his papers range from clinical treatment considerations of the commonly used Alzheimer's drug, donepezil, to the effects of dietary flaxseed on memory and cognition.
Teaming Up for Success
As well as working hard in his own areas of expertise, Dr. Albensi has facilitated other multidisciplinary research teams to study critical dementia and dementia care issues. He has been invited to larger research teams, such as the Canadian Consortium on Neurodegeneration in Aging, which is part of Canada's new Dementia Strategy. He has also built research capacity and interest among early career investigators with new collaborations and created new links with industrial partners.
He accomplished this through partnering with researchers, biomedical engineers, physicians, psychologists, chemists and CEOs. He started the website, Dementia Research Manitoba, which includes a link for brain donation, and he organized and leads a journal club for researchers and administrators, bringing dementia experts from across Winnipeg together to share information on a monthly basis.
"I've helped organize numerous conferences provincially, nationally and internationally. At these, the greatest minds working in the field of dementia meet to discuss the immense challenges facing dementia research," he says. The conferences have included the Alzheimer's Association International Conference (AAIC), Manitoba Neuroscience Network (MNN) and MitoCanada.
Had it not been for the Research Chair position, Dr. Albensi says he would not have had these opportunities to connect with people, collaborate and advance dementia research and policy.

Making the Holiday Season Fun for Everyone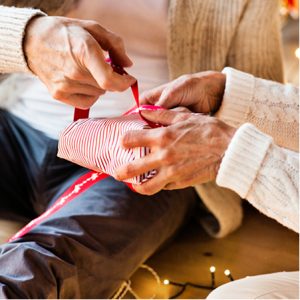 The holiday season is a time when families and friends come together. Below are some tips to help make this time of year more enjoyable and meaningful for you and the person you care for.
Plan Ahead
If you feel you're not able to host the festivities this year, ask someone else to host or suggest a smaller event.
If family and friends have not seen the person with dementia recently, inform them of any changes and let them know what to expect.
Plan a variety of activities that the person with dementia can do with others. This will lessen the need for the person to make conversation all the time.
Ask for Help
Meet with family and friends to help you plan the gathering. Let them know about your caregiving situation and invite them to take on some responsibilities.
Ask family and friends to bring old photos. Be ready to reminisce, and let the person with dementia guide the conversation.
Assign a family member or friend to accompany the person during the celebrations. This ensures that the person's needs are met and can help minimize confusion.
Involve the Person with Dementia
Include the person in planning the guest list and the menu, as well as in gift wrapping and decorating.
On the day of the family get-together, include the person in greeting the visitors, meal preparation and table setting.
In case the busyness of the day becomes overwhelming, designate someone to help the person find a quiet place to relax.
Look after Yourself
Take some time to rest before and after the gathering.
Suggest respite or relaxation time as a gift on your own wish list.
Understand that things may not turn out as planned despite your best efforts.
If you're experiencing sadness or are feeling alone at this time of year, seek emotional support; call the Alzheimer Society of Manitoba at 204-943-6622 or the local office near you. We are here to help.
Discover. Explore. Get Involved.


Sign Up Now for These Community Programs!

People with dementia and their care partners deserve the chance to get out and participate in community programs. Discover. Explore. Get Involved. is an initiative that helps this happen!
Click here to learn more about the creative programs presented by the Alzheimer Society and its community partners.
Dates are Set for Winter Sessions!
Dates for winter sessions have been set for the following three programs in which people with dementia participate with their family caregiver. Click on the following links for information on each program:
Art to Inspire
Vivace Voices Choir
Now and Then: A Journey in Time
Education and Programs
Events & Volunteering