The Long Journey with Alzheimer's:
A Blog by Dorothy Giesbrecht, Wife and Caregiver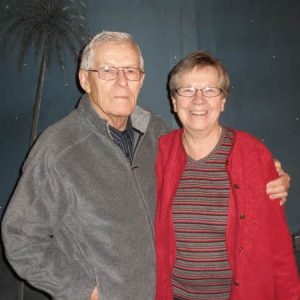 This is Dorothy Giesbrecht's story. Dorothy's husband, John, lived with dementia for six years. She was his caregiver for most of that time.
Dorothy started writing the blog she shares below in December 2011, three years after she first noticed signs of memory loss in John.
What follows is a poignant description of Dorothy's journey as a caregiver, in her own words, as she walked with John through the progression of the disease. It covers the ups and downs of their life together from December 2011 until he passed away in February 2014.
Keep an eye on this page! We will be adding Dorothy's posts to her blog throughout the month of January.
Blog #1: December 17, 2011 – Who Are You?
Blog #2: December 24, 2011 – Bread in the Cutlery Drawer
Blog #3: January 10, 2012 – He Thinks I'm Just the Housekeeper
Blog #4: January 24, 2012 – Can't be Left Alone Anymore
Blog #5: February 16, 2012 – Broken Bones, Confusion and Long Nights
Blog #6: February 23, 2012 – A Napkin Sandwich
Blog #7: March 10, 2012 – Questions
Blog #8: March 23, 2012 – Fire and Water
Blog #9: April 25, 2012 – Running out of Patience
Blog #10: May 6, 2012 – Losing Their Dad
Blog #11: June 29, 2012 – Support from Friends
Blog #12: October 4, 2012 – Winter is Coming
Thirteen Months Later:
Blog #13: November 3, 2013 – Finally Getting Respite, But Feeling Alone
Blog #14: December 4, 2013 – Sometimes I Just Want to Bring Him Home
Blog #15: January 20, 2014 – Grieving and Guilt
Blog #16: February 26, 2014 – The End of the Journey
Last Blog: January 25, 2020 – Six Years Later
Saturday, December 17, 2011
WHO ARE YOU?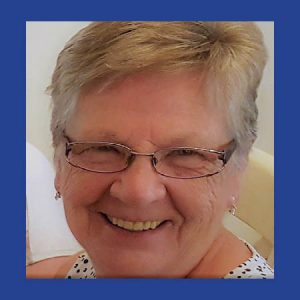 It was going pretty good until John went for a nap after lunch. He usually sleeps for about an hour, but today he was back up in 15 minutes wanting to talk to me. I knew there was something bothering him. He asked me how I was related to him and why I was  here! He wanted to know my last name. I explained I was a Giesbrecht and his wife. How long have we been married, he asked. Thirty-five years, I told him. He thought on that for a while.
Last Wednesday was a bad day. He was going to go back to MacGregor to his wife! I told him that we live in MacGregor and I am your wife. He would not believe me and was going to drive to MacGregor. I would not let him drive because he would get lost. To pacify him, I said I would take him.
Well, where do we go? We were already in MacGregor. After driving around for a while, he got disgusted and I didn't know what to do. Finally, he told me to go to Lavenham. (That's where he grew up as a young child.) When I said I don't know how to get there, he said let's go back home, so we did. Whew!!
Other than asking who I was again a few times, the rest of the day was okay.
Tuesday, December 24, 2011
BREAD IN THE CUTLERY DRAWER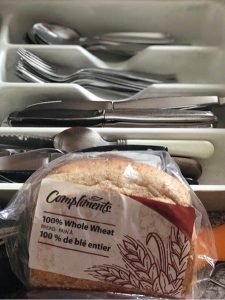 Today, there was just one thing to report: bread in the cutlery drawer. That was not the only thing that happened, but it was the only new thing.
At least one or two times a day he refers to going home or getting our bags out to stay the night. When I say we are home, he sometimes gets it, but not always.
A few days ago when we were at a friend's house for a birthday party, I noticed that John had a hard time following conversation. This seems to be getting worse all the time.
We had a family gathering, and it went well. He played a simple game with some of us and had a good time. He seemed happy to be among his family, which is not always the case. At times, there is too much noise and confusion for him, but this time it didn't seem to bother him.
Tuesday, January 10, 2012:
HE THINKS I'M JUST THE HOUSEKEEPER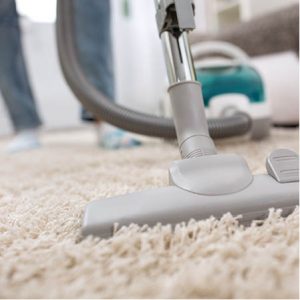 On Sunday morning, the first thing out of his mouth was, "I think we will get someone to move this mobile home we're living in to Niverville." I say, "Why?" He says, "Because we would be more at home there." I was stunned, because neither he nor I have ever lived in Niverville – plus we live in a house. He has been talking lately of moving our house trailer, but I keep telling him we live in a house.
Last night he said to me, "How much do you get paid to look after things around here?" I guess I'm the maid or housekeeper again.
He has been having a problem remembering that the kids don't live at home anymore. This happens at least three to four times a day. Also, he says, "Let's go home – I want to go to bed." (We are at home, but he doesn't recognize it.)
I sometimes need more patience with him repeating some things, and I know this will only get worse.
Tuesday, January 24, 2012:
CAN'T BE LEFT ALONE ANYMORE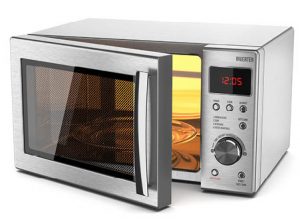 We lost a loved one last week, which made for a very stressful time, especially when John could not remember that it had happened or who it was that was gone. But I think he has that figured out now.
Last week I was away for a while in the afternoon. When I returned, his outside clothes were in a different place, so I thought he must have been out. (Not good in -20°C weather!). My neighbour confirmed this. John went out one door and came in another door. I am a little more concerned about leaving him now.
I'm just remembering back a while, to last September. I had surgery and John was supposed to heat up some food, but he could not find the microwave. I had to get up and show him. This is how most things are now – if I wasn't here he would miss his meds, and he'd hardly know how to make anything to eat because he couldn't find it.
Also, I find he is needing help with finding clothes to wear. Wearing PJ tops all day is great!
Thursday, February 16, 2012:
BROKEN BONES, CONFUSION AND LONG NIGHTS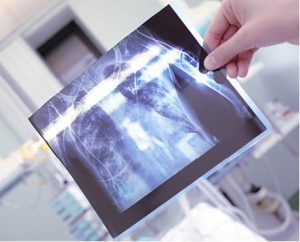 Last Tuesday, he went for a walk and went too far and got too tired. He fell when he was nearly home, and a neighbour driving by helped him up and walked him home. He said he fell on his shoulder, and he was in pain.
He got an x-ray – he had a broken collarbone. The doctor, not his own, said to take Tylenol three times a day and that he would send John to a fracture clinic. Well, today we went to the fracture clinic in Brandon. That was a trial in itself! John was confused about why he was going and why his shoulder hurt so much. He had another x-ray, and the doctor said it was healing nicely and to come back in five weeks. I also got the doctor to give John a prescription for Tylenol 3s. I told him that John had been on straight Tylenol, and he said that wouldn't do much for the pain.
On the way to Brandon John wondered where the rest of the kids were and where did we leave them. He kept bringing it up.
On the way home from Brandon he wanted me to take him back to Dorothy and wondered how I (his driver) would get home from there. He didn't just ask this once, but many times. He also wondered where the nice vehicle we were riding in came from. We've had the van for six years!
Now at 7 pm he is in bed, worried about what will happen at about 3 am, after he has slept so long. Could be a long night.
It's been a very stressful week!
Thursday, February 23, 2012:
A NAPKIN SANDWICH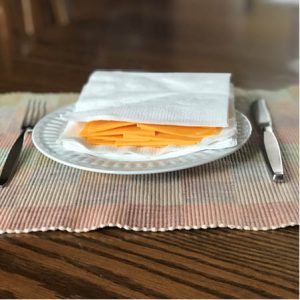 Another week has gone by and things are not getting any better, not that I thought they would, but it didn't have to get worse. On Tuesday I was away over lunch time. John decided to heat something on the stove. It was on one of my good dinner plates. End of plate.
Also something else was amiss when I got home. He still doesn't know what's wrong with his shoulder and why it hurts, no matter how many times he's told.
We had company on Sunday. John made a sandwich using his napkin instead of the bun. That didn't work out very well.
He's back on the farm today. He lost the sheep – can't find them.
Also, he has a hard time getting the right word for what he wants.
It's scary. He was already in bed, but got up to see if there was a furnace here – he wanted to fix it or check it or whatever. I got him back into bed with no further problems, but he was not happy.
He is sure we will go home tomorrow and leave this suite. He is never at home any more, it seems. I don't know what to do.
Saturday, March 10, 2012:
QUESTIONS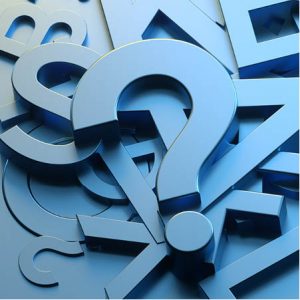 Where is my toothbrush? Where is the toothpaste?
When are we going home?
When did we buy this place?
Is this apartment ours?
Do we sleep together?
Where are all the kids? (Meaning they are little and should be home.)
Who is paying you to work here?
I am your wife.
For how long?
35 years.
OH!
Do you have a car here?
We own a van.
Is the van in the garage?
Friday, March 23, 2012:
FIRE AND WATER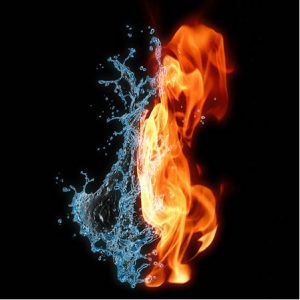 A few weeks ago, I took the dog for a walk and came home to find him calling me from the basement, where we have a tub in the bathroom. He couldn't get out. He's not strong enough to get up, and I could hardly help him, but we made it.
Tonight he gathered some paper to go downstairs to make a fire. When I stopped him he was not very happy and was determined to get some anyway. I took him downstairs and tried to show him it was an electric fireplace, but that didn't help. He was pretty upset with me.
He was going to go out and water the cattle, so I said look outside and see if you can see any cattle (we live in town). He looked out and said there was water in the creek for them. Case closed – things settled easy tonight.
Wednesday, April 25, 2012:
RUNNING OUT OF PATIENCE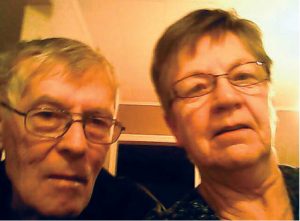 Today was a bad one. He did some odd things and went to bed about 5 pm. He was really upset and told me to get out, as I had shut off the water and locked all the doors.
I just don't have the patience I need. I get very frustrated with things. I couldn't get him up for supper, and finally around 9 pm he comes out and wants supper, and then says, "Let's get out of here!"
Let's get away from these guys that swindled us!
I have had it for today hope he goes back to bed before too long.
Being told to leave this place two times in one day gets to me after a while, even if I know he can't help it!
Sunday, May 6, 2012:
LOSING THEIR DAD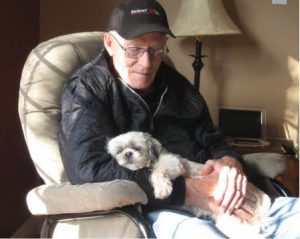 This has been another day.
He went to bed at 8 pm, and he hoped he would die overnight. I am sure he will be up in the night unable to sleep, so it could be a very long night. To find the bathroom is a problem of late. I know this all goes with the disease, but it is very discouraging!
I don't want to tell the kids what it is like sometimes because I don't want them to worry. Losing their dad this way is bad enough for them.
I guess another thing is I can't see us visiting the kids much anymore, and that is very hard for me.
I don't know how I would cope if I couldn't get out of the house for a walk with the dog. Anyway, I will try again tomorrow. Lord, you are my anchor.
Friday, June 29, 2012:
SUPPORT FROM FRIENDS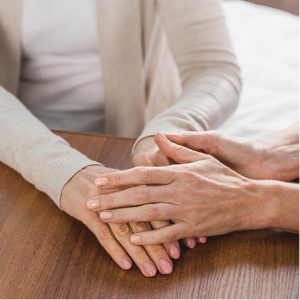 Another tough afternoon. John was so mixed up – he wanted me to take him away. Why are we living together? Take me to the other Dorothy! Why won't you pay me for the drywalling and painting I did? This went on for at least two hours. He swore at me and said, "I should slap you!" He apologized a minute  later.
Then someone came to the door, and he was a different man. After that, things were fine!! Whew!!
Had a good evening on Tuesday with the gals from church. Gordon came and stayed with John.
Thursday, October 4, 2012:
WINTER IS COMING AND TIMES ARE TOUGH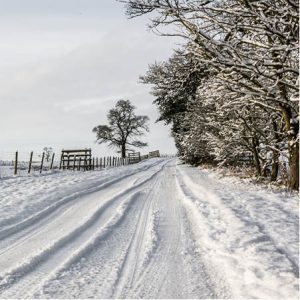 Things are getting a little worse all the time. With winter coming, it is going to be tough. I don't dare leave him alone for any more than a little bit.
We had a second visit from the doctor, and she says we should have home care so I can get out.
I went to see the home care coordinator, and she says we can get home care, but nothing happens! We will be able to get four hours a week if there are enough workers. Also, I could apply for respite, where he would go to Lions Prairie Manor for a week, or whatever. I'm not ready for that as it could make things worse when he comes home.
The men from church have set up a schedule for a visit a week where I can get out for coffee. It worked last week, no one has phoned this week yet, and it is Thursday.
John still wants to move on, but not sure where yet though. He can't find the bathroom or bedroom or any room. If I say something is in a certain room, he can't find the room. It's just a general confusion in his mind.
Sunday, November 3, 2013:
FINALLY GETTING RESPITE, BUT FEELING ALONE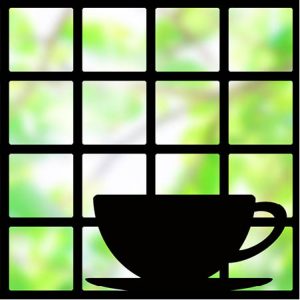 I know it's been a while, but nothing is better.
John has been in for four respites. He will go in again on Wednesday…if I last that long. It's really hard to take him there – I hardly sleep the night before.
He has been panelled, so I hope he gets in soon, especially after an evening like tonight, with all the messes to clean up and keeping him from wrecking things. l am sure no one else thinks it's as bad as I say because he can put on a good act when anybody else is around. I am just a worker a lot of the time, but then next thing I know, he tells me how much he loves me!
It's very lonely when he is in respite. I guess it is a time for grieving, as I know I am losing him. I can't imagine what it will be like when he goes into the care home permanently. At least if he gets into MacGregor, I will be able to go see him easily.
Wednesday, December 4, 2013:
SOMETIMES I JUST WANT TO BRING HIM HOME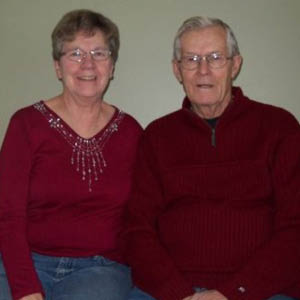 Things have changed a lot since the last post. John went to Lyons Prairie Manor on November 6 for two weeks respite, and before he was to come home, he got a transitional bed in the MacGregor and District Health Center. All of a sudden it was permanent – and what a different feeling.
It was really hard for a few days, but I am getting used to being alone. Sometimes I just want to go and bring him home. At least with him here in MacGregor, I can walk over there anytime – it's about a five minute walk. It is a great comfort to have him so close, especially in the winter. I don't have to worry about the roads and weather.
The nurses say he is settling very well. I went this morning to see him, but he was busy playing games with some high school girls who come to spend time with the residents. So I came home and will go back again later.
Monday, January 20, 2014:
GRIEVING AND GUILT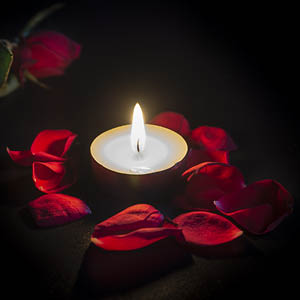 It's a lonely life here by myself – it's weird. I am alone, yet John is only a good block away. I can go over there when I am feeling lonely, but it isn't quite the same. He seems to be coping as well as can be expected, I guess. I never know what he is thinking. He's always glad to see me and nearly always seems to know who I am.
I guess this grieving part will go so far, and then what? I often feel guilty that I could not look after him anymore! After all he is my husband, and I love him very much.
Wednesday, February 26, 2014:
THE END OF THE JOURNEY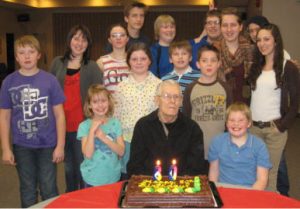 I just want to back up a bit. We had a wonderful Christmas and birthday party for John. We rented a place in town and took him there to spend the day with us. It was one of his really good days! He enjoyed being there with family. He wandered around watching them play pool and ping pong. He sat and visited.
I am so happy he had a good day, as this was his last Christmas and birthday.
On January 30 I arrived at the care home to find he was in a lot of pain, and the doctor didn't know why. The doctor put him on morphine and wanted an x-ray. Nothing showed up, but John could not sit up for the pain. He was on his back in bed all day Saturday, with nothing to eat or drink. He didn't want anything and didn't really swallow.
On Sunday morning the nurse on duty sent him back to Portage as he did not respond to me or anyone. They did a cat scan of his head and shoulders, and it only showed arthritis in his neck, which may be why he had so much pain after laying still so long.  Anyway, to make a long story short, they kept him in Portage Hospital. On Monday, he seemed to improve and responded to people.
By Wednesday evening things were much worse, and by Thursday afternoon his suffering was over. He has gone home to be with His Heavenly Father and is not suffering from anything. I am so happy for him and sad for me.
I realized shortly after he had passed away that I felt much lighter. The guilty feelings I had carried since he went into the care home, when I could not care for him anymore, were gone! When he was in the care home I would lay awake at night wondering what he thought of me. Did he think I had abandoned him? Have I failed him? Now he was free and so was I, in that sense.
I am happy for him that he is done with this journey of Alzheimer's disease.
Saturday, January 25, 2020:
SIX YEARS LATER…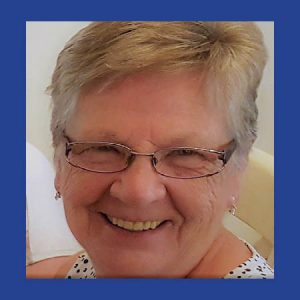 It's been six years since John passed away. I still live in the same house by myself.
It took me a while to "wake up" from the experience of being a caregiver for John – ­I don't think I realized how tired I was. But I don't feel guilty anymore because I know I did the best I could.
If there is one thing I can say to others who are starting this journey, it's this: get all the information you can so you know what's coming. That way you can plan, and you will know how to react in different situations. The Alzheimer Society helped me with this – I attended a caregiver support group available in my area.
Also, I worked in a care home for 12 years before John was diagnosed, so I had experience with people with dementia. I knew not to say "no" to John; instead I went along with things or tried to distract him. But if you don't have experience, you wouldn't know that – so reaching out for information is really important so you'll know what to expect.
Surprising things can happen when you are a caregiver. I remember one day I was trying to get John to do something. I started crying, and I said, "I'm losing you." John responded by taking me into his arms. He said, "You're not losing me – I'm right here!"
Even though he had dementia, he recognized my despair, and he wanted to help.
My last piece of advice is to stay in touch with the people you know who have dementia. When I worked in the care home, I saw their faces light up when a family member came to visit. They might not know who you are, but you are a familiar person. They can somehow feel that you care.
The Alzheimer Society is grateful to Dorothy for sharing her journey with our readers. Thank you, Dorothy!