In This Issue
IG Wealth Management Walk for Alzheimer's Online
Double Your Donations – Now!
Care Home Connections: A Son's Story
Winnipeg Couple Faces New Normal with Positivity
Love for Two Ladies Spurs Donations
Oak Lake Walk Goes Online!
CEO's Message: We Are Here For You
We're Online for You!
Join Our Online Walk!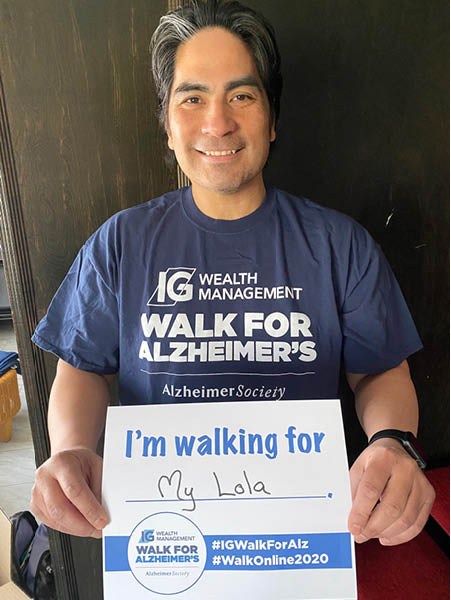 Who are you walking for?
We can't all walk in the same place this year, but we can be together online!
Click here to register for the Online Walk and click here to download your printable sign.
Show us who you're walking for and share it online. We'll be stringing your stories together for a national live stream event starting at 10:45 am on Sunday, May 31. Tune into our Facebook page to watch. We'll also be featuring these great local entertainers: JP Hoe, Grace and Ian Willmer, JD Edwards, Rudy Unrau, Jess, Amber and Michelle from Sweet Alibi and Leonard Podolak.

Double Your Donations – Now!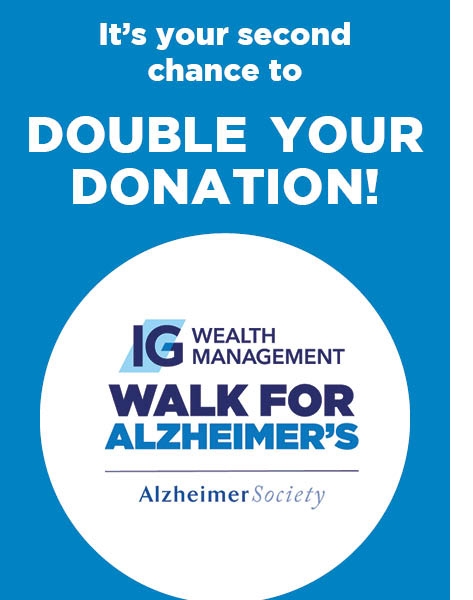 Five generous donors have stepped up to create a $7,000 matching gift fund. If you make a donation today, your gift will be doubled thanks to:
John & Monique Bockstael and Bockstael Construction
Peter Grose and Westland Construction
Jason Alsip and Alsip's Building Products & Services
David Christianson & Vera Steinberger
David Strang & Kristel van Ineveld
Don't miss out! Click here to double your donation today!
Within just a day last week, 62 donors doubled their gifts with the help of Red River Co-op to raise $10,000 to help people with dementia. Many of you expressed disappointment at missing out, so now is your chance!
Care Home Connections: A Son's Story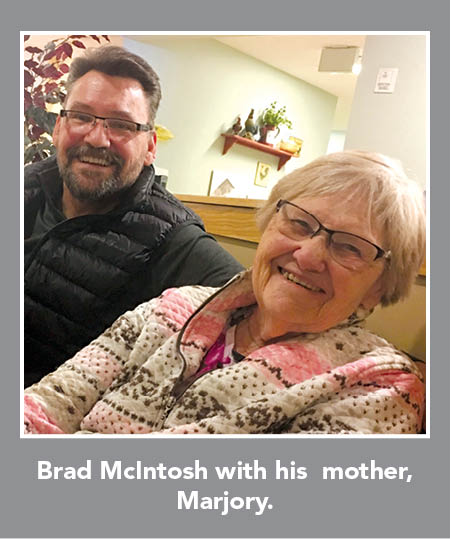 Before the iron grip of Covid-19 put a hold on face-to-face connections between people, Brad McIntosh looked forward to taking his mother, Marjory, out for lunch. Marjory would regale her son with stories about growing up on the farm, and Brad would treasure every one of their conversations.
These talks between mother and son still take place, but for the time being, they must occur through technology. Brad uses Skype to connect with his mom in her care home, which has shut its doors to visitors to protect residents from coming into contact with the virus.
Marjory, who has Alzheimer's disease, often reaches out to touch the screen, thinking she can rub Brad's head affectionately. Brad distracts her with stories about his family and his day.
"It's great to be able to see her rather than just talk on the phone," says Brad. "On Skype, I joke with her and try to make her laugh. I can see her smile and hear her giggle, and that's soothing for me because I can't help but worry about her."
Brad has reason to be fearful. As a 92-year-old woman living with dementia in a care home, Marjory is amongst the most vulnerable individuals in our province. It's no secret that people in long term care facilities have been hit hard during this pandemic.
Although he's concerned, Brad has nothing but good things to say about his mother's facility and the staff who care for her. There, protocol is being carefully followed. For example, employees work only in Marjory's home and nowhere else, and Brad feels assured that they are doing everything they can to keep residents socially distanced from each other.
Also, staff members do their best to keep Brad updated on his mother's health,
providing him with weekly reports. If he feels the need to talk to them, he calls
or emails to arrange a time to have a conversation. When it's time to Skype with his mom, an aide will be available to set things up and stay with Marjory while the pair has a chat.
For now, this is how Brad will stay connected with his mother – until these times of social distancing are over and everyone can get back to the things they usually do, such as go out for lunches with a beloved family member.
Brad has reached out to the Alzheimer Society for help during his journey with his mother, and he is a dedicated Society volunteer and spokesperson.
Winnipeg Couple Faces New Normal with Positivity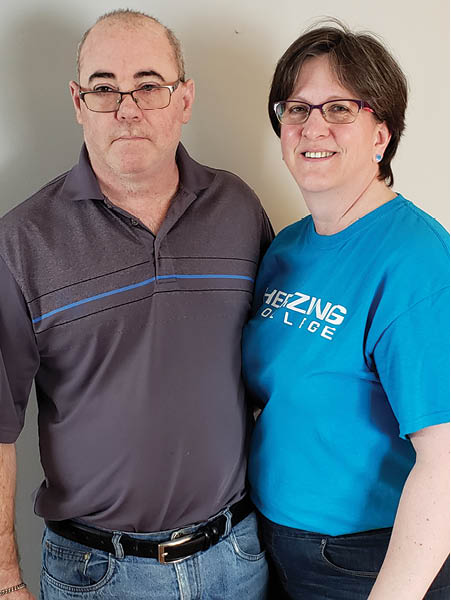 It took Nancy Scott a couple of weeks to get used to things, but now she considers the changes brought on by the Covid-19 pandemic to be the "new normal" for herself and her husband, Randy.
The couple lives in their own home in Winnipeg. Nancy is the main caregiver for Randy, who was diagnosed with dementia early last year when he was only 53. She is more than willing to share some of her ideas for getting through this crisis with as much positivity as possible.
"We are taking things day by day, and we try to address the challenges as they come up," says Nancy.
In the early weeks of the Covid-19 crisis, Nancy could see Randy's stress level becoming elevated – just like everyone else's. Now, she takes care to avoid talking about it too much because Randy has difficulty processing the information. Instead, if she is feeling worried, she shares with others.
The couple's new normal has meant getting up and running on technology like they've never done before. For the first time, Nancy figured out how to use Facetime, and she sees how much Randy loves it. "When you can see the people you are talking with, you pick up on non-verbal cues. This is so much better for Randy, who isn't all that thrilled with phone calls," she explains.
Treat Yourself!
She makes a point to plan for treats. As they can't go out to a movie right now, Nancy pops up a batch of popcorn, Randy picks a movie and they settle in for the show. They also order out for hamburgers or pizza a couple of times a week to make up for not being able to visit their favourite restaurants.
"These little rewards work, and I make sure I explain the new routine to Randy to help him understand."
Getting out for daily walks or drives is an important element of their day. They may shop during seniors' hours, drop off supplies to those in need or go for a walk, waving at all their neighbours in the process.
Last but not least, Nancy ensures that she takes care of herself. "The best way to take care of Randy is to take care of me," she says. She does this in small ways, such as using ear buds to listen to relaxing music while Randy watches sports.
Ever the optimist, Nancy believes this new normal is going to take society to a new place. "I think this pandemic is going to change things for the better because we'll realize that our family and friends are the priorities in life."
Help from the Society and Love for Two Ladies Spur Donations!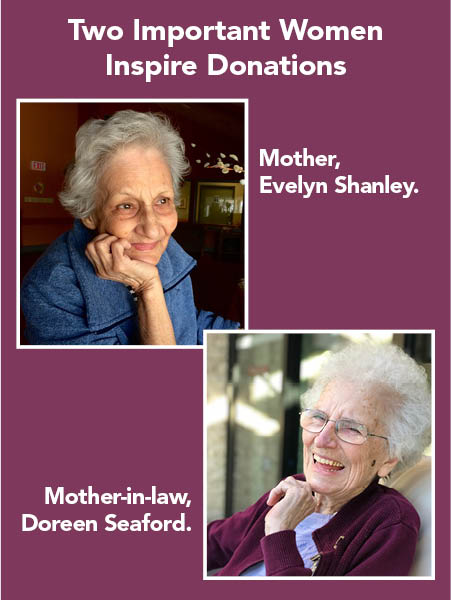 Everyone has a path in life that leads them to where they eventually land, and in the case of local real estate agent Linda van den Broek, that path included a stop at the offices of the Alzheimer Society of Manitoba.
When her mother was diagnosed with Alzheimer's disease 11 years ago, she and her three siblings struggled at first about how to handle the situation.
"Reaching out to the Society was a game changer," she recalls. "We learned that frustration doesn't lead anywhere, but understanding does."
The skill of understanding comes into play when Linda is with her mother, Evelyn, and her mother-in-law, Doreen – who also has Alzheimer's – in the care home where they both live. Being able to empathize also helps in her business; Linda has learned that she is now better equipped to assist clients with aging parents who are looking to sell their home.
"I've had clients tell me that I've saved them by suggesting that they reach out to the Society," she says.
To show her own gratefulness, Linda made it her mission to donate a generous portion of her sales commissions to the Society each year. She challenges herself to try to increase the amount annually.
Gratefulness is another trait instilled in her by her mother, who raised four children as a single parent. Evelyn worked for the provincial government for many years before she was forced to retire due to her diminishing cognitive abilities.
Linda's donations to the Society are also a tribute to her mother-in-law. Doreen was widowed at age 45 and raised two teenage boys on a small pension.
Linda and her husband, Jeff, are understandably proud of both women. "You can't change the outcome, so I do what I do. I am grateful to the Society for the guidance they provided in a time of need."
Walking OnLine in 2020: Oak Lake Takes Up the Challenge

For the families and friends who participate in the long running Oak Lake Walk, the IG Wealth Management Walk for Alzheimer's Online is a perfect place to Make Memories Matter. While the Walk is online this year, these folks are fundraising as hard as ever so they can make a difference in the lives of those with dementia and their families.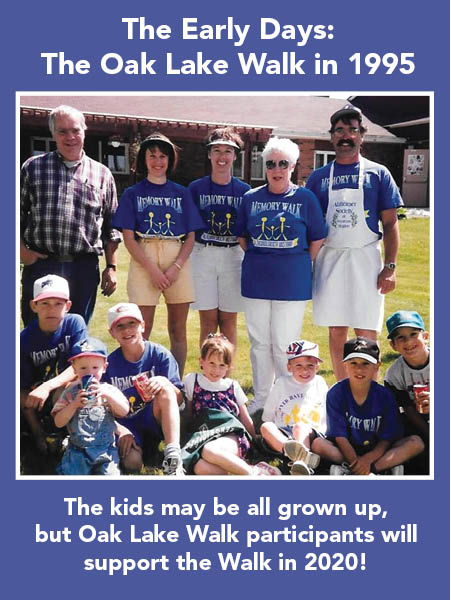 SMALL WALK, BIG IMPACT!
Shannon Kinnaird's sons, Jay and Kris, never miss the IG Wealth Management Walk for Alzheimer's in Oak Lake. And that's saying something, considering the boys were in strollers when the Walk began 30 years ago.
Although Covid-19 means the Society will host its Walk online this year, the Kinnaird brothers will take part. Make no mistake: the presence of a pandemic does not undermine the dedication of this town's walkers and the amazing history of their event.
Along with another Oak Lake family, Shannon was instrumental in starting this community Walk back in 1990 to raise money for the Society. Today their Walk is still going strong in its small but impactful way.
"We get anywhere between six and 20 people, but it doesn't matter how many or how few come – we still manage to raise money – some years as much as $5,000!"
Shannon's reason for becoming involved was her father, Lyman Smith, who had young onset dementia and was in his mid-fifties when the signs started in the 1990s.
Back then, the Society didn't have as many resources as it does today, but a support group was available for her parents to attend. Now, Shannon knows many people who get a lot of support from the Society.
Two years ago, the Walk moved from the town site to Oak Lake Beach, where the Kinnaird family has a cabin. After walking, participants enjoy hotdogs barbecued by Shannon's husband, Lyle, and brother, Kerry.
While social distancing will prevent a gathering this year, the Kinnairds and their friends are fundraising as hard as ever and are planning how they can creatively participate in the Online Walk.
Click here to register for the IG Wealth Management Walk for Alzheimer's Online!
CEO Message:
You Are Not Alone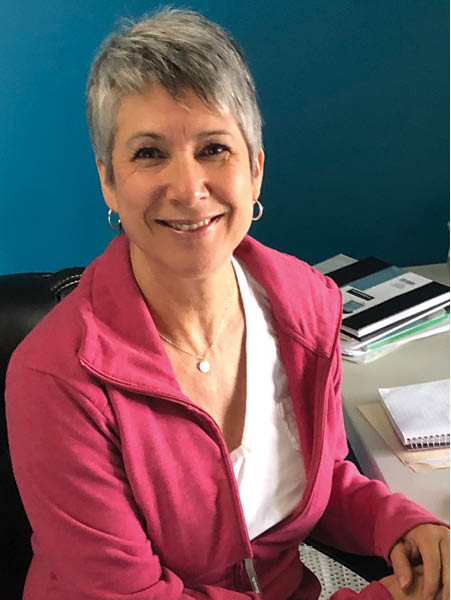 This is a tough time for everyone, but the Covid-19 pandemic is especially trying for people with dementia and their caregivers.
If you are affected by dementia, we want you to know that you are not alone. While the social distancing measures of the past two months are beginning to ease – we can now meet with you in person on a one-to-one basis – it has been necessary to cancel our face-to-face programs. But we are still here to help!
If you feel isolated and alone with your worries, or just need someone to talk to – we know what you are going through. We hear people's stories every single day.
We can help you to problem solve if you are in a challenging situation at home with a family member with dementia. We can brainstorm with you about ways to keep in touch with someone you miss – or is missing you – who lives in a care facility. If you are feeling overwhelmed, we are a safe place for you to talk about your situation, and we'll work with you to identify the community and health resources that best fit your needs.
One of our clients recently told me, "When my wife and I needed help, we received warm, non-judgmental acceptance. We were treated like family."
We want to be that support for you, too. We see ourselves as a community of help for all those Manitobans affected by dementia, pandemic or no pandemic.
All of us at the Alzheimer Society are anxious to see you in person again at our support groups, our community and family education sessions and our Minds in Motion® program – as soon as it is safe to do so.
Until then, you can book a one-on-one appointment, reach a comforting ear by phone, get a quick response by email and access our virtual programming. You can also check our website for opportunities to stimulate your mind, be creative and stay connected.
Call us – we're here for you.
204-943-6622 (Winnipeg)
1-800-378-6699 (in Manitoba)
support@alzheimer.mb.ca
alzheimer.mb.ca
We're Online for You!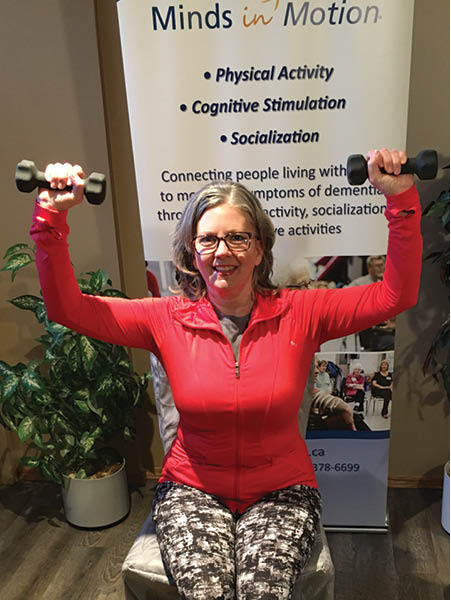 During the Covid-19 pandemic, the Society has been offering virtual programming in education, active living and entertainment. For upcoming offerings, including family education and seminars, please check our website's home page under "Recent News" or follow us on Facebook.