In This Issue
Couple Receives Help from the Alzheimer Society
Graduate Student Taps into Musical Memories
Caregiver Tips from Teepa Snow
Gift of Shares is a Win-win Situation
Can Dietary Flaxseed Improve Memory?
Take this Survey – Share Your Dementia Journey Experiences
We are Here for You: Online Fall Education and Support Via Zoom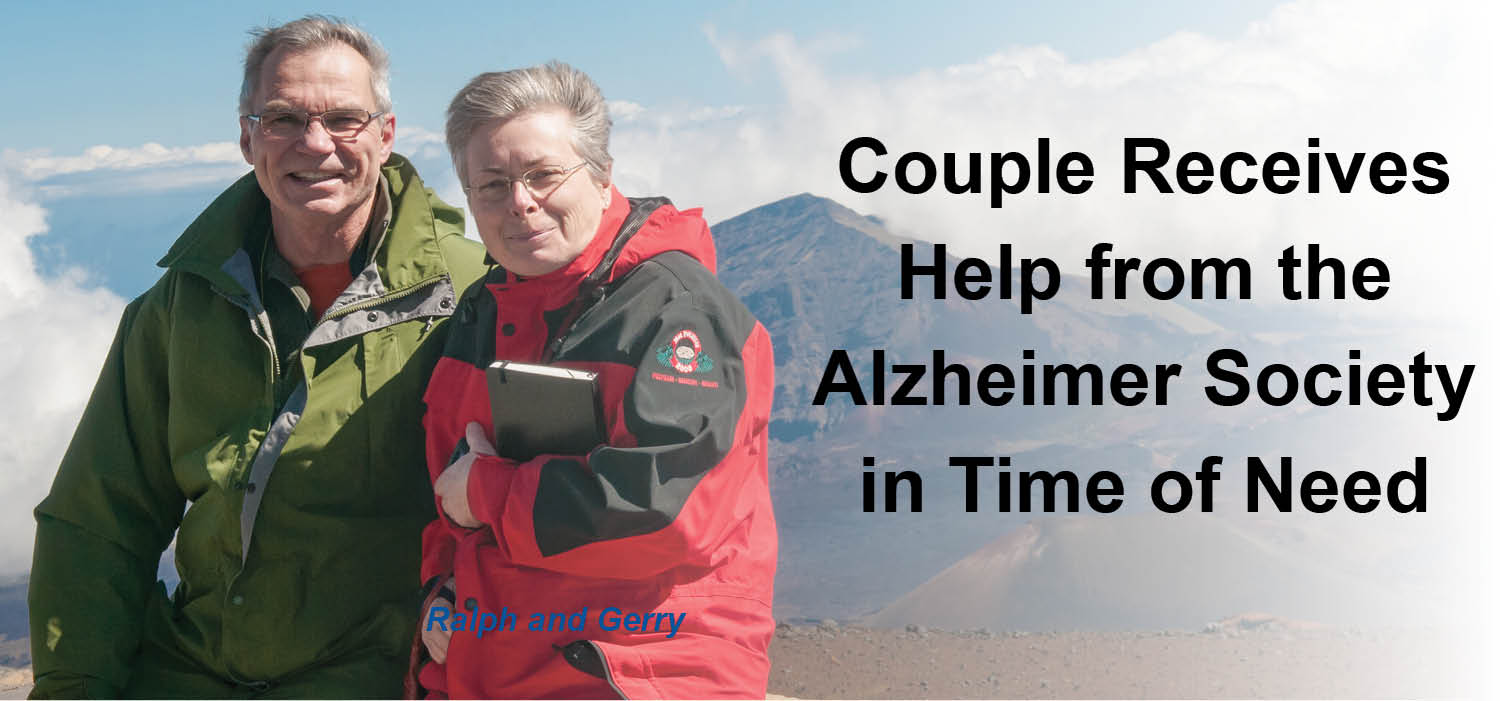 Navigating Farm Life, COVID-19 and Dementia…with Help from the Alzheimer Society
When Ralph Oliver started showing subtle signs of dementia three years ago, he was driving 30 miles each way to his job in Glenboro, Manitoba. He also ran the family farm near Carberry, where he and his wife, Gerry, raise sheep.
At first, Ralph would say he was having "weak spells," but as the symptoms progressed, Gerry became concerned about her husband. Farms can be dangerous places, and it's not safe to experience a weak spell while driving.
"After a couple of close calls on the farm – when Ralph's decision-making was questionable – it became apparent that something was wrong," says Gerry.
Through the couple's family doctor, an assessment was arranged at the Centre for Geriatric Psychiatry in Brandon. In the fall of 2018, a diagnosis of frontotemporal dementia was made. This rare form of dementia affects the regions of the brain that are associated with personality, behavior and judgement.
While difficult to accept, Gerry could now understand why Ralph was experiencing changes in these areas.
"It was hard," she says. "Ralph had been so involved in the community – he was a municipal councillor, reeve of the municipality, chair of the school board. Now, things had to be taken away from him – his responsibilities around the farm, his driver's license, his job. He was angry."
Connecting with the Alzheimer Society
Ultimately, in the spring of 2019, Ralph moved to a personal care home in Brandon. Staff there helped him to feel a sense of control over his environment. Meanwhile, Gerry got connected with the Alzheimer Society of Manitoba, where she found help and solace.
For a while, until the COVID-19 pandemic changed things, Ralph attended a support group for people with dementia at the Society. As well, Gerry joined a caregiver support group; there, she was able to talk to others in similar circumstances, which helped.
Gerry is also grateful for the efforts of the Regional Coordinator in the Society's Westman office in Brandon, who went above and beyond in his support. "I was overwhelmed, especially when COVID-19 hit," she says. "The coordinator helped me so much with his compassion and empathy."
She says she's holding it together – she runs the farm, where the wool produced by her nine rare breeds of sheep is in demand. She is also an artist, and she finds time to teach and to work on her art. She visits Ralph as often as she can, in compliance with the care home's changing rules.
She's thankful to the Alzheimer Society for helping her on the journey.

Graduate Student's Research Taps into Musical Memories
Courtney Addison's Scottish grandfather came to Canada as a young man to play professional soccer. Years later, when Courtney became a soccer player herself, he was her biggest fan.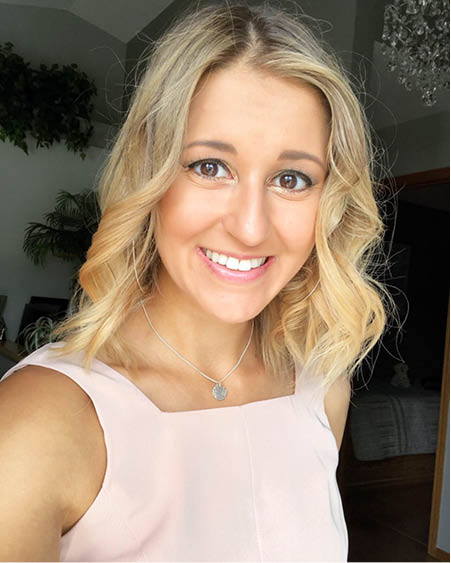 As a teenager, her heart ached when, in 2008, her grandfather was diagnosed with Alzheimer's disease.  He died seven years later at the age of 85.
Courtney will always remember one thing about her grandfather's disease: music by Frank Sinatra would help him become calm when he was upset. "When I saw the effect music had on him, it drove my passion," she says.
That passion – to find memories through music and movement in Alzheimer's disease – is the focus of a research study she is launching as a graduate student in the Faculty of Kinesiology and Recreation Management at the University of Manitoba. Her research is supported by the Alzheimer Society of Manitoba through the Graduate Student Fellowship Award, of which she is one of two recipients*.
Mixing Music and Movement
It's already known that music can soothe someone with Alzheimer's disease. Courtney intends to expand on that knowledge and look at how music may unlock memories about movement, which can then be applied to tasks of daily living.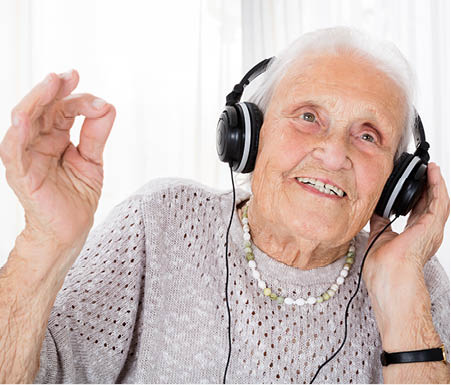 Originally intended to be conducted in person, Courtney's research will be done virtually because of COVID-19. Through her work, she hopes to find out if music chosen by the study participant – rather than by the researcher – will result in improved performance of movement-based tasks, such as teeth brushing or putting on socks.
Twenty people with mild to moderate Alzheimer's disease and their caregivers, along with 20 age and gender matched control participants, will be involved in the study. Using a screen-share platform, Courtney will watch and record her participants as they perform tasks on a tablet. There will be a start position at the bottom of the tablet and five targets (or icons) at the top of the screen.
"Think of a virtual xylophone. They'll reach for the button at the top, click it, come back to the home position, and then reach up to another button that will light up – all in time with the rhythm of the song," Courtney explains.
"We're hoping the music they choose will connect to long term memories and that the rhythm will be  natural to them, helping them to move more fluidly," she says.
She intends to launch her study in the next few months, adding that she's grateful modern technology makes it possible to go ahead despite the need to be physically distanced.
*The other recipient of the Alzheimer Society of Manitoba's Graduate Student Fellowship Award is Chetan Patil. Chetan also received funding through the national 2020 Alzheimer Society Research Program. Read about his research here.
Caregiver Tips from Teepa Snow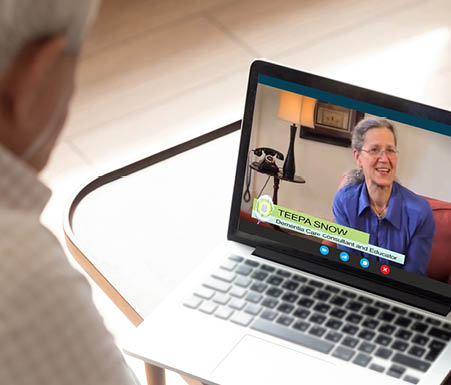 The virtual 2020 Care4u Family Conference, held on October 24, gave participants the opportunity to learn about day-to-day strategies that can be put to immediate use in caregiver situations. World-renowned dementia care expert Teepa Snow presented at four lively sessions, which included a dedicated Q & A.
Here are some of Teepa's key messages for caregivers that were presented at these sessions:
Recognize that your skills as a caregiver are different from others. Some people are much more skilled at some things than others.
Learn to build on your strengths and successes and try not to dwell on mistakes and challenges.
Begin every interaction by connecting with the person emotionally before starting a task.
When dealing with distress, learn to go with the flow.
When behaviours change, be a detective and try not to judge.
Find moments of joy to help you get through the day.
Learn to change and adapt and do not resist the changes happening around you.
Give yourself permission to say, "I need a break." Spend time for your own well-being.
Gift of Shares is a Win-win Situation

Like most people who give to the Alzheimer's Society of Manitoba, Dan Sitar's charitable donations usually come in the form of a cheque.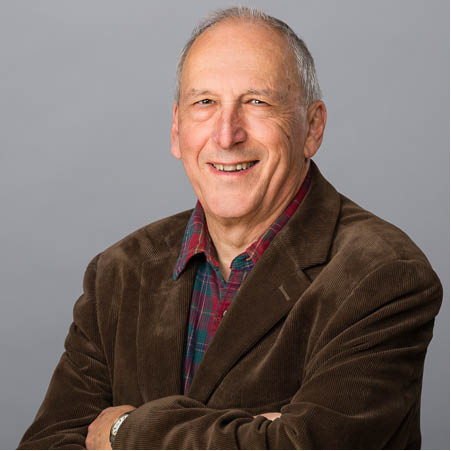 Recently, though, Dan has found a new and easier way – giving shares. Dan knows not everyone is lucky enough to have shares that can be donated, but for him, it just makes sense.
"Giving shares means I can give more than I would by writing a cheque," he points out.  
"Donating shares has two benefits for the donor: they get a tax break and a tax receipt," explains Lorraine Decock, Director of Development. "The tax break comes because they don't pay tax on the capital gains, and they receive an income tax receipt for the full fair market value of the securities."
It's a win-win situation.
Dan has strong personal motivation to support the Society: his grandmother, father and in-laws were all affected by dementia. But his association with the organization also stems in part from his work at the University of Manitoba. Now a professor emeritus in the Department of Pharmacology and Therapeutics, much of his life's work revolved around brain diseases and researching drug therapies for older people, including those with dementia. As department head in the early 2000s, he recruited a team of people to specifically focus on brain research.
Over the years Dan has made presentations about advancements in treatment at Alzheimer Society conferences, both provincially and nationally. He also served on the provincial Society's research committee and was a Board member from 2011 to 2017.
He continues to keep a close eye on developments in Alzheimer's research, but knows that – at least for now – there are few effective drug interventions for dementia. "At this time, we can only keep people comfortable and make their environments safe," he says.
Dan hopes the future will bring breakthroughs, such as being able to diagnose and treat before symptoms of the disease appear. "Once we know which people are most likely to be affected, we can use the toolbox we have to innovate and bring new treatments to the forefront that will slow down the progress of the disease."
If you are considering a gift of shares, you will need to complete a transfer form. Please contact Lorraine Decock ldecock@alzheimer.mb.ca or Sarbjit Bal sbal@alzheimer.mb.ca at the Alzheimer Society. Call 204-943-6622.
Can Dietary Flaxseed Improve Memory?
You Could Help Researchers Find the Answer
Researchers at the St. Boniface Hospital Research Centre are calling for participants for an intriguing study: they want to find out if consumption of a flaxseed beverage will improve memory function in people with dementia.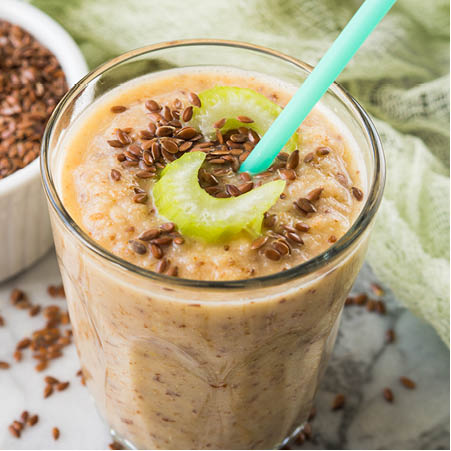 The team of five investigators is headed by Dr. Benedict C. Albensi, a leading researcher working in the area of chronic brain disorders, including Alzheimer's disease.
The flaxseed beverage study involves 60 men and women, age 60 to 84, with mild memory loss and cognitive impairment (amnestic MCI) whose overall general health is good. Thirty will be given the flaxseed beverage and 30 will be given a placebo beverage once a day for 26 weeks. The researchers will correlate PET scan results and blood biomarker data with memory tests administered to the study participants.
If consumption of the flaxseed beverage is shown to have a positive effect on memory function, consumers may be motivated to choose dietary flax products, which are convenient and affordable.
Dr. Albensi's study received Canada Agricultural Partnership (CAP) funding for this project, as did other researchers looking into the various possible health benefits of dietary flax products.
If you want to learn more, call 204-235-3941 or email flaxmemory@sbrc.ca
Click here for a poster with detailed participant information about this study.
Dementia Journey Survey:
Will You Share Your Experiences?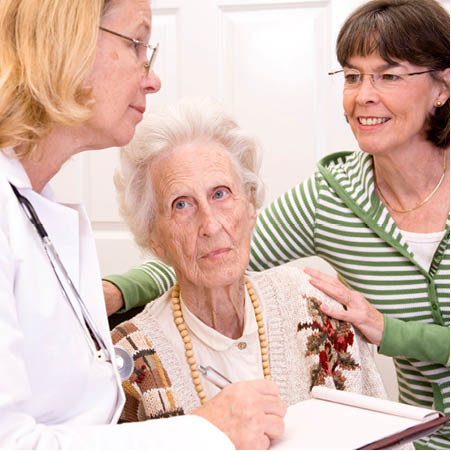 Family physicians are often the first point of contact for those experiencing dementia as they reach out to receive care.
To help family physicians better support their patients, the Alzheimer Society of Canada, in partnership with the College of Family Physicians of Canada, is asking for volunteers to participate in a 20-minute survey. The purpose of the survey is to help the researchers understand patients' experiences with the care they receive from family physicians or other health care providers.
Understanding these experiences is essential for the researchers as they work to design and develop new dementia care resources so family physicians can better support people and their caregivers through the dementia journey.
Take the Survey!
Two surveys are available on the Alzheimer Society of Canada website: one for people living with dementia, and one for caregivers of people with dementia. Click here to take one of the surveys.
Questions can be directed to one of the lead investigators either by email (research@alzheimer.ca) or by calling 1-416-669-5715.

Register Now for Online Programs and Support Groups!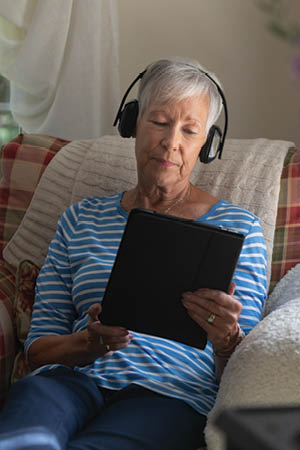 Education Programs
The Alzheimer Society of Manitoba is holding a variety of virtual education sessions during the fall months.
The fall family education series sponsored by Edison Properties offers a range of topics that will help people with dementia and their caregivers plan ahead and become more confident on their dementia journey. Click here for upcoming sessions and to register online today.
Virtual Support Groups for Care Partners
We are currently offering virtual caregiver support groups to help connect people with others living in a similar situation during these uncertain times and to ensure that families continue to have access to support and information. Click here for  details on how to register.
Virtual Minds in Motion®
This program attracts people with dementia and their care partners because it provides the perfect mix of fitness, socializing and brain challenging activities in a safe, supportive environment. During the pandemic, we are offering Minds in Motion as a virtual program. You can sign up now to participate virtually on Thursdays until December 3.
The virtual version of Minds in Motion has a distinct advantage in this time of Covid-19: it is available to anyone, anywhere in the province.
Remember:  You Are Not alone.
We are here to help you and your family through these difficult times. You can reach a comforting ear by phone or get a quick response by email. Call us at 204-943-6622 (Winnipeg), 1-800-378-6699 (toll free in Manitoba) or email alzmb@alzheimer.mb.ca