In This Issue
Our Matching Donors Tell Their Stories
Families Plan for a Pandemic Holiday Season
Virtual Minds in Motion: How is it Going?
Maintaining Emotional Well-being During Stressful Times
Are You a Family Caregiver? Researchers Need You!
What is the Role of Personal Care Homes in Manitoba?
Participants Needed for Dietary Flaxseed Study
Online Winter Education and Support Groups Coming Soon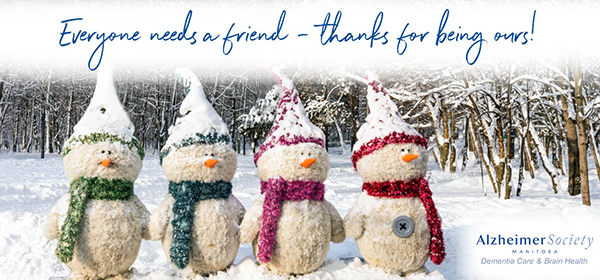 Donate Now and Your Gift Will be Matched!
Today is Giving Tuesday, the first day of our month-long holiday campaign. Five matching donor friends have stepped up in a big way to support those living with dementia. Between them, they are providing $35,000 in matching funds. Their generosity means that, if you give by December 31, your gift will double: $20 becomes $40, $50 becomes $100 and $500 becomes $1,000.
Help us wrap this holiday month in friendship along with our matching donor friends: Neil Carlson, David Greenwood, Sean Lawton, Elden Wittmier and one anonymous donor.
Our Donors' Stories
Our named donors agreed to share their reasons for donating their part of this generous gift. Read on to discover their inspiring stories.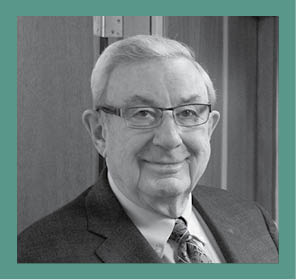 Neil Carlson
Eight years ago, Neil Carlson and his wife, Lynn, attended the Alzheimer Society Gala for the first time. They enjoyed the evening while learning about the Society and the good work it does. The couple has purchased a table every year since then.
Neil became part of the Gala Committee five years ago, and he still participates as a member of that team. In 2017, he joined the Alzheimer Society Board of Directors and is now in his second term.
Neil claims that being a board member has given him the opportunity to learn new skill sets and to fully appreciate the importance of the programs and services offered by the Society.
"The Alzheimer Society is worthy of our trust and is a good steward of donor money," he says.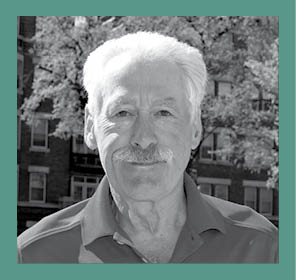 David Greenwood
For over 25 years, David Greenwood has donated generously to the Society. To date, his charitable giving has reached an impressive milestone: it has exceeded the $100,000 mark. David says he can afford to "give until it hurts because it hurts more when you lose a loved one."
In David's case, the loved one was his mother, Betty, who died in May 1993 after living with dementia for several years. At the time, David's family wasn't fully aware of the help offered by the Society. He made his first donation the same year his mother died.
Contributing as a matching donor this year is an extension of his giving to the Society, and he knows his contributions will help families with dementia. He gives, he says, "for my mother and for anyone else's mother who is diagnosed with dementia."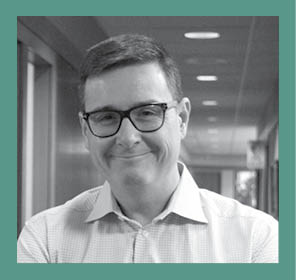 Sean Lawton
Sean Lawton knows a couple who are like an aunt and an uncle to him. When his "aunt" was diagnosed with dementia, he could see that their journey was difficult and was moved by their situation.
As partner of a wealth management firm, Sean also works with many clients who have parents or spouses with dementia. Through them, he heard how the Alzheimer Society helped. "They tell me about the work the Society does, and their stories motivated me to donate."
In 2018, Sean agreed to be a matching donor for two years, but this year, he made the decision to extend his gift to a third year because of the pandemic. "I understand that Covid-19 is like a curve ball being thrown at charities," he says. "Fundraising is difficult, so I want to do what I can."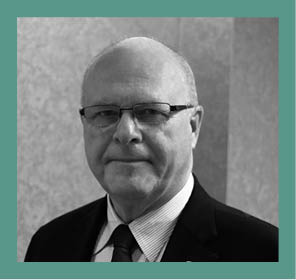 Elden Wittmier
Elden Wittmier claims that almost everybody knows somebody whose lives are affected by dementia.
For Elden, dementia has hit close to home. His wife, Diane, was diagnosed with young onset Alzheimer's disease six years ago. Diane's mother, sister and aunt also had the disease.
Elden relies on the Alzheimer Society for critical information about the disease and for in-person support. That's a big reason why he became a matching donor in the Society's holiday campaign for the third time this year.
Elden says that, without the knowledge and education the Society provides, there is the "very present danger that people will respond in exactly the wrong way" when communicating with a person with dementia. And that's why supporting the Society is so important to him.
Thank You!
Thank you to these four donors and to our one anonymous donor for their great generosity. Donate now and during the whole month of December, and your gift will be matched.

Adapting to a Pandemic Holiday Season:
Ideas from Families Affected by Dementia
We are embarking upon the holiday season, a time traditionally set aside for family gatherings, festive meals, storytelling and shared laughter.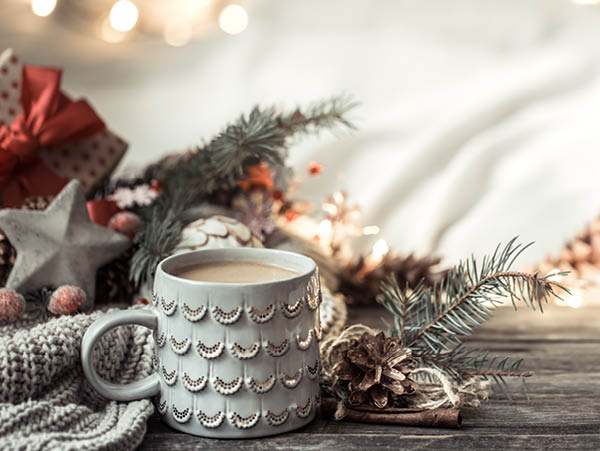 This year, however, holidays will be far from traditional as Covid-19's grip on our community tightens. To get infections under control, we have all been asked to do our part by limiting our interactions, postponing get togethers and staying socially distanced, including from family members who don't live in our households.
We reached out to three family members affected by dementia – all participants in one of the Society's Caregiver Support Groups – to find out how they plan to navigate the season this year to make it the best that it can be. Here are their stories.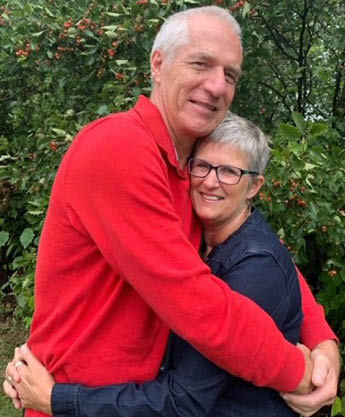 Where There's a Will, There's a Way
Linda Wiebe believes that, if there is a will to connect with people over the holiday season, there is a way. Linda most certainly has the will, even though the pandemic will make it trickier than usual this year to find the way.
Linda's husband, Herb, was diagnosed with Alzheimer's disease a year ago. After nearly burning out from the stress of her responsibilities, Linda took a leave from her job in Steinbach this fall to get Family Managed Care set up. She accomplished this and is back at work.
With help at home, she can now focus on planning for a low-key holiday season. "At this time of year, our house is usually bustling, but with the pandemic, our kids can't travel home to visit us," she says. "I'm only putting up a few decorations, but I'll cook a traditional dinner for Herb and I, and we are planning a Zoom meal with all the families."
"All the families" not only includes the couple's own children, but four other families of different nationalities that traditionally come to the Wiebe's home. While they may not be able to indulge, face-to-face, in their usual potluck of international food this year, Linda is looking forward to a special celebration through the Zoom gathering, during which they can see each other and imagine the aromas of all the different dishes.
And that's the "way" for 2020!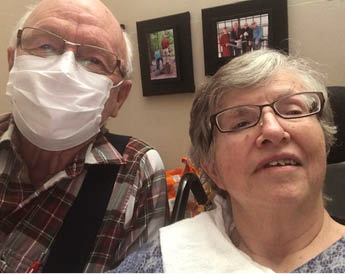 Finding the Joy
Larry O'Dell's wife, Joanne, was diagnosed with dementia in 2016. She has lived in a care home in Manitoba's Interlake region since January 2019. Larry visits regularly, helping with her care.
Last year, Larry was able to bring Joanne home for their festive family dinner. However, due to her care needs and Covid-19 restrictions, which Larry expects will still be in place, that will not be possible for the 2020 holiday season.
Larry is undaunted. For the duration of the current pandemic Code Red, he is one of two designated visitors for Joanne, so he plans to be at her care home to help her with her lunch on December 25. Then, he'll go home to the family farm and cook a turkey dinner with all the fixings.
"Joanne's brother, Ron, will bring perogies, and I hope my son, Ernie, will be able to come from Winnipeg," he says. Whether Ernie makes it depends on the pandemic restrictions at that time.
Larry and Joanne are also parents to Steve, who lives in Edmonton. "Steve's not likely to make it because of Covid, but we'll wait and see what happens and go from there." If he can't be there in person, they'll make up for it with a Facetime visit.
Larry intends to put up a tree and some decorations. "We will do the best we can this year – we'll find the joy," he says.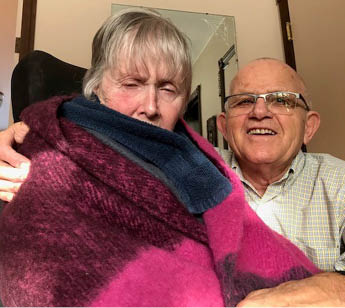 The Reason for the Season
With help from Family Managed Care, Al Heinrichs looks after his wife Ann, who has Lewy body dementia. The couple lives at the home they built almost 45 years ago on an acreage near Stonewall.
Ann is at a point where she communicates very subtly, but Al believes she gets some stimulation by things going on in her environment. That's why he and their care aides are spending more time reading aloud to Ann, particularly since their regular outings to the Wellness Centre have been cancelled due to Covid-19.
"We are reading the classics to her, such as Little Women," says Al. "It can be a challenge because emotionally we want to get feedback, but she relaxes and we assume she is listening."
Reading aloud will come into play for Al and Ann during the holiday season. Both of the Christian faith, Al intends to use a Bible app so they can listen to an orator read to them.
"This is a golden opportunity to break away from the commercialism of Christmas," Al says. "We won't put up a tree – for the first time ever! – and we'll see what happens."
Of course, the couple's family won't be entirely left out of the season. A Zoom meeting with their two adult children and families will take place, likely on Christmas Day. Seeing family, in whatever way possible, is a tradition that Al intends to hold on to.
The Alzheimer Society thanks these three family caregivers for sharing their holiday plans with our readers.
Participants Answer:
How Do You Like the Virtual Minds in Motion Program?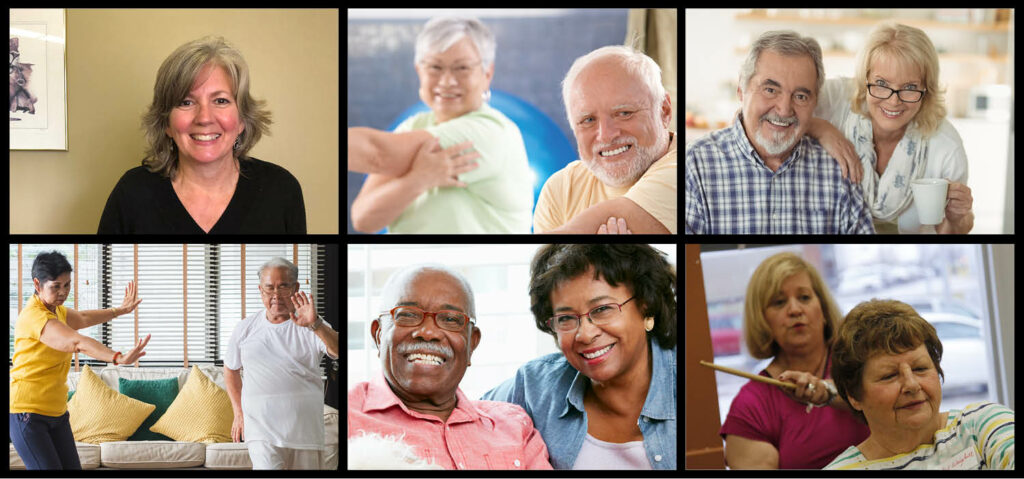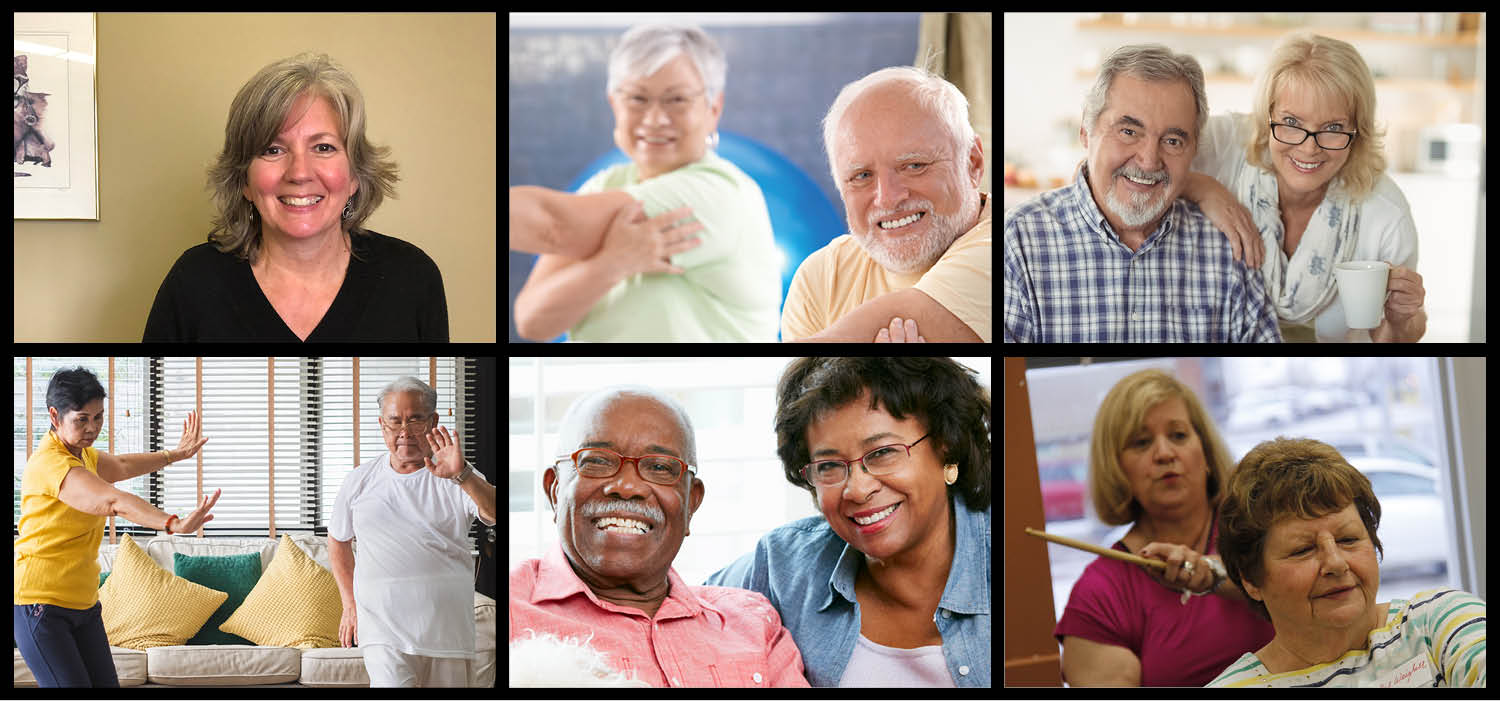 With the fall Virtual Minds in Motion® wrapping up this week, we decided to check in with participants to get feedback about the online version of this popular program.
For those who don't know, Minds in Motion is a program that attracts people with dementia and their care partners because it provides the perfect mix of fitness, socializing and brain challenging activities in a safe, supportive environment.
In normal times, this eight-week, two-hour program is offered in person at various community venues in Winnipeg and in regional locations. With Code Red in effect, however, face-to-face programs are not an option, so the Society offered Minds in Motion virtually in the fall and is gearing up for a winter session.
What's the Verdict?
How did participants fare in the virtual program? Quite well, it turns out! While there may have been some initial glitches getting people up and running on the technology, Society staff provided individual help as needed. Adapting to online sessions happened quickly, with participants expressing gratitude for having this option available to them.
Here are some of their reactions:
About Accessibility
"We enjoy the virtual sessions. I am not a fan of winter driving, so this really works well for my husband and I."
"Dad and I have been participating for two years, and with the latest closure, going virtual is a great option. The exercise portion worked very well and is just right for home. You just have to find a spot where you can place your device so both can do the workout and still have a good view of the leader. Once you figure that out, it's pretty smooth sailing!"
"With our outings limited because of programs being shut down, my husband and I decided to try Minds in Motion online, and we find it gives us something to look forward to."
About the Virtual Platform
"Thank you for doing the online version. My wife engages and thrives on this type of interaction."
"My husband and I decided to participate online to help fill our day with something different. It is good to see other people and to participate in the exercises and activities."
"My husband attends virtual Minds in Motion with a paid caregiver. The caregiver was surprised at my husband's level of participation, including the sharing of anecdotes. This is something he struggles with these days as loss of language takes its toll on him. It's so good to see him being stimulated."
About the Technology
"We gave the online version a try because the Society's staff members will help us through any technical challenges we encounter. It's very nice to be in breakout groups so we can see and hear from others."
"It's important to have reliable internet access and a computer with the ability to keep up with the program. Our iPad worked well for us."
It's obvious that participants get a lot out of taking part in Minds in Motion virtually. Technical problems can be worked out, it's accessible to anyone in the province, and it's a way for people to stay active, connected and engaged right from their own living rooms. It's something to look forward to in these pandemic times when favourite activities and outings are not available.
Winter Session – Virtual Minds in Motion
Mark Your Calendars!
Tuesdays, 2 to 3:30 pm, Jan. 19 to Feb. 23
Wednesdays, 1:30 to 3 pm, Jan. 20 to Feb. 24
Thursdays, 10 to 11:30 am, Jan. 21 to Feb 25
Registration for the winter session will be available soon!
For more information about the Minds in Motion program, contact Kathy Diehl Cyr at 204-943-6622 ext. 203 or by email at mindsinmotion@alzheimer.mb.ca
Caregiver Tips:
Maintaining Emotional Well-being During Stressful Times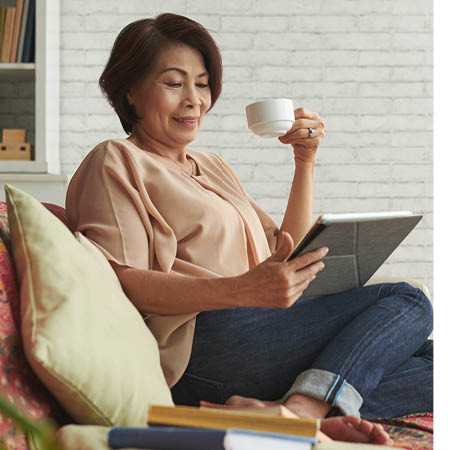 Let's be honest: the pandemic has thrown a wrench into everything. As a caregiver, you may be feeling extra stress as you try to keep up with your caregiving responsibilities while at the same time ensuring everyone's health and safety.
It is now more important than ever before to find strategies to keep yourself emotionally resilient. Here are some ideas:
Recognize that things are changing and that it's not always easy to adapt to these changes.
Take care of yourself. Maintain a healthy lifestyle and get enough sleep.
Focus on what you can control.
Accept and create an alternative for things you cannot control. Do not dwell on them.
Use positive self-talk to give yourself a break from self-criticism. Speak to yourself like a kind, supportive friend would.
Recognize that you're doing the best you can and that your efforts are appreciated.
Understand that it's normal to have a variety of emotions, and don't feel guilty about it! Take an inventory of how you feel, and think about what may be causing these emotions. A couple of examples might be:

I have expectations of myself and other people that are not being met.
I am fearful of what may happen if I or the person I care for becomes sick.

Once you identify the causes of your emotions, make a plan to resolve the issues. You may not have all the answers yet, but at least you'll have alternatives to consider, and you'll be working towards accomplishing a goal rather than being immobilized by overwhelming emotions.
If your emotions are affecting your physical health, your relationships and your day-to-day functions – seek help. Call a crisis line or speak to a counsellor immediately.
Finally, know that you are not alone. Connect with family, friends and your support network. Reach out to the Alzheimer Society – we're here for you! Join one of our support groups for caregivers, or speak to one of our client support coordinators – or both! Call us at 204-943-6622 for information.
For more information:
Caregiving during COVID-19, Alzheimer Society of B.C. Recorded Videos
www.youtube.com/watch?v=M_G2-b6zci4&feature=youtu.be
How Family Caregivers can Maintain Their Mental Health during the COVID-19 Pandemic, University Health Network Patient Education & Engagement, Toronto General Hospital www.uhn.ca/PatientsFamilies/Health_Information/Health_Topics/Documents/How_Family_Caregivers_can_Maintain_Their_Mental_Health_during_COVID-19.pdf
Are You a Family Caregiver?
Researchers Want to Hear from You!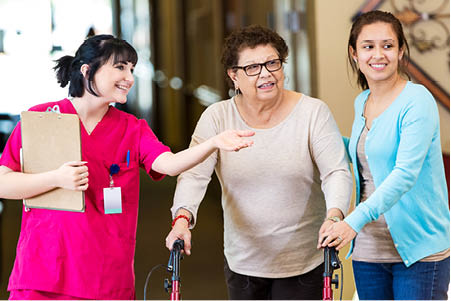 If you are a caregiver of an older person with dementia living in a long term care facility, you may be interested in becoming involved in a study being done by researchers at the University of Manitoba. They want to find out the best way to support caregivers as they experience significant changes. The overall goal is to increase hope, quality of life and ability to deal with difficult situations.
Click here to find out about the study and how you can become involved.
Note that this study is not specifically about caregiving during the pandemic, but rather about caregiving in general.
What is the Role of Personal Care Homes?
Your Opinions are Requested!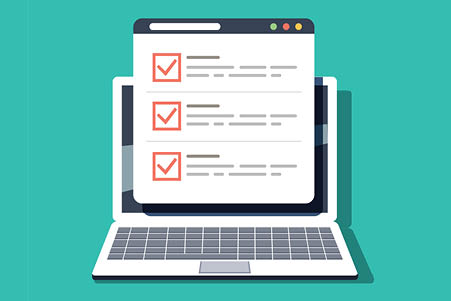 University of Manitoba researchers have initiated a study that looks at perceptions of personal care homes (nursing homes) within Manitoba in the changing landscape of health care.
Manitobans are invited to participate. The researchers are interested in your opinions on the role you think personal care homes should play.  They'd like to understand what you think their purpose is and your feelings about how they currently function.
Participation will involve completing an online survey lasting approximately 15-20 minutes.
This research is being conducted by a group of researchers led by Dr. Genevieve Thompson at the University of Manitoba.
If you are interested, you can access the survey here.
Click here for more information.
Can Dietary Flaxseed Improve Memory?
You Could Help Researchers Find the Answer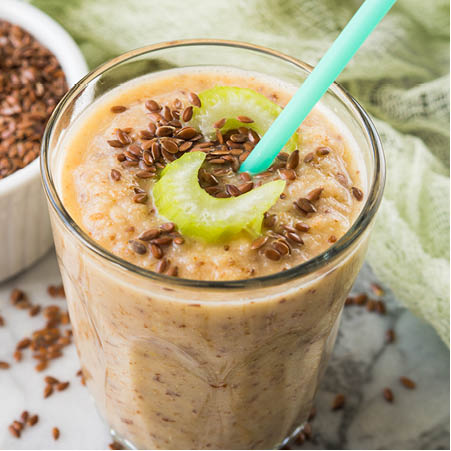 Researchers at the St. Boniface Hospital Research Centre are calling for participants for an intriguing study: they want to find out if consumption of a flaxseed beverage will improve memory function in people with dementia.
The team of five investigators is headed by Dr. Benedict C. Albensi, a leading researcher working in the area of chronic brain disorders, including Alzheimer's disease.
If you want to learn more, call 204-235-3941 or email flaxmemory@sbrc.ca
Click here for a poster with detailed participant information about this study.

Winter Online Programs and Support Groups Coming Soon!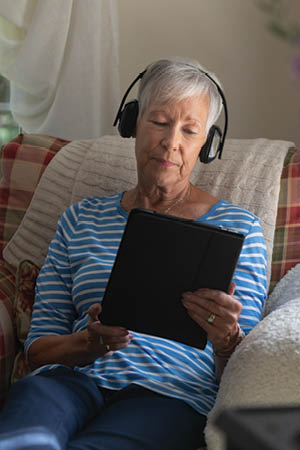 Stay tuned for information on virtual education programs coming up this winter. There will be a range of topics that will help people with dementia and their caregivers to plan ahead and become more confident on their dementia journey.
Virtual support groups for caregivers and people with dementia will also be available. These groups help connect people with others living in a similar situation during these uncertain times and to ensure that families continue to have access to support and information.
Remember:  You Are Not alone.
We are here to help you and your family through these difficult times. You can reach a comforting ear by phone or get a quick response by email. Call us at 204-943-6622 (Winnipeg), 1-800-378-6699 (toll free in Manitoba) or email alzmb@alzheimer.mb.ca