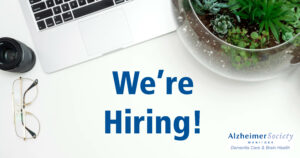 The Client Support Coordinator (full-time) is responsible for the provision of support, information and education services to people with dementia and their family care partners within the Winnipeg Region.
FORMAL EDUCATION
A degree or certificate in a social sciences or health care discipline.
WORK EXPERIENCE
Three years of experience working in a social sciences or health care related discipline
Experience in maintaining client records via an electronic database
Experience in the field of dementia care and family support an asset
Experience in providing supportive counselling an asset
Experience working in non-profit milieu an asset
WORKING LEVEL QUALIFICATIONS
Demonstrates the ability to provide support to individuals and families impacted by dementia in a sensitive, caring and compassionate manner
Demonstrates advanced written and verbal inter-personal communication skills
Demonstrates knowledge about provision of direct service to people with dementia, their families and caregivers.
Demonstrates a strong working knowledge of community resources and supports available to the older adult population.
Demonstrates knowledge of client service program development, implementation and evaluation.
Demonstrates the ability to work as part of a team as well as independently with limited supervision.
Demonstrates strong computer skills – Microsoft Office Suite and data base file management, as well as online social platforms such as Zoom.
TO APPLY:
Please submit cover letter and resume by email clearly stating how the requirements are met by Friday October 8th, 2021, to:
Jessica Harper
First Link Client Services Manager
jharper@alzheimer.mb.ca with "Client Support Coordinator" in the subject line
Click here to view the full job description.
Only those being considered for an interview will be contacted.