In This Issue
January is Alzheimer's Awareness Month!
First Link® is a Lifeline
Enjoying the Benefits of Dementia-friendly Programs
Types of Dementia Series Coming Soon!
Thanks for Your Holiday Donations
Research: Covid-19 Isolation and Memory Decline
Dementia Care Professional Development Series: Upcoming Seminars
Discover. Explore. Get Involved.
2022 Winter Education Calendar Now Available!
Connecting Through Virtual Support Groups
Round Up of Educational Opportunities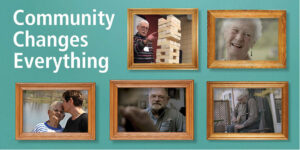 Community. Support. Knowledge. They change everything!
January is Alzheimer's Awareness Month. This year's campaign focuses on the Society being your first link to community, support and knowledge during your dementia journey – from diagnosis throughout progression to the later stages of the disease.
Four Manitobans Share their Stories
We'd like to introduce you to four Manitobans who are members of an Alzheimer Society support group for people with dementia. Watch and learn how a supportive community helps them to live well with this disease, each in their own way. Their stories will inspire you to reach out for help when you need it.
Click here to find out how Gary Quinton learned to banish negative thoughts with the help of his co-group members.
Click here to learn how David Jacobs was able to open his mind to the idea of asking for – and expecting – the help he needs.
Click here to understand why Joyce Sewell feels empowered by the sharing that occurs amongst the members of her support group.
Cick here to hear why Luc Lemoine considers his support group to be a "magic" community, teaching him that life can be fulfilling and enjoyable.
All four have discovered that the Alzheimer Society is the source of community, support and knowledge that changes everything!
Click here to find out more about this year's campaign and the many ways the Society can help people with dementia and their families.

First Link® a Lifeline for People with Dementia and Their Families
Support staff at the Alzheimer Society were there for Debbie Rotoff when her mother, Dolores Lavallee, was diagnosed with Alzheimer's disease. Through the Society's First Link® referral program, Debbie was able to get the support she needed.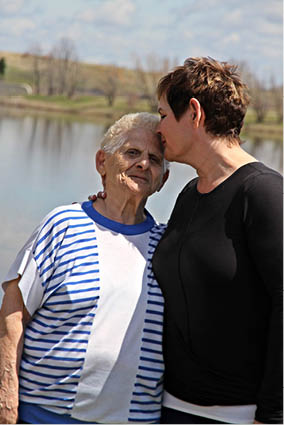 "I was lost, and the staff helped me through a difficult, exhausting journey with my mother," says Debbie.
First Link is a program whereby health care professionals, who are on the front lines of meeting with and diagnosing people with dementia, can make referrals to the Alzheimer Society. If the person and/or their family member agrees (and most do), First Link Client Support staff at the Society reach out and make a call to them.
As well, families can call the Society on their own initiative – it is not necessary to obtain a referral from the health care community.
Either way, the goal is to connect the person and their family with information, services, support and education as early as possible and throughout the progression of the disease.
Making Referrals
Winnipeg clinical neuropsychologist Dr. Colleen Millikin – a specialist who often confirms a dementia diagnosis – sees First Link as a valuable way to ensure her patients get connected with the Society.
"People don't necessarily call the Society on their own because they have a lot going on…they're coming to terms with what the diagnosis means for them and dealing with lifestyle changes, like having to give up driving," says Dr. Millikin. "The Society is there to say, 'You're not alone; we're set up to help you.'"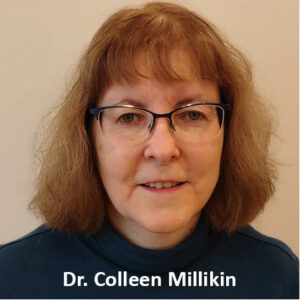 Dr. Millikin adds that it's critical to have contact with the Society as soon as the family is able. If caregivers get education and support early on, burnout and stress can be prevented, potentially extending the time that they are able to care for their loved ones at home.
For Debbie, getting the support she received, at the time she received it, was vital to both her and her mother's well being.
Enjoying a close mother-daughter bond, she and Delores had lived together for many years. Dolores was already showing early signs of dementia when, five years ago, another daughter died in a traffic accident. After the tragedy, Dolores's demeanor changed noticeably. She wandered, had terrible headaches and even began hallucinating. Debbie coped as best she could, but eventually her mother was hospitalized because she could no longer navigate her life.
It was at that point that a referral was made, and the Society's staff reached out to Debbie.
"I spoke with someone, and she was my saving grace. She was the one who said, 'It's been all these years – you can't do it anymore. Even if you get home care, it won't be enough. Your mom needs more than that,'" Debbie recalls. "She talked to me, and I cried and cried."
In November 2019, Debbie made the difficult decision to move Dolores to a personal care home. (While this was the best solution for Debbie and her mom, everyone's experience is different; Society staff can help each family navigate how to best meet their individual needs.)
Today, Debbie continues to rely on the Society for support, and she shares what she learns with the family council at Delores's care home. She's also a member of one of the Society's support groups for care partners. "You need people to talk to who are going through the same thing," she says.
Debbie is grateful for all the assistance she has received. She has made it her mission to refer people, who are on a similar journey of their own, to the Alzheimer Society for help and guidance.
For more information and a video on the First Link® program, click here.
For further reading, click here to go to our National website.

Enjoying the Benefits of Dementia-friendly Programs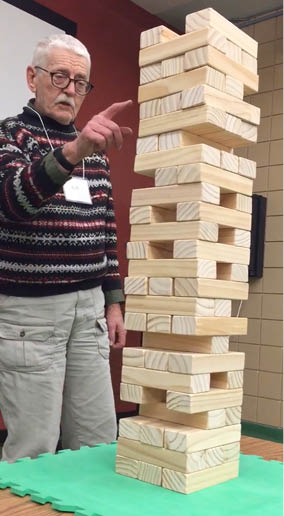 Dementia-friendly community programs offer people living with dementia and their caregivers an opportunity to do something fun together in a welcoming and inclusive environment. The Alzheimer Society partners with a variety of community organizations to offer these programs, including Minds in Motion® and Art to Inspire.
During Minds in Motion, participants spend time taking part in a gentle chair fitness class followed by engaging activities and conversation. In Art to Inspire, which takes place at the Winnipeg Art Gallery, those involved learn about and discuss a piece of art, and then make their own creation.
Morrisa Klein, who leads Minds in Motion at the Rady Jewish Community Centre, says the program helps mitigate the isolation that may be felt by people with dementia and their caregivers. "It's like going on a date and spending an hour having fun!"
Participant Roberta Stout agrees. Her dad, Bob Stout, who has Alzheimer's disease, was a long-distance cyclist most of his life. Roberta took him to Minds in Motion, and she says it was "endearing" to see how much he enjoyed the simple exercises and games.
"He's been so physically active his whole life. When he was at Minds in Motion, it's like his brain turned on again," she says. "He probably could have stayed there all day he enjoyed it so much!"
Bob also had the opportunity to participate in Art to Inspire with Roberta's mom, Madeleine, who says the program gave the two of them the chance to get out for some activity and socialization.
Madeleine points out that it's not easy looking after a partner who has dementia. "People can't even imagine what this is about," she says. But the program helps; she loves the good vibes and positive feelings that everyone shows when participating in Art to Inspire. "You need a lot of that when you're going through something like this."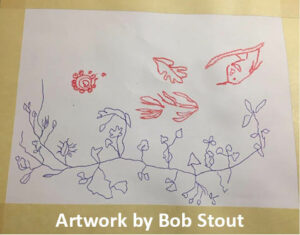 That's something the Learning & Programs Coordinator at the Winnipeg Art Gallery likes to hear. "It can be challenging for couples to find things they can do together," says Colleen Leduc. "We wanted the caregivers to be active participants, and that's something we're really proud of."
Madeleine was happy that Art to Inspire was something constructive she and her husband could do together. "It was very cathartic. The attachment we've had for 53 years surfaced."
She even discovered that her husband had a creative side. "He was very focused on his task and got right into it. He did beautiful work!"
To learn more about dementia-friendly programs offered through the Society and its partners, click here.

Types of Dementia Series Coming Your Way!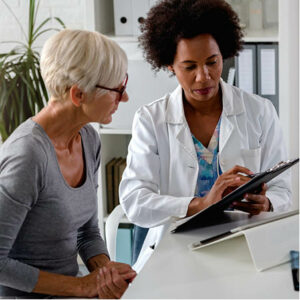 Dementia is an umbrella term used to describe a range of neurological conditions affecting the brain that get worse over time.
The term refers to a loss of cognitive functioning – in thinking, remembering and reasoning – to the degree that interference with a person's daily life and everyday activities occurs.
We realize that the name of our organization, Alzheimer Society of Manitoba, leads people to believe that we only help people living with Alzheimer's disease, the most common form of dementia. While we do support families with Alzheimer's, this is not our only focus — we support people and their families with all forms of dementia.
Symptoms can be similar among different types of dementia, and some people have more than one form of dementia, which can make an accurate diagnosis difficult. Symptoms can also vary from person to person. Doctors may ask for a medical history, complete a physical exam, and order neurological and laboratory tests to help make the diagnosis.
In this upcoming series, we will look at the four common types of dementia: Alzheimer's disease, frontotemporal dementia, Lewy body dementia and vascular dementia. We'll also highlight a few of the rarer forms, such as Creutzfeldt-Jakob disease.
Stayed tuned for this series in subsequent issues of this eNewsletter.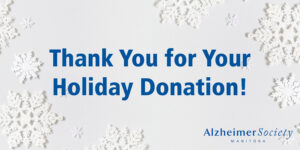 Thanks to all of our supporters for their generous donations to our December Campaign! Upon publication of this eNewsletter, the amount raised to date is $111,643.
That total includes $76,634 from 847 donors, along with $35,000 given by Neil Carlson, David Greenwood, Elden Wittmier and an anonymous donor. All were motivated to provide their matching gift because they understand, through personal experience, the importance of the Society's services. Hat's off to these individuals for stepping up to match your donations!
We are grateful for everyone's support and commitment to the many Manitobans impacted by dementia and to the work we do to support them. We could not do this work without you.
Covid-19 Isolation and Memory Decline:
What is the Association?
A question on the minds of many families during the pandemic is whether the social isolation resulting from COVID-19 restrictions is worsening symptoms experienced by persons with dementia.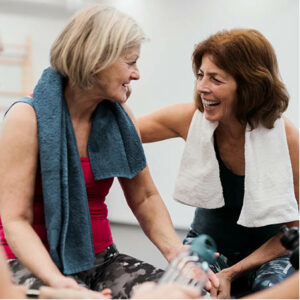 A new study out of Brazil is one of several that is attempting to answer that question. It looked at the association between physical activity and subjective memory decline triggered by the COVID-19 pandemic. With a focus on memory decline generally – rather than specifically among people with dementia – it found that decreased physical activity resulting from social distancing restrictions was associated with memory decline, as reported subjectively by 2,321 study participants.
The study asked participants to complete an online questionnaire to assess physical activity and self-rated memory. The first was completed before social distancing was implemented, and then a second was done during a period of social distancing.
Results revealed that 30% of respondents reported subjective memory decline, with most of these admitting to being physically inactive during the pandemic. Those who were physically active during social distancing restrictions were less likely to subjectively report memory decline.
The results of this Brazilian study coincide with other research indicating that lockdown measures and physical distancing restrictions have an adverse effect, particularly on people with dementia and their care partners.
For example, a scoping review from the University of Saskatchewan in the Canadian Journal of Public Health in June 2021 noted that the worsening of cognitive functioning and neuropsychiatric symptoms is a theme of research during the pandemic. Another Canadian paper out of the University of Calgary and published in Dementia (August 2021) indicated that care partners of people with dementia expressed concerns that cognitive decline accelerated during social distancing.
Internationally, a paper in The Lancet in July 2021 reviewed 15 studies looking at the effect of COVID-19 isolation measures on the cognition and mental health of people living with dementia. It found that nine of the studies (60%) reported changes in cognition and 14 (93%) found worsening or new onset of behaviours and psychological symptoms.
More research is needed to determine the impact that pandemic restrictions may have on the cognitive abilities of persons with dementia. While studies such as those mentioned here do not prove that social distancing restrictions cause cognitive decline, they are an important step in understanding that impact.
The bottom line is that it's important to stay as physically and socially active as possible to maintain brain health. During a pandemic, extra efforts may be needed, such as virtual activities or small group gatherings that can be safely held.
Dementia Care Professional Development Series
Sponsored by All Seniors Care

Our Dementia Care Professional Development Series offers information and knowledge specifically for health care staff who are providing care as part of their work. Sessions take place online monthly until March 2022. Here's what's coming over the winter.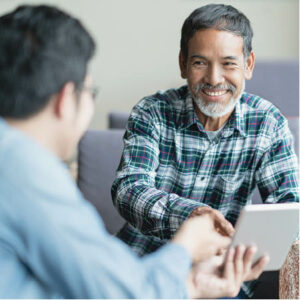 What: Aphasia, Dementia and Communication
When:  Tuesday, January 25 from 10:30 to 11:30 am
Aphasia is a type of language impairment that can occur in people with dementia. Program clinicians from the Westman Aphasia Inc. will dig into the topic, including its connection with dementia.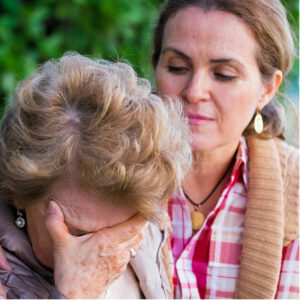 What: Supporting Each Other During Times of Grief
When:  Thursday, February 9 from 6:30 to 7:30 pm
During the pandemic, many people have experienced tremendous loss of a family member or friend, a job, a routine or a hobby. In this session, a grief expert will discuss the importance of talking about such losses and supporting each other as we grieve.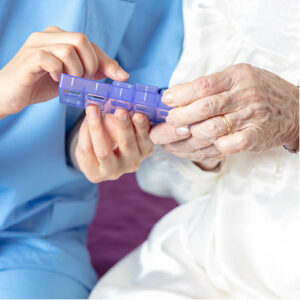 What: Does Medication Have a Role in Managing Responsive Behaviours in Dementia?
When:  Thursday, March 10 from 6:30 to 7:30 pm
A medical doctor will look at various aspects of medication use in dementia care, including if and when it should be used, the role of front line staff and medication safety.
These sessions are offered via Zoom.
Click here to register. The cost is only $20 and covers 11 sessions in this series, which started in May. If you miss any, you will have access to previous recordings.
Click here to review all upcoming sessions and click here for speaker bios. Please mark your calendar and share with your colleagues. We look forward to seeing you!
Dementia Care Professional Series Sponsored by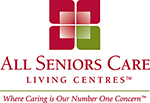 Discover. Explore. Get Involved.
The Alzheimer Society partners with community organizations to provide programs for people with dementia and their care partners. These programs, which are welcoming and inclusive, take place in community facilities.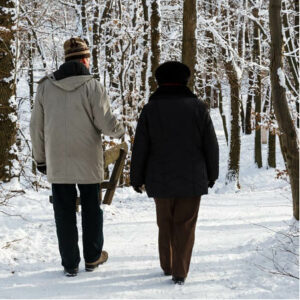 The following programs have been planned for Winter 2022. Please note that, due to the COVID-19 pandemic, these sessions are subject to change. For the latest information, please visit our website regularly.
Tales Along the Trail (Fort Whyte Alive) – An exciting new outdoor program is taking place in January and February! Click here for information.
Minds in Motion (Alzheimer Society of Manitoba) – Click here for dates and times for both in-person and Zoom sessions. For more information, contact mindsinmotion@alzheimer.mb.ca
2022 Winter Education Calendar is Now Available!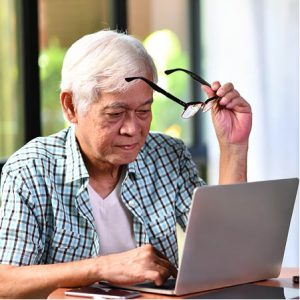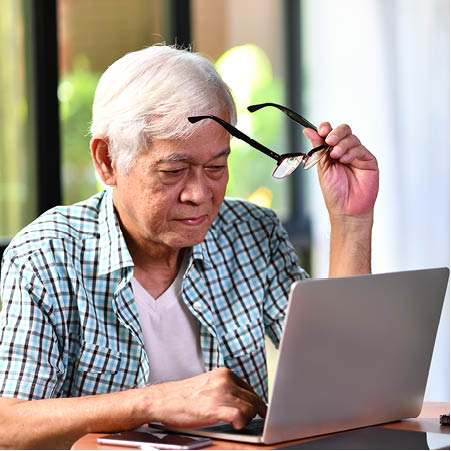 The 2022 Winter Education Calendar is loaded with sessions that cover a variety of topics to help you on your dementia journey. Sessions are offered via Zoom.
To check out the available seminars and to register, visit our Education page at the link below!
2022 Winter Education Programs
Online Family Education Sponsored by

Connecting Through Support Groups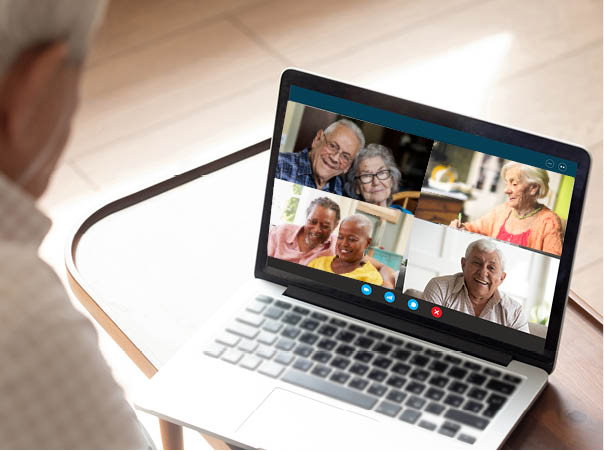 Several support groups are available at the Alzheimer Society of Manitoba. Check below to see which one best fits your needs.
For Care Partners: A variety of days and times are scheduled for those interested in joining a virtual or in-person support group for care partners. These groups help connect people with others living in a similar situation during these uncertain times. Click here to register for a date and time that suits your schedule.
Ambiguous Loss Support Group for Care Partners: Ambiguous loss is a type of loss felt when a person with dementia is still physically here, but may not be mentally or emotionally present in the same way as before. This specialized support group is an eight-week program to help care partners navigate this type of loss.
NOTE: For information about upcoming winter sessions, please contact your local office to see if this group is right for you. Contact information can be found here.
For People with Dementia: We are holding virtual support groups to ensure continued access to support and information during the pandemic. These weekly groups for people with dementia provide participants an opportunity to:
Learn about living with dementia and its progression.
Share feelings and common experiences.
Exchange practical coping strategies.
Participate in discussions.
For more information about support groups for people with dementia, please contact:
Sarah Dueck
Client Support Coordinator
204-943-6622 ext. 213
sdueck@alzheimer.mb.ca
Round Up of Educational Opportunities
The Alzheimer Society often hears about opportunities for learning about dementia from other jurisdictions, whether they be podcasts, webinars, courses, videos and more. In this section of our eNews, we offer options that may match our readers' needs at various points in their journeys.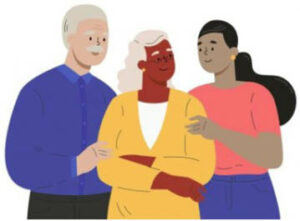 Free Public Event on Caring for a Person with Dementia
In partnership with Alzheimer Society Canada, the CCNDA (Canadian Consortium on Neurodegeneration in Aging), is hosting a free public event called, "Caring and Caregiving for a Person Living with Dementia." This virtual event will be held on January 25, 2022, from 4:30 to 5:30 pm CT (5:30 to 7:30 pm ET).
This forum will cover the concept that caring and caregiving for a person living with dementia is a complex experience . Many caregivers feel proud and have a sense of accomplishment because of the support they provide. Yet, caregiving can also be challenging and overwhelming.
As a caregiver of a person living with dementia, what can help you cope with the challenges you experience? How can you build and maintain your social network? What does the most recent research tell us about how best to support caregivers of people living with dementia?
To register, please click here.
For more information on this event, including speakers and schedule, click here.
Remember. You Are Not Alone.
We are here to help you and your family through these difficult times. You can reach a comforting ear by phone or get a quick response by email. Call us at 204-943-6622 (Winnipeg), 1-800-378-6699 (toll free in Manitoba) or email alzmb@alzheimer.mb.ca