In This Issue
Couple Finds Clarity and Understanding
What is Frontotemporal Dementia?
Young Man Honours Grandfather with Donation
Dementia-friendly Libraries and Recreation Centres
Tools to Make Day-to-day Life Easier
Research: Family Video Messages Help with Care and Quality of Life
Dementia Care Professional Development Series: Upcoming Seminars
2022 Winter Education Calendar Now Available!
Connecting Through Virtual Support Groups
Research Participants Needed: Risk Factors for Getting Lost or Going Missing
Round Up of Educational Opportunities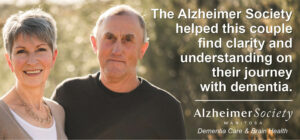 Couple Gets the Help They Need by Reaching Out to the Society
Long before her husband's diagnosis of frontotemporal dementia (FTD), Alice Froese knew something was amiss. So did Len, her spouse of many years and the father of their three grown daughters.
Len had started forgetting the names of acquaintances, and he would react rudely to some of the members of his coffee group. "It got to the point where they didn't want him at coffee anymore," says Alice.
In retrospect, Len's behavior made sense, although it certainly didn't at the time – he'd always had good relationships with his friends. But at age 62, Len was in the early stages of FTD, and it was affecting the parts of his brain involved with personality, behavior and emotions.
When Len started mixing up words, and then making dangerous decisions when driving, Alice knew it was time to get things checked out. She reached out to the Alzheimer Society's Steinbach office, where she received information and advice from the organization's regional coordinator, including encouragement to get a diagnosis.
"Both Len and I had a mixture of feelings when we found out it was FTD," says Alice. "It wasn't what we wanted to hear, but it brought clarity and understanding – even a sense of relief. Len now had, not an excuse, but a reason for his behavior."
The Society's coordinator suggested that Alice join a caregiver support group, and she still participates today, six years after Len's diagnosis. Alice says the group members bond on a unique level, sharing tips and helping each other to work through their feelings.
"It's one thing to have an understanding about the disease, but it's quite another to face the behaviour," says Alice. "The group helps you to cope with your emotions and to forgive yourself if you feel mad or hurt. Gradually, you learn not to take things personally."
For the past three years, Alice received help at home through Family Managed Care, and she has been able to continue working full time at a local school. However, Len's disease eventually progressed to the point where he couldn't be left alone, even for a few minutes.
Recently, a bed at a nearby personal care home became available, and the decision was made to take it. On December 21, 2021, Len went into care.
"If I'd had the choice, I wouldn't have picked that date," says Alice. "With the pandemic, I had to leave him there – it was emotionally difficult. But we visit on Zoom, and staff give me regular updates, so I know he has settled in well."
It took a while for Alice to relax at home and realize that she no longer has to keep two steps ahead of Len to ensure his safety. Today, there is less stress for her, and that's all part of the journey. She's grateful to the Alzheimer Society for being by her side along the way.
For more information on frontotemporal dementia, see the next article below.

Types of Dementia Series:
What is Frontotemporal Dementia?
Dementia is an umbrella term used to describe a range of neurological conditions affecting the brain that get worse over time. The term refers to a loss of cognitive functioning – in thinking, remembering and reasoning – to the degree that interference with a person's daily life and everyday activities occurs. In this series, we take a look at several different forms of dementia, with this installment covering frontotemporal dementia.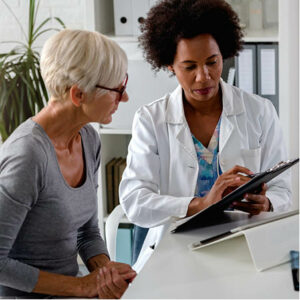 Alice and Len, the couple featured in this eNewsletter's first story, came face-to-face with FTD when Len was diagnosed with the disease. Alice describes behaviour from Len that didn't fit his usual ways, such as being overtly rude to people.
When looking at the parts of the brain affected by FTD – the frontal and temporal lobes – this behaviour is understandable. Brain cells shrink and die in these lobes, which are associated with personality, behaviour, emotions, language, speech, abstract thinking and movement.
HOW DOES FTD AFFECT THE PERSON?
In the early stages, people with FTD may not show memory problems and may be well oriented to time. Later, though, confusion and forgetfulness arise.
Changes in behaviour may include:
becoming either withdrawn or disinhibited; having frequent mood changes or excessive emotions. These changes can lead to inappropriate behaviour, resulting in embarrassing situations.
showing reduced initiative, which can lead to such things as loss of interest in personal hygiene.
becoming easily distracted or repeating the same action over and over.
overeating or compulsively putting objects in the mouth, which could lead to choking.
Problems with language may include:
having trouble finding the right word, or reduction or total loss of speech.
repeating comments from others and stuttering.
having difficulty maintaining a train of thought or a conversation.
writing and reading problems.
Problems with movement may include:
decreased facial expressions.
slowness of movement.
rigidity and postural instability.
poor coordination and frequent falls.
FTD accounts for 20% or more of dementia in individuals under age 65. The disease is estimated to affect about 10% of all dementia cases. Very little is known about its cause and risk factors, and there is no known cure or effective way to slow the progression. However, therapeutic techniques using physical activity and music can improve quality of life.
Note: There are variations in FTD. Some of the other names include semantic dementia, frontotemporal degeneration, tau disease and Pick's disease.
For more information, contact the Alzheimer Society of Manitoba at 204-943-6622 and ask to speak to a client coordinator. Click here for further reading on the Alzheimer Society of Canada's website.
Stayed tuned for our March 2022 eNewsletter for a continuation of this series.

Young Man Honours Grandfather with Donation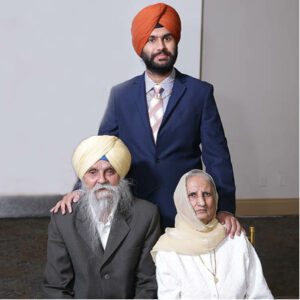 It isn't every day that a young man about to turn 21 donates his birthday money – over $3,000 – to the Alzheimer Society of Manitoba.
Manjit Singh Chana is pleased to say that his son, Gursangeet Singh Chana, did just that as a way to honour the family's father and grandfather, Gurnaib Singh, who has Alzheimer's disease.
Gursangeet has special memories of time spent with his grandfather, who would take him to the park in their St. Vital neighbourhood as a child and chauffer him and his younger twin sisters to school.
Manjit recalls the success of his father's career in Punjab, India. Despite having no formal education, Gurnaib Singh became a project manager in a large construction company. It runs in the family: Manjit is a civil engineer and Gursangeet is in his third year of engineering at the University of Manitoba.
"When my father retired in 2003, he and my mother moved to Winnipeg to live with our family," explains Manjit. "He never learned to speak English, but he loved his long daily walks in the neighbourhood. He had a smile for everyone, and everyone knew him and smiled back."
In the winter, his father walked on the treadmill. He'd also spend lots of time chatting on the phone with friends and relatives in Canada and India, and he'd go to the local Sikh Temple every Sunday to socialize.
However, in the last few years, Manjit noticed a change in his father's behaviour. He would forget things and mix up his words. On a flight to India in 2016, his father thought he was on a "bus" taking them to their home town.
As time progressed, the disease became even more obvious, and he was finally diagnosed in 2018.
Today, the family ensures that their patriarch is safe. "I take him for summer walks but we feel that the treadmill is now too dangerous," explains Manjit, who also continues to take both his parents to the Temple on a regular basis.
As Gurnaib Singh becomes more confused, more demands ensue, and pressure grows for Manjit, his wife and his mother. However, Manjit and his family know they will uphold the Indian tradition and values of providing a home for his parents for as long as they're alive. "That is our intent. That's the way it is," he says.
And, although the family has not yet used the services of the Society, they are excited to learn about some of the programs, such as Art to Inspire, a dementia-friendly community program that Manjit can attend with his dad. They are looking forward to learning more about what the Society has to offer to help them on their journey.

Calling All Libraries and Recreation Centres!
Do You Want to be Dementia-friendly?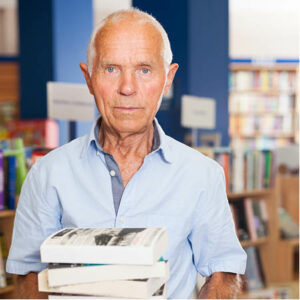 Libraries and recreation facilities attract patrons because of their varied programming. They have been identified by the Alzheimer Society as ideal community spaces that can include and engage people with dementia.
For these individuals, especially those in the early and middle stages of the disease, getting out and about in their communities is an important part of maintaining a meaningful quality of life. However, this can be easier said than done; folks with dementia need physical and social environments that consider the specific challenges they face.
"Libraries and recreation organizations are in a perfect position to be able to help people with dementia and their families to socialize and stay active," says Jennifer Vicente-Licardo, Alzheimer Society of Manitoba's Education Manager. "Such opportunities reduce isolation and encourage positive interactions in the community."
Jennifer contends that, while barriers exist for dementia-friendly programming to be successful, these obstacles can be overcome – sometimes relatively easily. For example, from a physical perspective, people with dementia can navigate facilities with more confidence if there is clear signage. Socially, programs that tackle communication barriers and are geared to the needs of this group can be developed.
"A reading group focusing on storytelling and reminiscing is a good example of a program that could be introduced at a library," suggests Jennifer. "In a recreation centre, a coffee group with a gentle exercise element could include people with dementia, their families and community members. Programs like these allow everyone to contribute equally and enjoy the group activities as valued members."
Leaders and employees at community libraries and recreation outlets who would like to investigate dementia-friendly options for their organization have a helpful tool at their fingertips. Called, Building Dementia-Friendly Communities, this 75-minute online course was developed through Dementia-Friendly Canada, a partnership between Alzheimer Societies across Canada.
"This is an invaluable training course that was established using the observations of people with dementia who have 'lived' experience trying to participate in the community," says Jennifer. "It provides staff with the knowledge and skills needed to make an organization's environment one that will encourage a sense of belonging and normality for those affected by dementia and their families."
To sign up for Building Dementia-Friendly Communities, click here.
For more information about this course, contact Jennifer Vicente-Licardo at alzeducation@alzheimer.mb.ca
You can also reach out to Jennifer to learn about dementia friendly community sessions offered to organizations on an individual basis, both in-person and online, by the Alzheimer Society of Manitoba.
The Dementia-Friendly Canada project is funded by the Government of Canada through the Public Health Agency of Canada as part of the work being done to address the National Dementia Strategy.
Tools to Make Day-to-day Life Easier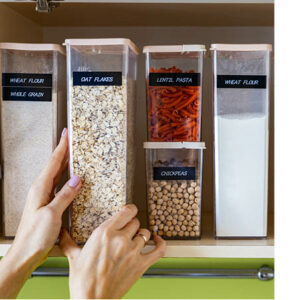 While it is common for day-to-day routines to become more challenging as dementia progresses, help may be available in the form of specialized products designed for specific jobs. Following are examples of some of these products and how they might be able to help during activities of daily living.
Memory Aids
An erasable whiteboard can be used for lists and reminders.
Large easy-to-read clocks that include the both time and date can help keep everyone oriented.
Diaries and calendars, customized to personal preference, can help keep track of routines. (e.g., wall calendars with squares for days or a digital calendar on an iPad).
A weekly pill organizer may work for medications if the person can identify the date.
Equipment for Cooking
Sometimes cooking can become challenging, but it is also an activity that some people really enjoy. It can be made safer and easier with the help of some special tools and utensils, including:
grip extensions for oven/element control dials and taps.
silicon pads to keep pots and plates from slipping when stirring or chopping food.
a frame that allows a kettle to be safely tipped and poured.
timers to signify when food is done.
a special "perching stool" to allow a person to sit while doing such chores as chopping vegetables at the counter.
signs on cupboards to signal where items are kept.
clear containers for food storage in the fridge and cupboards so contents are easily seen.
Eating and Drinking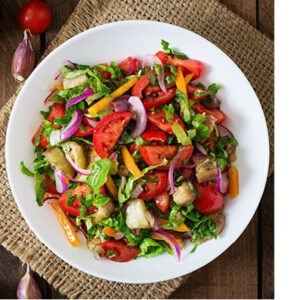 To help someone with vision, coordination and/or swallowing problems, the following tips may help at mealtime:
Purchase specialized cutlery that is weighted and/or curved and has cushioned handles for better grip.
Choose cutlery, plates and other tableware items that have a contrasting colour to the tablecloth for a person with vision difficulties.
Use non-spill cups with large handles.
Try one-way straws that won't let the liquid go back down into the cup.
Dressing
Adaptive clothing can encourage a person with dementia to dress themselves with confidence, or make is easier for a caregiver to help. Examples include:
elastic waistbands instead of zippers.
snaps or Velcro fasteners instead of fiddly buttons.
clothing with front and back openings rather than over the head.
slipper socks with good grip and no laces to tie.
The examples cited here are just a few of the adaptations that can be made to help daily routines go smoothly. For advice on these items and for other suggestions based on your personal situation, call the Alzheimer Society of Manitoba at 204-943-6622 and ask to speak to a client support coordinator. You can also contact your home care coordinator or occupational therapist for an assessment or to ask them about adaptive equipment that might be helpful to you.
For more information about assistive products, check this website: https://alzheimer.ca/en/help-support/dementia-resources/shopping-assistive-products
Research Finds Family Video Messages Help with Care and Quality of Life



Dr. Lillian Hung, Postdoctoral Fellow in the Department of Gerontology at Simon Fraser University, knows that family members can't always be available in person to offer comfort. She endeavored to find a way, using technology, to improve the safety and quality of life of hospitalized older people with dementia.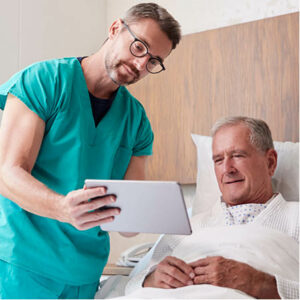 Dr. Hung's research – called Innovating Together: WORKing with Technologies in Dementia Care (IT WORKs) in Acute Care Settings – involved investigating the use of an iPad to play short videos that feature messages from family members. The aim was to determine if a familiar face and reassuring voice would be a calming influence for a person with dementia.
With funding assistance from the Alzheimer Society Research Program, Dr. Hung worked with families of patients in two British Columbia hospitals. The family members used their phones to self-record short, personalized videos, which were uploaded to an iPad for nursing staff to play for the patient.
For example, a video from a son or a daughter can 'set the scene' by providing a friendly message that might go something like this: "Hi Mom! Your nurse is here to help you. She'll help you take your pills now. I'm going to come by a little later to see you."
Results of the study demonstrated that the intervention dramatically decreased reactive behaviour in patients. It helped them to relax and become more engaged with staff members while the care was being done.
Another outcome of Dr. Hung's research is the development of a toolkit that was made with contributions from frontline clinicians and people with lived experience (family and family care partners). The toolkit includes videos, brochures and pocket cards and is being used to support scaled-up implementation of the intervention.
Arrival of the Pandemic
An interesting sidebar about Dr. Hung's research is that it commenced, pre-pandemic, in 2018. The toolkit became freely available on a public website just before Covid-19 emerged, and it subsequently became widely used by hospital staff to support dementia care.
Erin Crawford, Program Director at the Alzheimer Society of Manitoba, recognizes that since then, the collective experience of using technology to facilitate virtual visits has shifted dramatically; it's a platform that's been more-or-less forced upon all aspects of our lives, for better or for worse.
While it's helped many families connect, others have ultimately abandoned virtual visits, finding that the new and unfamiliar means of connecting sometimes creates more distress, rather than ease, for residents. What works for each person is different, and having various options is key.
Despite this, she also knows that families have long sought more ways to connect with someone they love who has dementia. "The Alzheimer Society will continue to support researchers, such as Dr. Hung, who are working to improve quality connections between people living with dementia and their families and friends."
Dementia Care Professional Development Series
Sponsored by All Seniors Care

Our Dementia Care Professional Development Series offers information and knowledge specifically for health care staff who are providing care as part of their work. Sessions take place online monthly until March 2022. Here's what's coming over the winter.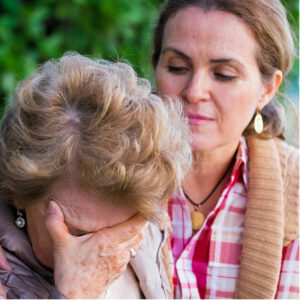 What: Supporting Each Other During Times of Grief
When:  Thursday, February 9 from 6:30 to 7:30 pm
During the pandemic, many people have experienced tremendous loss of a family member or friend, a job, a routine or a hobby. In this session, a grief expert will discuss the importance of talking about such losses and supporting each other as we grieve.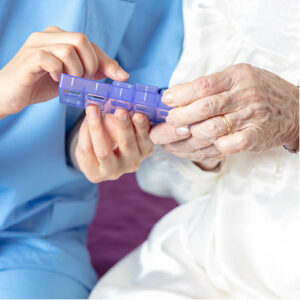 What: Does Medication Have a Role in Managing Responsive Behaviours in Dementia?
When:  Thursday, March 10 from 6:30 to 7:30 pm
A medical doctor will look at various aspects of medication use in dementia care, including if and when it should be used, the role of front line staff and medication safety.
These sessions are offered via Zoom.
Click here to register. The cost is only $20 and covers 11 sessions in this series, which started in May. If you miss any, you will have access to previous recordings.
Click here to review all upcoming sessions and click here for speaker bios. Please mark your calendar and share with your colleagues. We look forward to seeing you!
BREAKING NEWS!
We are pleased to announce that Dementia Care will continue to be offered virtually throughout 2022-23! Watch for new topics and speakers and listen to returning presenters as they provide in-depth discussions on select topics. Online registration for this new series opens in March 2022!
Dementia Care Professional Series Sponsored by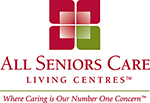 2022 Winter Education Calendar has Something for Everyone!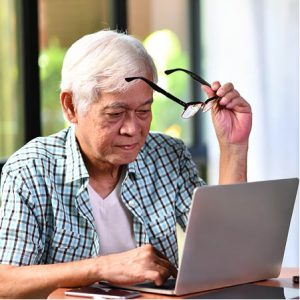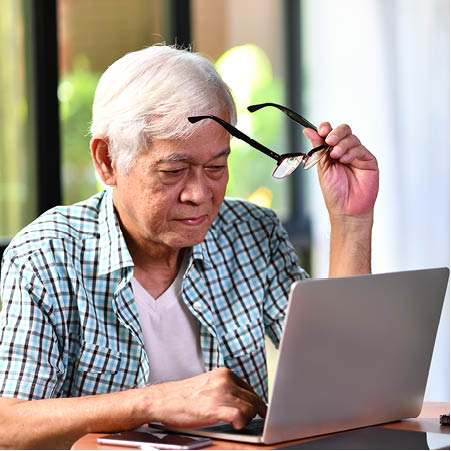 The 2022 Winter Education Calendar is loaded with sessions that cover a variety of topics to help you on your dementia journey – everything from financial confidence to incontinence! Sessions are offered via Zoom.
To check out the available seminars and to register, visit our Education page at the link below!
2022 Winter Education Programs
Online Family Education Sponsored by

Connecting Through Support Groups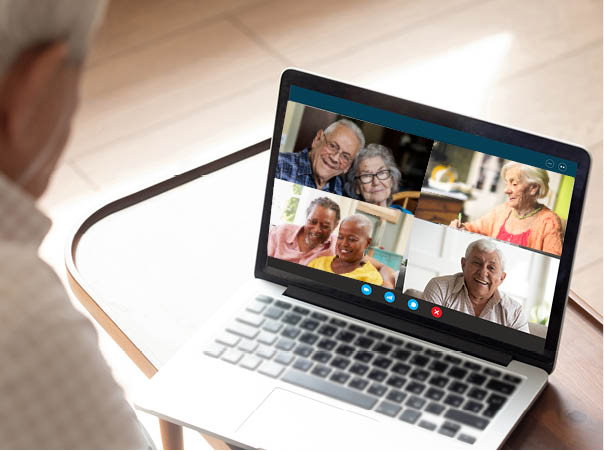 Several support groups are available at the Alzheimer Society of Manitoba. Check below to see which one best fits your needs.
For Care Partners: A variety of days and times are scheduled for those interested in joining an in-person or virtual support group for care partners. (Note that some of the in-person groups have temporarily gone to virtual due to the ongoing pandemic.) These groups help connect people with others living in a similar situation during these uncertain times. Click here for an updated listing of current offerings and to register.
Ambiguous Loss Support Group for Care Partners: Ambiguous loss is a type of loss felt when a person with dementia is still physically here, but may not be mentally or emotionally present in the same way as before. This specialized support group is an eight-week program to help care partners navigate this type of loss.
NOTE: For information about upcoming sessions, please contact your local office to see if this group is right for you. Contact information can be found here.
For People with Dementia: We are holding virtual support groups to ensure continued access to support and information during the pandemic. These weekly groups for people with dementia provide participants an opportunity to:
Learn about living with dementia and its progression.
Share feelings and common experiences.
Exchange practical coping strategies.
Participate in discussions.
For more information about support groups for people with dementia, please contact:
Sarah Dueck
Client Support Coordinator
204-943-6622 ext. 213
sdueck@alzheimer.mb.ca
Participants Needed for Study:
What are the Risk Factors for Getting Lost or Going Missing?
Investigators  from the Aging and Innovation Research Program at the University of Waterloo are recruiting participants for a study looking at the risk factors for getting lost and going missing in persons living with dementia.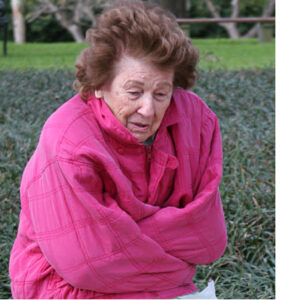 Eligible participants include:
persons living with dementia
family or care partners to a person living with dementia
professional health care providers who work with people with dementia
Participants will take part in an individual interview, including a card sorting activity. This one-hour session could be in-person (following public safety measures) or online, using a videoconference platform, such a Zoom.
Participation can take place any time between now and December 2022. If you are interested or would like further information, please contact Hector Perez at hperez@uwaterloo.ca or call 548-994-0001.
This study has been reviewed and received ethics clearance through the University of Waterloo's Research Ethics Committee.
Round Up of Educational Opportunities
The Alzheimer Society often hears about opportunities for learning about dementia from other jurisdictions, whether they be podcasts, webinars, courses, videos and more. In this section of our eNews, we offer options that may match our readers' needs at various points in their journeys.
FREE PUBLIC EVENT
Caring for Individuals with Mild Cognitive Impairment: Impacts on Caregiver Identity, Mental Health and Supports
February is Psychology Month, and the Manitoba Psychological Society is offering this free webinar on February 15 from 7 to 8 pm. Dr. Brooke Beatie and Dr. Lesley Koven will present a vitual talk via Zoom.
To access the Zoom meeting, click on the link below:
https://us06web.zoom.us/j/83846486315
Meeting ID: 838 4648 6315
Remember. You Are Not Alone.
We are here to help you and your family through these difficult times. You can reach a comforting ear by phone or get a quick response by email. Call us at 204-943-6622 (Winnipeg), 1-800-378-6699 (toll free in Manitoba) or email alzmb@alzheimer.mb.ca