Join us Thursdays at 3 pm for 30 minutes of entertaining Facebook Live sing alongs to help lift your spirits! Through our Facebook Live events you will be able to see Music Therapist Katy Jacobs and Regional Coordinator Chris Waugh singing and playing their guitars. We encourage participants to post their comments and sing along!
Katy Jacobs, Music Therapist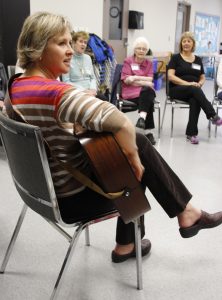 Music Therapist Katy Jacobs has been singing and playing instruments with our Minds in Motion® program participants for several years. Katy is excited to share her songs and music with everyone, and she hopes you'll join her for a fun and engaging sing along to help bring a smile to your day.
Facebook Live – Sing Along with Katy Jacobs: