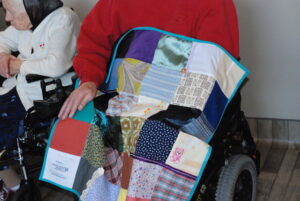 Touch Quilts provide individuals in the late stages of dementia with an opportunity for sensory stimulation.
Sensory stimulation is important for someone affected by dementia because it can provide feelings of comfort and relaxation through the sense of touch.
For example, when felt, a patch of faux fur on the Touch Quilt may provide feelings of happiness associated with the memory of a favourite pet.
The Touch Quilt Project is a volunteer initiative that reaches many in the community such as; senior groups, quilting groups, churches, schools, community groups, and sponsors. Volunteers assemble Touch Quilt kits to make a difference in the lives of people living in personal care homes. By making Touch Quilts, volunteers benefit through various learning opportunities such as learning the importance of early diagnosis, the needs of people with dementia and programs and services offered by the Alzheimer Society of Manitoba.
There are many ways to get involved with the Touch Quilt Project. You can help by sponsoring, assembling or sewing Touch Quilts, or by donating to the Alzheimer Society of Manitoba.
For more information, please email Emily Kinnaird, Education Coordinator at ekinniard@alzheimer.mb.ca or call us at 204-943-6622 or 1-800-378-6699