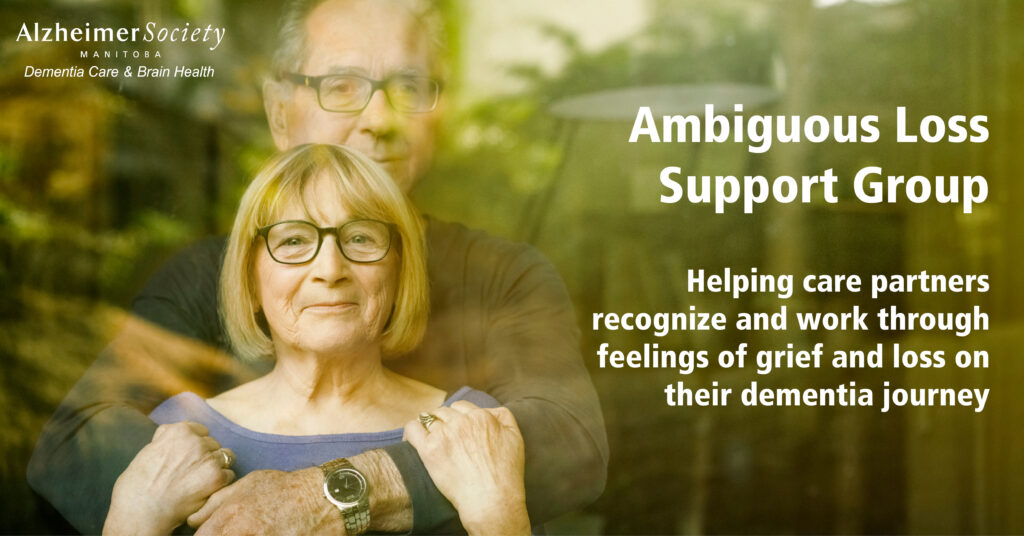 Grief has been identified as the "constant yet hidden companion" of dementia.
Caregivers often experience a continuous and profound sense of loss and subsequent grief as they live through the changes associated with the progression of the disease.
Ambiguous loss is a type of loss you feel when a person with dementia is physically here, but may not be mentally or emotionally present in the same way as before. You may experience ongoing stress and grief due to the ambiguous loss of having your spouse or parent still here, but not present in the same way as before.
Ambiguous loss is different from the loss and grief associated with death, as there is less certainty. Feelings of grief and loss when a person is still living with dementia, can come from multiple losses, one after another, and the thought of those still to come.
Feelings of ambiguous loss complicate grief, and can make the caregiving experience even harder.
What to Expect?
The Ambiguous Loss Support Group assists care partners to work through the feelings of ambiguous loss and grief that are experienced when someone close to you has dementia.
The goal is to help you build up enhanced coping strategies that will support you in your role as a caregiver, and to help you plan for the future.
The weekly support group is time limited and facilitated over 8 weeks/sessions, and is considered a closed group, meaning members will be the same throughout all 8 sessions. Each session will be structured around a specific focus and topic, including facilitated discussion lead by Alzheimer Society staff.
Similar to other support groups, members will also have time within the session to share their stories and experiences with the other members.
Best-Fit Factors
Experience attending a regular care partner support group (highly recommended, but not required) where conversations around managing day-to-day practical supports and group problem-solving how to navigate transitions in care
A general understanding of the community resources that are available (e.x. Home Care, geriatric assessment teams, long-term care, the paneling process, etc. – as community resources will not be the focus of discussion)
Willingness and comfort to engage in group discussion, including sharing personal experience around feelings of grief and loss.
Willingness to share the allotted discussion time with other attendees, so all participants have the opportunity to share their emotions, thoughts and feelings related to agenda topic(s).
Familiarity with the handout 'Ambiguous Loss and Grief in Dementia: A Resource for Individuals and Families.'
**Please note, participants may be at any stage in the dementia journey.**
When are the Groups?
An ambiguous loss support group for spousal caregivers will take place Thursday May 5th to June 23rd, from 6:30 to 8:00 pm.
Registration
Care partners are encouraged to contact their Client Support/Regional Coordinator to engage in further discussion about registration.
General questions and inquiries, including additional information, may also be directed to the Alzheimer Society at (204) 943-6622, or alzmb@alzheimer.mb.ca.