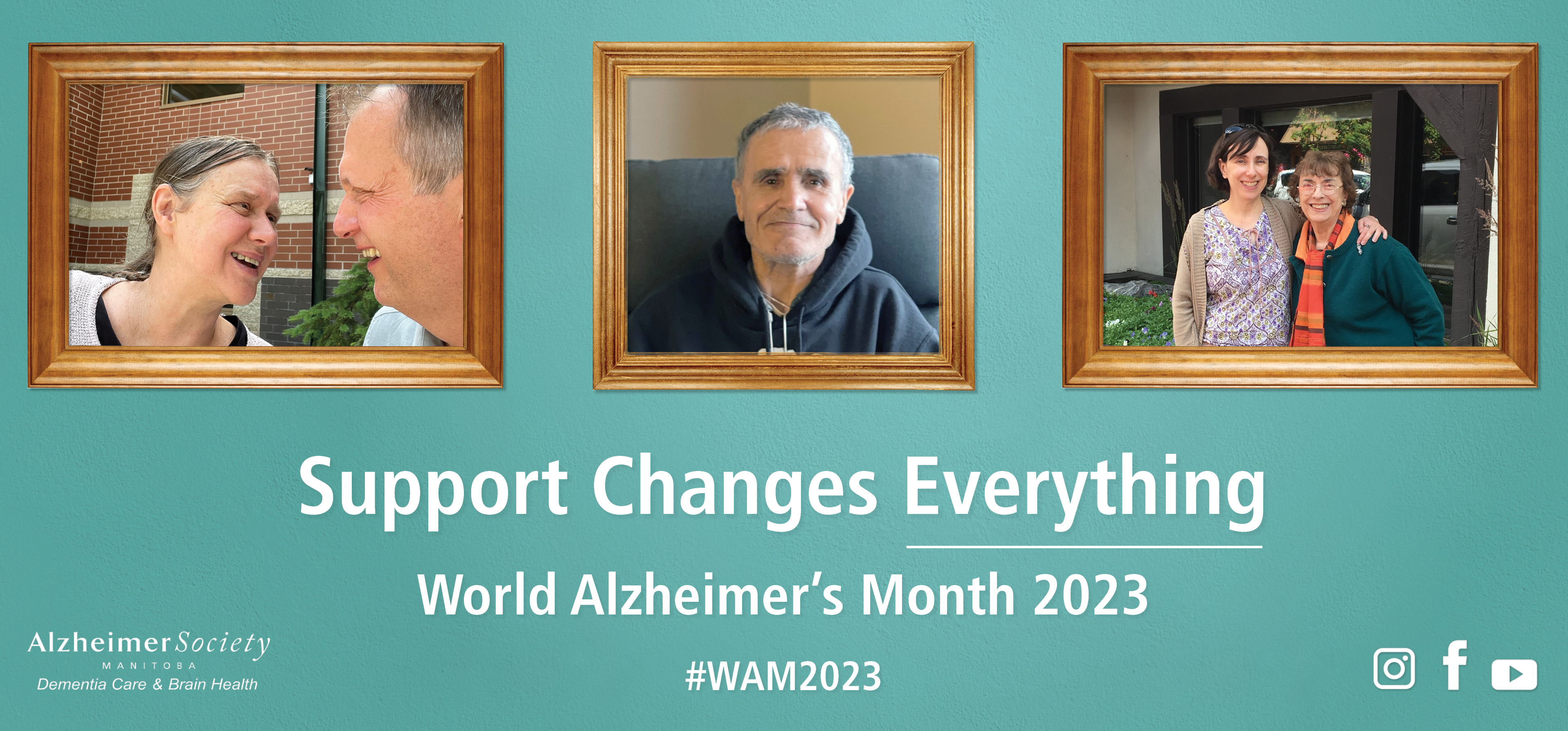 The Alzheimer Society is your First Link® to a community of support, resources and a wealth of knowledge to help you in your dementia journey.
In Manitoba, there are more than 18,400 people who live with dementia. Having a globally coordinated World Alzheimer's Month sends a strong message to governments and policymakers that dementia is a serious health issue which will have overwhelming effects on services and health systems around the world as the population grows older.
This World Alzheimer's Month, we're asking for your help in being a voice for people living with dementia and their care partners. With the upcoming provincial election, we're advocating for improved dementia support and services in Manitoba and you can too!
Here's How You Can Help
1. Write an email or letter to election candidates in your riding
2. Talk to canvassing candidates at your door
3. Request a one-on-one meeting with your candidates
4. Attend an all-candidate debate and ask questions
5. Spread the word/talk to your friends and family
To make even more of an impact, write to your local MLA or election candidate on September 21, World Alzheimer's Day and let them know why improved dementia support in Manitoba is important to you.
You can read more about our election priorities at alzheimer.mb.ca/election2023. And check out our September eNews to read about Marcel Hebert's experience after his wife Ida was diagnosed with young onset dementia and how he relates to our election priorities.
Follow us on Social Media & Share Your Story!
Stay up-to-date with the latest happenings at the Alzheimer Society of Manitoba by following us on Facebook, Instagram, X (formerly known as Twitter) and LinkedIn. Share your personal stories this World Alzheimer's Month and let others know about the support you or your family have received from the Society or community. Make sure to post your photos to social media, tag us and use the hashtag #SupportChangesEverything and #WAM2023 so we can come support you!
Celebrating 40 years

The Alzheimer Society of Manitoba is celebrating its 40-year anniversary! View our September eNews to read about how the Society got its start and see a timeline of our history.
Upcoming Events & Resources
Register for the Research Forum
*Please note that the Winnipeg registration is waitlist only!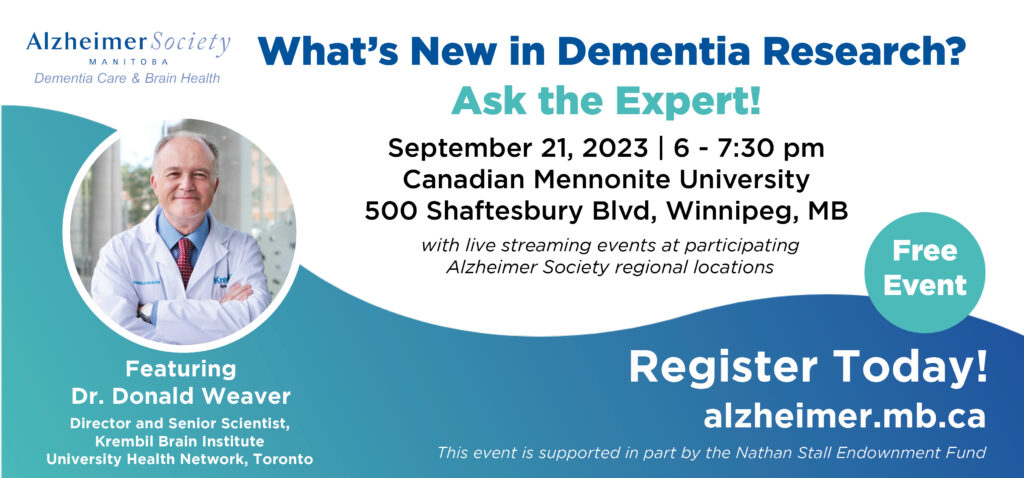 We're back this World Alzheimer's Day for, "What's New in Dementia Research? Ask the Expert!", a research forum on Thursday, September 21st from 6 – 7:30 pm, at Canadian Mennonite University in Winnipeg and live streamed at participating Alzheimer Society regional locations.
Do you have questions about the causes, risk factors and treatment of dementia? This is your chance to ask world-renowned researcher and neurologist, Dr. Donald Weaver, live and in-person!
In-Person Event
Winnipeg – Canadian Mennonite University, 500 Shaftesbury Blvd, Winnipeg, MB
Location Map
Live Streaming Events
Brandon – Seniors for Seniors, 311 Park Ave. E
Location Map
Winkler – Buhler Active Living Centre, #105 – 650 South Railway Ave.
Location Map
Selkirk – Gordon Howard Centre, 384 Eveline St
Location Map
Register now at alzheimer.mb.ca/researchforum!
Attend Care4u Family Conference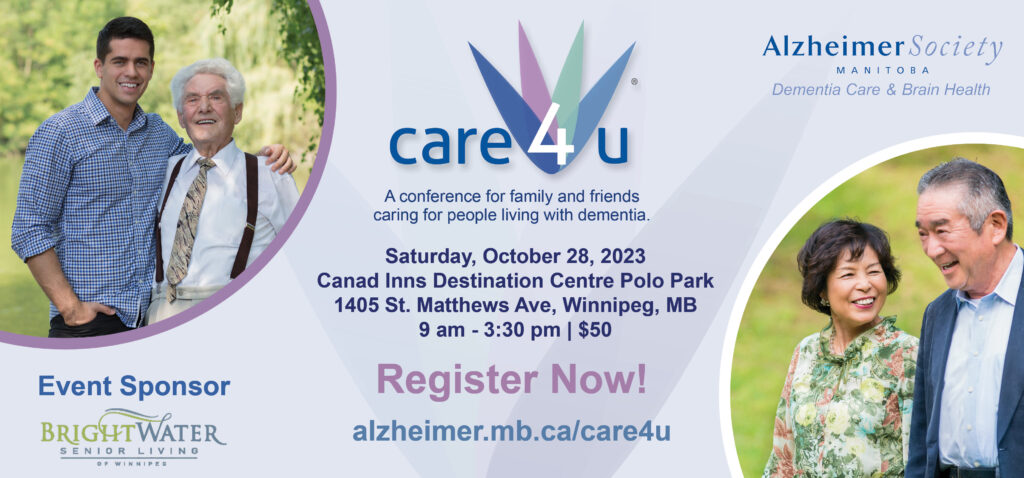 Mark your calendars for Saturday, October 22 from 9 am to 12:30 pm to join us via ZOOM for an educational morning featuring healthcare professionals who are ready to share practical care techniques and health and community resources while empowering you as care partners to pay attention to your own well being.
Click here for more information and to register online today!
Join Minds in Motion®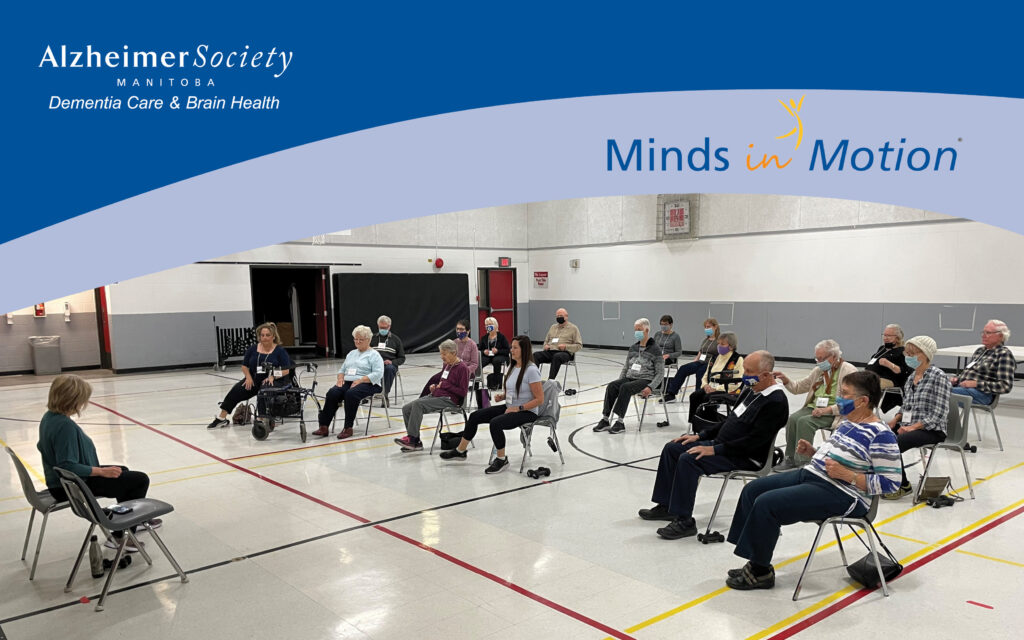 The Alzheimer Society's Minds in Motion® program, which connects people living with early to moderate signs of dementia and their care partners through fitness, fun and friendship is coming back this fall with virtual and in-person sessions across the province to best serve you.
Learn more and register now on our website!
Attend a Community Partner Program
Check out our current lineup of Community Programs this season!
Through these partnerships, people with early to moderate signs of dementia and their care partners have opportunities to get out and participate in engaging and stimulating activities.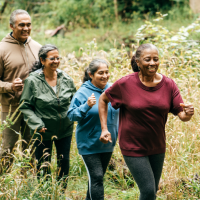 FortWhyte Alive: Tales Along the Trails
Enjoy the best of a Manitoba autumn with migrating birds, magnificent bison, and let crackling campfires set up calming, fun natural adventure- all in city limits! Tales Along the Trail is for people living with early to moderate symptoms of dementia and their care partners who are looking for a safe but exciting way to encounter the natural world.
Fall Program (7 weeks)
Wednesdays, 2 – 3:30 pm
September 6, 13, 20, 27, October 4, 11, 18, 2023
FortWhyte Alive, 1961 McCreary Road
Cost: $126/couple
Register today by contacting bmiller@fortwhyte.org for a link to register for this program.
Developed in partnership with FortWhyte Alive and the Alzheimer Society of Manitoba.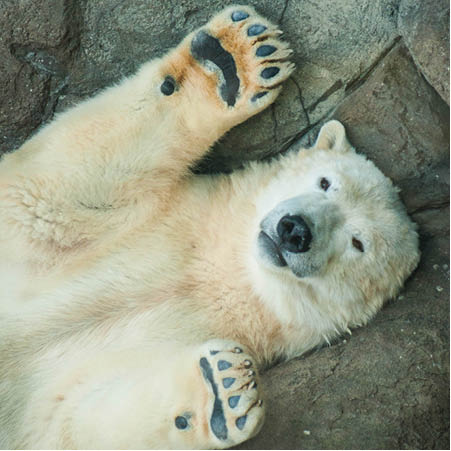 Assiniboine Park Zoo:
Journeys Through the Zoo
Journeys Through the Zoo is an engaging program designed for people living with early to moderate symptoms of dementia and their care partners to explore Assiniboine Park Zoo's most famed exhibit: Journey to Churchill. Led by an Educator Coordinator, we explore the animals at the zoo and earth friendly themes while building community through reminiscing, sensory and group activities. We spend time indoors and outdoor so please dress for the weather and walking.
Fall Program (4 weeks)
Tuesdays, 10 am – 12 pm
September 19, 26, October 3, 10, 2023
Assiniboine Park Zoo, Special Events Gate, 54 Zoo Dr.
Cost: $105 + GST/pair
Registration will open August 29, 2023 on the Assiniboine Park website.
Developed in partnership with the Assiniboine Park Zoo and the Alzheimer Society of Manitoba.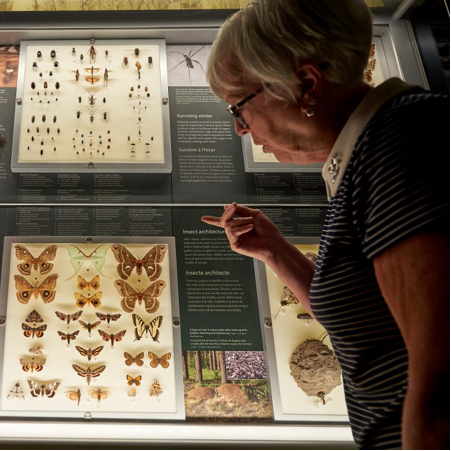 Manitoba Museum:
Now and Then – A Journey in Time
This lively program encourages exploration of the Manitoba Museum's many collections. Led by a museum learning facilitator, participants explore old memories and create new ones through object handling, multisensory activities and stimulating discussions. Each session highlights one of the Museum's distinct galleries, from the animals of the Arctic to the far reaches of ancient Egypt, and many more.
Fall Program 1 (4 weeks)
Wednesdays, 2 – 3:30 pm
September 20, 27, October 4, 11, 2023
Fall Program 2 (4 weeks)
Wednesdays, 2 – 3:30 pm
November 8, 15, 22, 29, 2023
Manitoba Museum, 190 Rupert Ave.
Cost: $80 + GST/couple ($75 + GST/couple for museum members)
Register today on the Manitoba Museum website.
Developed in partnership with the Manitoba Museum and the Alzheimer Society of Manitoba. 
Register for our Family Education Series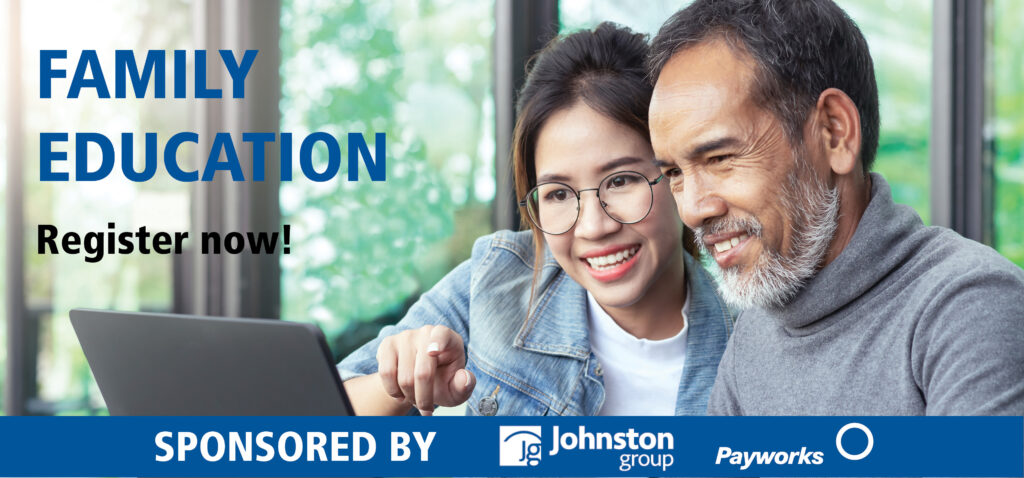 Learn new skills and obtain information and resources that will help you face the daily realities of living with and caring for a person with Alzheimer's disease or another dementia. We cover a wide range of topics – from the progression of dementia to legal and financial matters. The sessions are geared towards helping people with dementia and their caregivers be confident on their dementia journey.
Click here for information on upcoming virtual and in-person sessions.
Join our Support Groups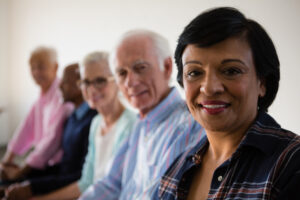 We offer in-person and virtual support groups for people living with dementia. We also offer support groups for care partners including a group for adult children, spouses, men only, young onset, ambiguous loss and more! These groups continue to connect people with others living in similar situations across the province
Pre-registration is required as there are limited spaces available. For a full list of our support group offerings and how to register, click here!
All of our support groups are inclusive environments for people of different ethnicities, cultures or persons who identify as part of the 2SLGBTQ+ community.
You are not alone. Call us!
Our offices are open for one-on-one appointments. You can also reach a comforting ear by phone or get a quick response by email. Call us at 204-942-6622 (Winnipeg) or at 1-800-378-6699 (Manitoba).
The Realities of Dementia
Dementia exists in your country, in your province and in your community. It knows no boundaries.
It not only affects the person themselves, but also impacts families, caregivers, communities and societies on a local, national and international scale.
This is a growing disease, but with increased awareness and understanding in the general public, we can receive more support and resources to ultimately find a cure as well as reduce the stigma and misconception of the disease's overall perception. These statistics below can help us all better understand the effects of dementia in our communities and province.
Dementia Statistics from Manitoba, Canada and International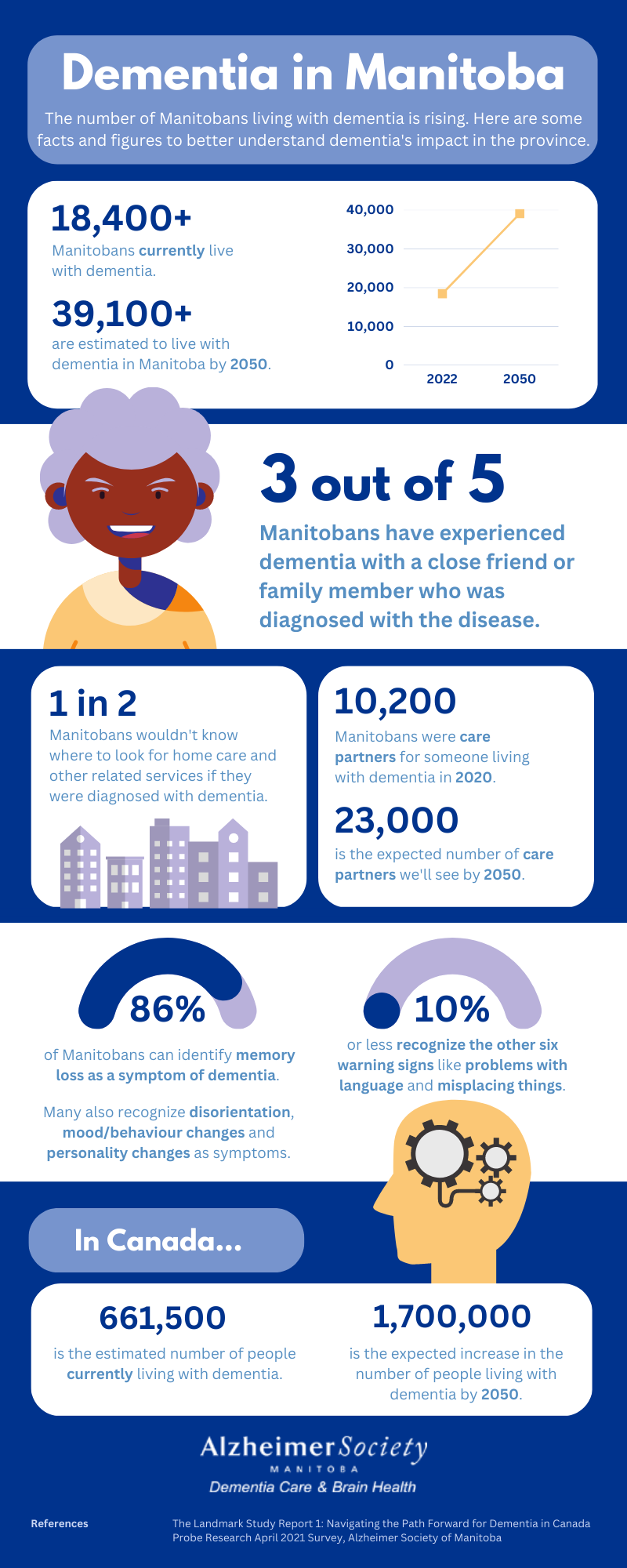 Canada
There are an estimated 661,500 Canadians living with dementia. By 2050, this is expected to rise to 1,700,000, a triple increase in less than 30 years.
There are currently over 1 million Canadians impacted by dementia because they have a family member or close personal friend with the disease.
By 2040, it's expected that over 250,000 individuals will develop dementia each year – that's 29 people every hour.
There are currently over 350,000 care partners working with people living with dementia across Canada. With an average of 26 hours a week of care, even if each care partner was paid $15.55 an hour, the care provided by family and friends is greater than $7.3 billion.
International
There are over 50 million people living with dementia worldwide. The number of people affected is set to rise to over 152 million by 2050.
There is one new case of dementia worldwide every three seconds.
The worldwide costs of dementia are estimated at US $818 billion. As a result, if dementia care were a country, it would be the world's 18th largest economy. If it were a company, it would be the world's largest by annual revenue exceeding Apple (US $742 billion) and Google (US $368 billion).
Dementia is now widely recognized as one of the most significant health crises of the 21st century.