In This Issue
I live with dementia. Let me help you understand.
Staff Develop Better Understanding for Residents with Dementia
Encouraging News About New Alzheimer Drug
Enroll Now in Largest Clinical Trial on Alzheimer's Disease
Making a Gift in Your Will
The Importance of Staying Socially Connected
Discover. Explore. Get Involved.
Education and Programs
Events and Volunteering
I live with dementia. Let me help you understand.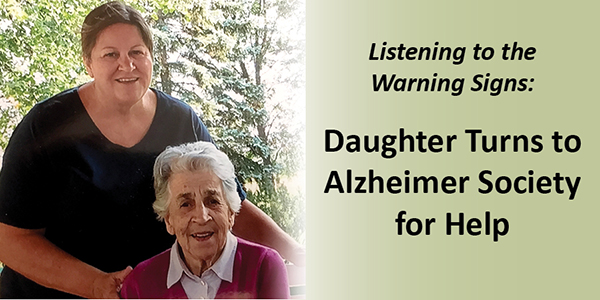 When Jane Smith found bags of apples turned to mush in the trunk of her mother's car, it was the first clue that Mary LeBlanc was becoming confused.
Mary told Jane someone had come and picked the apples — but it was Mary who had picked them, put them in the trunk and left them there.
When Mary had a car accident two years later, she told Jane and her brother that she couldn't remember what happened. That was another clue.
Then one Christmas, Mary became distraught about all the strangers in her home. The "strangers" were her family.
Finally, after the family took Mary's car away, she started flagging down drivers on her street asking for a ride to the store. Around that time, Jane discovered that her mom had been making regular visits to the police station to report her daughter had stolen her car.
Asking for Help
That's when Jane turned to the Alzheimer Society of Manitoba in Portage la Prairie, where she and her mother both live. She spoke directly with the Society's Regional Coordinator, who advised her to have her mom assessed.
Mary was diagnosed with Alzheimer's disease. Fortunately, Jane was able to get her mom into a personal care home in Portage la Prairie soon afterwards.
Today Mary, 85, is a happy and popular resident in the secure unit there. She can walk, talk and feed herself, and Jane and her brother take turns visiting her every day. Her mom has forgiven her for stealing the car, Jane jokes.
But the journey to where they are today isn't a joke. Jane urges families to heed the warning signs and to speak to a doctor or someone at the Society to learn how to navigate the system.
"The Society is on top of everything, and they understand what you are going through," she says. "It's hard on a family when they don't understand why someone doesn't know who they are. It's also hard to be strong all the time."
The people at the Society, says Jane, will help guide and support you on your journey. "They're there for you," she says.
If you or someone you know is affected by dementia, reach out today for help from the Alzheimer Society of Manitoba.
Click here for contact information of Alzheimer Society offices across the province.
Staff Develop Better Understanding for Residents with Dementia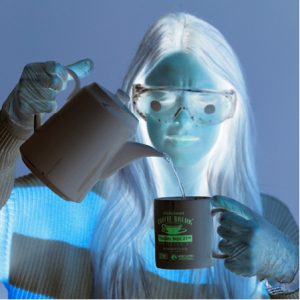 "This is not easy!"
"I can barely see!"
"I forgot the instructions already!"
These are some of the comments from staff members of Homestead Manitoba's assisted living properties as they participated in an experiential exercise that simulates physical and cognitive changes in people with dementia. It was facilitated by Jennifer Licardo, the Alzheimer Society's Education Manager, as part of a day-long Dementia Friendly Communities presentation.
"The exercise is a hands-on activity – it's one of the tools we use in our Dementia Friendly Communities presentations to increase understanding about the range of reactions people with dementia may have towards an environment that, to them, is confusing," says Jennifer.
By the end of the exercise, Homestead Manitoba staff had gained a whole new appreciation about why residents may express different emotions in response to their surroundings.
Increasing Compassion and Empathy
The Society aims to increase awareness about dementia and its impact in people's lives through these presentations. For Homestead Manitoba staff, the information sessions, discussions, exercises and videos helped them understand the changes in behaviour they may see in residents and what strategies they can use to respectfully approach and assist.
For example, front desk staff learned the importance of coming out from behind the reception area to make personal contact with a resident who is upset. Explains Jennifer, "If someone is confused and is yelling loudly, it's a good strategy to approach them calmly and with sensitivity. By validating the person and redirecting them, the situation can often be deescalated."
Rya Janzen, a general manager at Homestead Manitoba, sees increased compassion and empathy across the board since presentations were provided at five of the organization's facilities. "Many people think dementia is just memory loss, but there's a lot more to it than that," she says. "The presentations helped our front-line staff to look for the reasons for certain behaviour, such as confusion or anger, so they can help calm and redirect the person."
She says the training was especially helpful for dining room supervisors, front desk personal and housekeeping staff – those who have many one-to-one connections with residents over the course of a day.
Staff members see the importance of the training. "It was an excellent presentation. I learned a lot of valuable information that will help me to be a better provider for residents with dementia," wrote one participant.
Now that Dementia Friendly Communities training has been done with staff at her organization's assisted living facilities, Rya hopes to work with Jennifer to provide sessions for families and tenants.
About Dementia Friendly Communities Presentations:
The Alzheimer Society can help any business or community group become more dementia friendly. You can arrange for a Dementia Friendly Communities presentation by calling us at 204-943-6622 or by emailing alzeducation@alzheimer.mb.ca
Encouraging News About New Alzheimer Drug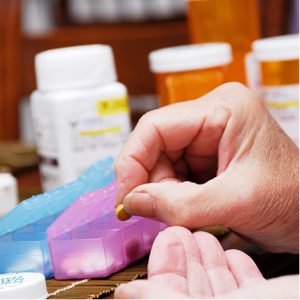 Alzheimer Societies across Canada are welcoming news from biotechnology pioneer, Biogen, and its Japanese partner, Eisai, a research and development-based pharmaceutical firm.
The two companies will seek regulatory approval from U.S. Food and Drug Administration (FDA) for aducanumab, a drug that has been found to reduce cognitive and functional decline in adults who are in the early stages of Alzheimer's disease who took higher doses. The drug is said to work by clearing the harmful amyloid beta that builds up in the brain and is thought to result in Alzheimer's disease.
"As a leader and major funder of dementia research in Canada, the Alzheimer Society is thrilled to learn about this new development," says Dr. Saskia Sivananthan, Chief Science Officer at the Alzheimer Society of Canada. "We're bracing for a sharp upturn in the numbers of Canadians with dementia, so this announcement gives us hope as well as the impetus to keep exploring new hypotheses and novel ideas. Research is absolutely key in stopping this disease in its tracks."
Canadian Approval
While is exciting that aducanumab is being considered for FDA approval in the United States, it's important to note that it could be some time before this approval is granted. Also, the FDA may request further trials to ensure the efficacy and safety of the drug.
In Canada, Biogen and Eisai would need to apply to Health Canada for approval – something they would most likely do once they obtain the green light from the FDA.
No new drugs for dementia have been introduced on the market for over 15 years. With 937,000 Canadians expected to develop the disease within the next 12 years, the news about aducanumab reveals that research is slowly but steadily moving towards treatments that will provide a better quality of life for those with the disease, and eventually a cure.
Says Dr. Sivananthan: "It's great news. The possibility of having a new drug on the market is long overdue."
Information on Available Treatments
For more information on treatment option and approved drugs available in Canada now, please click here.
Enroll Now in the Largest Clinical Trial on Alzheimer's Treatment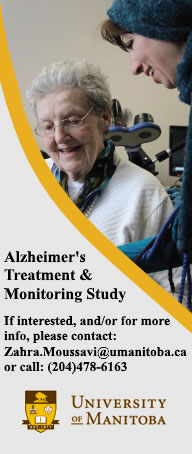 Do you have a beloved family member or know someone with probable Alzheimer's? If yes, you may wish to enroll him/her into this treatment clinical trial.
This study, approved by the University of Manitoba Biomedical Research Ethics Board, uses a novel technology called repetitive Transcranial Magnetic Stimulation (rTMS), a non-invasive procedure with minimal side-effects.
Click here to learn more about the study and its protocol.
Click here to view the poster.
If interested, please contact: Zahra.Moussavi@umanitoba.ca or call: 204-478-6163.
Making a Gift in Your Will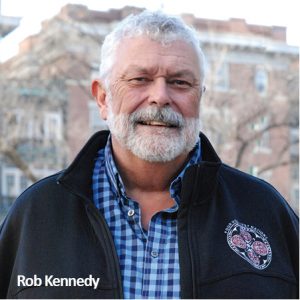 A gift in your will gives you an opportunity to make a significant contribution to a charity that you care about. For many, it also provides tax benefits.
Click here to read Rob Kennedy's story and discover his reasons for making this generous gift.



The Importance of Staying Socially Connected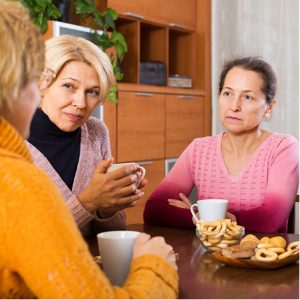 Caregivers of people with dementia may experience social isolation that can lead to depression, anxiety, exhaustion and a host of other health effects. They may feel alone if they lack family support, but at the same time feel guilty asking for help, so they don't.
Social isolation can also occur if a caregiver avoids going out in public because they're afraid things won't go smoothly during an outing.
Here are some suggestions to help you stay socially connected during your journey as a caregiver:
Reach out to family and friends who can support you.
Express your true feelings with people you trust. Sharing with others will alleviate your emotional load, as well as help them to understand your situation so they can better support you.
Preserve your sense of self. Use time you have for yourself to participate in activities that make you feel renewed.
Join a caregiver support group to meet people who are in similar situations. Support groups will help you to:

take the opportunity to share feelings and expand your knowledge of caregiving and coping skills
understand the disease
maintain positive self-esteem and well-being

Seek support from the Alzheimer Society of Manitoba where you will be able to access a wide range of programs and services specifically designed to help you stay connected.
Without question, caring for a person with dementia can be rewarding, yet at times can be physically and emotionally overwhelming. But that doesn't mean you have to stop socializing entirely. Remember to periodically take time away from caregiving so you can relax with family and friends or take part in a revitalizing hobby or activity.
Click here to visit our website where you'll find information about programs and services.
Click here to check out Discover. Explore. Get Involved. This page connects you with community programs available for people with dementia and their family members and friends.
Discover. Explore. Get Involved.


People with dementia and their care partners deserve the chance to get out and participate in community programs. Discover. Explore. Get Involved. is an initiative that helps this happen!
Click here to learn more about the creative programs presented by the Alzheimer Society and its community partners.
Click on the following links for information on specific programs:
Art to Inspire
Vivace Voices Choir
Now and Then: A Journey in Time
Education and Programs
Events & Volunteering