In This Issue
Register Now for Dementia Care 2020
Connie Gabrielle Takes Fundraising to Great Heights
Making Cities Dementia Friendly
Living and Dying with Dementia: Let's Talk About It
Hearing Loss and Dementia: Part 1
Telehealth Available Across the Province
Society to Benefit from Winnipeg 10&10 Race
Discover. Explore. Get Involved
Education and Programs
Events and Volunteering

Register Now for Dementia Care 2020!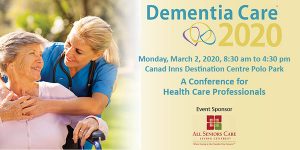 Health care professionals are invited to join us on Monday, March 2, 8:30 am to 4:30 pm, at the Canad Inns Destination Centre Polo Park for our Dementia Care 2020 Conference for Health Professionals. This year's theme is A Palliative Approach to Dementia Care.
Conference participants will hear presentations by experts who understand that a palliative approach to care improves the quality of life for people with dementia and those who support them. Things will get started with a keynote address by Dr. Genevieve Thompson, Associate Professor a the University of Manitoba's College of Nursing, who will talk about the importance of promoting a dignified approach to dementia care.
Other experts will share their knowledge on such topics as communication at the end stages of dementia, nutrition decline at end of life and Medical Assistance in Dying (MAID).
Space is limited for this popular conference, so don't delay!
Click here to register and for more information.
Note: There has been a change in the Closing Plenary speaker. Elizabeth Causton, MSW, Palliative Care Social Worker and Educator from Victoria, BC, will present: Changing the Way We Care: Self First.
Connie Gabrielle Takes Fundraising to Great Heights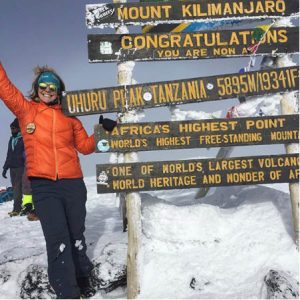 If Connie Gabrielle could move mountains to support the Alzheimer Society, she would. As that's an impossible task, she decided to climb one instead.
Connie's dad, Don Gonty, passed away last September. He had early onset dementia and was diagnosed in his sixties. Throughout the Virden-based family's journey, much needed help was provided by the Society's Westman Regional Office.
In memory of her father, Connie flew to Tanzania on January 19 to climb Mount Kilimanjaro, the highest free-standing mountain in the world and the highest peak in Africa.
Married to husband, Trent, and mother of three, Connie somehow found the time to complete a rigorous training schedule that began months before her departure date. Not only that, she initiated a fundraising campaign that, at the time of this writing, had raised almost $15,000. That's quite a feat, considering her initial fundraising goal was only $6,000.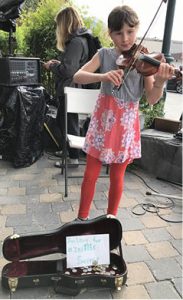 Connie is amazed at the kind of support she received. One little girl named Vera, the daughter of a friend of Connie's, pulled out her violin at a farmer's market in Canmore, Alberta, last summer. After busking for a while, Vera ended up with $50 in her violin case, all of which was added to Connie's fundraising efforts.
After completing the eight-day, 65-kilometre hike on Kilimanjaro, Connie will be able to relax in the knowledge that her efforts will benefit people with dementia and their families.
Dementia Friendly Communities: An Eye Towards Infrastructure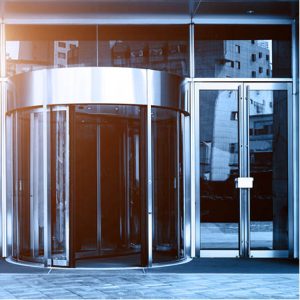 Mirrored glass on buildings may seem to be a sophisticated architectural feature, but for a person with dementia, it could be disconcerting. According to urban planner Amina Yasin, that's because in some people, dementia causes changes in perception; seeing their reflected image on street level windows could be a source of anxiety or confusion.
This type of architectural feature, along with other designs in the urban environment, were the focus of a workshop facilitated by Amina, an urban planner at the City of New Westminster, B.C., and co-chair of the Canadian Institute of Planners Social Equity Committee. Collaborating with her was Jennifer Licardo, Education Manager at the Alzheimer Society. The Dementia Friendly Cities workshop was part of a ModeShift conference put on by the Winnipeg Trails Association.
"The vision of the conference – to work together to make public spaces accessible to all – is in line with the Alzheimer Society's Dementia Friendly Communities initiative," says Jennifer.
Walk and Roll-About
The workshop included a "walk and roll-about," facilitated by Amina, around Winnipeg's Exchange District. Stressing that the built environment of a city is used by everyone – including residents with disabilities and visitors – she challenged participants to find design issues that could impact a person with dementia's ability to navigate the area.
It was an eye-opening excursion. Along with the mirrored and reflective glass, Amina pointed out that an area of dark pavement in front of a shop door may look like a hole in the ground to someone with depth perception problems, which is common in people with dementia.
Amina also led the group through a discussion about ambiguous design features, which can be challenging for people with dementia because of changes in their abstract thinking. For example, outdoor seating in the form of cement cubes may not even remotely resemble a park bench to someone with dementia.
Says Amina, "It's important that we begin to design our cities and communities with consideration for those we have excluded in the past. We need to standardize design principles that not only focus on aging-in-place, but also 'changing-in-place.'"
Jennifer linked the Alzheimer Society's Dementia Friendly Communities initiative with the workshop's Dementia Friendly Cities theme. It was a good opportunity to educate participants, which included urban planners and decision makers, about the disease so they understand that individuals with dementia may experience the world differently.
"Having these discussions allows us to network so that changes in design can be considered," says Jennifer. "The workshop allowed us all to think about the impact of design choices on people with dementia in our community."
Living and Dying with Dementia: Let's Talk About It!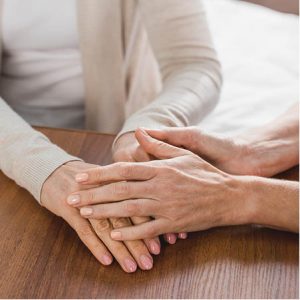 Are you a care partner of someone with dementia? Are you interested in sharing your thoughts on the issue of medical assistance in dying (MAID)?
If so, you could choose to become a participant in a study by researchers at the Université du Sherbrook's Research Centre on Aging. The study focuses on care partners' attitudes toward extending medical assistance in dying to people living the dementia. It will investigate the beliefs underlying care partners' attitudes on this issue, the value they attach to proposed safeguards, as well as assessing the impact of caregiving and unmet support needs.
The researchers are looking across the county for care partners who would like to participate. For the purposes of this study, a care partner is defined as the person who spends the most time and resources helping another person with one or more activities. It can be a family member, a close friend, a neighbour, etc. Family ties do not count as an eligibility criterion.
At your request, you will be sent either the survey questionnaire in a print form to fill out or the online link to its electronic version. Participants are being recruited until the end of March, 2020.
To receive a questionnaire, please contact:
ALINA RUTA, MA
Research Assistant
Research Centre on Aging, Room 4410 1036, South Belvedere St.,
Sherbrooke QC  J1H 4C4
Toll-free number 1 (877) 838-2220, ext. 45651
Email: informal.caregivers@usherbrooke.ca.
Hearing Loss and Dementia: Part 1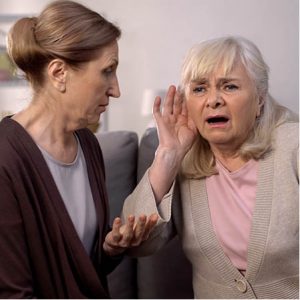 Hearing loss is a common condition affecting nearly two-thirds of adults over 70. It is associated with greater demands on the brain due to the increased challenge of interpreting speech. Hearing loss has also been linked with social isolation, which can potentially increase the risk of dementia.
Among people with dementia, the presence of cognitive deficits, coupled with even a mild hearing impairment, can affect the ability to process speech. Hearing loss may intensify behavioural changes and reduce social engagement, all of which may pose as barriers to better care and treatment.
Considering all of these factors, it's no surprise that hearing loss can have a profound impact on the abilities of a person with dementia. Early detection and treatment are important.
Here are some common signs of hearing loss:
speaking louder than necessary in conversation
constantly asking for words to be repeated
misunderstanding conversations, especially in noisy situations
favouring one ear
thinking that people always mumble
turning the television or radio up louder than usual
having difficulty hearing on the telephone
withdrawing from social contact
ringing or buzzing in one or both ears
appearing disinterested or slow to respond
Treatment of hearing loss is a cost effective, low-risk approach to improved communication that can potentially:
reduce behavioral changes
reduce further decline of preexisting cognitive impairment or dementia
increase social engagement described by caregivers, such as laughing more, reading more, asking more questions, telling stories and increased willingness to make decisions
It's important to get yourself and the person with dementia checked regularly to detect early changes in hearing. Speak with your doctor or audiologist about your options for treatments and products available for hearing loss.
Check out our March eNewsletter for tips on communicating with a person with hearing loss.
Source: Canadian Hearing Services: chs.ca
Locations Across the Province Host Telehealth Sessions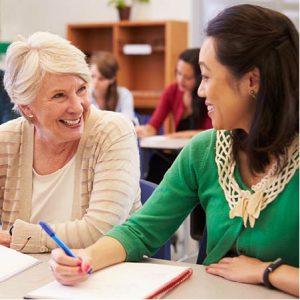 The Alzheimer Society is offering three Telehealth Sessions this winter and spring.
These education sessions are offered  via video technology at local health centres in 45 locations across the province.
Telehealth is a great way for family members to learn new skills and obtain information that will make the journey easier. Upcoming sessions cover the topics of medications, legal matters and transitioning to long term care.
Click here to find a location near you and register online today. For further information, you can call l-204-943-6622 (Winnipeg) or 1-800-378-6699 (Manitoba) or email edcoord@alzheimer.mb.ca
Society to Benefit from Running Room's 10&10 Event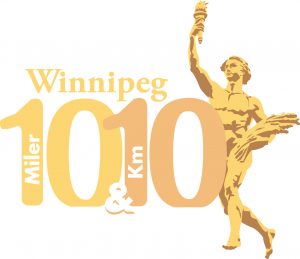 Once again the Running Room has chosen the Alzheimer Society as the recipient of funds raised through the Winnipeg 10&10 event, to be held on Sunday, September 13.
When you strap on your running shoes to run, walk or roll any of the four distances (30 km, 10 mile, 10 km or 5 km), you'll be helping to support people with dementia and their family members.
Afterwards, you can participate in Manyfest, which is held downtown all day. There are lots of activities, along with local food and drink kiosks.
Click here to learn about all the details of the 10&10 and to register. Don't delay – this race has a maximum registration cap of 700 entrants.
For more information, email Chris Walton at cwalton@runningroom.com
Click here to find out more about Manyfest.
See you on September 13!
Discover. Explore. Get Involved.
Sign Up Now for These Community Programs!

People with dementia and their care partners deserve the chance to get out and participate in community programs. Discover. Explore. Get Involved. is an initiative that helps this happen!
Click here to learn more about the creative programs presented by the Alzheimer Society and its community partners.
Dates are Set for Winter Sessions!
Dates for winter sessions have been set for the following three programs in which people with dementia participate with their family caregiver. Click on the following links for information on each program:
Art to Inspire
Vivace Voices Choir
Now and Then: A Journey in Time (SOLD OUT)
Education and Programs
Events & Volunteering