In This Issue
Go Blue for ALZ
Teepa Snow Live at Care4u
Online Fall Education via ZOOM
Virtual Support Groups
Minds in Motion
Protect What's Important to You Today
Volunteer Needed for Advisory Group
Research Study Looking for Participants
Trivia Challenge 2020
Winnipeg 10&10 Run
Go Blue for ALZ this September!


We are asking people to #goblueforalz to show their support for families affected by dementia. We hope you will join us by wearing blue or lighting up your business, organization and home in blue on September 21, World Alzheimer's Day! Make sure to post your photos to social media, tag us and use the hashtag #goblueforalz.
Worldwide, an astounding 50 million are diagnosed with dementia. In Manitoba, there are over 23,000 people with dementia and 56% are directly impacted because they have a family member or close personal friend with the disease. September is World Alzheimer's Month, an opportunity to talk about dementia and to let families impacted know that the Alzheimer Society is here to help.

Teepa Snow Live at Care4u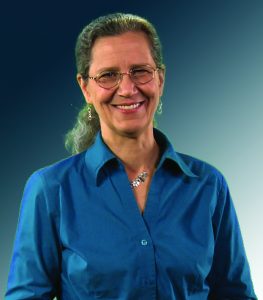 Mark your calendars for Saturday, October 24 from 9 am to 12 pm to hear the world-renowned dementia care expert Teepa Snow live at our virtual Care4u Conference for families living with dementia.
As well as bringing her dynamic speaking skills and humour to her sessions, she'll also present a dedicated Q&A, during which she'll answer participants' questions. She'll also share practical, day-to-day strategies and tips that caregivers can put to immediate use!
Participants will also hear from Dr. Barry Campbell, who will provide information on how families can better communicate about sensitive issues that arise during the course of the disease, including obtaining a diagnosis, driving safety, receiving home care support and moving to long term care.
Stay tuned for more details! REGISTRATION OPENS THIS SEPTEMBER!
Event Sponsor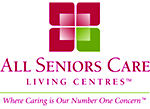 Online Fall Education via ZOOM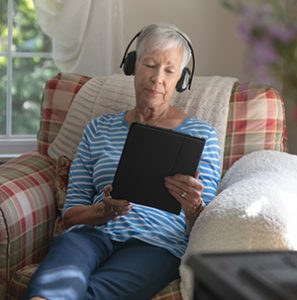 A diagnosis of dementia is difficult and can be overwhelming for families. Future planning can help avoid crises and make challenging situations more manageable.
The fall family education series offers a range of topics that will help people with dementia and their caregivers plan ahead and become more confident on their dementia journey.
Living with Dementia: First Steps
A three-part workshop series for people supporting someone recently diagnosed with Alzheimer's disease or another form of dementia. Learn from health and industry professionals as they discuss the disease progression and provide information on services and resources available.
PART ONE: Saturday, September 12 from 9 – 10:45 am
The progression of dementia
Exercises to experience what dementia might feel like
Click here to register.
PART TWO: Saturday, November 14 from 9 – 10:45 am
Legal and financial matters
Safety at home for persons with dementia and their care partners 
Click here to register.
PART THREE: Saturday, December 5 from 9 – 10:45 am
Navigating housing and care options
Advocating for a person with dementia
Care for yourself
Click here to register.
Family Education: Next Steps
Zoom 101: Getting Comfortable with Virtual Methods of Communication
Wednesday, September 9 from 2:00 – 3:00 pm
Do you need help with Zoom to stay connected socially or to participate in Alzheimer Society programming? In this introduction to virtual programs, you'll learn the basics of accessing virtual programs and increase your comfort level with online technology.
Presented by: Megan E. O'Connell, PhD, RD Psych, Clinical Psychologist, Neuropsychology Team, Rural and Remote Memory Clinic; Professor, Department of Psychology; Associate Member, Canadian Centre for Health and Safety in Agriculture, Medicine, University of Saskatchewan
Click here to register.
The Alzheimer Society Financial Confidence Workshop, presented by IG Wealth Management
Wednesday, September 30 from 6:30 – 7:30 pm
Learn about government administered benefits, tax credits, financial management and sources of information.  This session aims to provide participants with an understanding of the tools they need to achieve financial goals for themselves and their family.
Presented by: Tim Rowan, Regional Director, IG Wealth Management, Western Manitoba
Click here to register.
Transitioning to Long Term Care: Before, During & After the Move
Wednesday, October 14 from 6:30 – 7:30 pm
Moving to a personal care home can bring about all kinds of emotions and physical demands for the person with dementia and their family. This presentation will provide suggestions for thoughtful planning of moving day, visiting and helping the person with dementia settle into their new environment.
Presented by: Ginette Abraham, BSW, MSW, RSW Social Worker, Special Needs and Special Needs Behavioural Units
Click here to register.
Caregiving During COVID-19
Wednesday, November 4 from 10:30 – 11:30 am
People with dementia and their caregivers experience unique challenges as they journey through the realities of living with dementia and the impact of COVID 19. This session provides an overview of tips and strategies around care challenges, behaviours, activities and self-care.
Presented by: Alzheimer Society of Manitoba Staff
Click here to register.
Providing End-of-Life Care in Dementia: The Impact of Place of Care
Wednesday, November 18 from 6:30 – 7:30 pm
Dementia and similar diseases are chronic in nature. Despite the best care, each individual will become palliative and reach a stage where they are nearing end-of-life. This presentation will provide an overview of what one might expect in providing end-of-life care in either the community or long-term care setting.
Presented by: Janice Nesbitt, RN, MN, CHPCN(C), Clinical Nurse Specialist, Palliative Care Program
Click here to register.
Virtual Support Groups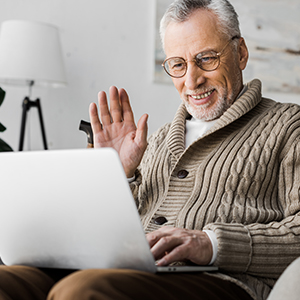 We are currently offering virtual caregiver support groups to help connect people with others living in a similar situation during these uncertain times and to ensure that families continue to have access to support and information.
Pre-registration to attend is required, as there are limited spaces available.
To register, please forward an email, including your full name and the date/time of the support group for which you are registering, to  alzmb@alzheimer.mb.ca.
When are the support groups? 
We invite you to register for the support group that works best for your schedule regardless of your location.  Our Alzheimer Society of Manitoba staff and volunteer facilitators are located throughout the province and look forward to meeting with you.
Tuesday, August 18  from 6:30 to 8 pm (Winnipeg-based facilitator)
Wednesday, August 19 from 2 – 3:30 pm (Westman-based facilitator)
Wednesday, August 19 from 6:30 – 8 pm (Interlake/Eastern-based facilitator)
Thursday, August 20 from 7 – 8:30 pm (South Eastman-based facilitator)
Wednesday, August 26  from 1 to 2:30 pm (Winnipeg-based facilitator)
Thursday, August 27  from 6:30 to 8 pm (Winnipeg-based facilitator)
How do I join?
After you register, the support group facilitator will send a meeting invitation via email. This will include a link that will connect you directly to the meeting, including a Meeting ID code and password. A few minutes prior to the time of the scheduled support group meeting, you may log in by using the link provided and by following the prompts on the screen.
Questions?
For more information, please contact the Alzheimer Society at 204-943-6622 or alzmb@alzheimer.mb.ca.
Minds in Motion®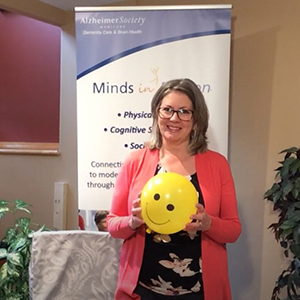 The Alzheimer Society's Minds in Motion® program, which promotes physical, social and brain challenging activities for people with dementia and their care partners, will be coming your way this fall!
Partnered sites are working towards offering physically distanced in-person sessions when it's safe to do so. A virtual option will be offered as well through the Alzheimer Society of Manitoba.
Stay tuned for more details! REGISTRATION WILL BE AVAILABLE THIS SEPTEMBER.
Protect What's Important to You Today!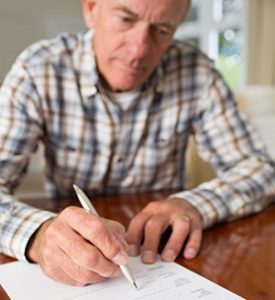 We know that during the COVID-19 pandemic, people across the country are thinking about protecting what's important to them, including updating their Wills.
Making a Will isn't about death, it's about life – the lives and protection of your loved ones and support for the organizations you championed during your lifetime. Without a Will, your best intentions may not be realized as a part of your legacy.
However, over 50% of Canadians are still risking needless taxation and family upset by not taking the most important step in planning for the future – making a Will.
Planning for your future need not be expensive or complicated.
Making your Will does take time, but the first steps can be made easier with our free Estate Planner and Guide package – a useful set of tools to assist in articulating and organizing your estate plans to ease the process of working with a professional to make your Will.
Visit our website today to learn more.
Included in the package are fact sheets on how you can save taxes by planning a gift to the Alzheimer Society of Manitoba as part of your legacy.
Click here for a free copy of our Estate Planner and Guide package or for more information, please contact Lorraine Decock, Director of Development, at 204-943-6622 or by email at ldecock@alzheimer.mb.ca
Volunteer Needed for Advisory Group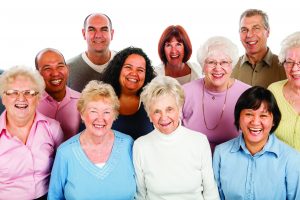 Are you a person living with Alzheimer's disease or other dementia? Are you interested in sharing your skills and experiences to help the Alzheimer Society of Canada in its work nationwide?
The Alzheimer Society of Canada has an advisory group made up of people with dementia from across the country. We are looking for one person from Manitoba in the early stage of dementia to join this group to help guide the Society in its work by building on their "lived experience" of having dementia.
Please read the Advisory Group Position Description and the Advisory Group Terms_of_Reference for more detail. If you are interested in applying, please contact Erin Crawford, Program Director, at ecrawford@alzheimer.mb.ca.
Research Study Looking for Participants

Researchers are constantly looking for ways of preventing dementia, treatments to improve quality of life for people living with the disease and ultimately finding a cure to eradicate the disease. Click here for a list of questions to ask when you are considering participation in a clinical study.
You can help by participating in these research studies, including this one below: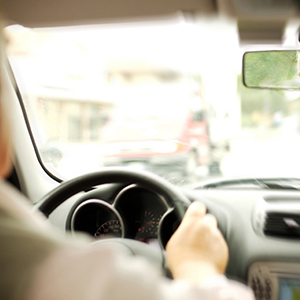 Can Automated Cars Help People with Dementia Drive Longer?
Researchers from the Toronto Rehabilitation Institute and the University of Toronto are currently conducting an interview-style study related to dementia and driving that is being conducted using video conferencing.
Specifically, they are looking for individuals living with dementia or their caregivers (current or previous) who may be interested in talking about their opinions of automated vehicles.
This study will be conducted via a video call with two researchers from the Toronto Rehabilitation Institute and the University of Toronto who are part of a team lead by Dr. Jennifer Campos. The interview will last approximately two hours. During the interview, participants will be asked questions about their perceptions on automated vehicles. (No previous knowledge or experience with automated vehicles is required as the researchers will provide all the information necessary in the interview).
Participation in this study is voluntary, and participants can withdraw from the study at any point in time. There are no risks or harms to participating in this study. Click here to download the poster.
If you are interested in participating or you have any questions, you can contact Hodan at hodan.mohamud@uhn.ca or at (416) 597-3422 ext. 7887.
Trivia Challenge – SAVE THE DATE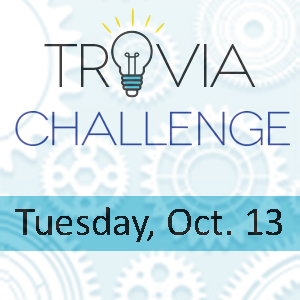 Exercise your brain and join the Alzheimer Society for our 12th annual Trivia Challenge!
The new virtual event will take place on Tuesday, Oct. 13th at 7 pm.
Gather your friends, family and co-workers for a fun night of trivia!
More details to come.
REGISTRATION OPENS THIS SEPTEMBER
The Winnipeg 10 & 10 Run is Going Virtual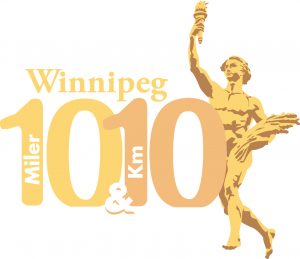 Run or Walk 5 km, 10 km, 10 miles or 30 km, anytime and anywhere, between September 13 and 28, 2020.
Register online today at events.runningroom.com
Virtual Entry – $40 includes a finishers medal and a technical long sleeve t-shirt
Five dollars of each registration fee goes to the Alzheimer Society of Manitoba.
Contact Information
For more information please contact Chris Walton.