In This Issue
Walk Your Way in May!
CEO Message: Finding Reason to Hope
Terry's Memory Makers Plan Repeat Performance
Clear Sailing for Two Families
Register Now! Dementia Care Professional Education Series
Challenging the Stigma
Donor Grateful for Support Received
Ask an Expert…About Embracing Loosening Restrictions
City of Winnipeg On Board with Dementia Friendly Communities
Register Now for Spring Virtual Minds in Motion®
Spring Virtual Programs and Services
Don't Miss Your Chance to Chase the Ace

We challenge you to WALK YOUR WAY IN MAY in the IG Wealth Management Walk for Alzheimer's! While we can't all participate together in our biggest annual fundraiser, we can still walk to support families living with dementia.
One family agreed to share their plans for this year's event. "We're planning the greatest time ever, and we'll make some amazing memories while we do it. That's what my dad would do!" says Cristy Law, whose entire clan will get together to walk a trail near Beausejour in honour of their patriarch, Terry Law, who has Alzheimer's disease. Click here to read their story.
Click here to register your team for this year's Walk and to find out how to share your reasons for walking on social media throughout April and May.
Then, on Sunday May 30th, we'll all come together online for a national broadcast celebrating all of the amazing ways registrants across the country have participated. (Time and link for national broadcast coming soon!)
Let's inspire each other and show our support for families affected by dementia. Together, we CAN make a difference.
CEO Message:


Finding Reason to Hope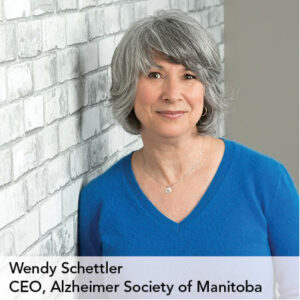 It may be an old cliché, but it's apt: there is light at the end of the tunnel as we begin to emerge from this difficult and dark year of COVID-19.
While the pandemic is not over yet, and the new variants are alarming, there is reason to hope, and this is especially heartening for families and friends of people with dementia living in care homes and supportive housing. With vaccinations in these facilities well underway, restrictions are gradually being lifted, and it is once again possible to visit in person.
It's like a breath of spring air, and I have seen, first hand, the difference these renewed personal connections can make. I am a caregiver for a friend in long term care, and recently I've been able to visit her again face-to-face. It's so wonderful to see her face light up as she sees me walking into her room.
At the Society, we've talked to many families who are experiencing this re-emergence of optimism. Two of their stories are told in this eNewsletter: Mel Fages talks about the efforts his wife's care home is making to ensure families stay connected, and Roxanne Chopee – who started visiting her mother in her care home again – looks forward to being able to take her on outings in the future. Read their stories here.
Those caring for a family member with dementia at home can also anticipate much needed personal contact in their communities. With the warmer weather, it will be easier to enjoy socially distanced visits outside with family, friends and neighbours. If you are anxious about expanding your social connections, check out our "Ask an Expert" column below. In it, psychologist Lesley Koven provides advice about re-engaging with family and friends.
Here at the Alzheimer Society, we have maintained our services to families and people with dementia using virtual formats throughout the pandemic. Now, we are looking at how we can come back together, in person, in a way that is safe.
We are not there yet, but with vaccinations and warm weather coming our way, that day is on the horizon. We can't wait to see you again!

Terry's Memory Makers Plan Repeat Performance
They say that sometimes, the apple doesn't fall far from the tree. That seems to be the case for Terry Law and his three daughters as they get ready for the 2021 IG Wealth Management Walk for Alzheimer's.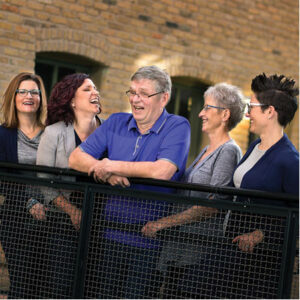 In the decades before Terry's Alzheimer's diagnosis in 2016, he was a "doer." He was a community leader in Beausejour, where he and wife, Jan, and their three daughters lived. By day, he worked for MTS, retiring from the company's finance department in 2004. His off hours were spent as umpire at his daughter's ball games, sitting on the fundraising committee for the community's new rink, serving as one of the youngest presidents of the local Legion branch – and the list goes on.
Youngest daughter Cristy says some of her fondest memories of her dad are related to his involvement in planning community events and seeing how much fun he had doing it. "He wanted everyone to have the best time possible. Once, he organized a snow golf tournament in our back field and there were 10 teams. He was a firm believer in 'work hard, play hard.'"
His wife and daughters cherish those memories. So, as Walk day gets closer, Cristy says they're asking themselves, "What would Dad do?" The answer? Participate once again with their team, Terry's Memory Makers.
As in previous years, they intend to invite family and friends to join them. While, for the second year, the event can't be held as a large gathering, Terry's Memory Makers will walk in a park in Beausejour, where a lovely trail winds through a wooded area. If COVID protocols allow, they'll briCng Terry, who is now in a wheelchair, with them.
And, just as they did in 2017 and 2018, they hope to again win the prize for the largest team. Family and friends from as far away as Brandon have joined the Law family in the past. This year, with their own Walk taking place in their hometown, Cristy says more folks than ever will be able to participate.
"We'll plan the greatest time ever, and we'll make some amazing memories while we do it. That's what my dad would do!" says Cristy.
It's the family's way of not just honouring Terry, but of giving back to the Alzheimer Society. "We know what a huge resource they have been for us, especially in the early stages as we were trying to understand the disease and come to terms with it," says Cristy. "There may not be a lot we can do for Dad – it is what it is. But we can raise awareness and funds for the Society."
Clear Sailing for Two Families



It's been a year of highs and lows for Mel Fages and Roxanne Chopee, but they are hoping for clearer sailing from now on.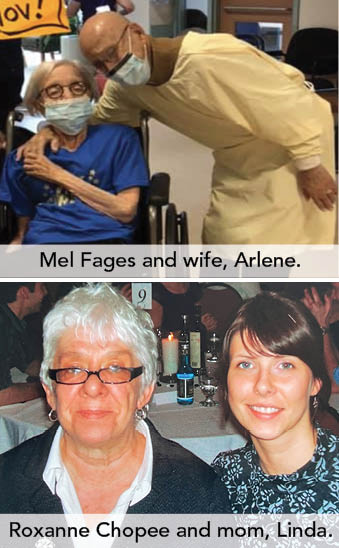 Mel's wife of 62 years, Arlene, and Roxanne's mother, Linda, have Alzheimer's disease and live in personal care homes in Winnipeg. Both Mel and Roxanne are grateful that their family members are well taken care of, despite the challenges of the pandemic.
Mel was especially appreciative last fall when things were touch and go for Arlene. She contracted COVID-19 and was in isolation in her care home for 10 days before returning to her room.
"When she came out, the staff had a parade for her, and they all sang. It was heart-warming," Mel recalls.
A retiree, Mel was able to volunteer at Arlene's care home, where he assisted residents at meal times. This meant he had the opportunity to see his wife often – except during her time in the COVID isolation wing, when he, too, had to quarantine. Even so, he was always kept updated. "We were in touch with the COVID room every day," he says.
Things were different for Roxanne, who was used to visiting her mom, Linda, regularly, often with her young children in tow. She'd also bring Linda to her house for visits. All of that stopped last spring.
Since then, things have been on and off. And they were "off" through Christmas, which was especially hard, she says.
When visitations were allowed again, Roxanne was her mom's designated visitor. "When I finally got to see her in her room, I hugged her right away. I don't think I was supposed to, but I did it anyway," she admits. The reunion also brought tears, says Roxanne. "This is someone you've been caring for for years. You know they're hurting and you're hurting."
Because Linda is non-verbal, she responds better to touch. Roxanne says it's been difficult to settle for visits six feet apart – not to mention virtual visits – when eye contact and touch are so critical for her mom. Roxanne also longs for the time when her children can visit their grandmother. "They're two and seven and they're growing up so fast," she says.
Clearer Skies Ahead
Throughout their journeys, the Alzheimer Society has been there for these family members. Mel appreciated the Society's guidance and support during the planning stages of Arlene's move to a care home, as well as the follow-up calls since then. Roxanne was glad to have the opportunity last fall to attend a virtual Family Education Session that equipped her with useful and practical information.
Today, Mel is able to visit his wife every afternoon. Staff at her care home make sure residents are not too isolated. They're broken into "pods" and participate in some activities together. They've asked Mel about Arlene's interests and have found ways to stimulate her. "They take an interest in each individual," he says.
For Roxanne, hope stems from the fact that residents in her mom's home are now vaccinated, and she's optimistic that more restrictions will soon be lifted. "I'm looking forward to taking her outside and bringing her over to our house," she says. "We're not there yet, but I'm glad for what we have – and things are getting better."
Register Now for the New Dementia Care Professional Development Series!


Sponsored by All Seniors Care

Caring During COVID-19 and Beyond:
11 Speakers in 11 Months
The pandemic has changed the landscape of dementia care. But in the face of adversity, courage, strong leadership, teamwork, compassion and resilience have emerged.
We're excited to invite you to our Dementia Care "Caring During COVID-19 and Beyond" Professional Development Series!
The series opens with a webinar on Tuesday, May 18 at 6:30 pm, featuring care partner, researcher and professor Dr. Sienna Caspar. In this presentation, Sienna will explore staff burnout, the stress cycle, resilience and self-compassion. Participants will learn practical strategies to unlock the stress cycle and discover how to embrace their perfect imperfections with kindness.
Additional sessions will be offered monthly, focusing on restoring relationships with family care partners, hands-on/practical skills in providing day-to-day care, enhancing communication skills and many more best practices in dementia care.
These sessions will take place once a month from May 2021 to March 2022 via Zoom. Cost is $20. Register now!
Insight Into Challenging Stigma

People with dementia can continue to thrive well into the progression of the disease. Despite this, stigma surrounds dementia and continues to be an obstacle in the lives of those affected by it.

The infographic below reveals that there is still much work to do to encourage full support for people with dementia and their families. We asked participants in the Alzheimer Society's support groups and programs to provide insight, in their own words, regarding these stats. Here is what they had to say about their experiences: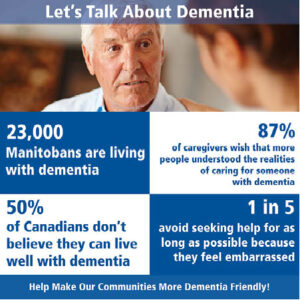 Statistic: 87% of caregivers wish that more people understood the realities of caring for someone with dementia.
"People don't get that you have to develop a new set of communication skills to make caregiving easier. For example, I ask a question trying not to sound critical. I try to suggest rather than demand. I try not to correct some stories, even though some parts are incorrect."
"As a caregiver, I am saddened to watch a vital, funny, very outgoing and accomplished man deteriorate. We are together 24/7, and I see it every day."
Statistic: 1 in 5 avoid seeking help for as long as possible because they feel embarrassed.
"When I found out I had vascular dementia, I decided to crusade against the stigma. I'm not afraid to make mistakes. If I get confused in a store, I'll ask for help, and usually, the clerk will smile and lend a hand. I walk away from these situations hoping that I've planted a seed so others don't dismiss people with dementia."
"My wife gets embarrassed, even around friends, let alone going for help. She avoids some of her friends because they always ask tough questions, such as 'Do you remember my name?' or 'Do you know how we met?' Just greet her with a conversation, not a test."
"When my husband was diagnosed, I didn't want to accept it. He seemed so normal and I didn't want people to know. As time went on, he became more forgetful, and I became stressed. I couldn't relax until I accepted it and could talk about it with our family and friends. Then, the challenge of being silent was over."
50% of Canadians don't believe they can live well with dementia.
Living well with dementia is something that the Alzheimer Society promotes. So when addressing this statistic, we asked people to describe the things they do to continue enjoying life after a diagnosis. Here's what they said:
"I have dementia, but that doesn't stop me from riding my bike for 30 minutes every day – even in the winter. I also love walking the dog and doing puzzles."
"Every case is different and has different challenges, but I feel the main thing is to accept it and live the best life each day."
Thank you to all those who shared their thoughts for this article.
Donor Grateful for Support Received from Society
It's been a tough year for George Bouchard. April 5 marked a year since the death of his wife, Patricia, who had Alzheimer's disease.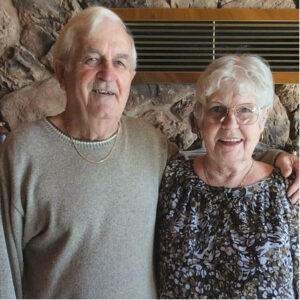 But despite his grief, George realizes that he has much to be thankful for.
For one thing, while Patricia had memory loss, she could usually recognize and interact with her family. She enjoyed their company as she made crafts with the grandkids and did word search puzzles. She was aware of her disease, but accepted it, living with a lot of joy when sharing time with her family.
Patricia still lived with George in their South St. Vital condo, and only in the last 15 months did they need home care to help out. Up until then, George felt fortunate to be her full time caregiver. Patricia passed away of sepsis at age 83.
Now he lives with all the happy memories of their 62 years together, starting with the time, just before they wed, when she flew to Lynn Lake to visit him. "I cashed in her return ticket when we decided we would get married," laughs George.
George was very proud of Patricia, who was strong when challenged with health issues she faced during her life. He was happy when their two daughters were born and excited when, several years later, they added a baby boy to the family. Patricia was a dedicated homemaker, a great decorator and a bit of a perfectionist. Until the very end, Patricia had George straightening and moving pictures.
It is these happy memories, and the educational and personal support the family received along the way from the Alzheimer Society, that motivated George to give back. He has been a generous and loyal donor since 2017, and he recently honoured Patricia by purchasing a leaf on the Society's Tree of Memories.
"I also lost a sister to Alzheimer's, and I have a sister in B.C. with the disease, but after what happened to Patricia and the support I received, I'll be supporting the Alzheimer Society of Manitoba for the rest of my life," George says.
Ask an Expert

QUESTION: It's great that communities are starting to open up, but I'm still anxious. How can I embrace these loosening restrictions without fear?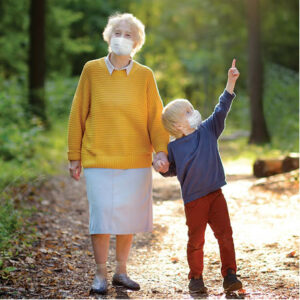 This is a good question – it's one a lot of us are thinking about as we begin to re-engage with our family and friends and rejoin activities we've been away from for almost a year. Remember that those anxious feelings are normal, understandable human emotions. Here are some things to keep in mind:
• Anxiety works as an alarm – it warns our bodies about potential threats so we can make choices to keep ourselves safe. Recognize that there is a real risk to re-engaging – but remember that avoiding everything that triggers anxiety will only make the anxiety worse.
• While there can be anxiety because it sometimes feels like "the rules" are frequently changing, we know the basics, and we have control over them. We minimize our risk when we: wear a mask; sanitize our hands; practice social distancing; avoid crowded situations; and get a vaccine.
• You don't need to let your feelings dictate your actions. Identify your fears and thoughts and then gently challenge them before entering a situation. That way, you are relying more on a reasoned conclusion rather than the part of your brain that automatically tells you it's too risky.
• Remind yourself that this pandemic and the elevated risk won't last forever. While it's still not perfect, find the things you can be grateful for in the moment. Embrace the positives and be patient a bit longer for those parts that are still not where we want them to be.
• It may be difficult to start re-engaging, but remind yourself why you're doing these worthwhile activities. For example, they will improve your mental and physical health, which may help you to push through the anxiety you're feeling.
• It will take time to re-adjust to being in public again, so don't rush. Figure out each day what baby steps you can take. Start small and build up some emotional tolerance slowly.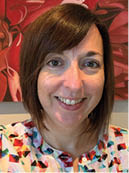 Lesley Koven, PhD, Clinical Psychologist and Assistant Professor, Department of Clinical Health Psychology, University of Manitoba; Winnipeg Regional Health Authority
City of Winnipeg On Board with Dementia Friendly Communities

The Alzheimer Society promotes dementia friendly communities that focus on stigma
reduction and inclusion of people with dementia. In a dementia friendly community, people living with dementia feel supported in the places they live, work and play.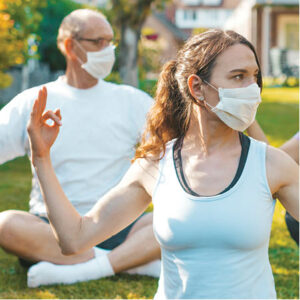 The promotion of this goal is catching on as community groups, cultural organizations and businesses reach out to learn how they can include people with dementia and welcome them into their folds. They may offer specially designed programs, alter their signage or learn how to effectively communicate with a person with dementia.
Recently, the Winnipeg Committee for Safety (WCFS) stepped onto the dementia friendly community bandwagon in a big way. It partnered with the Alzheimer Society to develop a guide highlighting tips and strategies to better support people living with dementia as they go about their lives in the community.
Called "Living Safely with Dementia," the guide is one of 12 tools in the WCFS's Community Safety and Wellbeing Toolkit.
"This is a really valuable guide," says Erin Crawford, the Society's Program Director. "It can help neighbours and community members understand and do their part in making it safer for people with dementia to participate in their community longer."
The Living Safely with Dementia tool provides tips to help identify a situation in which someone may be affected by dementia, how to approach and communicate with them, and how to help if they appear lost or need additional support. With this awareness, communities will be better equipped to approach someone with dementia in an empathetic way.
"A safe community means that we have our eyes and ears open to those around us," says WCFS Chairperson Councillor Vivian Santos. "With so many people living with dementia in our communities, it's important that we are able to identify those who may need some support to stay safe."
These important tips were developed to create a vision of inclusive communities that respect, support and empower people with dementia.
To download the Living Safely with Dementia tool, visit:
www.winnipeg.ca/clerks/boards/WpgCommitteeForSafety/toolkit/dementia.stm
Register Now for our Spring Virtual Minds in Motion® Program!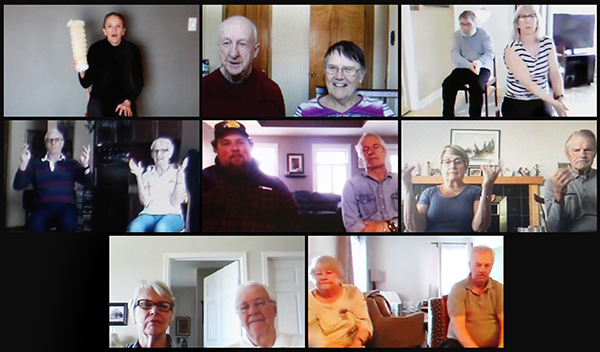 We have two spring sessions coming up for our Minds in Motion program! This popular program connects people living with early to moderate signs of dementia and their care partners through fitness, fun and friendship.
The virtual version of Minds in Motion takes place on a ZOOM link for 1 hour and 30 minutes. It offers six weekly sessions that include a gentle chair fitness class followed by socially engaging activity and conversation. Click here to find out how participants are enjoying the online format.
Spring Session Dates and Times
Tuesdays, April 27 to June 1, 2 to 3:30 pm
Thursdays, April 29 to June 3, 10 to 11:30 am
Register now to stay active, engaged and connected!
Check Out Our Virtual Spring Programs and Support Groups!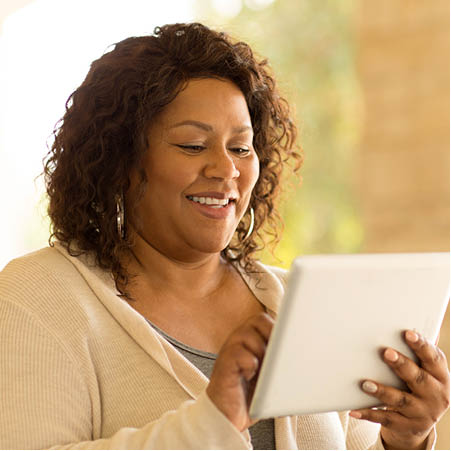 The Alzheimer Society is offering virtual programs and support groups in the spring season, and there's something for everyone! Here's the best part – you can participate from the comfort of your own home, no matter where you live. All you need is a computer and a Wi-Fi connection!
Online Family Education Sessions:
Sponsored by Edison Properties
Our online family education sessions cover a wide range of topics – from medication safety to aphasia to legal and financial planning. The sessions are geared towards helping people with dementia and their caregivers be confident on their dementia journey. Click here for more information and to register.
Virtual Support Groups
Support Groups for People with Dementia: We are holding virtual support groups to ensure continued access to support and information during the pandemic. These weekly/bi-weekly groups for people with dementia provide participants an opportunity to:
Learn about living with dementia and its progression.
Share feelings and common experiences.
Exchange practical coping strategies.
Participate in discussions.
For more information about support groups for people with dementia, please contact:
Sarah Dueck
Client Support Coordinator
204-943-6622 ext. 213
sdueck@alzheimer.mb.ca
Support Groups for Care Partners: A variety of days and times are available for those interested in joining a virtual support group for care partners. These groups help connect people with others living in a similar situation during these uncertain times. Click here to register for a date and time that suits your schedule.
Remember: You are not Alone.
We are here to help you and your family through these difficult times. You can reach a comforting ear by phone or get a quick response by email. Call us at 204-943-6622 (Winnipeg), 1-800-378-6699 (toll free in Manitoba) or email alzmb@alzheimer.mb.ca
Don't Miss Your Chance to Chase the Ace!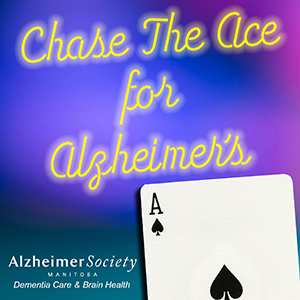 Chase the Ace for Alzheimer's is NOW OPEN!
DRAWS: Wednesdays at 3 pm CST
Check out our newest online fundraiser and help those living with dementia across the province. Try catching the Ace of Spades every week until it's found!
For more details on ticket pricing and how to play, visit chasethealzheimerace.ca