In This Issue
2021 IG Wealth Management Walk for Alzheimer's a Success!
Professional Development Series: Caring During COVID-19 and Beyond
Annual General Meeting: See You Online!
Online Education and Support Groups: We're Here for You!
Minds in Motion®: Watch for Fall Session Information
Upcoming Research Forum Digs Deeper than the Headlines
Research Participants Needed for Sensory Program Study
It's Your Chance to Play Chase the Ace!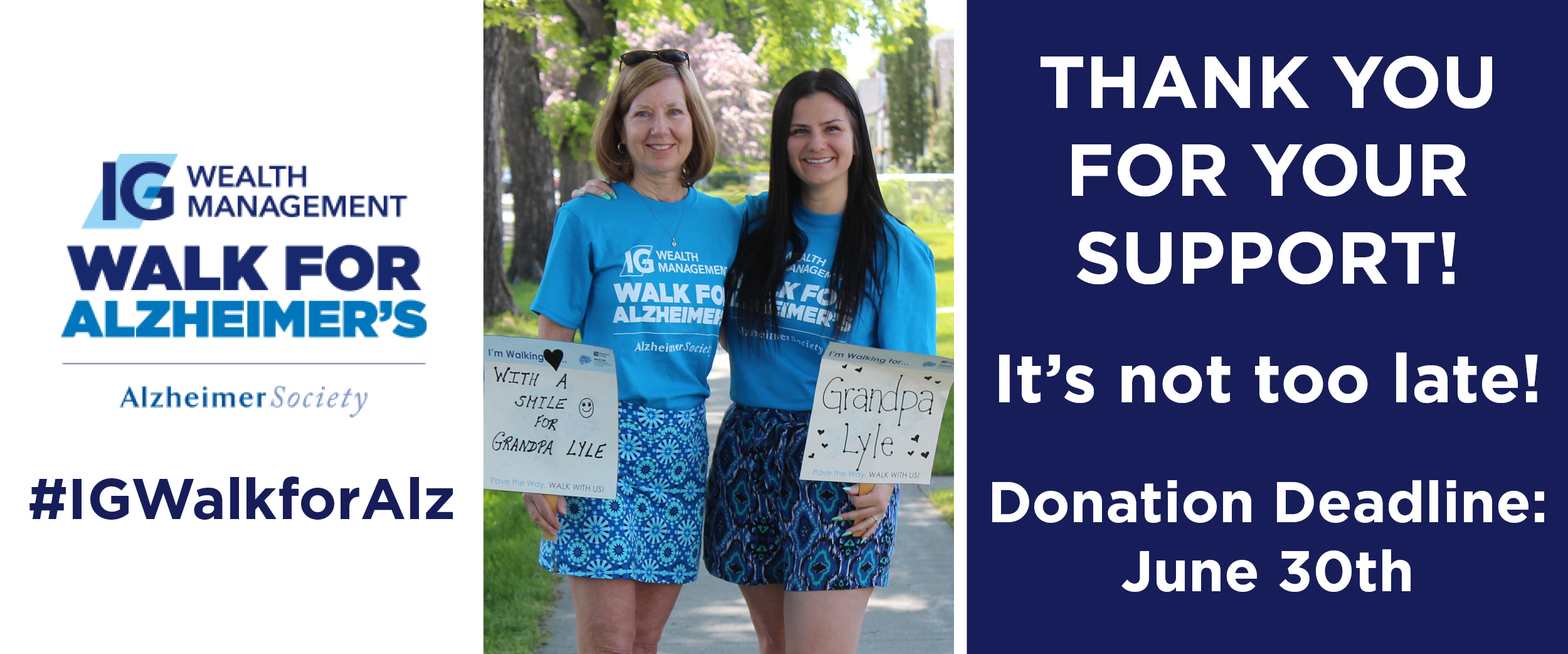 Thanks for Walking Your Way in May!
Thank you to everyone who watched the IG Wealth Management Walk for Alzheimer's national live stream and to the participants and volunteers who helped make this year's Walk a great success! Your support is extremely appreciated and will help so many families living with dementia across Manitoba.
It's Not Over Yet!
We're still accepting donations until the end of June, so it's not too late to make a difference! Click here to donate. Thank you for your generosity – we couldn't do it without you!
Thanks to Our Contributing Sponsor: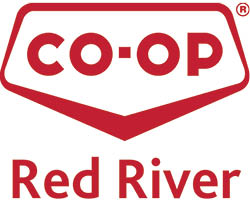 Caring During COVID-19 and Beyond


Sponsored by All Seniors Care
We're excited to invite you to our Dementia Care Professional Development Series! Sessions take place online monthly until March 2022.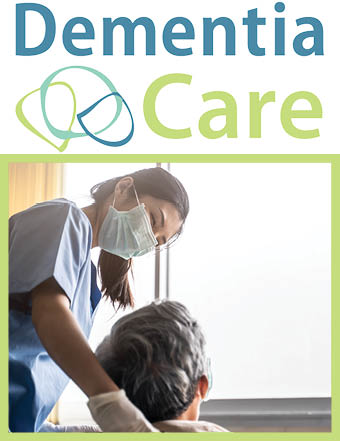 The next session is on Thursday, June 17 from 10:30 to 11:30 am. Entitled, How Do We Restore Our Collaborative Relationship with Families, it will be led by social worker and University of Manitoba instructor Ginette Abraham. Ginette will provide tips and strategies for successful communication and collaboration with families. She will also speak on how to help restore relationships for the benefit of the person with dementia, the families involved and yourself as a healthcare partner.
Additional sessions will be offered monthly, focusing on hands-on/practical skills in providing day-to-day care, enhancing communication skills and many more best practices in dementia care. These sessions take place via Zoom.
Click here to register. The cost is only $20 and covers 11 sessions in this series, which started in May. If you miss any, you will have access to previous recordings.
Click here to review upcoming sessions and speaker bios. Please mark your calendar and share with your colleagues. We look forward to seeing you!

2021 Annual General Meeting is Online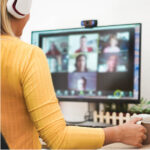 The Alzheimer Society's Annual General Meeting will be held virtually this year on Wednesday, June 23 at 5:30 pm via Zoom. Please join us as we celebrate a year of accomplishments and recognize our dedicated volunteers.
To attend online, please contact Nerriza Bautista at 204-943-6622 or nbautista@alzheimer.mb.ca
Online Education and Support Groups: We're Here for You!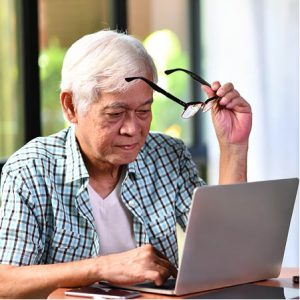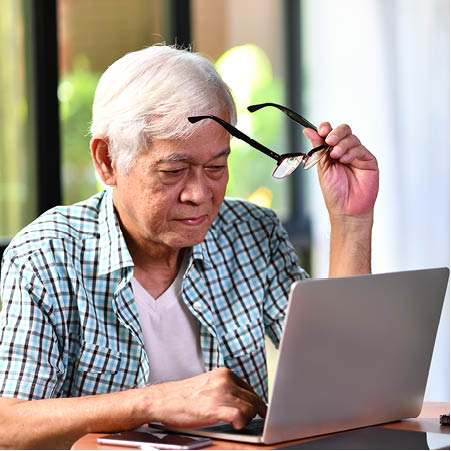 The Alzheimer Society offers virtual education programs and support groups, and there's something for everyone! Here's the best part – you can participate from the comfort of your own home, no matter where you live. All you need is a computer and a Wi-Fi connection!
ONLINE EDUCATION SESSIONS
Our online education sessions cover a wide range of topics – from medication safety to aphasia and dementia to the progression of dementia. The sessions are geared towards helping people with dementia and their caregivers be confident on their dementia journey.
What is Mild Cognitive Impairment (MCI)?
Sponsored by Edison Properties
Wednesday, June 23, 2 to 3 pm
Learn about the differences between MCI and dementia, how MCI is diagnosed, how it impacts individuals and their families, and strategies for prevention and management.
Click here to register.
VIRTUAL SUPPORT GROUPS
For Care Partners: A variety of days and times are available for those interested in joining a virtual support group for care partners, which will continue throughout the summer months. These groups help connect people with others living in a similar situation during these uncertain times. Click here to register for a date and time that suits your schedule.
For People with Dementia: We are holding virtual support groups to ensure continued access to support and information during the pandemic. These weekly/bi-weekly groups for people with dementia provide participants an opportunity to:
Learn about living with dementia and its progression.
Share feelings and common experiences.
Exchange practical coping strategies.
Participate in discussions.
For more information about support groups for people with dementia, please contact:
Sarah Dueck
Client Support Coordinator
204-943-6622 ext. 213
sdueck@alzheimer.mb.ca
Watch for Info on our Fall Minds in Motion® Program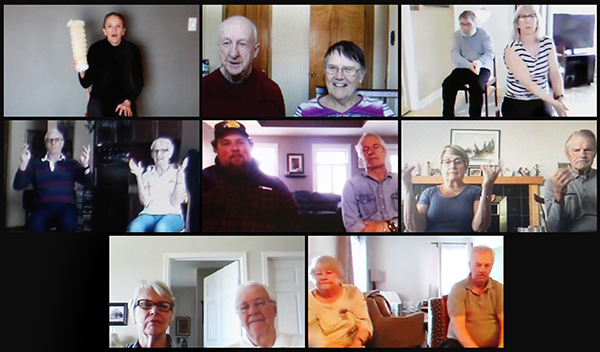 Thank you to all who participated in the spring sessions of our Minds in Motion program – everyone had lots of laughs and social interaction. This popular program connects people living with early to moderate signs of dementia and their care partners through fitness, fun and friendship. Participants take part in a gentle chair fitness class followed by socially engaging activity and conversation.
Keep an eye out for dates and times for the Fall Minds in Motion sessions, which will start after Thanksgiving weekend. We are hoping to offer these sessions both in-person (if COVID regulations permit) and online. Virtual sessions will take place on a Zoom link for 1 hour and 30 minutes.  Click here to find out how participants enjoy the online format.
Click here to find out more about what Minds in Motion is all about!
Digging Deeper: What's Behind the Headlines in Dementia Research?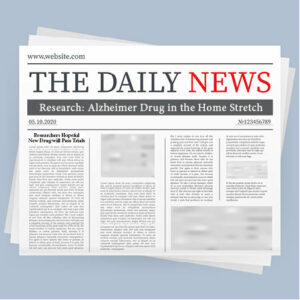 Blood Test Diagnosis Closer to Reality . . .  Healthy Heart Prevents Dementia . . .  Alzheimer's Drug in the Home Stretch . . .
What's the reality behind these headlines? Join us for a public forum that will shine a light on current and emerging dementia research featured in recent news headlines.
The forum will take place on Tuesday, September 21, 2021 (World Alzheimer's Day) at 6:30 pm on Zoom. The talk show format will feature a dynamic conversation with Dr. Donald Weaver of the Krembil Research Institute about critical dementia-related topics reported in the news. He will discuss the impact COVID has on people living with dementia, new diagnostic techniques, ongoing clinical trials for treatment and primary prevention strategies.
As well as being a practicing neurologist, Dr. Weaver is an internationally recognized research leader in university-based drug design and discovery for neurological disorders. He has designed and co-developed two drugs that have reached phase III human trials and has four others in preclinical development. He has been the Director of the Krembil Research Institute, University Health Network, since 2013.
Don't miss out on this engaging forum. Watch for registration information – it's coming soon!
Research Participants Needed for Unique Study on Multisensory Program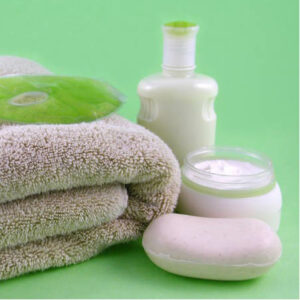 Are you a caregiver for an older adult living with mid to late stage dementia? Would you like to become involved in a research study investigating the use of a personalized, multisensory program delivered at home?
Based on the Namaste Care program, the researcher will send a toolkit with supplies, such as an essential oil diffuser, lotion, blanket, heating pad and sensory balls. The study is looking at incorporating Namaste Care into daily routines as a way of enriching interactions and care and to improve the quality of life of people living with dementia.
Click here for details and for contact information for the researcher, Marie-Lee Yous, RN, MScN, PhD student, McMaster University.
Don't Miss Your Chance to Chase the Ace!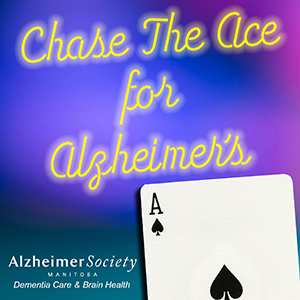 DRAWS: Wednesdays at 3 pm CST
Check out our newest online fundraiser and help those living with dementia across the province. Try catching the Ace of Spades every week until it's found!
For more details on ticket pricing and how to play, visit chasethealzheimerace.ca
Remember. You Are Not Alone.
We are here to help you and your family through these difficult times. You can reach a comforting ear by phone or get a quick response by email. Call us at 204-943-6622 (Winnipeg), 1-800-378-6699 (toll free in Manitoba) or email alzmb@alzheimer.mb.ca