Participate in our eNewsletter Survey
Caring for a Parent: Christine's Story
Dementia-Friendly Video Series: Ensuring Participation
Request a Dementia-Friendly Communities Presentation
First Link® Update
Caring for Your Brain & Heart
What is Vascular Dementia?
The FDA Approval of Lecanemab
Check Out Our 2023 Winter Education Calendar!
Register for Winter 2023 Community Programs!
Dementia Care Series – Register Today!
Caregiver Cards
Join a Support Group!
Follow Us On Social Media
Donate Today to Help Our Work Continue
Will You Participate in our eNewsletter Survey?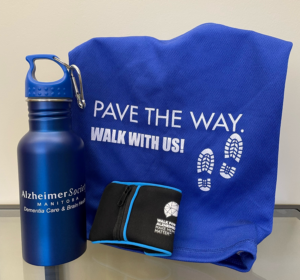 Your feedback matters! We want to provide you with relevant, educational and helpful information about dementia. Please help us improve our monthly eNewsletter by filling out this survey. It will only take a few minutes of your time and on completion, you will be entered into a draw for a "Get Active" prize package.  
Prize includes:
One stainless steel water bottle
One handy wrist wallet
One neck buff
A perfect bundle of goodies to use the next time you head out for a walk!
Click here to access the survey.
THANK YOU!
Caring for a Parent: Christine's Story

Christine Williams was in disbelief when her mom was diagnosed with dementia in the summer of 2013. It was less than a year after her dad passed away.
"I felt like within a year, I went from having two active, healthy parents to my dad being gone and almost immediately needing to be a caregiver for my mom," Christine says.
Christine began noticing changes in her mom's behaviour – things that seemed to be more than grief, like her mom frequently phoning her for unusual or strange reasons. After visiting a doctor in Flin Flon, her mom was sent to Winnipeg to see a neurologist and was diagnosed with dementia.
Her mom's doctor referred them to the Alzheimer Society, but Christine couldn't bring herself to make the call. "I was in complete denial at the time," Christine says. "But then – they called me. I could not be more grateful that someone from the Alzheimer Society reached out to me because I wasn't going to do it."
The Society helped Christine understand the importance of planning for the future, including the significance of legal documents like a power of attorney. "A will, a health care directive and a power of attorney are key documents we recommend clients put in place to ensure they have the ability to act on someone else's behalf when the person they are supporting can no longer do it for themselves," says Erin Crawford, Program Director at the Alzheimer Society.
Christine says the early planning suggested by the Society came in handier than she could have ever expected. "I can't tell you the number of times I got out those legal papers," says Christine. "My biggest takeaway is to get your parents' affairs in order – those papers are everything. They're your voice."
After a car accident in 2014, Christine's mom was temporarily unable to walk, and her dementia symptoms began progressing quickly. She moved into long-term care in 2015 but adjusting to this change was not easy. Watching her mom struggle to get used to the new environment took an enormous emotional toll on Christine, who was also raising two young children at the time.
"It felt like I was never doing enough. I was parenting and working full-time, so I had a lot going on. But now I know that my visits – they were enough. My mom would have wanted me to be okay with that."
It took Christine's mom about a year and a half to settle into the care home, and Christine says she even began doing more activities – she loved music, singing and dancing most of all. Her mom passed away in February 2021.
Looking back, Christine wishes she could have accepted her mom's diagnosis and dementia symptoms sooner than she had. But, through local seminars in Flin Flon, help from friends and information from the Society, Christine found the support she needed to move forward.
"I felt alone in the beginning, but with the support of friends, family and the Alzheimer Society, I learned I wasn't alone," she says. "As hard as it was then, I look back and realize it was all okay to accept things and appreciate the help around me."
Visit us at We Can Help to learn more about how we can support you, or reach out to us at 204-943-6622 (Winnipeg) or 1-800-378-6699 (Manitoba).
Dementia-Friendly Video Series: Ensuring Participation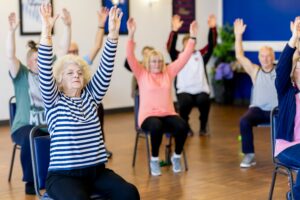 The Alzheimer Society and Dementia-Friendly Canada recently released four new videos showing ways we can be dementia-friendly in the community. The next video from the series we're highlighting is called: Ways you can be dementia-friendly: ensuring participation.
Taking a class or participating in a group activity can be a fun way to stay social, learn new things, practice skills or keep up with some physical fitness. But for someone living with dementia, this type of group environment can have barriers that make it difficult to participate. It's important that everyone feels included in classes or activities. Here are some dementia-friendly tips to keep in mind to ensure everyone can participate:
Adjusting how we present information or demonstrating and providing examples can help people living with dementia participate in a group activity.
In the video, the fitness class instructor sees that Monty, someone living with dementia, is having trouble keeping up with the movements. To help Monty follow along and get the most out of the class, the instructor:
Explains the exercise step by step
Demonstrates the movement, so he has someone to copy
These small adjustments allow Monty to follow along with the rest of the group. Care partners can use these same tips when doing different activities with someone living with dementia. Making sure to clearly explain steps and use visual examples can help create a fun and fulfilling experience.
To learn more about becoming dementia-friendly, contact Nicole McDonald, Dementia-Friendly Community Program Manager, at nmcdonald@alzheimer.mb.ca, or visit Alzheimer.ca/DementiaFriendlyCanada for more information.
Request a Dementia-Friendly Communities Presentation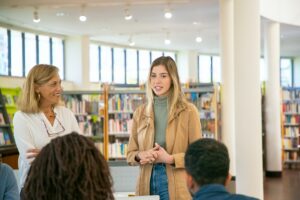 If your business or organization is interested in a presentation about dementia-friendly communities and how you can become more involved, email Dementia-Friendly Community Program Manager Nicole McDonald at nmcdonald@alzheimer.mb.ca or call 204-943-6622 (in Winnipeg) or 1-800-378-6699 (in Manitoba).
First Link® Update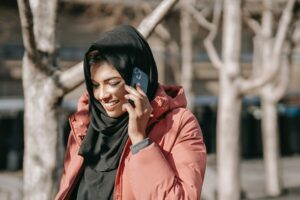 This past year has been a huge growth period for our First Link® client support program after a number of donors stepped up to help us fill a gap in service.
"This funding has been a game changer for our First Link program. We were able to significantly increase our staffing allowing us to connect with clients earlier and more frequently to link them with the right resources at the right time," says Jessica Harper, Client Support Manager at the Alzheimer Society. "These connections are truly a lifeline of support for families impacted by dementia."
We have increased the number of times we reach out to families, so we can be a constant source of support throughout their dementia journey. We connect with clients sooner and more routinely to make sure they receive the support they need when they need it.
With the additional funding, we've also increased our support group offerings for people living with dementia and their care partners to better suit their needs. There are more groups available so that conversations can focus on the unique needs of each group.
Thanks to the Jessiman family, who pledged $500,000 – our largest gift ever – and to many other generous private donors, over $1,148,000 has been committed to expanding our First Link program. The Province of Manitoba has also made a commitment of $1.3 million over four years.
But we're not done yet! There is still $151,050 left to raise in order to close the gap and meet the growing needs of our services in the community. Donate now to become one of our champions for this campaign. All donations allow us to continue providing support and a sense of community to families in need. Your generous gifts make the work we do possible.
Visit First Link® – Alzheimer Society of Manitoba to find out more about how we help families get the support they need.
Caring for Your Brain & Heart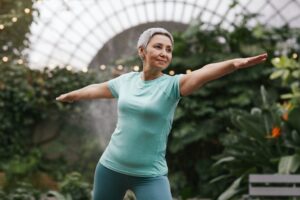 February is Heart & Stroke Month, so we're highlighting how maintaining brain and heart health can help reduce your risk of dementia and delay the onset of symptoms. Whether you live with dementia or you care for someone who does, it is important to take steps toward a healthy lifestyle.
Having good brain and heart health can increase the quality of life when living with dementia and help you cope with the changes you're experiencing. Physical activity is one way you can boost your brain and heart health.
People who exercise regularly are less likely to develop heart disease, stroke and diabetes – all risks associated with dementia. Regular exercise also helps to reduce stress and improve your mood. Many aspects of caregiving involve physical activity already, so these tips aim to help caregivers and people living with dementia alike stay as healthy as they can without adding too much onto an already busy daily routine.
Here are five tips for being physically active:
1. Start where you can and set reasonable goals.
If you feel you have little opportunity to exercise, start by adding some physical activity to your daily routine. Choose to walk to the store rather than driving or take the stairs instead of the escalator or elevator.
2. Think of it as "activity" not "exercise."
Choose to do activities and sports that you enjoy, and physical activity won't seem like a chore or task to tick off.
3. Once you get going, aim to do some moderate-to-vigorous physical activity each week.
Some moderate physical activities could be walking a dog or doing water aerobics, while vigorous physical activities include shovelling or going for a run. If you have reduced mobility, try activities that can help you maintain your balance and prevent falls, such as gentle yoga or tai chi.
4. Consider aerobic activities.
Aerobic activities, such as walking, swimming, hiking and dancing, can help maintain general fitness.
5. Plan out your physical activity with someone you know.
That way, you are more likely to keep active while you also gain the brain-healthy benefits of socializing.
If you're looking for ways to get out and be active, participating in Minds in Motion® and our Community Partner programs are fun ways to get physically active.
Please remember to check with your healthcare provider if you plan to significantly increase your level of physical activity.
For more information, read our Heads Up for Healthier Living brochure.
Types of Dementia Series: What is Vascular Dementia?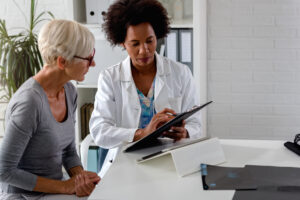 Dementia is an umbrella term used to describe a range of neurological conditions affecting the brain that worsen over time. The term refers to a loss of cognitive functioning – in thinking, remembering and reasoning – to the degree that it interferes with a person's daily life and everyday activities. In this series, we take a look at several different forms of dementia, with this installment covering vascular dementia.
Vascular dementia is the most common type of dementia after Alzheimer's disease. It's caused by the blockage of blood flow to the brain, and symptoms depend on which area of the brain is affected.
The vascular system is a network of blood vessels that supplies the brain with oxygen, which allows the brain to function properly. When blood flow to the brain is decreased or prevented by blood clots, bleeding from a ruptured vessel, or damage to a vessel, oxygen and nutrients can't reach the brain.
In vascular dementia, changes in thinking skills sometimes occur suddenly after a stroke, which blocks major blood vessels in the brain. Thinking difficulties may also begin as mild changes that gradually worsen due to multiple minor strokes or another condition that affects smaller blood vessels, leading to widespread damage.
Signs and Symptoms
Vascular dementia symptoms may appear gradually or appear after a stroke. Some symptoms of vascular dementia are:
Changes in the ability to make decisions, plan or organize
Difficulties with movement, such as slow gait and poor balance
Difficulties following a series of steps (like cooking a meal)
Problems concentrating and moments of sudden confusion
Changes in mood
In general, living a brain-heathy lifestyle reduces the risk of vascular dementia and may delay its onset or slow its progression.
For more information on vascular dementia or other types of dementia, visit the What is Dementia page on our website, or contact the Alzheimer Society of Manitoba at 204-943-6622 (Winnipeg) or 1-800-378-6699 (Provincial).
The FDA Approval of Lecanemab
On January 6, 2023, the US Food and Drug Administration announced it has granted expedited approval for the Alzheimer's disease drug lecanemab while the medication continues to be studied in larger clinical trials. You can read more about the approval of Lecanemab here.
Drugmakers Biogen and Eisai will apply to European agencies to begin approval processes by the end of March 2023. There is currently no information about the plan to submit the drug for Health Canada approval, which means it will likely be several years before anything is available to the public in Canada.
While lecanemab is not a cure, it "moves the needle" by opening a door for future treatments. The Alzheimer Society of Manitoba is encouraged by research being done on treatments related to dementia. There are currently more than 200 dementia drugs in development internationally. We hear firsthand from members of our community that this wider research trend offers hope to thousands, if not millions, of people.
There have been significant side effects associated with lecanemab. The most commonly noted side effects were reactions to its intravenous administration, headache and ARIA (Amyloid Related Imaging Abnormalities). ARIA side effects include brain swellings and microhemorrhages (i.e., brain bleeds) that are visible on brain scans, but they can also be experienced as headaches, confusion, vision changes, dizziness, nausea and seizure.
The Alzheimer Society of Manitoba continues to trust and support Health Canada's rigorous safety and effectiveness assessments of all drugs related to the treatment of dementia.
Lecanemab will not be suitable for everyone. To be effective, lecanemab requires early detection and diagnosis – which further underscores the importance of continuing to address stigma and ensure more Manitobans have timely access to healthcare professionals and a diagnosis.
We will continue to advocate for more research towards both care and cure for people affected by dementia. The Alzheimer Society of Canada, with financial support from Federation partners like the Alzheimer Society of Manitoba, has invested more than $67 million in grants and awards to fund innovative research on dementia-related issues.
We are here to provide support to all Manitobans facing dementia today – and are working with others to build communities that are welcoming, supportive and inclusive of people who are affected by dementia.
If you need support, you can call us at 204-943-6622 or 1-800-378-6699.
Check Out Our 2023 Winter Education Calendar!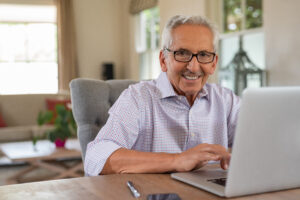 Join us for our winter education sessions! These sessions are offered both in-person and via Zoom and cover a variety of topics to help you on your dementia journey.
Click the links below to check out available seminars and to register!
Family Education Winter 2023 Calendar
Family Education – Alzheimer Society of Manitoba
Register Today for the Winter 2023 Community Programs!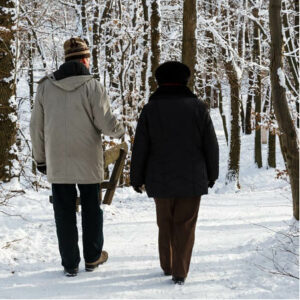 It's not too late to register for the following Winter 2023 dementia-friendly community programs!
We have partnered with various organizations for people with dementia and their care partners to participate in activities with others living in similar situations. These opportunities offer social, creative and educational ways to get out in the community and enjoy life.
Tales Along The Trail
Enjoy Manitoba's winter outdoors! Warm mittens, crunchy snow, and crackling campfires set up calming, fun, natural adventures – all within city limits!
Tales Along the Trail is for people living with early to moderate symptoms of dementia and their care partners who are looking for a safe but exciting way to encounter the natural world.
An experienced naturalist will guide the group along FortWhyte's gentle pathways, pointing out all winter has to offer and encouraging everyone to use all their senses to explore.
Each session will have a relaxing walk through the woods, with stops focusing on all of our senses. We then will have a chance to share thoughts, stories, and a snack around a crackling fire or cozy indoor space.  In stormy weather, we bring nature indoors, keeping the engagement and fun going while we watch the wind and snow outside.
Winter Program (Wednesdays)
January 25 – March 8
$126/pair for all seven sessions
Registration is open now. Please contact bmiller@fortwhyte.org for a link to register for this program.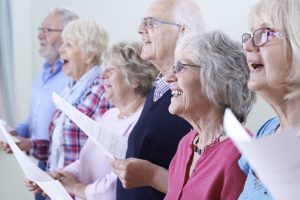 Vivace Voices Choir
Come and join in making music together! Singing in a choir is a challenging and joyful experience. Learn to sing new and familiar music while making connections with those around you. No prior choral experience is required. Care partners must attend with persons living with dementia.
Winter Program (10 weeks)
Wednesdays, 6:30 – 7:30 pm, $145/pair
January 25 – April 19
Click here to learn more and to register!
 Developed by the Community School of Music and the Arts at Canadian Mennonite University with assistance from the Alzheimer Society of Manitoba.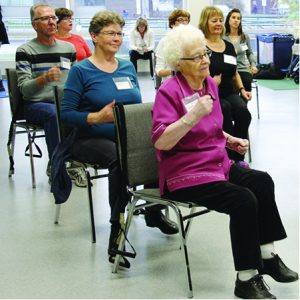 Minds in Motion®
Our popular Minds in Motion® program connects people living with early to moderate signs of dementia and their care partners through fitness, fun and friendship. Participants take part in a gentle chair fitness class followed by socially engaging activities and conversation.
There are lots of laughs and social interactions during these sessions. We are excited to offer both in-person and online options.
Dates, times and registration information are available for the Winter 2023 Minds in Motion sessions! Click here to learn more and to register.
Dementia Care Series – Register Today!
Essentials of Day-to-day Dementia Care – Sponsored by All Seniors Care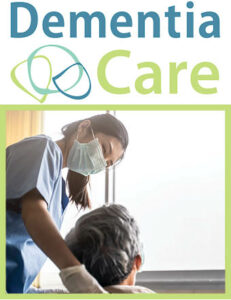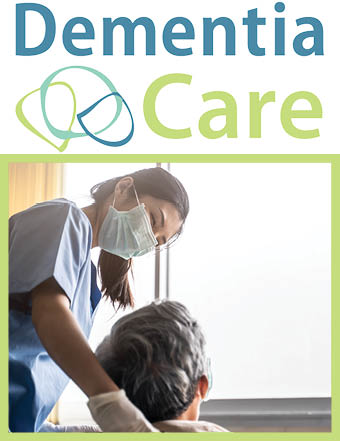 We invite you to our Dementia Care Professional Development Series! Sessions are geared towards health care staff and take place online monthly until March 2023.
Join our next sessions on Tuesday and Thursday, February 14 & 16, from 1 – 4 pm, called Dementia Care Education, featuring Sheila Smith from the Winnipeg Regional Health Authority and Terri Bowser from Healthy Aging and Seniors Care. These two half-day workshops review the basics of dementia and dementia care, including important skills and strategies for day-to-day care, practical tools, brain changes in dementia and the cognitive changes of dementia (7As of dementia).
This professional development series, which started in April, focuses on the foundation for successful and meaningful dementia care that will benefit the person living with dementia, their families and the healthcare system as a whole. For a $20 registration fee, you can watch the 2 remaining live presentations and get access to recordings of all 11 sessions!
Visit our website today for upcoming sessions, speaker bios and to register today!
Caregiver Cards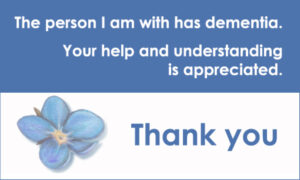 We know it can sometimes be difficult for caregivers to explain behaviours brought on by dementia to those who are unfamiliar with the disease.
To ease this challenge, you can create and print cards to carry with you. Show this card to others, letting them know that the person you are with has dementia and that their understanding is appreciated.
Click here for a printable pdf of the Dementia Caregiver Card.
Join a Support Group!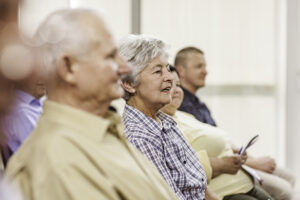 We welcome you to join one of our many virtual or in-person support group offerings this winter.
Support groups provide participants with an opportunity to learn more about dementia and its progression, share feelings and common experiences, exchange practical coping strategies and mutual support, as well as participate in meaningful discussions.
These support groups are a confidential and safe place for care partners to share their experiences of caring for a person living with dementia or memory loss. We welcome everyone to this inclusive environment for people of different ethnicities, cultures or persons who identify as part of the 2SLGBTQ+ community.
Care Partner Support Groups
We've highlighted a few of our Care Partner Support Group offerings below, but for a complete listing of all virtual and in-person support groups, please visit our Support Groups page.
Men's Coffee Talk Support Group
Meets in person at the provincial office in Winnipeg on the fourth Thursday of the month from 10:00 to 11:30 am.
This support group is for male-identifying care partners to connect with one another and share information about their experience of caring for a person with Alzheimer's or another dementia.
Spouses of People Living with Dementia in Personal Care Home
Meets in person at the provincial office in Winnipeg on the second Wednesday of the month from 2:00 to 3:30 pm.
This support group offers spouses of people with dementia living in a personal care home the opportunity to meet and share information about their experience of caring for someone who has transitioned into a personal care home. This caregiving experience presents unique challenges for care partners as they:
Navigate their changing roles
Adjust to changes in self-identity
Adjust to living separately from their spouse
Help to support a spouse in their dementia journey
Virtual Ambiguous Loss Support Group
The Ambiguous Loss Support Group assists care partners in working through the feelings of ambiguous loss and grief that are experienced when someone close to you has dementia. The goal is to help care partners build enhanced coping strategies that will support you in your role as a caregiver and to help you plan for the future.
For more information or to add your name to the waitlist for the next available session, please contact:
Samantha Holland
Interlake-Eastern Regional Coordinator
204-268-4752
alzne@alzheimer.mb.ca
Support Groups for Persons with Dementia
Having a diagnosis of dementia can lead to a variety of thoughts, feelings, and emotions. Our support groups for people with dementia provide participants with an opportunity to:
Learn about dementia and its progression
Share feelings and common experiences
Exchange practical coping strategies and mutual support
Participate in meaningful discussions
For more information about current and upcoming support group opportunities, both virtually and in-person, please contact:
Sarah Dueck
Client Support Coordinator & Group Lead, Winnipeg/Provincial Office
204-943-6622 ext. 213
sdueck@alzheimer.mb.ca
Additional Information
For more information about all support group offerings, including registration information, please contact the First Link Client Support team at 204-943-6622 or email us at alzmb@alzheimer.mb.ca.
Our new support groups were made possible by a multi-year commitment for our First Link® program from the Jessiman Foundation. A heartfelt thanks to the Jessiman family for this leadership gift that has allowed us to expand our programs in such a significant way.
Follow Us On Social Media
Join us on Facebook, Instagram, Twitter and LinkedIn for the most current news, information and resources. If you're already following us on social media, invite your friends to do the same!
We Rely on Your Donations to Continue Our Work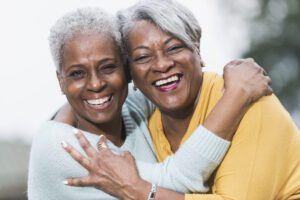 Your gifts are put to immediate use through our helpline, support groups and education programs.
Remember. You Are Not Alone.
We are here to help you and your family no matter where you are in your dementia journey. You can reach a comforting ear by phone or get a quick response by email. Call us at 204-943-6622 (Wpg), 1-800-378-6699 (MB) or email alzmb@alzheimer.mb.ca