Brain Awareness Week 2023
CEO Announcement
Will You Participate in our eNewsletter Survey?
Call for Board Members!
Minds in Motion®: A Lifeline of Support
Nutritious Choices to Boost Your Brain Health
Who Should I Tell? Elder Abuse Awareness Video
Check Out Our 2023 Spring Education Calendar!
Spring 2023 Community Programs
Dementia Care Series – Register Today!
Accessible Transportation Standard Regulation
Join a Support Group! (New Groups Added)
Follow Us On Social Media
Donate Today to Help Our Work Continue
Brain Awareness Week 2023

Take Action for a Healthy Brain!
The Alzheimer Society is celebrating Brain Awareness Week from March 13 to 19 to encourage people to challenge their brain and reduce their risk of developing dementia.
Over the week, we will be sharing tips and tricks to help you keep your brain healthy, such as:
Being socially active
Making healthy food choices
Reducing stress
And more!
Make sure to check our Facebook, Instagram, Twitter and LinkedIn throughout the week to learn more about how the Society can help YOU stay safe, be healthy and have fun! You'll find information on programs to help you stay active, a personal story about brain health and some brain teasers to keep you thinking!
You can also visit our Brain Health page for more tips.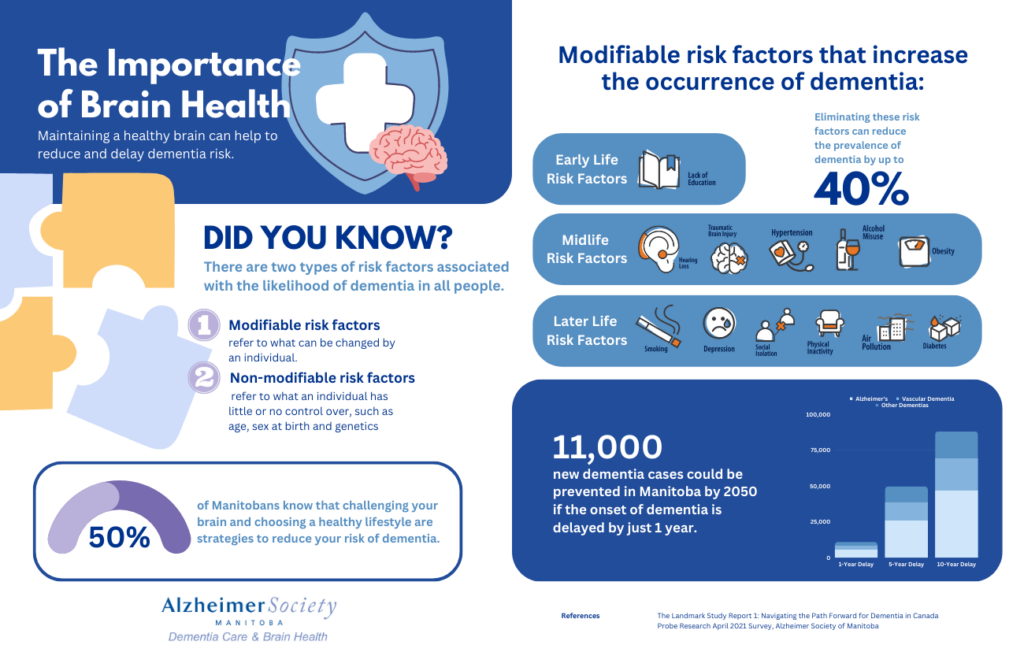 Download a print-friendly of The Importance of Brain Health infographic and share with your friends, family and colleagues!
CEO Announcement
It is with mixed emotions that we announce the retirement of our CEO Wendy Schettler, taking place at the end of May.
Wendy's commitment to building a strong organization has shaped her career throughout her 22-year history with Society, with the last 10 years as CEO. With the number of Manitobans living with dementia expected to more than double by 2050, Wendy leaves the Alzheimer Society poised to meet the growing need for dementia support.
"I am proud of the work we have done to support and advocate for thousands of families living with dementia," says Wendy. "It remains an extremely difficult diagnosis and it is essential that families have access to the Alzheimer Society for information and support as they navigate the complex challenges dementia brings."
Wendy has provided remarkable leadership and clear vision for the organization over the past decade. Under her leadership, the Society grew our Dementia-Friendly Communities initiatives with many new programs to ensure that Manitobans with dementia can participate in society and be accepted in the places where they work and play.
She led us through extraordinary pandemic circumstances with grace and confidence, always acutely aware of how people with dementia and their families were deeply affected, pivoting quickly to meet their needs.
Wendy didn't hesitate to reach out for community support when she recognized that the increasing demand for our services had grown beyond what our existing First Link® staff could provide. The community stepped up resulting in a significant expansion of this program.
"I am humbled by the trust our community has shown in support of growing our First Link® program," says Wendy. "It has been my honour and privilege to help support Manitobans on their dementia journey and I could not be more excited about what is next for this incredible organization."
We will miss Wendy and the inspiring leadership she has provided over the years and wish her the best in her retirement.
With every door that closes, another opens. We are delighted to announce Erin Crawford as incoming CEO and are pleased to share that the leadership transition is already well underway.
"The Society must be ready to meet the challenges that are coming over the next 10 years," says Wendy. "We need to be ready to support the growing number of families affected and Erin has the understanding and experience to prepare us for this. I am so pleased to be leaving this needed organization in good hands."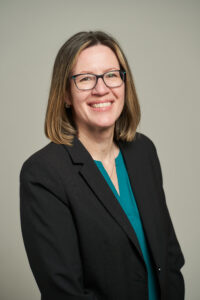 Erin joined the Society as Program Director in 2019 and has an established understanding of our programs and operations, and of the growing need for dementia support and services in Manitoba.
"The Alzheimer Society has an incredible history of providing support for Manitobans so they don't have to go through this alone," says Erin. "We will continue to be here for families every step of the way and always look to the future so we can expand and grow our supports for the rapidly increasing number of families impacted by dementia."
Erin's tenure will begin effective June 1st. Wendy and Erin are spending these next few months working together to ensure a smooth shift in leadership.
Will You Participate in our eNewsletter Survey?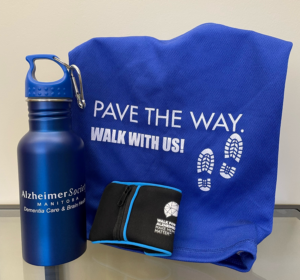 Your feedback matters! We want to provide you with relevant, educational and helpful information about dementia. Please help us improve our monthly eNewsletter by filling out this survey. It will only take a few minutes of your time and on completion, you will be entered into a draw for a "Get Active" prize package.  
Prize includes:
One stainless steel water bottle
One handy wrist wallet
One neck buff
A perfect bundle of goodies to use the next time you head out for a walk!
Click here to access the survey.
THANK YOU!
Call for Board Members
An Exciting Leadership Opportunity!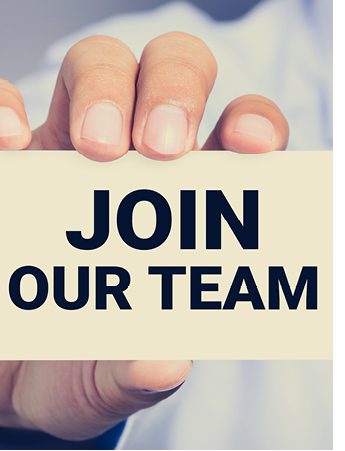 The Alzheimer Society of Manitoba needs you! We are looking for two qualified candidates for our Board of Directors and are encouraging people from all over Manitoba with diverse backgrounds and experience to apply.
Candidates will have:
• Ability and eagerness to review and if necessary adjust/reset the Society's values and vision
• Big picture, future-oriented thinking
• Willingness to create and initiate rather than approve
• Moral courage
• Willingness to contribute to a disciplined, high-performance, trustworthy and ethical team
• Willingness to delegate operational detail to others
If you think you'd be a good fit, check out our ASM Call for Board Members PDF to learn more about the position and how to apply.
The application deadline is April 21, 2023. 
Minds in Motion®: A Lifeline of Support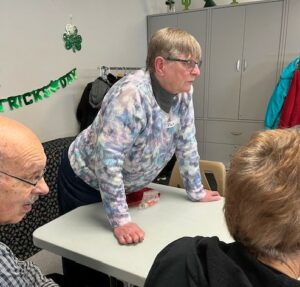 Pat and Larry Pollock used to love going to the Minds in Motion® group in Brandon to play games, connect with other couples and chat with the volunteers. Larry's dementia diagnosis in 2021 was a rollercoaster for the couple, but this fun fitness program helped them feel supported and was something they could enjoy together.
"It became an absolute lifeline for us, and a great way to meet other people in similar situations," Pat says. "It was one of the few things Larry really looked forward to after his diagnosis."
Pat and Larry found friends and community through the program. After Larry passed away in March 2022, their Minds in Motion group continued to be a support and solace for Pat. Friends from their group even attended Larry's celebration of life, which meant a lot to Pat.
When she heard the group was having trouble finding volunteers this past fall, Pat decided to put her hand up to help.
"I couldn't believe the warm welcome I received from some of the couples who were participants when Larry and I attended the program," Pat says. "Their support was really heartwarming."
Pat's been volunteering with the Brandon Minds in Motion group since the fall of 2022, now helping to lead the games she had once enjoyed playing with Larry.
Pat always offers a listening ear for program participants because she knows what it's like to go through the twists and turns of a dementia journey. "The first year after Larry's diagnosis was an isolating time for us, so I can often understand and relate to what other couples might be experiencing," says Pat. "It feels good to give some of my time each week knowing it can make a world of difference for others."
Minds in Motion runs for eight weeks every fall, winter and spring, consisting of a two-hour session every week. Each session includes gentle chair fitness, coffee conversation and three different games.
To learn more about Minds in Motion or to register, visit the Minds in Motion page on our website.
Nutritious Choices to Boost Your Brain Health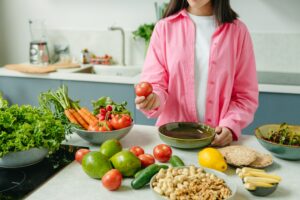 March is National Nutrition Month, so we're taking this opportunity to talk about how a nutritious diet can benefit brain health!
Healthy dietary choices can reduce the risk of dementia and help maintain your brain health. While there are no special food requirements for people living with dementia, eating a well-balanced, nutritious diet is still extremely beneficial.
A healthy diet provides the fuel and nutrients that our bodies need to function efficiently, maintain general health and provide energy. Eating nutritious foods can also help slow cognitive decline over time.
In 2017, Baycrest – an academic health sciences centre affiliated with the University of Toronto – published the first Canadian Brain Health Food Guide to help adults over 50 preserve their thinking and memory skills as they age. This guide was created in collaboration with nutritionists involved with the Canadian Consortium on Neurodegeneration in Aging (CCNA) and provides the best advice based on current research. You can view and download the Brain Health Food Guide here.
This food guide is easy-to-read and a good fit for those seeking to manage their brain health through healthy eating choices.
Some tips suggested by the Brain Health Food Guide include:
Focus on an overall pattern of healthy eating, not one specific "superfood" for brain health
Eat fish, beans and nuts several times a week
Include healthy fats from olive oil, nuts and fish in one's diet
Add beans or legumes to soups, stews and stir-fried foods
Embrace balance, moderation and variety
One way to enjoy a variety of foods is to include many different colours in your diet.
Blue and purple fruits and vegetables tend to be packed with antioxidants. Blackberries, blueberries, purple cabbage and plums are all great food choices.
Go green every day with fruits and vegetables that are good for your brain and benefit bones, teeth and vision. Green options include avocados, broccoli, celery, cucumbers, peas, spinach, pears, honeydew melon and many more.
Reach for reds every day. Beets, raspberries, red grapes, radishes, tomatoes, red peppers, watermelon, rhubarb, pomegranates and cherries are just a few excellent red choices.
For more information on healthy eating visit our Make Healthy Food Choices page.
Who Should I Tell? Elder Abuse Awareness Video
Do you know about the signs and symptoms of elder abuse? Around 7,500 – 19,000 older Manitobans experience one or more forms of abuse or neglect at some point in later years. Elder abuse is any action or inaction by a person in a relationship of trust which jeopardizes the health or well-being of an older person. This abuse can be physical, sexual, emotional/psychological, financial or include neglect.
PrairieAction Foundation has funded a short video depicting elder abuse along with some ideas on what to do if you or someone you know experiences it. This video is accessible in six different languages, including French, German, Punjabi, Tagalog and Plains Cree. Click on the video below to watch the English version or the links beneath it to view the video in another language.
Check Out Our 2023 Spring Education Calendar!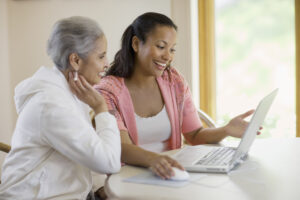 Join us for our spring education sessions! These sessions are offered both in-person and via Zoom and cover a variety of topics to help you on your dementia journey.
Click the links below to check out available seminars and to register!
Family Education Spring 2023 Calendar
Family Education – Alzheimer Society of Manitoba
Spring 2023 Community Programs
We partner with various organizations for people with dementia and their care partners to participate in activities with others living in similar situations. These opportunities offer social, creative and educational ways to get out in the community and enjoy life.
Spring registration for our community-partnered programming is just around the corner! Stay tuned to our social media and website for updates on spring session dates and fees.
If you'd like to join us for Minds in Motion® this spring, registration is already open!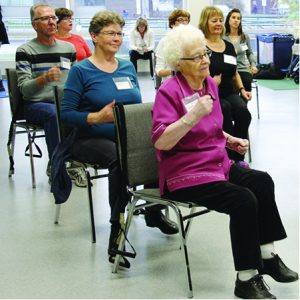 Minds in Motion®
Our popular Minds in Motion® program connects people living with early to moderate signs of dementia and their care partners through fitness, fun and friendship. Participants take part in a gentle chair fitness class followed by socially engaging activities and conversation.
There are lots of laughs and social interactions during these sessions! We are excited to offer both in-person and virtual options.
Our spring sessions will begin the week of April 10th, 2023. Dates, times and registration information are available now! Click here to learn more and to register.
Dementia Care Series – Register Today!
Essentials of Day-to-day Dementia Care – Sponsored by All Seniors Care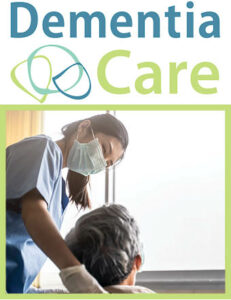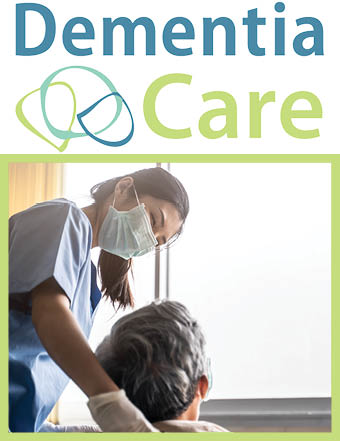 We invite you to our final session of the Dementia Care Professional Development Series! Sessions are geared towards health care staff and take place online monthly until March 2023.
Join our final session on Thursday, March 16, from 6:30 – 7:30 pm, called Enhancing the Mealtime Experience, featuring Heather Keller, Schlegel Research Chair in Nutrition & Aging and Professor of Kinesiology at the University of Waterloo. Combining research outcomes with practical information, Heather will discuss new tools and resources that teams in long-term care can start using to enhance the mealtime experience and nutritional well-being of residents.
This professional development series, which started in April 2022, focuses on the foundation for successful and meaningful dementia care that will benefit the person living with dementia, their families and the healthcare system as a whole. For a $20 registration fee, you can watch the last live presentation and get access to a year's worth of recorded sessions!
Visit our website today to register for the last session of the series!
Accessible Transportation Standard Regulation: 60-Day Public Consultation

Whether you are a person with a disability, a community organization, a municipality, or a transportation provider (or another person/organization), you have the opportunity to share your feedback on accessible transportation! The Manitoba government is looking for feedback on its Accessible Transportation Standard Regulation, which was drafted based on recommendations from the Accessibility Advisory Council.
You can read the draft standard and FAQ at the Manitoba Regulatory Consultation Portal.
How to Provide Your Feedback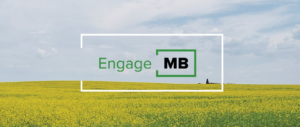 Visit the EngageMB website for an opportunity to provide feedback on the new Accessibility Transportation Standard.
Submissions on the Accessible Transportation Standard are welcome until April 9, 2023.
Participate in a Webinar
The Manitoba Accessibility Office is hosting a Zoom webinar on March 22nd, 2023, from 1:30 to 3:30 p.m. to hear your feedback on the proposed Accessible Transportation Standard.
The webinar will provide an overview of the standard and offer the opportunity to provide your perspective and ask questions.
ASL interpretation and close captioning will be available during the webinar and a recording will be available to those unable to participate in real-time on the AccessibilityMB.ca website.
Click the Zoom link to join the webinar on March 22nd, 2023, at 1:30 p.m. CST.
Share Your Story with EngageMB
The Manitoba government is interested in hearing from all Manitobans, including people with disabilities, persons with long-term health conditions or illness, seniors, caregivers, family, friends, natural supports and others interested in this area. Use the story tool on EngageMB or email your story to MAO@gov.mb.ca.
If you have any questions, require this information in an alternate format, or would prefer to provide your comments by phone, email or mail, please contact the Manitoba Accessibility Office (formerly the Disabilities Issues Office):
Manitoba Accessibility Office
630 – 240 Graham Avenue
Winnipeg MB  R3C 0J7
Phone:  204-945-7613, Toll-free:  1-800-282-8069, Ext. 7613
Email:  MAO@gov.mb.ca
Join a Support Group! (New Groups Added)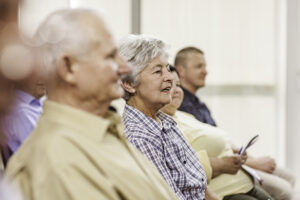 If you are living with or supporting someone living with dementia, our support groups are for you! Alzheimer's disease and other forms of dementia can leave you feeling isolated, but you are not alone. There are other people who share this journey with you, and we invite you to come meet them.  
Support groups provide participants with an opportunity to learn more about dementia and its progression, share feelings and common experiences, exchange practical coping strategies and mutual support, as well as participate in meaningful discussions. Groups are facilitated in Winnipeg and throughout the province including in the Interlake, North Central, Parkland, South Central, South Eastman and Westman regions. 
We welcome everyone to this inclusive environment for people of different ethnicities, cultures or persons who identify as part of the 2SLGBTQ+ community.
Care Partner Support Groups
While we have highlighted a few of our support groups below, there are many more groups available. For a full listing of all in-person and virtual groups, please visit our Support Groups page.
Spouses of People Living with Dementia in Personal Care Home
Meets in person at the provincial office in Winnipeg on the second Wednesday of the month from 2:00 to 3:30 pm.
This support group offers spouses of people with dementia living in a personal care home the opportunity to meet and share information about their experience of caring for someone who has transitioned into a personal care home. This caregiving experience presents unique challenges for care partners as they:
Navigate their changing roles
Adjust to changes in self-identity
Adjust to living separately from their spouse
Help to support a spouse in their dementia journey
Men's Coffee Talk Support Group
Meets in person at the provincial office in Winnipeg on the fourth Thursday of the month from 10:00 to 11:30 am.
This support group is for male-identifying care partners to connect with one another and share information about their experience of caring for a person with Alzheimer's or another dementia. It's an opportunity to share about new challenges you experience relating to your role or relationship to the person living with dementia.
This caregiving experience presents unique challenges for male-identifying care partners, as they:  
Navigate their changing roles and responsibilities 

Navigate providing care in new or different ways to a spouse or a parent living with dementia
New

and

Upcoming Care Partner Support Groups
Spousal Ambiguous Loss Support Group
The Ambiguous Loss Support Group assists care partners to work through the feelings of ambiguous loss and grief that are experienced when a person close to you has dementia. The goal is to help you build up enhanced coping strategies that will support you in your role as a caregiver and help you in planning for the future. 
This group is anticipated to start in Spring 2023. If you're interested in joining the Spousal Ambiguous Loss Support Group, please contact us to be added to the waitlist. 
"Sandwich" Support Group 
The Sandwich Support Group is geared towards adult children who are supporting a parent or other family member with dementia, while also trying to balance the stresses of raising a family and managing other day-to-day personal or career commitments… leaving you feeling "sandwiched" between responsibilities. 
This group is anticipated to start in Spring 2023, meeting once a month. If you're interested in joining the "Sandwich" Support Group, please contact us to be added to the waitlist. 
Bereavement Support Group
The Bereavement Support Group assists care partners in working through feelings of loss and grief that are experienced when someone with dementia passes away.  
This group will help you process feelings of loss and grief and is anticipated to start Spring 2023, meeting for 8 weeks at a time. If you're interested in joining the Bereavement Support Group, please contact us to be added to the waitlist. 
Responsive Behaviour Support Group
The Responsive Behaviour Support Group assists care partners who are caring for someone with a diagnosis of Frontotemporal Dementia, Lewy Body Dementia, or other forms of dementia where responsive or reactive behaviours are present. 
Learn coping strategies and care techniques to assist in managing these symptoms, as well as share mutual support and understanding about the stresses that may arise in navigating these changes.  
This group is anticipated to start in Spring 2023, meeting once a month. If you're interested in joining the Responsive Behaviour Support Group, please contact us to be added to the waitlist.  
Support Group for Persons with Dementia
The Support Group for Persons Living with Dementia is for persons living with a diagnosis of dementia or cognitive impairment.
Having a diagnosis of dementia can lead to a variety of thoughts, feelings, and emotions. This support group allows those with cognitive changes or a dementia diagnosis to: 
Learn about dementia and its progression
Share feelings and common experiences
Exchange practical coping strategies and mutual support
Participate in meaningful discussions
The support group meets weekly starting in April 2023. Dates include:  
Mondays from 10:30-11:30 am 

 

Meeting from April 17

th

– June 26

th

 

 

This meeting takes place virtually through Zoom 
Wednesday from 10-11:30 am 

 

Meeting from April 19

th

– June 28

th

 

 

This meeting takes place at the Alzheimer Society of Manitoba Boardroom, 10-120 Donald Street, Winnipeg, MB

 
Thursdays from 10-11 am 

 

Meeting from April 20

th

– June 29

th

 

 

This meeting takes place virtually through Zoom
Additional Information and Registration 
For more information about current and upcoming support group opportunities please contact: 
Sarah Dueck
Client Support Coordinator & Group Lead, Winnipeg/Provincial Office
204-943-6622 ext. 213
sdueck@alzheimer.mb.ca
To register for a support group, please contact the First Link Client Support Team at 204-943-6622 or email us at alzmb@alzheimer.mb.ca and include your first/last name and the name of the support group you are interested in. 
Our new support groups were made possibly by a multi-year commitment for our First Link program from the Jessiman Foundation. A heartfelt thanks to the Jessiman family for this leadership gift that has allowed us to expand our programs in such a significant way.  
Follow Us On Social Media
Join us on Facebook, Instagram, Twitter and LinkedIn for the most current news, information and resources. If you're already following us on social media, invite your friends to do the same!
We Rely on Your Donations to Continue Our Work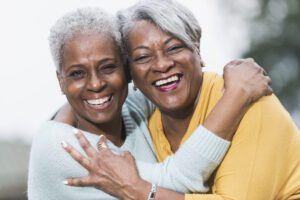 Your gifts are put to immediate use through our helpline, support groups and education programs.
Remember. You Are Not Alone.
We are here to help you and your family no matter where you are in your dementia journey. You can reach a comforting ear by phone or get a quick response by email. Call us at 204-943-6622 (Wpg), 1-800-378-6699 (MB) or email alzmb@alzheimer.mb.ca