What's New in Dementia Research? Ask the Expert!
Your Voice Matters: 2023 Provincial Election
Register Now! 2023 Care4u Family Conference
The ASRP: Research That Moves Us Forward
Connecting Through Music
Register Today for Dementia Care
Our Fall Education Calendar is Here
Join a Support Group!
Register Now for Fall Minds in Motion® Sessions
Call for Minds in Motion® Volunteers!
Volunteers Needed – Help Shape the Future of Primary Care in Canada
Follow Us On Social Media
Donate Today

2023 Research Forum
Do you have questions about the causes, risk factors and treatment of dementia? This is your chance to have your questions answered live and in-person by world-renowned researcher and neurologist Dr. Donald Weaver!
Join us on World Alzheimer's Day, Thursday, September 21 from 6 – 7:30 pm for our free public education event, "What's New in Dementia Research? Ask the Expert!" at the Canadian Mennonite University, 500 Shaftesbury Blvd in Winnipeg – with live streaming events happening at participating Alzheimer Society locations across the province.
Register now to secure your spot! (Please note: This event is in-person only. If you have accessibility or travel concerns, please contact the Alzheimer Society.)
For more information, contact us at alzmb@alzheimer.mb.ca or call 204-943-6622.
Your Voice Matters: 2023 Provincial Election


With the October provincial election just around the corner, we are making it our goal to ignite conversation with election candidates about the care needs of people living with dementia in Manitoba. Candidates will soon be campaigning and coming to your door and we need your help in advocating for improved dementia supports and care.
Check out our Provincial Election 2023 page to learn about our five priorities and how you can help. Together we can help election candidates understand the impact of dementia on Manitobans.
Register Now! Care4u Family Conference 2023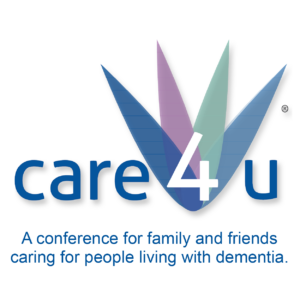 Join us for Care4u, a day of education and support for family and friends caring for people living with dementia. The conference features local and national health care and community professionals who will share the latest about dementia, caregiving strategies and community resources while empowering care partners to prioritize their well-being. The theme of the 2023 Care4u is "Building a Community of Empowered Care Partners."
This year's conference takes place on Saturday, October 28 at Canad Inns Destination Centre Polo Park, from 9 am – 3:30 pm.
At Care4u, you can connect with other care partners, gain knowledge and engage with community service providers. The conference will give you the opportunity to explore topics such as caregiving strategies when abilities change, different types of dementia, complex legal situations, transitioning to long-term care, ambiguous loss and grief, medications and more.
Click here for more information and to register!
This event is sponsored by:

The Alzheimer Society Research Program:
Research That Moves Us Forward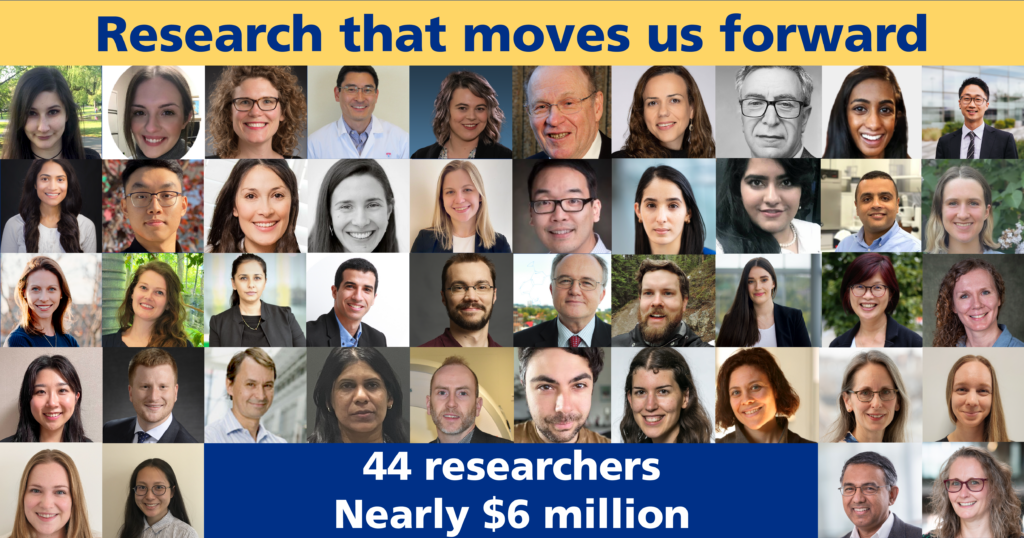 All over the world, researchers are making a substantial effort to learn more about dementia – its causes, effective treatments and ultimately, a cure. Right here in Canada, researchers are doing vital work toward creating a brighter future for brain health and people living with dementia. The Alzheimer Society is committed to supporting this important work and has just invested nearly $6 million through the Alzheimer Society Research Program (ASRP) to fund 44 dementia researchers across Canada, including two researchers from Manitoba.
The ASRP is funded by generous donors and funding partners, including a partnership with Research Manitoba. "It is so important to support promising dementia research to explore new ways to advance our knowledge and understanding of this disease," says Karen Dunlop, Research Manitoba's CEO. "We are happy to partner with the Alzheimer Society to take dementia research from ideas to impact in the areas of care, cause, diagnosis, epidemiology, risk, therapy, translational and treatment."
Each application is reviewed by experts in the field of dementia research, as well as volunteers with lived experience of dementia, to ensure that the projects receiving funding have the potential to truly make a difference for people living with dementia and their caregivers.
"Through our partnerships with these incredible organizations, we've almost doubled our total research investment from $3.5 million in 2022 to nearly $6 million for this year," says Erin Crawford, CEO, the Alzheimer Society of Manitoba, "It's by working together and prioritizing dementia that we are truly able to make a difference, nationwide."
The 2023 ASRP funding recipients include two Manitoba researchers, Eftekhar Eftekharpour and Tiina Kauppinen. Thanks to the ASRP funding, Eftekharpour will test a potential antioxidant drug in a mouse model. This experimental drug is a small molecule that can enter the brain and if successful, it could be used for future clinical trials. Dr. Kauppinen's research team has identified a switch in the brain that turns healthy immune cells into destructive cells, and they have developed a novel drug that targets this switch. The ASRP funding will allow Dr. Kauppinen's team to test if this novel drug can prevent or slow dementia progression in dementia animal models.
"We are excited to support the important dementia research being done by all successful recipients but feel especially proud of these two researchers with a connection here in Manitoba," says Crawford.
The ASRP is one of Canada's most innovative hubs for dementia research, helping the best and brightest minds in the field accelerate their work. The funded research projects fall under eight priorities, all aimed at encouraging researchers to explore new ways to advance our understanding of dementia.
To read the full list of researchers and projects funded this year, visit alzheimer.ca/fundingresults.
Connecting Through Music
Hearing a favourite song or style of music can transport us to a different time, place or mood. Music can bring us joy, help relax us, or motivate us. Music also goes hand-in-hand with memory and can have positive effects on other mental abilities, such as concentration, thinking, speech or non-verbal communication.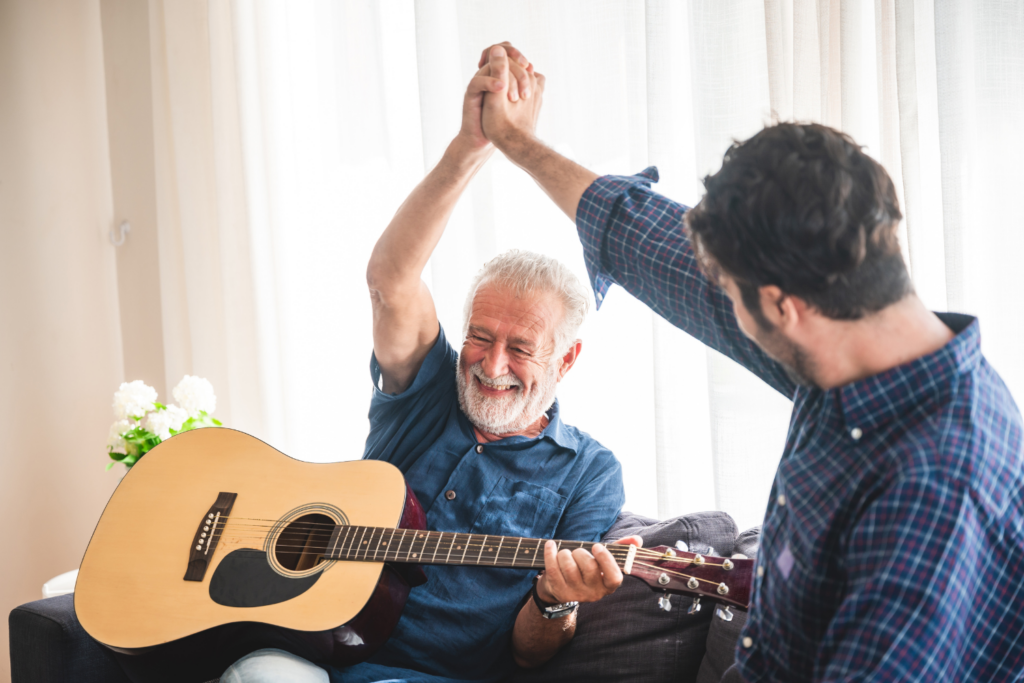 Music can be an extraordinary resource to help us engage and connect with someone living with dementia. Research shows that the regions of the brain involved in musical memory and processing may not be as affected by dementia until much later in the progression of the disease. This means that it's possible for people living with dementia to retain the ability to dance, tap a beat, remember lyrics and sing even after their ability to talk has been affected.
There are many ways care partners can use music to help connect and engage with someone living with dementia. You can try:
Listening, singing or humming along to a favourite song together
Listening to music through headphones
Participating in group music sessions, a singing group or choir
Playing instruments
Listening to live music
Watching a favourite musical
It's important when playing music for someone living with dementia that you play music they'll enjoy. If you're unsure of their favourite songs, you can try playing music from their youth or from within their cultural background.
Some other things to think about when selecting music to play are:
Letting the person choose the music if they are able
Choosing a source of music that isn't interrupted by commercials, which can cause confusion
Encouraging movement (clapping, dancing) to add to the enjoyment
Avoiding sensory overload – eliminating competing noises by shutting windows, turning off the television, etc. and making sure the volume of the music isn't too loud
For more information on caregiving tips or how you can help support someone living with dementia, connect with us today by calling 204-943-6622 (Winnipeg) or 1-800-378-6699 (Provincial) and ask to speak to a First Link® Client Support Coordinator.
Dementia Care Professional Development Series:




The Complex World of Dementia Care
Sponsored by All Seniors Care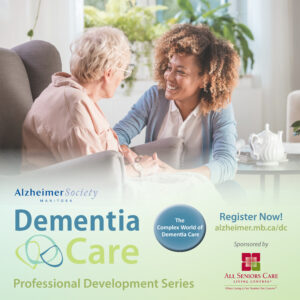 Join us for our Dementia Care 2023-2024 Professional Development Series! Sessions are geared towards health care staff and community service providers and take place online monthly (plus two in-person) until March 2024.
Our next session titled, Sleep Matters: Understanding the Relationship Between Sleep & Dementia, takes place on Thursday, August 17, from 2 – 3 pm. In this session, participants will discover important aspects of the relationship between sleep and dementia, including how insufficient sleep increases the risk of falls and responsive behaviours, ways to identify features in the environment that contribute to poor sleep, and practical strategies to reduce/remove features that contribute to poor sleep.
For only $30, you get access to all virtual sessions PLUS the option to register for in-person workshops! (Additional charge for in-person sessions.)
We encourage anyone working with people with dementia whether in the community, in hospitals or in personal care homes to register. These sessions add up to 30 completed hours of education that may be used towards professional development or continuing education hours.
Visit the Dementia Care website to learn more about all the sessions, speakers and to register now!
This event is sponsored by: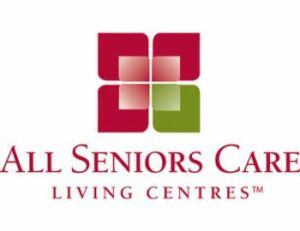 Our Fall Education Calendar is Here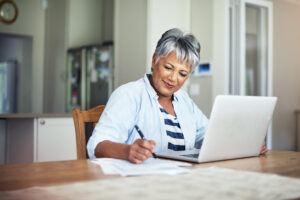 We've got a full calendar of education sessions this fall! Come join us to learn about a variety of topics including the progression of dementia, legal and financial matters, navigating long-term care, reducing dementia risk and more. These sessions are free to attend and offered both in-person and via Zoom.
Here's what's coming up:
Service Canada Information Session, Sponsored by Johnston Group and Payworks 
Join us for an informative presentation by Service Canada that will cover the topics of involuntary separation and federal tax credits/benefits, including Employment Insurance, Sickness and Caregiver Benefits, Canadian Pension Plan, Disability and Retirement benefits, Old Age Security and Guaranteed Income Supplement.
Wednesday, August 2 | 10 – 11 am | Virtual via Zoom
Click here to register.
Reducing the Risk of Dementia, Sponsored by Johnston Group and Payworks
This session will focus on the things we can do now to reduce our risk of developing dementia. Risk reduction strategies that include lifestyle changes, social interactions, managing hearing loss and more will be discussed!
Wednesday, September 6 | 10 – 11 am | Virtual via Zoom
Click here to register.
Living with Dementia: First Steps – Part 1
The first of a three-part information series for people supporting someone recently diagnosed with dementia. This session will focus on an overview of the disease, as well as the services provided at the Alzheimer Society.
Saturday, September 9 | 10 – 11:45 am
Virtual or Alzheimer Society of Manitoba Boardroom, 10-120 Donald Street, Winnipeg, MB
Visit the links below for more details on our fall education sessions and to register.
Family Education – Fall 2023 Calendar
Family Education – Upcoming Seminars
Join a Support Group!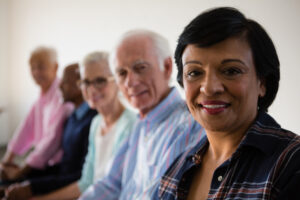 Support groups provide participants with an opportunity to learn more about dementia and its progression, share feelings and common experiences, exchange practical coping strategies and mutual support, as well as participate in meaningful discussions. 
We welcome everyone to this inclusive environment for people of different ethnicities, cultures or persons who identify as part of the 2SLGBTQ+ community.
Upcoming Care Partner Support Groups:
River Ridge II
2701 Scotia St
Fourth Tuesday of the month, from 7 to 8:30 pm
alzmb@alzheimer.mb.ca
*Note: Per internal restrictions at River Ridge II, all participants are encouraged to wear a face mask at all times while in the building.
Responsive Behaviour Support Group
Meets virtually on Zoom
Second Thursday of the month, from 7 to 8:30 pm
alzmb@alzheimer.mb.ca
Beausejour (

New!

)
Beau-Head Seniors Centre
645 Park Avenue
Second Tuesday of the month, from 10:30 am – 12 pm
alzne@alzheimer.mb.ca
*Note: This session starts on Tuesday, September 12, 2023
Additional Information and Registration 
For more information about current and upcoming support group opportunities, or to register for a support group, please contact the First Link Client Support team at (204) 943-6622 or email us at alzmb@alzheimer.mb.ca. You can also view a full list of support groups on our Support Groups page.
If connecting via email, please include your first/last name and the name of the support group you are interested in attending.
Our new support groups were made possible by a multi-year commitment to our First Link program from the Jessiman Foundation. A heartfelt thanks to the Jessiman family for this leadership gift that has allowed us to expand our programs in such a significant way.  
Register Now for Fall Minds in Motion® Sessions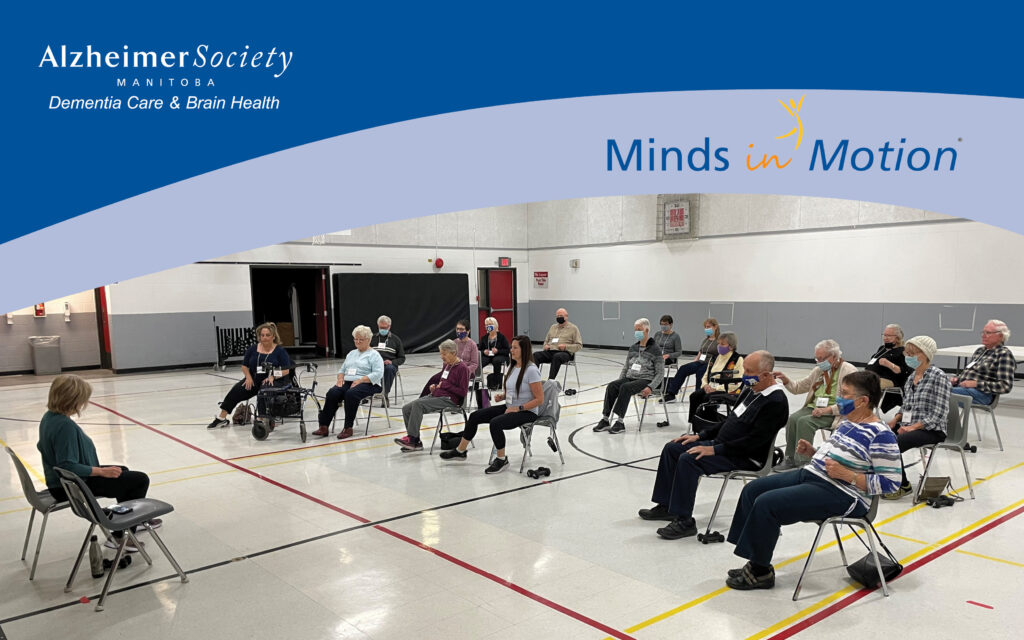 Come join us at Minds in Motion® this fall!
Minds in Motion® is a program designed for people with early to moderate signs of dementia to attend with a family member or friend. This weekly program includes a gentle chair fitness class followed by engaging activities and conversation. The in-person sessions run for 8 weeks throughout the community and the virtual sessions run for 6 weeks.
Visit our Minds in Motion® page for more information and to register now for our in-person or virtual sessions!
Here are the upcoming dates and locations of our Fall Minds in Motion® sessions:
Virtual (Province-wide)
ZOOM Webinar
Thursdays, 10 – 11:30 am
Oct 12 – Nov 16 (6 weeks – $45/pair)
Registration Open!
Winnipeg Locations

Chalmers Community Centre – 480 Chalmers Ave.
Thursdays, 10:30 am – 12:30 pm
Oct 12 – Nov 30
Call to register: 311

Dakota Community Centre – 1188 Dakota St.
Tuesdays, 1:30 – 3:30 pm
Oct 10 – Nov 28
Call to register: 204-254-1010
Rady JCC Fitness Centre –  123 Doncaster St.
Wednesdays, 10 am – 12 pm
Oct 11 – Nov 29
Call to register: 204-477-7510
Riverwood Square – 1778 Pembina Hwy.
Tuesdays, 10 am – 12 pm
Oct 10 – Nov 28
Call to register: 204-275-7632
St. James Assiniboia 55+ Centre – 3rd Floor – 203 Duffield St.
Tuesdays, 1:30 – 3:30 pm
Oct 10 – Nov 28
Full Program – $75/members, $95/non-members
Drop-In – $10/members, $13/non-members
Call to register: 204-987-8850
Register Online
St. James Civic Centre –  2055 Ness Ave.
Fridays, 1 – 3 pm
Oct 13 – Dec 1
Call to register: 311
The Wellness Institute – 1075 Leila Ave.
Wednesdays, 1:30 – 3:30 pm
Oct 11 – Nov 29
Call to register: 204-632-3900
Regional Locations
ALTONA
The Gardens on Tenth – 140 10 Ave. NE
Mondays, 1:30 – 3:30 pm
Oct 16 – Dec 4
Call to register: 1-204-324-8945
BRANDON
Seniors for Seniors – 311 Park Ave. East
Thursdays, 1:30 – 3:30 pm
Sept 7 – Oct 26
Call to register: 1-204-571-2050
PORTAGE LA PRAIRIE
Herman Prior Centre – 40 Royal Rd. North
Wednesdays, 1:30 – 3:30 pm
Oct 11 – Nov 29
Call to register: 1-204-857-6951

SELKIRK
Gordon Howard Centre – 384 Eveline St.
Wednesdays, 1 – 3 pm
Sept 20 – Nov 8
Call to register: 1-204-785-2092

Call for Minds in Motion® Volunteers!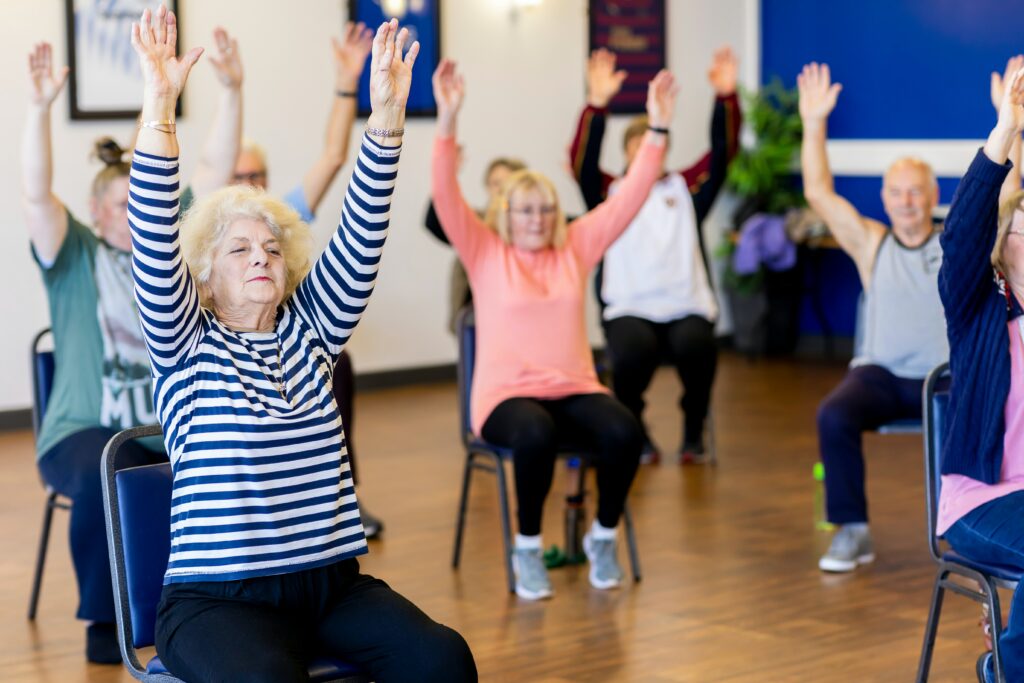 Are you looking for a way to get out into the community and make a difference? We're looking for volunteers to help facilitate Minds in Motion® programs in their community! As a Minds in Motion® volunteer, you will:
– Learn to facilitate recreational programs for adults of varied ability
– Engage socially with participants
– Assist with the set-up and clean-up of refreshments and program equipment
– Be available for a 3 hour shift, for 8 consecutive weekday mornings or afternoons
Learn more about the program and the role on our Minds in Motion® website.
For more information, please contact:
Nicole McDonald, Dementia-Friendly Community Program Manager
204-943-6622 | nmcdonald@alzheimer.mb.ca
Volunteers Needed – Help Shape the Future of Primary Care in Canada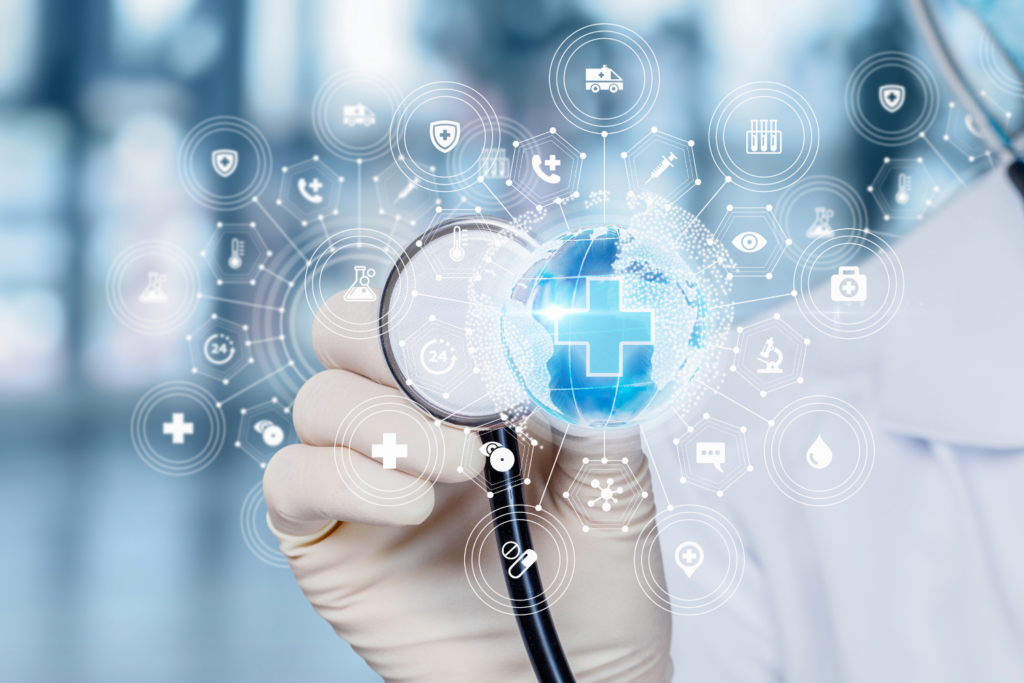 OurCare is a pan-Canadian conversation with everyday people about the future of primary care – and they're coming to Manitoba! This research study is being led by Dr. Tara Kiran, a leading Canadian primary care researcher based at MAP Centre for Urban Health Solutions at St. Michael's Hospital in Toronto, with the generous input and support of many collaborators, including Health Canada and Even the Odds.
OurCare is looking for a diverse group of Manitoba residents with an interest in improving primary care in Canada to be a part of their Priorities Panel.
Why your input is important:
Though the average person living in Canada may not be a primary care expert, they are an expert in their own experience of our primary care system. To make our primary care system more accessible, equitable and sustainable for all, everyday people living in Canada need to have a say. They will share your recommendations with the federal and provincial governments and professional associations like the College of Family Physicians of Canada.
As a panellist, you will:
Learn from OurCare's experts about primary care in Manitoba
Make recommendations on how to ensure the delivery of high-quality care for all residents of Canada
If interested, OurCare asks you to attend all of the following panel sessions:
Saturday, Sept. 9, 2023, 12 – 4 pm (online)
Saturday, Sept. 23, 2023, 12 – 4 pm (online)
Friday, Oct. 13, 2023, 4 – 8 pm (in Winnipeg)
Saturday, Oct. 14, 2023, 9 am – 8 pm (in Winnipeg)
Sunday, Oct. 15, 2023, 9 am – 4 pm (in Winnipeg)
*OurCare will cover your expenses to join them in Winnipeg. Stipends are available to cover missed work if you need them.
Visit OurCare.ca to learn more and to volunteer.
Follow Us On Social Media
Join us on Facebook, Instagram, Twitter and LinkedIn for the most current news, information and resources. If you're already following us on social media, invite your friends to do the same!
We Rely on Your Donations to Continue Our Work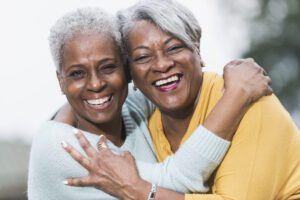 Your gifts are put to immediate use through our helpline, support groups and education programs.
Remember. You Are Not Alone.
We are here to help you and your family no matter where you are in your dementia journey. You can reach a comforting ear by phone or get a quick response by email. Call us at 204-943-6622 (Wpg), 1-800-378-6699 (MB) or email alzmb@alzheimer.mb.ca