Are you struggling to figure out your next steps? Our First Link® Client Support team is here to listen and help guide you through difficult times – from when you are concerned about your own, or a family member or friend's memory, right through to the later symptoms of dementia. Call us today at 204-943-6622/1-800-378-6622 or fill out our online form and we will reach out to you.
What's Happening This November
Programs & Research 

While some dementia risk factors are out of your control, like age and genetics, there are many other ways you can take action to reduce your overall risk of developing dementia at any point in life.
This November, we're highlighting some ways you can stay on top of your brain health and reduce your risk of dementia. The more actions you take, the better! And if you can't improve on one factor, work on improving others – there's always an opportunity to reduce your dementia risk.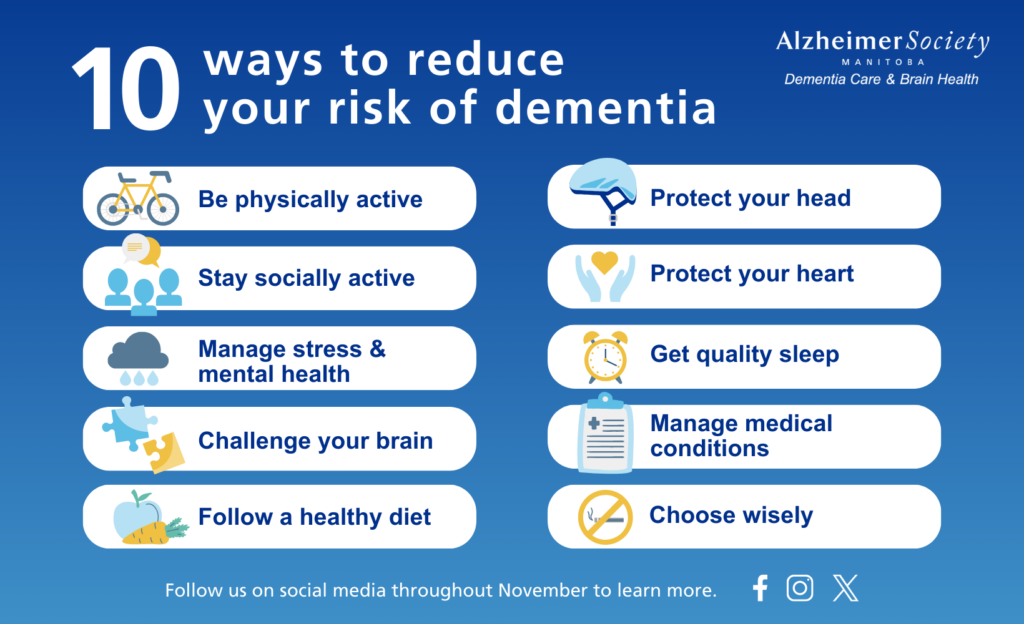 Follow our social media pages and keep an eye out for more brain health and risk reduction strategies throughout November.
X (formerly Twitter)
Fall Prevention Month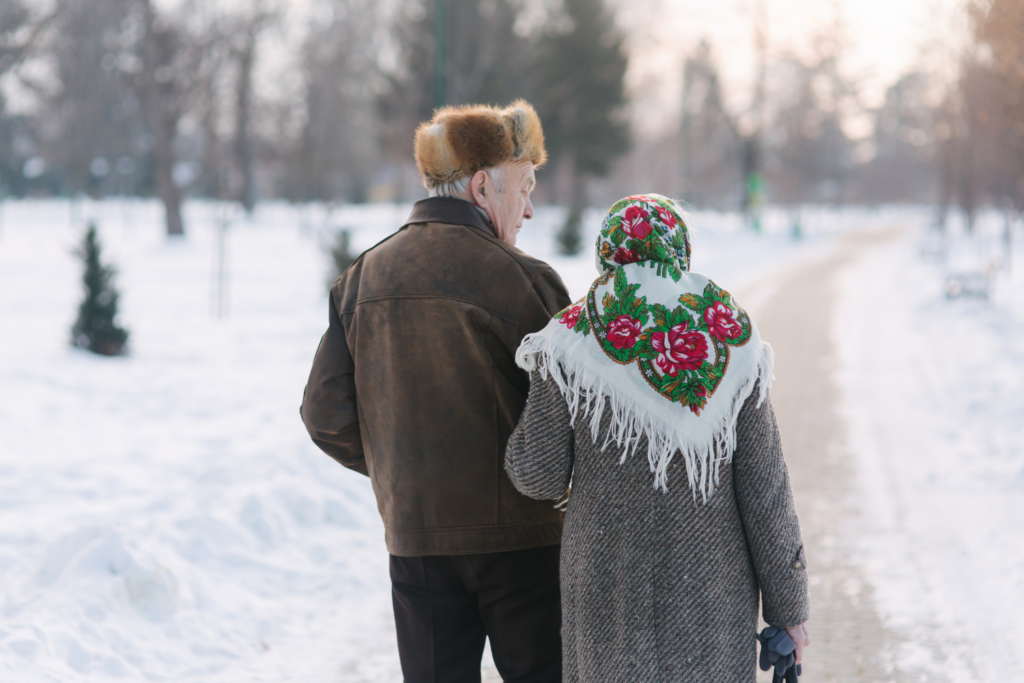 According to the National Institute of Health (NIH), more than one in four people over the age of 65 experience a fall annually. People living with dementia are at an even higher risk of falling because of changes that occur as the disease progresses.
November is Fall Prevention Month, a great opportunity to learn a few things you can do to make sure your home and outdoor environments are as safe as possible this winter to help reduce your risk of falls.
For people living with dementia, an increased risk of falls may be related to changes with:
Decreased balance and reaction time
Perception or visual problems
Difficulty walking
Memory impairment
Decrease in judgment abilities
Less insight into environment and situations
When modifying your home environment, aim to keep things familiar, striking a balance between safety and independence.
Winter weather also comes with certain safety concerns to be aware of. Perception problems caused by dementia may make it difficult to see ice on the sidewalk or can cause someone to believe snow is a solid surface.
Below are a few actions you can take to help reduce the risk of falls inside and outside the home.
INDOORS
Make sure each room has enough light and reduce dark areas and shadows
Use contrasting coloured tape to highlight steps
Place night lights throughout the home for when you need to go to the bathroom or kitchen during the night
Use non-slippery bathmats and place non-slip strips in the bath/shower
Install railings inside and outside the house and grab bars in the bathroom for extra support
OUTDOORS
Keep your walkways free of ice and snow
Take smaller steps and slow down
Make sure you and others wear non-skid boots
Dress in bright colours and add reflective material to clothing
Taking a few extra measures around the home and before journeying outside can help reduce the risk of falls for all, especially those living with dementia. If you have questions about home or outdoor safety, contact our First Link® Client Support team by calling 204-943-6622 (Winnipeg) or 1-800-378-6622 (Provincial).
Join Us for Minds in Motion®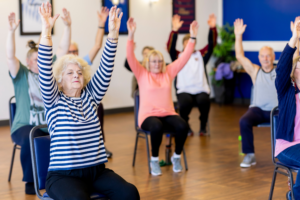 Our popular Minds in Motion® program connects people living with early to moderate signs of dementia and their care partners through fitness, fun and friendship. Participants take part in a gentle chair fitness class followed by socially engaging activity and conversation. There are lots of laughs and social interaction during these sessions.
See below for dates, times and registration information for all current Minds in Motion sessions, or visit alzheimer.mb.ca/mindsinmotion.
*Winter 2024 dates and locations coming soon!
Winnipeg Locations

Chalmers Community Centre – 480 Chalmers Ave.
Thursdays, 10:30 am – 12:30 pm
Oct 12 – Nov 30
Call to register: 311

Rady JCC Fitness Centre –  123 Doncaster St.
Wednesdays, 10 am – 12 pm
Oct 11 – Nov 29
Call to register: 204-477-7510
Riverwood Square – 1778 Pembina Hwy.
Tuesdays, 10 am – 12 pm
Oct 10 – Nov 28
Call to register: 204-275-7632
St. James Assiniboia 55+ Centre – 3rd Floor – 203 Duffield St.
Tuesdays, 1:30 – 3:30 pm
Oct 10 – Nov 28
Full Program – $75/members, $95/non-members
Drop-In – $10/members, $13/non-members
Call to register: 204-987-8850
Register Online
St. James Civic Centre –  2055 Ness Ave.
Fridays, 1 – 3 pm
Oct 13 – Dec 1
Call to register: 311
The Wellness Institute – 1075 Leila Ave.
Wednesdays, 1:30 – 3:30 pm
Oct 11 – Nov 29
Call to register: 204-632-3900
Regional Locations
ALTONA
The Gardens on Tenth – 140 10 Ave. NE
Mondays, 1:30 – 3:30 pm
Oct 16 – Dec 4
Call to register: 1-204-324-8945
Growing Our Dementia-Friendly Communities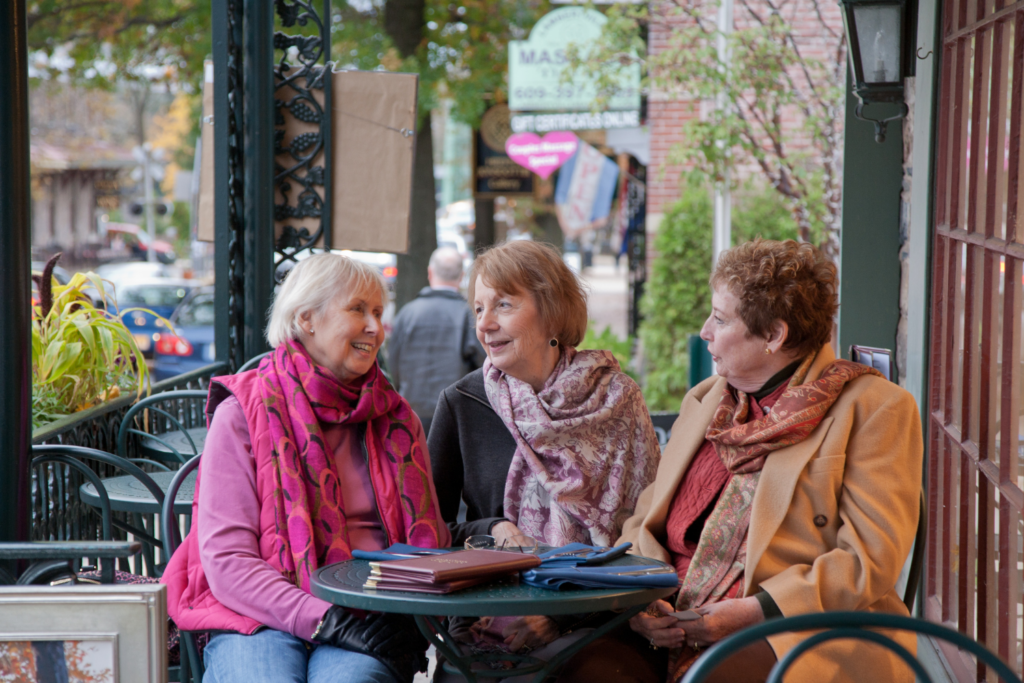 So many of our public spaces are difficult to navigate and not always accessible to people living with dementia. Making small changes in your organization can make a huge difference and help everyone have fulfilling experiences in safe spaces out in the community.
The Alzheimer Society offers dementia presentations and education to help local businesses and organizations better understand and support people living with dementia. Our Dementia-Friendly Community program has grown rapidly over the past year, with an influx of presentation requests thanks to community partners spreading the word about our training and education.
"Sixty-one per cent of people living with dementia in Canada are living at home. They are going out into the community and using services like transportation, recreation or community facilities," says Nicole McDonald, Dementia-Friendly Community Program Manager at the Alzheimer Society of Manitoba. "This is why more local organizations need to understand dementia and what it means to be a dementia-friendly space."
The Retired Teachers Association of Manitoba (RTAM) is our most recent community partner, and we are thrilled to collaborate with them and share information, resources and dementia awareness with over 10,600 of their members, who range in age from 55 to 112 years old. The RTAM is a voice for retired teachers, advocating for their well-being and helping them access information and resources that align with their interests.
"Connecting with RTAM has been a fantastic experience," Nicole says. "This partnership helps us reach people both going into retirement and currently living in retirement, who will soon have easy access to a variety of dementia-related topics."
Through this partnership with the RTAM, the Society will provide quarterly education presentations to RTAM members, live via Zoom. These presentations will cover topics such as dementia signs and symptoms, different types of dementia, how dementia can impact you and your family, characteristics of a dementia-friendly community and more.
"Partnering with the Alzheimer Society makes it easy for us to provide seminars and workshops that allow our members to gain current knowledge on dementia, which can have an impact on their quality of life as they age," says Linda Blair, President of the RTAM. "Together we can work to overcome the stigma that surrounds dementia."
The benefit of starting discussions with local organizations about dementia is that more people living with dementia can go out into the community with less stress and avoid feeling isolated and excluded.
"You don't have to be an expert on dementia to be dementia-friendly," Nicole says. "Just a little knowledge and compassion goes a long way and the Alzheimer Society can help you get there."
If you, your community, business or organization is interested in understanding more about dementia and becoming dementia-friendly, contact Nicole McDonald at nmcdonald@alzheimer.mb.ca to learn more about our presentations and education opportunities.
Using Virtual Reality to Improve Navigation: Graduate Student Receives Dementia Research Funding
Virtual reality is making waves in dementia research – being used both as a tool to help educators and the public learn more about dementia and as an innovative treatment method for symptoms of dementia.
Right here in Manitoba, University of Manitoba graduate student Rashmita Chatterjee is leading the development of a virtual reality game focusing on building navigation skills for those living with dementia.
Rashmita is a 2023 recipient of the Alzheimer Society of Manitoba Graduate Fellowship, an annual award presented to graduate students doing remarkable work in the dementia research field.
"Problems with navigation is one of the earlier signs of dementia and it can be a difficult thing to improve as symptoms progress," says Rashmita. "The game we've developed is special because it takes a new approach and tries to help improve people living with dementia's navigation skills."
Rashmita is working alongside Dr. Zahra Moussavi, a biomedical engineer at the University of Manitoba who specializes in finding solutions for slowing down the progression of dementia. Their virtual reality game encourages players to find their way in an interactive maze, whereas many other dementia games focus on memory.
"Gaming and virtual reality are fairly new topics in dementia research, but many researchers focus on brain games or apps to stimulate memory," Rashmita says. "This is why we wanted to create a game to help people regain their confidence in navigating their neighbourhoods and communities."
Rashmita earned her undergraduate degree in Electrical Engineering in India. In 2019, while working on her undergraduate degree, she came to Canada through an internship for international students to study at the University of Manitoba for three months. During her internship, she worked on a project that involved gathering information and data from research participants, which was a new experience that she really enjoyed.
She decided to switch her focus to biomedical engineering – a multidisciplinary program at the University of Manitoba between three facilities: Engineering, Medicine and Science.
This led her to work with Dr. Moussavi in dementia research and gave her the opportunity to combine two things she loves – working with people and coding.
Currently, Rashmita is collecting data and tracking participants' improvements while playing the virtual reality game. In its current stage of testing, 10 older adults living with dementia are playing the game three days a week for four weeks. The participants will then go four weeks without playing the game and after this period, Rashmita will see whether the navigational skill sets they built while playing the game are retained.
"The ideal dream would be to have this game become a navigation and mobility rehabilitation tool available for people living with dementia," Rashmita says. "We're still just in the starting stages, but I'm very excited to see where this research goes."
Rashmita says research funding is so important for researchers like herself because it allows them to move forward with their research and helps get projects, like her virtual reality game, on the map.
"I'm really grateful for the funding I received from the Alzheimer Society," she says. "Receiving this funding is validating and shows others that the work we're doing is worthwhile and can make a difference."
Join a Support Group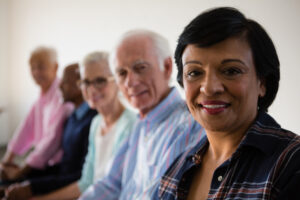 Support groups provide participants with an opportunity to learn more about dementia and its progression, share feelings and common experiences, exchange practical coping strategies and mutual support, as well as participate in meaningful discussions. 
We welcome everyone to this inclusive environment for people of different ethnicities, cultures or persons who identify as part of the 2SLGBTQ+ community.
Here are a few of our upcoming care partner support groups:
River Ridge II Care Partner Support Group
Takes place on the fourth Tuesday of every month from 7 – 8:30 pm at River Ridge II (2701 Scotia St.)
*Note: Per internal restrictions at River Ridge II, all participants are encouraged to wear a face mask at all times while in the building.
Responsive Behaviour Support Group
The Responsive Behaviour Support Group assists care partners who are caring for someone with a diagnosis of Frontotemporal Dementia, Lewy Body Dementia, or other forms of dementia where responsive or reactive behaviours are present. Learn coping strategies and care techniques to assist in managing these symptoms, as well as share mutual support and understanding about the stresses that may arise in navigating these changes.
Takes place on the second Thursday of every month from 7 – 8:30 pm virtually via Zoom.
Waverley Care Partner Support Group
Takes place on the third Wednesday of every month from 7 – 8:30 pm at the Waverley & Rosewood (857 Wilkes Ave, Winnipeg)
* Note: Per internal restrictions at The Waverley & Rosewood, all participants are encouraged to wear a face mask at all times while in the building.
Additional Information and Registration 
For more information about current and upcoming support group opportunities, or to register for a support group, please contact the First Link® Client Support team at (204) 943-6622 or email us at alzmb@alzheimer.mb.ca. You can also view a full list of support groups on our Support Groups page.
If connecting via email, please include your first/last name and the name of the support group you are interested in attending.
Our new support groups were made possible by a multi-year commitment to our First Link® program from the Jessiman Foundation. A heartfelt thanks to the Jessiman family for this leadership gift that has allowed us to expand our programs in such a significant way.  
Register Today for Education Sessions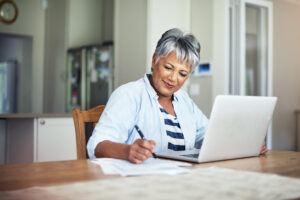 We've got a full calendar of education sessions happening this fall. Come join us to learn about a variety of topics including the supports in place within long-term care, navigating long-term care, legal and financial matters, and more. These sessions are free to attend and offered both in-person and via Zoom.
Here's what's coming up:
Hands-On Care Partner Workshop – Sponsored by Johnston Group and Payworks
Physiotherapists and Occupational Therapists from Community Therapy Services will demonstrate safety techniques for care partners when assisting with bathing, walking, etc. This hands-on workshop will provide tools, tips and review equipment care partners can use every day to support someone living with dementia.
Wednesday, November 15 | 6 – 8 pm | In-person only at Assiniboia West Recreation Association, 861 Buchanan Blvd., Winnipeg
Click here to register
WRHA Outreach Services: Geriatric Mental Health Teams and Geriatric Program Assessment – Sponsored by Johnston Group and Payworks
What is GPAT/GMHT? What do they offer that can be helpful for families impacted by dementia? How can I access their services? Dr. Lois Stewart-Archer, Regional Clinical Nurse Specialist, will discuss the outreach services she and her team offer, as well as additional programming such as Adult Day Programs.
Friday, November 24 | 10 – 11 am | Virtual on Zoom or in-person at the Alzheimer Society of Manitoba Boardroom, 10-120 Donald Street, Winnipeg, MB
Click here to register
Living with Dementia: First Steps – Part 3
The last of a three-part information series for people supporting someone recently diagnosed with dementia. Learn from health and industry professionals as they discuss the disease progression and provide information on services and resources available. In this webinar, you will learn more about home care & housing options. *Please note that you don't need to attend/watch the Living with Dementia sessions in order.*
Saturday, December 2 | 10 – 11:45 am | Virtual on Zoom or in-person at the Alzheimer Society of Manitoba Boardroom, 10-120 Donald Street, Winnipeg, MB
Click here to register
Visit the link below for more details on our fall education sessions and to register.
Family Education – Upcoming Seminars
Family Education: Next Steps Sponsored by:
Dementia Care Professional Development Series:

The Complex World of Dementia Care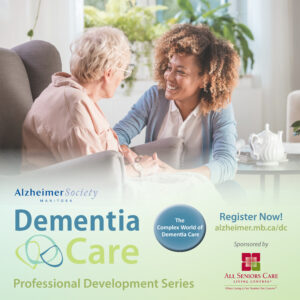 Join us for our Dementia Care 2023-2024 Professional Development Series! Sessions are geared towards health care staff and community service providers and take place online monthly (plus two in-person) until March 2024.
Our next session titled, Meaningful Engagement of People with Dementia in Physical Activities takes place on Thursday, November 16 from 2 – 3 pm. Getting involved in physical activities is a good way to provide both mental and physical stimulation for people with dementia. In this session, you will learn about:
adapting physical activity programs to the varying levels of abilities of people living with dementia
strategies to motivate people living with dementia to participate in physical activities
safety measures and considerations
In-person session
Our next in-person session is also coming up this November. This session is titled, Dementia and Its Impact on People with an Intellectual Disability and takes place on Thursday, November 30 from 9 am – 3:30 pm at Pulford Community Living, 1146 Waverley St., Winnipeg. In this all-day workshop, you will learn how dementia specifically impacts people with an intellectual disability and how to provide quality supports. The following areas will be covered in the session:
introduction to dementia: types of dementia, diagnostic process, clinical features and stages of the disease
impact of dementia on people with an intellectual disability: early warning signs, diagnosis and changes that occur as the disease progresses
importance of health care advocacy and how it can assist someone in obtaining a good quality diagnosis
five key concepts of support that can enhance problem-solving and communication skills when supporting a person with dementia
For only $30, you get access to all virtual sessions PLUS the option to register for in-person workshops! (Additional $5 charge for in-person sessions.)
We encourage anyone working with people living with dementia in the community, hospitals or personal care homes to register. These sessions add up to 30 completed hours of education that may be used towards professional development or continuing education hours.
Visit the Dementia Care website to learn more about all the sessions, speakers and to register now!
This event is sponsored by: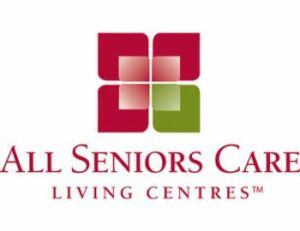 Follow Us On Social Media
Join us on Facebook, Instagram, LinkedIn and X (formerly Twitter) for the most current news, information and resources. If you're already following us on social media, invite your friends to do the same!
X (formerly Twitter)
We Rely on Your Donations to Continue Our Work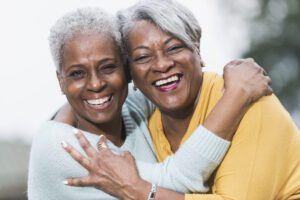 Your gifts are put to immediate use through our helpline, support groups and education programs.
Remember. You Are Not Alone.
We are here to help you and your family no matter where you are in your dementia journey. You can reach a comforting ear by phone or get a quick response by email. Call us at 204-943-6622 (Wpg), 1-800-378-6699 (MB) or email alzmb@alzheimer.mb.ca