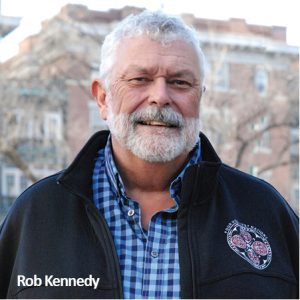 Marg and Pete Kennedy's four adult children became increasingly concerned as they witnessed first Marg, then Pete, begin to have problems with memory and become anxious about everyday things. They also worried when they noticed Pete becoming frustrated with his wife's inability to remember things.
"Mom progressed slowly over many years, and we witnessed her struggle," recalls her youngest son, Rob Kennedy. Eventually, she was diagnosed with Alzheimer's disease. That's when the family turned to the Alzheimer Society for help.
"My siblings and I all live in Winnipeg so we had numerous family meetings. We ultimately turned to the Society to help us better understand, as caregivers, how we should respond to the memory loss and how we could 'go with the flow' without being critical," explains Rob.
Grateful for the Help
It was help they were all very grateful to receive. So grateful, in fact, that 13 years after his parents died within six weeks of one another, Rob is continuing to show his appreciation. He is in his fourth year on the Society's Board of Directors and is currently the vice-chair. As well, he acts as captain for a team in the annual IG Wealth Management Walk for Alzheimer's. He's also a monthly donor.
Most recently, he named the Society as a beneficiary in his will. "My wife and I were renewing our wills and I wanted to make a legacy contribution, dedicated to my mother," says Rob, who is the provincial film liaison manager with Manitoba Sport, Culture and Heritage. "We're fortunate our daughter has a successful career, and it appears we'll have some resources upon our passing that we want to use to the benefit of the greater community."
It was information provided by the Society that helped the Kennedy family when they needed it most. The workshops they attended with their father were beneficial, and so was the information on the Society's website. "Just poking around on the website is a tremendous resource – the information is essential because it's a disease that affects the whole family unit."
Rob maintains that deciding to make a gift to the Society in your will – indeed, any financial support given to the organization – is critical, especially at a time when health care in the province is under pressure. Non-profits such as the Alzheimer Society augment government support by delivering services to the community.
"The Society's work benefits thousands and thousands of individuals across the province," he says.
When you include a gift in your Will to a registered charity, you save taxes and leave more for the people you care about. Click here if you would like more information.