In This Issue
January is Alzheimer's Awareness Month!
Dorothy's Story
Which Foods Help the Brain?
Creating Community with Minds in Motion®
Podcast with Teepa Snow
Tips from Manitobans Living with Dementia
Discover. Explore. Get Involved.
Thank You for Your Holiday Gifts
Education and Programs
Events and Volunteering

January is Alzheimer's Awareness Month!

The best way to learn about anyone's life experience is to hear it in their own words. We've collected stories from people in our community who are facing Alzheimer's disease or another form of dementia.
Whether they have dementia themselves or care for someone who does, they want you to know that dementia does not define their families – it is just part of their life story.
They want you to understand that while it may not always be easy, life goes on as they find different approaches and learn to be flexible as things change.
Click here to read their stories and for more information on living with dementia.
The Long Journey with Alzheimer's:
Dorothy Giesbrecht's Story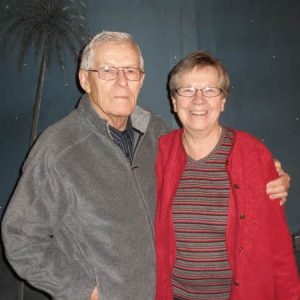 Dorothy Giesbrecht recently gave us an invaluable gift: she sent us the blog she wrote when she was caring for her husband, John, who lived with dementia for six years before he passed away in February 2014.
Dorothy gave us permission to share her blog with our readers, hoping it would help other caregivers who are on a journey with dementia.
Click here to read Dorothy's blog, which will be updated regularly with entries during January Awareness Month.
We are grateful to Dorothy for her generosity in sharing her story.
Which Foods Help the Brain?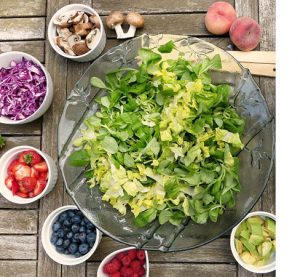 Did you know that simple diet changes can have a powerful effect on brain health?
It's true! Studies of adults 50 years of age and older who changed their diet according to the Brain Health Food Guide received some amazing benefits. They include:
Performing as if they were nine years younger on tests of reading and writing speed after four months of eating well.¹
Having a 36 percent lower risk of developing Alzheimer's disease.²
Having a 27 percent lower risk of developing mild cognitive impairment or pre-dementia.²
You can get in on these benefits by making a few changes to the kinds of food you eat. For example, the Brain Health Food Guide encourages eating lots of the following:
vegetables, such as lettuce, spinach, broccoli, cauliflower and cabbage
nuts, such as walnuts, almonds and peanuts, and nut butters
beans or legumes, such as chickpeas, kidney beans and lentils
berries, fresh or frozen
They suggest limiting the following:
meat and poultry
butter, cream or high fat dairy, such as sour cream and cream cheese
white breads
pre-packaged foods and meals, such as canned soup and instant noodles
salty snacks, such as chips and fries
baked goods, candy and chocolate
pop and sugary drinks
The Guide also has recommendations about how to cook food for optimum brain health, and it provides suggestions about changing some eating habits.
Click here to access the Brain Health Food Guide brochure, which provides more detailed information.
¹Smith PJ, Blumenthal, JA, Babyak MA, et al. Effects of the dietary approaches to stop hypertension diet, exercise, and caloric restriction on neurocognition in overweight adults with high blood pressure. Hypertension. 2010:55:1331-1338.
²Singh B, Parasaik AK, Mielke MM, et al. Association of Mediterranean diet with mild cognitive impairment and Alzheimer's disease: a systematic review and meta-analysis. J Alzheimers Dis. 2014:39:271-282.
Minds in Motion® Program Creates Community for Winnipeg Couple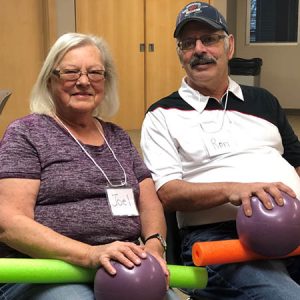 Ron Reid was a hockey referee and softball umpire until the beginnings of dementia made it too difficult for him to remember the rules of the games.
Now, the 72-year-old is quite content to get his physical and mental exercise through the Alzheimer Society of Manitoba's Minds in Motion® program. In fact, wife Joel says, the couple has attended four sessions across the city in the past year and are signed up for two more this winter.
Why? "Because it's so good for him," Joel says enthusiastically.
And it's good for Joel, too, who is glad a Minds in Motion program is now available at the Cindy Klassen Recreation Centre, which is closer to home for the couple. They attended the fall session at Cindy Klassen and will be back for the winter one, which begins January 22.
Getting Out Together
Joel says a key benefit is that it gets the couple out of their apartment and doing something together. She adds, "When we play the games, we interact with other people, and that's good because I'm kind of isolated. I get to talk to other caregivers in my situation."
Vi Stoesz, the program's facilitator at Cindy Klassen, says that's critical. "I think it's really important that the participants come from the community and then create community there."
Vi enjoys observing the interactions during the Minds in Motion sessions. "They forget about the challenges of memory difficulties, and they're happy to be with people and create connections. And the caregivers receive support, too. Everyone is just having fun."
She says Minds in Motion is often the first step the participants take in their journey with dementia to reach out and become involved. It's a place where people can talk about that journey and get support.
Carmel Levesque is the Active Living Supervisor in the Aquatics Services Division for the City of Winnipeg. She's thrilled a Minds in Motions program is continuing to be offered at the Cindy Klassen Recreation Centre. (The first session ran in the fall.)
"This kind of program really aligns with our mission statement to provide a range of services and programs to people in the community," she says. "It's nice that we can offer our resources for this program."
The location has lots of pluses. The program room is easily accessible, light and airy. The building itself also houses the library, has good parking and offers many other options for physical activity. "We're spreading the word that the Minds in Motion program is here," says Carmel.
Joel likes to spread the word, too. "I recommend it all the time – because it's so good for Ron, and it's good for me, too!"
Click here for more information on Minds in Motion sessions.
Podcast Featuring Teepa Snow:
Using a Positive Approach to Dementia Care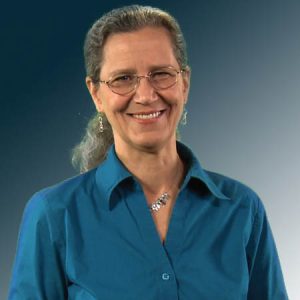 Teepa Snow, renowned speaker and educator on the subject of dementia, is the brainchild behind a movement to empower families affected by dementia. She encourages a positive approach and provides effective strategies for helping people with dementia during daily care, interactions and activities. These approaches help to foster participation and encourage to person to use preserved skills.
Learn more about Teepa's strategies through a podcast prepared by Right At Home – Winnipeg. The podcast can be accessed at the following links:
Online: http://seniors.libsyn.com/episode-6-using-a-positive-approach-to-dementia-care
Apple Podcast Link: https://apple.co/2s051Rr
Spotify Link: https://spoti.fi/391r4rr
Androind Podcast Link: https://bit.ly/2ZaGN2K

Tips from Manitobans Living with Dementia to Help You Understand

Our Alzheimer's Awareness Month spokespeople willingly shared their personal experiences about living with dementia. Each one offers valuable tips to help you understand that, while it can be challenging, there are things you can do to make life the best that it can be, despite a diagnosis of dementia.
Here are their suggestions: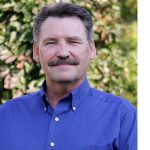 Brad, Caregiver for Mother
Communication is important. Share what you learn with other members of your family.
When you make the initial appointment with your doctor, make sure you go with the person who has dementia. This way you can fill in any gaps in the story.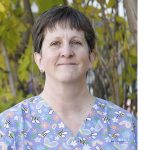 Nancy, Caregiver for Husband
Be flexible. Be prepared to do things differently as the disease progresses.
Let the person with dementia take the lead. Know what upsets them or causes stress, and avoid those situations.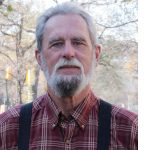 Bruce, Lives with Vascular Dementia
Don't stop doing things you enjoy. If your abilities change, just find a different approach – like doing it slower or with some help.
Try not to feel overwhelmed. Break things down into smaller steps and then make lists.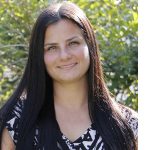 Vanessa, Caregiver for Grandpa 
Always remember that it's not THEIR fault they forget what they ate for breakfast, what you do for a living, your birthday, your name or who you are.
Appreciate the time you spend with your loved one and try to lift their spirits.
Call the Alzheimer Society for Help
All four of our spokespeople claim that getting help from the Alzheimer Society was an important step. Brad appreciated the guidance for their steps. For Nancy, Society staff members provided a shoulder to cry on and helped her to problem solve. Bruce found that he could share his concerns with others who have dementia in the support group he attends at the Society. Vanessa wishes she had known about the Society when things got tough and confusing as she would have reached out to get the help.
Thanks to Brad, Nancy, Bruce and Vanessa for your wise words. Click here to read their full stories.
Discover. Explore. Get Involved.
Sign Up Now for These Community Programs!

People with dementia and their care partners deserve the chance to get out and participate in community programs. Discover. Explore. Get Involved. is an initiative that helps this happen!
Click here to learn more about the creative programs presented by the Alzheimer Society and its community partners.
Dates are Set for Winter Sessions!
Dates for winter sessions have been set for the following three programs in which people with dementia participate with their family caregiver. Click on the following links for information on each program:
Art to Inspire
Vivace Voices Choir
Now and Then: A Journey in Time
Thanks for Making our Matching Gift Campaign a Huge Success!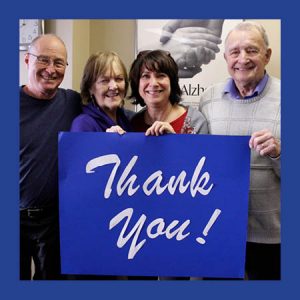 Thanks to your generosity, our matching gift holiday campaign raised $83,340 from 735 donors.
That total includes the $20,000 given by Elden Wittmier, Neil Carlson, Sean Lawton and an anonymous donor.
We are grateful for everyone's support and commitment to the many Manitobans impacted by dementia and to the work we do to support them. We could not do this work without you.
Education and Programs
Events & Volunteering