In This Issue
Your Opinions Matter!
Personal Story: Finding Solace in Faith, Family and Friends
Strategies to Manage Ambiguous Loss
Door Dashers Deliver Dementia Friendly Musical Inspiration
Virtual Minds in Motion® Program: Spring Session Finalized!
Virtual Winter/Spring Programs and Support Groups
Round Up of Education Opportunities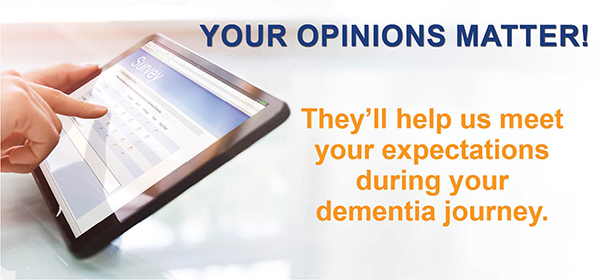 May we have just a few minutes of your time?
Survey respondents and research participants play a vital role in the search for a better world for those affected by dementia. Your opinions and participation matter and can promote positive change.
Below you will find links to surveys and research participation opportunities. Check them out now and help make a difference in the lives of people with dementia and their families!
THE ALZHEIMER SOCIETY: TWO SURVEYS
What do you think about our eNewsletter?
As one of our eNewsletter readers, we'd like to know if our stories provide you with relevant and helpful information.
Click here to take our eNews survey.
Have you connected with our staff for information and support?
If so, you spoke with our First Link® Client Support staff, who provide information and resources for persons with dementia, caregivers, families, friends and neighbours. We know dementia presents unique challenges, and we are here to help. Whether you reached out to us by phone or email, or were referred by a health care provider, we want to know if our services helped you to connect with the support you needed.
Click here to take our First Link survey.
THE PROVINCE OF MANITOBA WANTS YOUR INPUT
The Province of Manitoba is reaching out for input from the public on the 2021 provincial budget. If you act now, you'll have an opportunity to influence government priorities on many important issues, including funding for long-term care and home care.
Click here to find out more.
RESEARCH STUDY OPPORTUNITIES
Two research projects are investigating issues of importance to people with dementia and their families.
Click here for information on a survey that is looking at family/friend caregiving during the Covid-19 pandemic.
Click here to find out how you can share your experiences regarding the care you receive from family physicians or other health care providers.
Thank you for your participation!



Finding Solace in Faith, Family and Friends



When Diane MacFarlane's husband passed away last September, Diane had already grieved by degrees.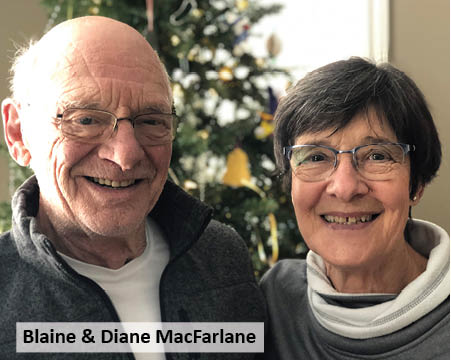 Although Blaine died after a brief battle with cancer, he had lived with dementia for over 10 years, and Diane had been his primary caregiver. "I was already part way along in the grieving process when Blaine physically passed away," she says.
Diane looks back on her and Blaine's long marriage with love and gratitude. They were high school sweethearts, marrying in 1964 and eventually settling on an acreage near Portage la Prairie to raise their daughters, Heather and Hali. They worked on renovating their home and creating a park-like yard from a field, making it their very own paradise.
Blaine was well into retirement from his recreation coordinator position at the Manitoba Developmental Centre when Diane started noticing subtle changes in him. Herself a retired nurse, as well as a daughter who had witnessed dementia in her stepfather, Diane felt certain that the changes in Blaine were signs of dementia. Her usually social husband was becoming withdrawn, and he was having difficulty making decisions about simple daily tasks.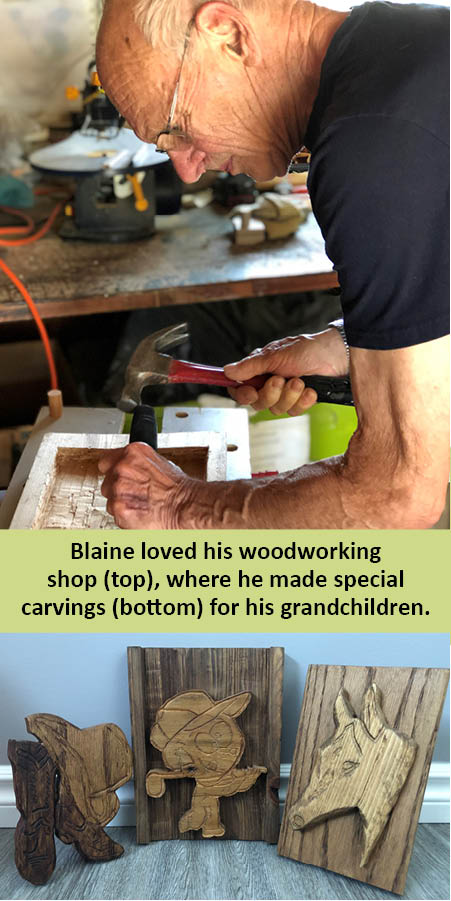 After three years and numerous visits to medical professionals, an astute geriatric psychiatrist finally diagnosed Blaine as having early signs of dementia in 2015. Diane felt grief, not because she'd lost Blaine – he was physically still there – but because she knew a difficult journey of many losses was just beginning. "It's one thing to chase a diagnosis, but quite another when that diagnosis becomes reality," she says.
As time moved along, there were many things that Diane had to grieve, such as Blaine's short-term memory loss. She was also saddened when her husband became less affectionate. "I'd have to say, 'I need a hug,' when before, he'd hug me spontaneously," she says.
Moving from their beloved acreage to a townhouse initiated yet another period of grief, but it helped that Blaine adapted surprisingly well to their new home. He'd always had a love of woodworking, so the family set up his shop in the garage. It was in this haven that a latent creativity emerged in Blaine. He patiently worked on a number of projects, including carvings for his grandchildren, which he completed and presented to them a few short months before he died.
Diane felt fortunate that the progression of the disease was slow and that Blaine kept his sense of humour. His love for his family shone through until the end – he adored his girls and they adored him.
Through her journey, Diane received guidance from the Alzheimer Society. She was able to access education sessions through Telehealth and says the support group she attended was exceptionally helpful. There, she and other group members were able to support each other through sharing their experiences.
Diane will always remember Blaine as a special guy. "I've cried and I miss him, but I'm comfortable with myself and am at peace," she says. "I did the best I could, and he did, too."
She knows where she can always find solace through her grief journey: in faith, family and friends.
The series of losses that Diane felt over the years of caring for Blaine are known as "ambiguous loss." See below for strategies and tips on coping with ambiguous loss.
Recognizing, Understanding and Accepting Ambiguous Loss in Your Life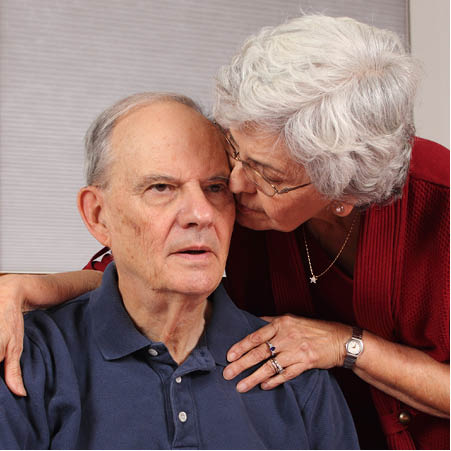 How do you grieve the loss of someone when they are standing right in front of you? This sounds like some kind of trick question, but for family members of someone with dementia, it's exactly what they face.
Families in these circumstances often experience what has become known as "ambiguous loss." It may happen when the person they are caring for, although still physically present, is not as cognitively or emotionally available as they once were.
The losses are different for everyone: it might be the loss of future dreams, the routine of sharing daily responsibilities, the stimulation of lively conversation – and there are many other examples specific to individual relationships.
Here are a few strategies for those faced with ambiguous loss:
Recognize that you are, indeed, experiencing loss.
Identify the characteristics of the person and your relationship with them that you miss, and allow yourself to grieve them.
Learn to focus on the relationship as it is now rather than dwell on the losses.
Accept the changes and make the necessary adaptations that will allow you to move on with life and caregiving. Examples include: taking over tasks that the person with dementia is no longer able to do; being patient if the person is unable to easily make decisions.
To get to this place of acceptance, it's important to:
Seek to understand your feelings of ambiguous loss and grief by talking about them to other caregivers and to support staff at the Alzheimer Society.
Stay connected to family and friends who can be supportive amid the loss and grief.
Look after your own needs by staying physically active, eating well and relieving stress in the way that works best for you.
Try your hand at expressing grief in creative ways through writing, painting, photography and other art forms.
Regardless of where you are in your journey with ambiguous loss, the Alzheimer Society is here to help. We can be reached at 204-943-6622, by calling your nearest regional office or toll free at 1-800-378-6699. Email us at alzmb@alzheimer.mb.ca
Door Dashers Deliver Dementia Friendly Musical Inspiration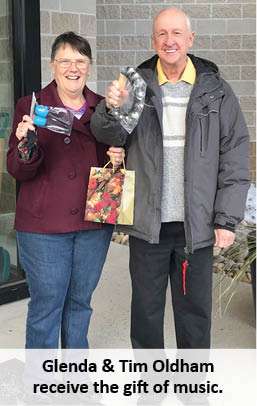 If you want to promote your organization's initiatives, it's important to walk the walk.
That's exactly what two Alzheimer Society staff members did in their quest to promote dementia friendly communities in their areas. Sam Holland and Kathy Diehl Cyr became the first ever Alzheimer Society "door dashers" when they made special deliveries of musical instruments to the homes of Minds in Motion® program participants.
Minds in Motion is a prime example of a dementia friendly community program. It welcomes people with dementia and a partner to participate in a program of fitness, fun and friendship in a supportive, inclusive environment. Usually, the program is delivered in-person in a community setting, but these days, it's being offered virtually.
Both Kathy (Community Partnership Manager) and Sam (Regional Coordinator at the Society's Interlake/Eastern Office) realized that not everyone is able to venture out during the pandemic to get the supplies they need for participation at home. So, when a shipment of instruments arrived at the Winnipeg office for use in the music therapy session of the program, the pair decided to take action.
"Between us, we made 16 deliveries around Manitoba that provided 33 participants with instruments for the final fall session of Minds in Motion," says Sam, who was thrilled to see all the happy expressions as the tambourines, egg maracas, lollipop drums and sleigh bells tumbled out of the gift bags.
Sam's and Kathy's work as door dashers is not done yet – they will make arrangements for 117 more people to receive musical gifts when the next shipment of instruments arrives.
This initiative was made possible by a donation from the Earl and Cheryl Barish Charitable Foundation. The Barishes have a love of music and are aware of how helpful it can be for people with dementia and their care caregivers.
Dates have been set for the spring session of Minds in Motion. Click here to register.
Register Now for our Spring Virtual Minds in Motion® Program!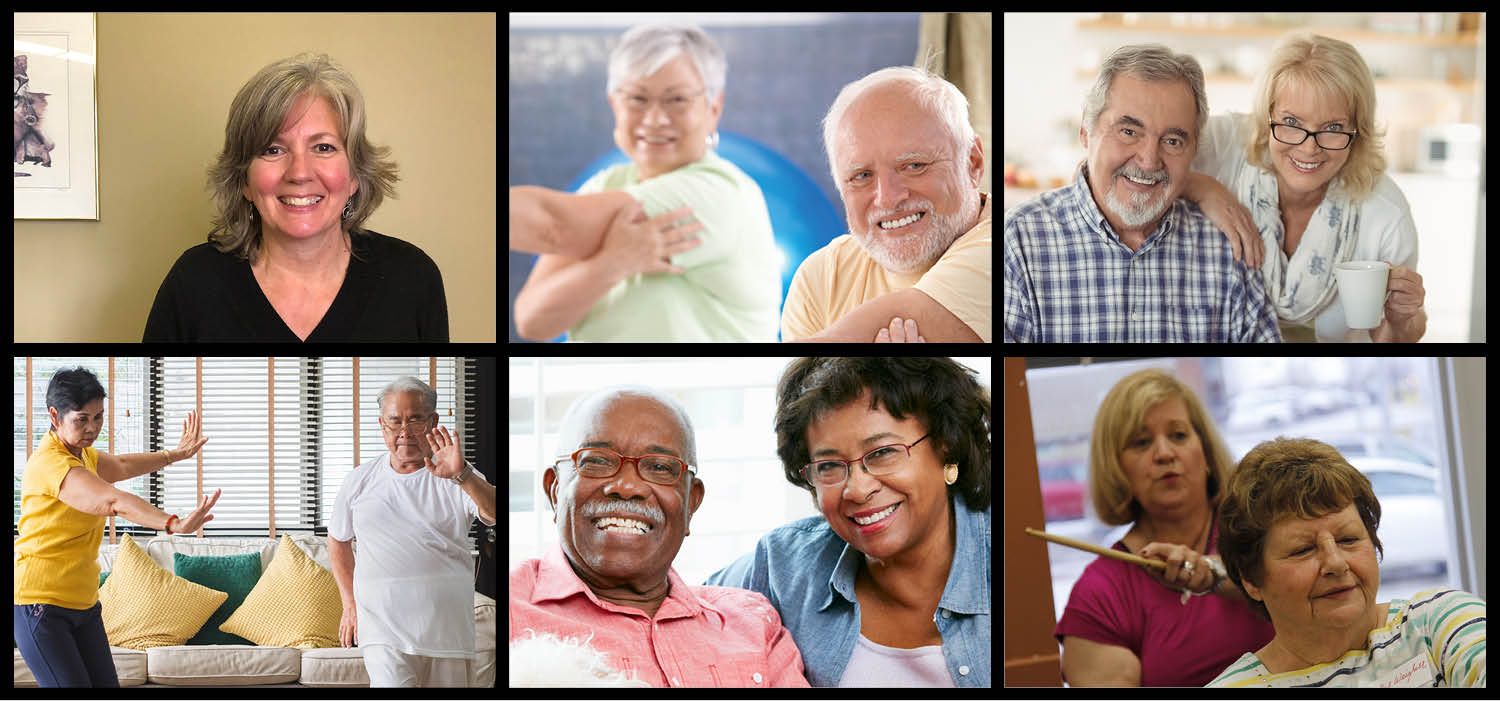 Dates for the spring session of our Minds in Motion program are confirmed! This popular program connects people living with early to moderate signs of dementia and their care partners through fitness, fun and friendship.
The virtual version of Minds in Motion takes place on a ZOOM link for 1 hour and 30 minutes. It offers six weekly sessions that include a gentle chair fitness class followed by socially engaging activity and conversation. Click here to find out how participants are enjoying the online format.
Spring Session Dates and Times
Tuesdays, March 9 to April 13, 2 to 3:30 pm
Thursdays, March 11 to April 15, 10 to 11:30 am
Tuesdays, April 27 to June 1, 2 to 3:30 pm
Thursdays, April 29 to June 3, 10 to 11:30 am
Register now to stay active, engaged and connected!
Check Out Our Virtual Winter and Spring Programs and Support Groups!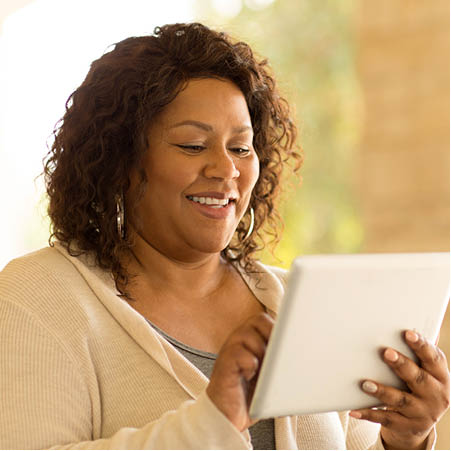 The Alzheimer Society is offering virtual programs and support groups over the winter and in the spring, and there's something for everyone! Here's the best part – you can participate from the comfort of your own home, no matter where you live. All you need is a computer and a Wi-Fi connection!
Online Education Sessions
Our online education sessions cover a wide range of topics – from safety at home to financial matters to end of life discussions. The sessions are geared towards helping people with dementia and their caregivers be confident on their dementia journey. Click here for more information and to register.
Virtual Support Groups
For Care Partners: A variety of days and times are available for those interested in joining a virtual support group for care partners. These groups help connect people with others living in a similar situation during these uncertain times. Click here to register for a date and time that suits your schedule.
For People with Dementia: We are holding virtual support groups to ensure continued access to support and information during the pandemic. These weekly/bi-weekly groups for people with dementia provide participants an opportunity to:
Learn about living with dementia and its progression.
Share feelings and common experiences.
Exchange practical coping strategies.
Participate in discussions.
For more information about current and upcoming support group opportunities, please contact:
Sarah Dueck
Client Support Coordinator
204-943-6622 ext. 213
sdueck@alzheimer.mb.ca
Remember: You are not Alone.
We are here to help you and your family through these difficult times. You can reach a comforting ear by phone or get a quick response by email. Call us at 204-943-6622 (Winnipeg), 1-800-378-6699 (toll free in Manitoba) or email alzmb@alzheimer.mb.ca

Round Up of Education Opportunities
The Alzheimer Society often hears about opportunities for learning about dementia from other jurisdictions, whether they be podcasts, webinars, courses, videos and more. In this section of our eNews, we offer options that may match our readers' needs at various points in their journeys.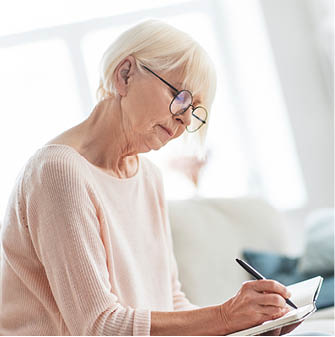 From the Land Down Under
The University of Tasmania is now offering its online Understanding Dementia course. In this free, seven-week program, you will learn more about the causes and symptoms of dementia, along with ways to respond to those who live with the disease. Participants of this certificate course can work through the material at any time of the day at their own pace.
Classes start February 16. Learn more and register today.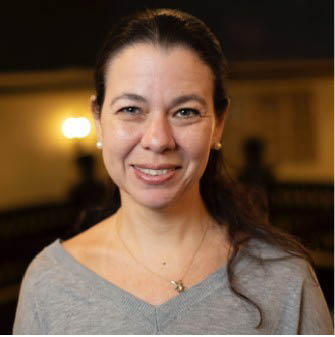 Exercise and Alzheimer's Disease
On February 19 at 12 pm EST, join the Alzheimer Society of Canada for a Zoom webinar led by Dr. Fernanda de Felice from Queen's University.
Dr. de Felice is an Alzheimer Society Research Program Biomedical Grant recipient. Her project is titled: Exercise Hormones in Alzheimer's Disease: A Novel Therapeutic Approach.
Click here to register for this Zoom presentation. After registering you will receive a confirmation email containing information about joining the webinar.