In This Issue
Winnipeg Family Grateful to the Alzheimer Society
Grad Student Receives Funding for Brain Stimulation Research
Participate in the Review Process for a New Alzheimer's Drug
An Inspiring Story of Giving
Managing a Tough Situation: Toileting Issues
Watch Teepa Snow LIVE on November 18!
Touch Quilts Delivered to Care Homes
2021 Fall Education Calendar
Connecting Through Virtual Support Groups
Research Participants Needed: Safety in Long Term Care
Research Participants Needed: Perspectives on Nutrition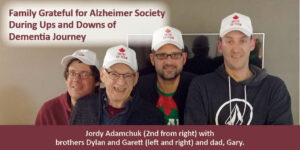 Dementia Journey a Rollercoaster of Changes for Family
Jordy Adamchuk's father, Gary, celebrated his 75th birthday in August 2017. Jordy recalls how he and his two siblings, along with their extended family members and friends, enjoyed the occasion – especially Gary's heart-warming speech.
Two weeks later, Gary had a stroke, and that was the beginning of a three-year journey during which he would be diagnosed with vascular dementia.
"After his stroke, Dad got his mobility back quickly, but we could see that he had memory problems," says Jordy. "We'd noticed this before, but thought it was because he was getting older."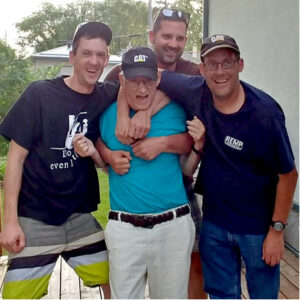 As the months passed, Jordy and siblings Dylan, Garett and sister-in-law Nikki experienced a roller coaster of changes in their dad and his living circumstances. He went from living with Jordy, to being admitted back to hospital, to staying in a care home, to being discharged to the home he'd shared with the siblings' late mother, Florence, who passed away in 2014.
The move back to his own home in spring 2019 occurred because he had shown improvement while on a prescribed drug that, in some instances, can slow down the progression of dementia. Jordy and his family kept a close eye on things, and Gary had daily support through home care.
Reaching Out for Help
"We had never navigated anything like this before, and I decided to reach out to the Alzheimer Society," explains Jordy. "Our contact there gave us great direction about a lot of things."
What stood out for Jordy were the check-in calls he received from the Society's client support coordinator. She'd say, "How are you" or "Just checking in" and remind him she was there to help.
A year later, things changed again: Gary started experiencing paranoia and was confused. One day Jordy got a call from the Health Science Centre's emergency department; the police had picked up his dad at the Main Street Project on Henry Avenue, a long way from his home. He soon landed back in hospital, and the family arranged for a care home in their neighbourhood.
Gary never did make it to the care home. Doctors discovered that he had cancer, and he died in June 2020 within 10 days of the diagnosis.
Through all the ups and downs, Jordy credits the Society for being there and advises anyone who is caring for a person with dementia to ask for help. "You can get so focused on caring for your parent that it's easy to forget that resources are available."
Jordy showed his appreciation for the help he received by participating in the Alzheimer Society's 2021 Walk event. "I walked 17 kilometres in memory of Dad," he says, "It was a great way to reflect on his life."

U of M Grad Student Receives Funding for Brain Stimulation Research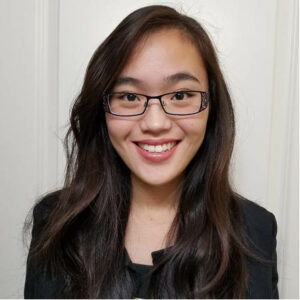 Can electrical stimulation of the brain result in long term improvements in cognition for people with Alzheimer's disease?
That's what Maria Anabel Uehara hopes to determine through her research, which is being supported by the Alzheimer Society of Manitoba's Graduate Student Fellowship program. The award is valued at $4,000.
A graduate of St. Maurice School in Winnipeg, Anabel says math and science were always her favourite subjects. That's why she chose to go into electrical engineering at the University of Manitoba and then into biomedical engineering for her graduate studies.
She's motivated to do research around Alzheimer's disease because she knows many families – including her own – are affected by the disease.
Anabel was on a University of Manitoba team in 2019 that did a pilot study looking at the effect of transcranial alternating current stimulation (tACS) on cognitive function in older adults with dementia. They paired tACS with brain games and found that it had a more lasting effect on cognitive ability than performing brain games without tACS. She is now laying the ground work to launch a full study in this area.
In her research, Anabel intends to focus on four different study groups. Participants will be broken into groups that just receive tACS; just complete brain games; do brain games and receive tACS together; or simultaneously receive tACS with additional electrical random noise signal and perform brain games.
"I want to know which combination will have the most significant difference," she says.
The previous study, for which Anabel was joined by Lonnie Kehler, Cristina Francisco and Zahra Moussavi, was conducted in a lab at Riverview Health Centre and involved 17 participants. Anabel will return to Riverview to do her follow-up study and hopes to begin her hands-on research next spring.
Click here to learn about similar work being done in Manitoba.

Do You Want a Say in the Review Process of a New Alzheimer Drug?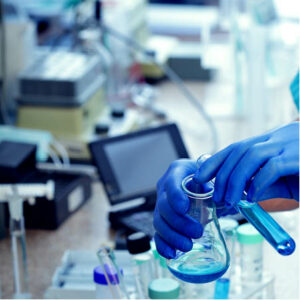 New drugs for the treatment of Alzheimer's disease are few and far between. So, when reports came out earlier this year that a promising new drug, called aducanumab, was being developed, there was excitement in the research community and among families affected by this disease. The reality, though, is that it's a long road between the initial development of a new drug and its approval for use in Canada.
The Alzheimer Society is helping to support the drug review process in Canada by sharing a survey to obtain feedback from both people who live with dementia and caregivers. The Society believes that decisions about new drugs need to heed the voices of people with lived experience with dementia.
To that end, if you live with Alzheimer's disease or mild cognitive impairment, or care for someone who does, please consider filling out this new survey. Results will be used to inform a national review for aducanumab to treat Alzheimer's disease.
Click on the link to participate in the survey: https://www.surveymonkey.com/r/aduhelmsurvey

Dave Mills: An Inspiring Story of Giving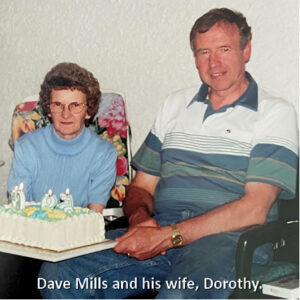 Dave Mills knows all about making sound investments – he worked in the financial industry for 50 years.
Recently, he decided to make what some might call an "investment" of a different sort: he is leaving a gift in his will for the Alzheimer Society of Manitoba.
Find out more about Dave and his reasons for giving on our website.
If you, like Dave, are considering a charitable gift in your Will to the Alzheimer Society of Manitoba, there are tools and resources available on the Will Power website that can help.
For more information on leaving a gift in your Will to the Alzheimer Society of Manitoba, please contact:
Lorraine Decock
Director of Development
ldecock@alzheimer.mb.ca 
204-943-6622 ex. 212
Click here for information on the Will Power Campaign.
Managing a Tough Situation:


Toileting Issues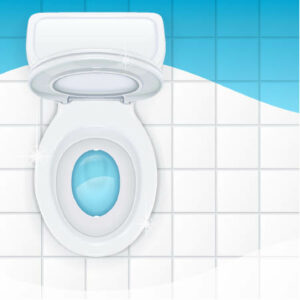 When providing care and support for a person with dementia, care partners may find themselves dealing with some tough situations.
Last issue, we took a look at how care partners can manage disinhibited behaviours in a person with dementia. In this issue the topic at hand is toileting.
For example, what can you do if a family member living in a care home refuses to participate in activities because they are embarrassed about struggles with bladder control? Or, how can you help someone who can't make it to the toilet on time, or confuses something else for the toilet?
Problems with toileting are never easy situations, but here are a few things to consider:
Consider the person's overall health and abilities:
Are there medical problems, other than the dementia, that should be treated? These could include a bladder infection, weakening of control muscles, decreased bladder capacity and more.
Could medications be contributing to a frequent need to go to the bathroom?
Can the person communicate the need to go to the toilet?
Does the person understand the body's message that it is time to go to the toilet?
Can the person find the bathroom?
Can the person undress in time to go to the toilet?
Is going to the toilet too complicated a process for the person?
Once there is an understanding about the underlying issues that may be causing problems, care partners can consider the following tips:
Take the person for a full medical assessment to rule out infections and treatable conditions and to review medications.
Watch for cues that the person needs to use the toilet, such as restlessness, pacing or other visual cues.
Give the person regular reminders about using the toilet.
Make the toilet easy to find by:

marking the path on the walls or floors
clearing away obstacles
labelling the bathroom door with a picture
using a contrasting coloured toilet seat
colouring the water in the toilet
putting lids on containers that may be mistaken for toilets e.g., garbage cans

Choose easy to remove clothing for the person e.g., velcro closing or elastic waists
If accidents happen at night, consider having a commode in the bedroom.
Incontinence products and protective bedding might be helpful.
For more helpful tips and strategies to approach challenges with toileting, call our staff at 1-800-378-6699. Visit our website at alzheimer.mb.ca
Dementia Care Professional Development Series Features Teepa Snow!
Sponsored by All Seniors Care

We're excited to invite you to the November session of our Dementia Care Professional Development Series, featuring Teepa Snow! This series is aimed at health care staff who are providing care as part of their work. Sessions take place online monthly until March 2022.
Register now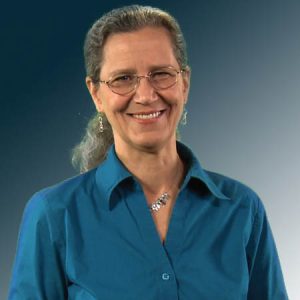 to watch Teepa Snow LIVE!
What: Improving Hands-on Skills for Providing Care
When:  Thursday, November 18 from 6:30 to 8 pm
Using her dynamic and engaging teaching style, Teepa will address awareness and methods for improving hands-on skills of dementia caregiving. She'll demonstrate a variety of physical techniques and cuing strategies to facilitate care interactions. As well, she'll focus on communication strategies, with an emphasis on connecting emotionally with the person living with dementia.
Additional sessions will be offered monthly via Zoom. They cover a variety of topics, including dementia and alcohol/nicotine dependence and the role of medication in managing responsive behaviours in dementia
Click here to register. The cost is only $20 and covers 11 sessions in this series, which started in May. If you miss any, you will have access to previous recordings.
Click here to review upcoming sessions and click here for speaker bios. Please mark your calendar and share with your colleagues. We look forward to seeing you!
Dementia Care Professional Series Sponsored by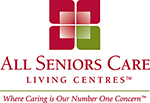 Touch Quilts Delivered to Care Homes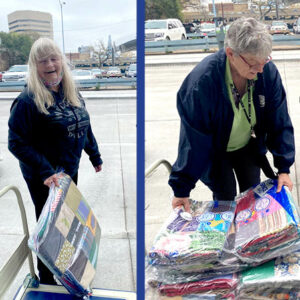 The Alzheimer Society's dedicated volunteers loaded up their cars and delivered 870 Touch Quilts to 14 personal care homes on October 8. Their efforts are greatly appreciated!
Touch Quilts are created by volunteers who have a knack for sewing and who like to give back to their communities. Those who receive the quilts can enjoy the familiar fabrics, textures and images, which provide comfort and a link to memorable experiences from their past.
If you wish to request Touch Quilts for the personal care home where your family member or friend resides, please connect with their recreation facilitator or contact the Alzheimer Society at 204-943-6622 or 1-800-378-6699. They are available at no cost to the receiver.
2021 Fall Education Calendar!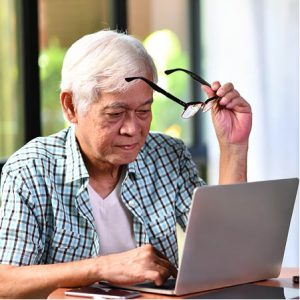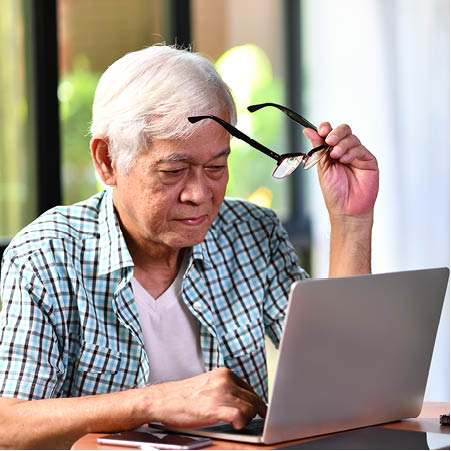 The 2021 Fall Education Calendar still has a few upcoming sessions for interested participants. A variety of topics, offered via Zoom, are available to help you on your dementia journey.
To check out the available seminars and to register, visit our Education page at the link below!
Online Family Education Sponsored by

Connecting Through Virtual Support Groups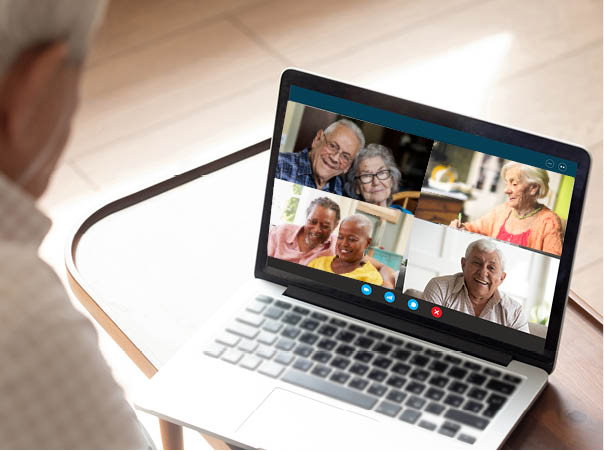 Several support groups are available at the Alzheimer Society of Manitoba. Check below to see which one best fits your needs.
For Care Partners: A variety of days and times are scheduled for those interested in joining a virtual support group for care partners. These groups help connect people with others living in a similar situation during these uncertain times. Click here to register for a date and time that suits your schedule.
Ambiguous Loss Support Group for Care Partners: Ambiguous loss is a type of loss felt when a person with dementia is still physically here, but may not be mentally or emotionally present in the same way as before. This specialized support group is an eight-week program to help care partners navigate this type of loss.
NOTE: The current fall session is at capacity. However, interested participants can still reach out to be put on a waitlist for future sessions. For more information, please contact your local office. Contact information can be found here.
For People with Dementia: We are holding virtual support groups to ensure continued access to support and information during the pandemic. These weekly groups for people with dementia provide participants an opportunity to:
Learn about living with dementia and its progression.
Share feelings and common experiences.
Exchange practical coping strategies.
Participate in discussions.
For more information about support groups for people with dementia, please contact:
Sarah Dueck
Client Support Coordinator
204-943-6622 ext. 213
sdueck@alzheimer.mb.ca

Calling for Research Participants:
Safety in Long-term Care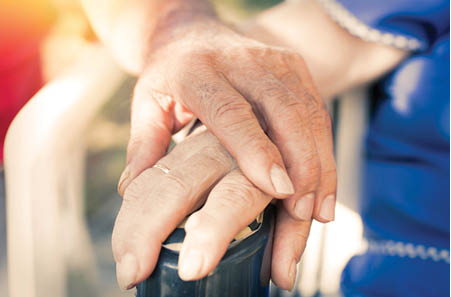 If you're an older adult receiving long-term care in Manitoba or a family care partner to someone receiving long-term care in Manitoba, Brandon University wants to hear from you! They are looking for willing participants to fill out a survey to share their thoughts about safety in long-term care.
Visit their website to find out more: https://people.brandonu.ca/herronr/sample/safe-places-for-aging-and-care/
Visit tinyurl.com/safeplacesstudy to participate in the survey.
Calling for Research Participants:


Sharing Perspectives about Nutrition at End of Life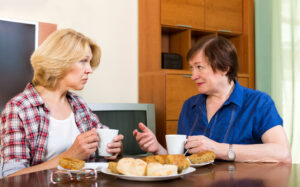 Researchers from the University of Manitoba are interested in the perspectives of caregivers and health care practitioners on nutrition at the end of life.
The researchers will use these perspectives to help others who are caring for someone at end of life.
For more information, click here.
For more information, please contact:
Haley Pidborchynski (Research Coordinator)
Email: pidborch@mymanitoba.ca
Remember. You Are Not Alone.
We are here to help you and your family through these difficult times. You can reach a comforting ear by phone or get a quick response by email. Call us at 204-943-6622 (Winnipeg), 1-800-378-6699 (toll free in Manitoba) or email alzmb@alzheimer.mb.ca