In This Issue
Paint the Town Blue this September 21!
Raise Your Voice – Talk to Your Candidates!
Spotlight on Dementia Research: Don't Miss this Public Forum!
Caring for Grandmother a Family Affair
Care4u Family Conference Catalyst for Getting Help
Music of Minds in Motion® Hits High Note
Past President Keeps Coming Back to Give
Our Expert Talks about Aphasia
Discover. Explore. Get Involved.
Check Out Our Fall Programs!
Education and Programs
Events and Volunteering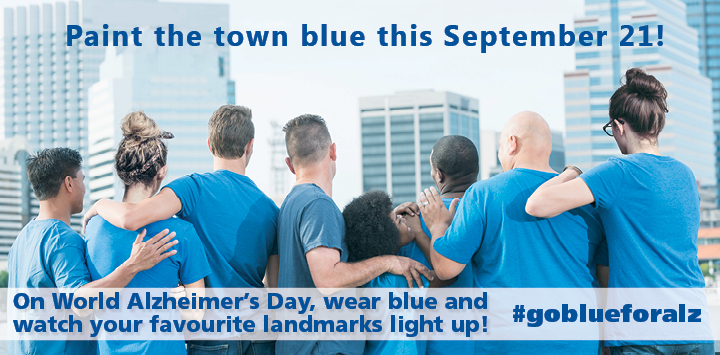 The Alzheimer Society of Manitoba is painting the town blue this September 21, World Alzheimer's Day, to show support for Dementia Friendly Communities. We hope you will join us by lighting up your business, organization and home in blue !
If you choose to light up in blue, you will be joining other landmarks in Manitoba and across Canada, including Centennial Concert Hall and Niagara Falls, to help bring awareness to this cause.
We are also asking people to wear blue on September 21 to show support for people living with dementia. We'll be putting on our best blue outfit on that day!
Click here to find out how you can become involved on September 21 and all through September – World Alzheimer's Month.
CEO Message:


Raise Your Voice – Talk to Your Candidates!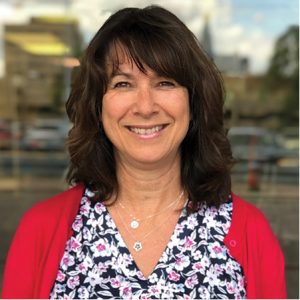 Manitobans go to the polls on September 10. This is a great opportunity to let candidates know what's important to you.
We talked to families and they told us what they need to live well with dementia. We've identified three key areas:
Full Funding of our First Link® Client Support Program
Kerri told us how vital it was to receive help when her father first showed signs of dementia. Through First Link, we're just a phone call away.
Improvements in Home Care
Sylvia and Don struggle in their everyday lives because they were denied the services they need. Inadequate Home Care puts people like Sylvia and Don at increased risk for physical and mental health crises.
Increased Training for Health Professionals
Gavin is a devoted husband whose wife, Beverly, lives with Alzheimer's disease in a personal care home. It's important to Gavin that Beverly receive compassionate and respectful care from staff. To do this, staff training is needed.
BECOME AN ADVOCATE!
Please talk to your friends and family about these issues. Write an email or
letter to the candidates in your riding, and talk to any candidates who come knocking on your door. You can also request a one-on-one meeting with your candidates, or attend a public debate and ask questions. We'll be doing the same. Together, we can get the message out and improve the quality of life for people living with dementia.
Click here for suggestions on how to get in touch with your candidates and be an advocate. The Alzheimer Society will be reaching out as well!
Don't hesitate to contact us as 204-943-6622 or alzmb@alzheimer.mb.ca. We'll share any information we've found and assist in your decision to RAISE YOUR VOICE!
What's Happening in Dementia Research?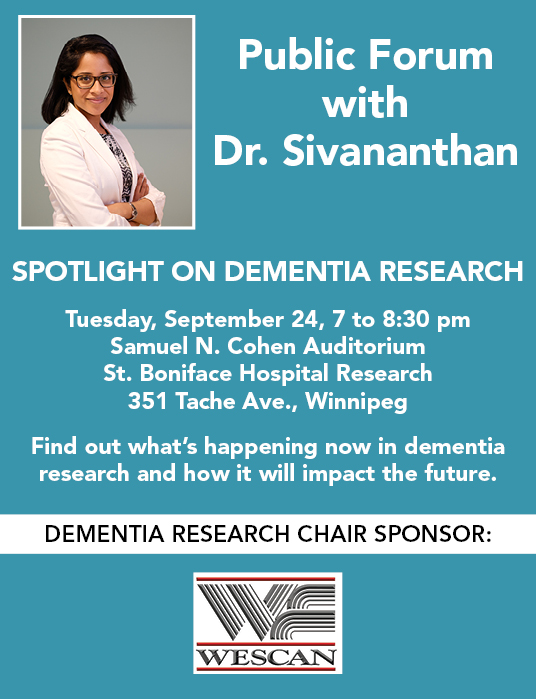 Come to the Spotlight on Dementia Research forum on Tuesday, September 24 and find out the answer to this question. Dr. Saskia Sivananthan, Chief Research and Knowledge Translation Officer at the Alzheimer Society of Canada, will be there to share her insights about the current state of dementia research and how it will impact the future.
This is a unique opportunity to hear an expert speak on this topic. Dr. Sivananthan has experience serving as a senior strategy and policy advisor consulting for the World Health Organization (WHO) on its global dementia strategy. She also co-drafted the WHO's Global Action Plan on the Public Health Response to Dementia, which was unanimously adopted at the 170th World Health Assembly by all 194 member-states.
Online registration is now closed. Please call 204-943-6622 if you are interested in attending. 
Click here to read a Q & A with Dr. Saskia Sivananthan.
Caring for Grandmother a Family Affair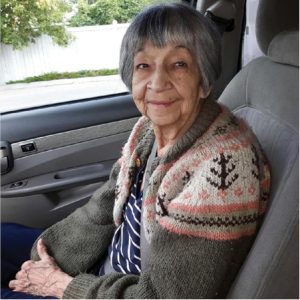 When Michelle Sopher's mother, Lyla Cromarty, was diagnosed with vascular dementia in 2008, there was no hesitation about what Michelle should do next.
She moved Lyla from her home in Selkirk to Michelle's home in Transcona.
Why? Because that's what our family does, says Michelle's daughter, Ashley.
For the next 10 years, caring for Lyla became a family affair. Ashley was 20 and her brother 18 when their grandma moved in. Ashley became a devoted caregiver to Lyla alongside Michelle, who was in her forties. While he lived at home, her brother helped, too.
Even after Ashley moved out five years later, she continued to support her grandmother – and her mom.
"Mom is amazing," says Ashley, describing the energy Michelle spent caring and advocating for Lyla. Michelle did extensive research about the disease and fought hard to get home care for her mother when everyone had to be at work or school.
"That was one of my priorities, too – not just helping out with Grandma, but making sure my mom was cared for," says Ashley. "My mom was so focused on helping her mother, making sure she had everything she needed, that she didn't think about herself and her own self-care," says Ashley.
Caring for others is "their thing," Ashley admits. She works with adults with disabilities while Michelle is a health care aide.
The duo looked after Lyla until it was time for a higher level of care. Ashley says that her "feisty" grandmother lived happily in a care centre for a year before passing away in May 2019.
A Trusted Source of Information
Throughout their journey, Ashley says they relied on the Alzheimer Society as a source of trusted information. They also attended the annual Care4u Family Conference.
"We learned how to take care of ourselves as well as Grandma," she explains. "We found out what resources were out there and what tools we could use when we became frustrated, because dementia isn't always easy."
When Ashley discovered that the Society annually holds the IG Wealth Management Walk for Alzheimer's, she was excited to participate. She and Michelle led a team in 2018 and 2019. "It was a great turnout and everyone was walking for someone they care about. It was such an amazing experience!"
You can bet they'll continue to participate in the Walk in memory of Lyla … because that's what Ashley's family does!

Care4u the Catalyst for Getting Needed Help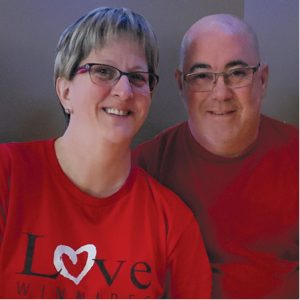 As a nurse who teaches health care aides, Nancy Scott makes a point of staying current on research about dementia. To do that, she sometimes attends the Care4u family conference presented by the Alzheimer Society of Manitoba.
Last fall, Nancy attended the conference wearing two hats: nurse educator and wife of Randy, a cabinet maker who, at age 53, was exhibiting signs of dementia. During a group discussion at the conference, she raised her suspicions and shared that she was having trouble getting a diagnosis. The folks at her table were supportive.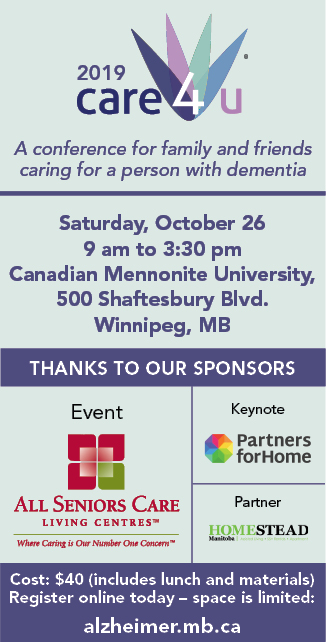 Society staff members helped by directing her to a support group for people whose partners have young onset dementia. She also made contact with client support staff; when the difficulties confirming a diagnosis brought Nancy to tears, one of the coordinators became a shoulder to cry on.
"I fell apart and phoned her and she was amazing. She talked me through things and we problem-solved," Nancy recalls.
With the staff member's encouragement, Nancy continued to advocate for her husband and this spring got him in to see a neuropsychiatrist. By chance, Randy had undergone a brain CT scan a couple of years ago for an unrelated reason. A new scan showed noticeable brain atrophy, confirming a diagnosis: he had dementia, most likely of the Alzheimer's type.
"The CT scan results were surprising. As a nurse, I've worked with a lot of people with dementia, but it's an eye opener to see how fast it progresses when it's early onset," says Nancy, who is staying positive and taking it one day at a time. "My husband is still here and I'm enjoying the time we have."
Support Group Helpful
Attending the monthly support group has been really helpful, she says. She's gleaned important advice about wills and power of attorney, as well as maintaining routines and avoiding premature decisions about moving out of their west-Winnipeg home.
She's also heartened because Randy has shown an interest in the programs offered through the Society. No longer working, he wants to attend Minds in Motion®, a program that promotes physical, social and brain challenging activities for people with dementia and their care partners. And, at his urging, the couple participated in the IG Wealth Management Walk for Alzheimer's in June.
When asked if she'll attend the Care4u conference on October 26, Nancy doesn't hesitate. "Absolutely!"
About Care4u
Care4u is a conference for family and friends caring for a person with dementia. It's a day of learning, reflection and connection.
Click here to register now for the Care4u family conference on Saturday, October 26, 2019.
Music of Minds in Motion® Hits High Note for Local Couple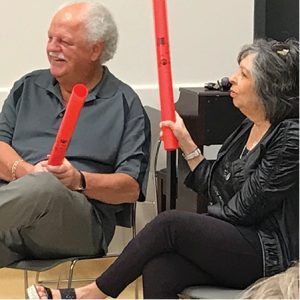 Earl Barish considers his birthday a time to give, not to get. So when he turned 75 last year, he decided to look for a meaningful cause that he and his wife, Cheryl, could support.
His thoughts turned to the friends and family members he knows who have had experience with dementia. In their honour, Earl and Cheryl chose to investigate the Alzheimer Society of Manitoba as a recipient of his special birthday gift.
In doing so, they learned about the Society's Minds in Motion program and found it intriguing. Arrangements were made for the couple to attend a session so they could see for themselves how the program worked.
Designed for people with dementia and their care partners to attend together, Minds in Motion offers physical, social and brain challenging activities, including a musical component in which participants can sing and play instruments under the leadership of a musical therapist.
Love of Music
"We both have a love of music, and we are aware of how helpful music and art can be," says Earl. "We saw this in action at Minds in Motion."
It was evident to Earl and Cheryl how music can touch people to their core and enable them to respond and enjoy. It brought renewed life to the faces of some of the participants and their partners. For one caregiver, seeing her husband happy for the first time in a long while had a huge impact.
The experience influenced the couple's decision to provide two years of support to the music therapy segment of the program, which is offered once during the eight-week session and is a highlight for participants. They made the donation through the Earl and Cheryl Barish Charitable Foundation, which the couple established this year.
The Barish family philosophy of giving is to pay it forward, explaining Earl's decision to give instead of get on his birthday.
And it's simply music to their ears that the gift also honours their family and friends.
Find Out About Minds in Motion Sessions in Your Area!
Click here for the list of locations. Interested participants are encouraged to call the location directly to register.
For more information about what Minds in Motion is all about, click here.
Past President Keeps Coming Back to Give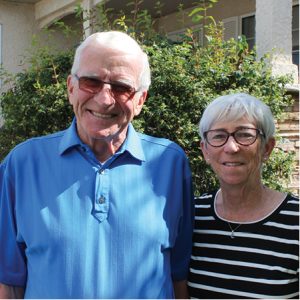 Harold Mawhinney can say that, thanks to the Alzheimer Society of Manitoba, he met Shirley Jones, the American actress best remembered as the mother in the wholesome 1970s sitcom, The Partridge Family.
What's the connection?
Harold was President of the Society's Board of Directors from 1988 to 1991, and in that capacity he was involved in planning the annual fundraising galas. As President, he had the enviable job of chaperoning the guests of honour who appeared at the galas, including Shirley Jones. He also remembers playing host to the Swedish actress and singer Britt Ekland, a special guest at another gala during his presidency.
It was a lot of fun, he says, and the galas were good fundraisers.
But for the past 32 years, Harold and his wife Judy have known that the annual gala and other fundraisers don't come close to covering the cost of the Society's many programs and services. So, from the time Harold joined the Board in the 1980s, the couple have been strong supporters.
Their loyal financial support began when they became annual donors, and then in 2010 they switched to a monthly giving plan. The automatic monthly payment option was especially convenient for the couple during the years they spent their winters in Florida.
Another poignant motivation to donate to the Society comes from the fact that Judy's father died from the disease. Says Harold, who retired 22 years ago from his position as Senior Vice-president of the computer division of Investors Group (now IG Wealth Management): "It isn't hard to get a sense of how tough the disease is, but thanks to the Alzheimer Society, families can be helped."
That, he says, is why he'd encourage others to follow the couple's lead and give generously.
Click here to donate online, or call Lynne at 204-943-6622 to become a monthly donor.
Ask an Expert!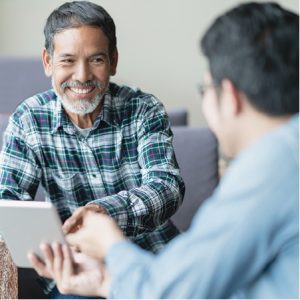 QUESTION: My family member with dementia is starting to mix up his words. What is causing this and how can I help?
Problems with language can occur in all forms of  dementia because the disease process can affect the language centres of the brain.
Not being able to find the right words is one of the first signs. For example, the person may use a related or substitute word, or they may demonstrate word searching behaviours, such as gesturing or giving clues about the word. Sometimes, they may not be able to find any word at all. The person may give up or become frustrated.
In the early stages of dementia, the ability to communicate using words and sentences may be retained, but often the order of words, grammar and word choices may be affected. Communication can become less meaningful and "empty."
This type of language impairment is called aphasia, and it can occur with damage to the parts of the brain responsible for reading, writing, talking and understanding. Aphasia can occur suddenly following a stroke or head injury, or it can develop slowly as the result of a brain tumour, a progressive disease of the brain or dementia. It can be the first sign or the primary symptom of some forms of dementia, such as frontotemporal dementia and primary progressive aphasia. It can be mild at first, but as the brain becomes more affected by the disease process, the aphasia can be so severe that verbal communication by the person becomes impossible.
An approach called Supported Conversation for Adults (SCA™) can help. With this approach, the focus of communication and the spoken word is shifted to a communication partner, who uses tools and techniques to promote interaction. For example, the partner can write words or draw pictures on a white board to confirm what the person with aphasia is saying.
Research has shown that SCA has the potential to improve communication between persons with aphasia, including those with dementia, and their caregivers.
Thanks to Glenda Gandza, MD, and Brenda Rust, MA SLP (C), Program Clinicians with Westman Aphasia Inc., for providing this article.
Glenda and Brenda will lead a session on aphasia at the Alzheimer Society's Care4u Family Conference on October 26. Click here to register or call 204-943-6622.
For more information about aphasia and WAI, please visit the website at www.westmanaphasia.ca/
Discover. Explore. Get Involved.

People with dementia and their care partners deserve the chance to get out and participate in community programs. Discover. Explore. Get Involved. is an initiative that helps this happen!
Click here to learn more about the creative programs presented by the Alzheimer Society and its community partners.
Click on the following links to for information on specific programs:
Art to Inspire
Vivace Voices Choir
Now and Then: A Journey in Time
The Fall Calendar is Available Now!

The Alzheimer Society offers many programs during the fall months. Click here to see the what we have on tap.
Education and Programs
Events & Volunteering